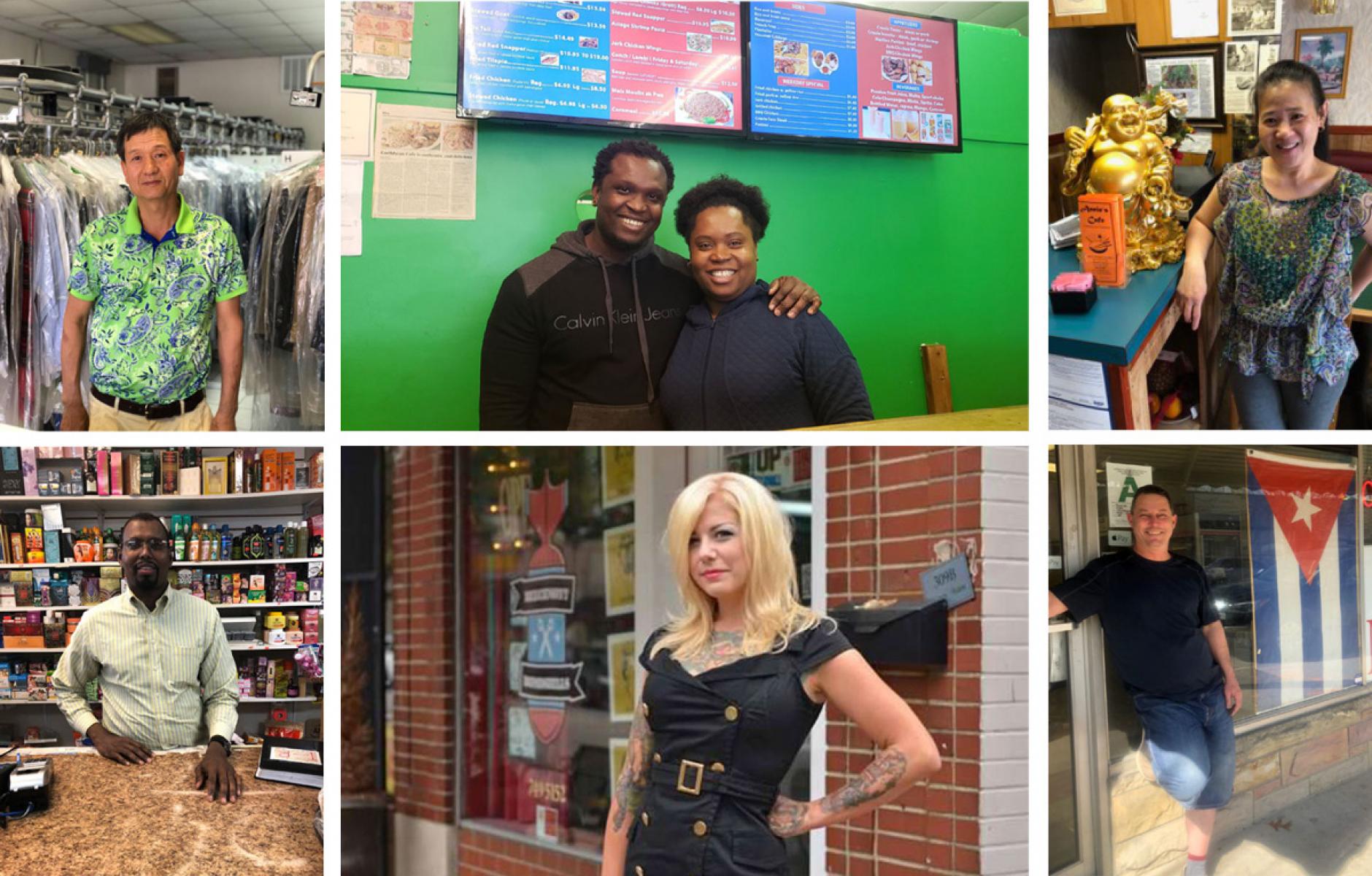 Merchants of Woodlawn Avenue in Louisville. From Legacy Project report.
Main street as a microcosm of the world
With a stronger identity and coordinated planning for Woodlawn Avenue, Beechmont may be the next hot neighborhood in Louisville.
CNU partnered with a strong nonprofit, the Center for Neighborhoods (CFN), on a highly productive Legacy Project to restore and reimagine the future of Woodlawn Avenue, the commercial heart of the Beechmont neighborhood in Louisville, Kentucky.
"In three days, we got to the point of fully focusing on implementation, all because of the local partners on the ground," says Susan Henderson of PlaceMakers, LLC, who led the Legacy workshop. Based in Louisville, CFN has the trust of the merchants and the community—propelling the event with a clear vision based on public outreach, Henderson says. 
The plan from the design charrette was organized around six strong community goals: Develop inclusive identity, reuse historic buildings, encourage small-scale development, enhance connectivity, improve pedestrian safety, and support local business. Highlights of the plan included a creative solution for a deadly intersection, ideas for boosting the identity and capacity of the main street, opportunities for historical rehabilitation and new infill construction, and practical placemaking for new and renewed public spaces. 
A retail study by Gibbs Planning Group showed potential for up to $12 million in new sales on the corridor in the next five years if planning concepts are implemented.
Legacy Projects take place in advance of CNU's annual Congress, to be held in Louisville June 12-15 this year. They offer a way for the Congress to leave an enduring mark on the host city and region. The designs are led by nationally recognized urban design firms and sponsored by local organizations. Woodlawn Avenue is one of four Legacy Projects in Louisville that leveraged well over $400,000 in donated design expertise for the city. The planning team also included DPZ CoDESIGN, WorK Architecture + Design, landscape architect Cassie Nichols, and CNU.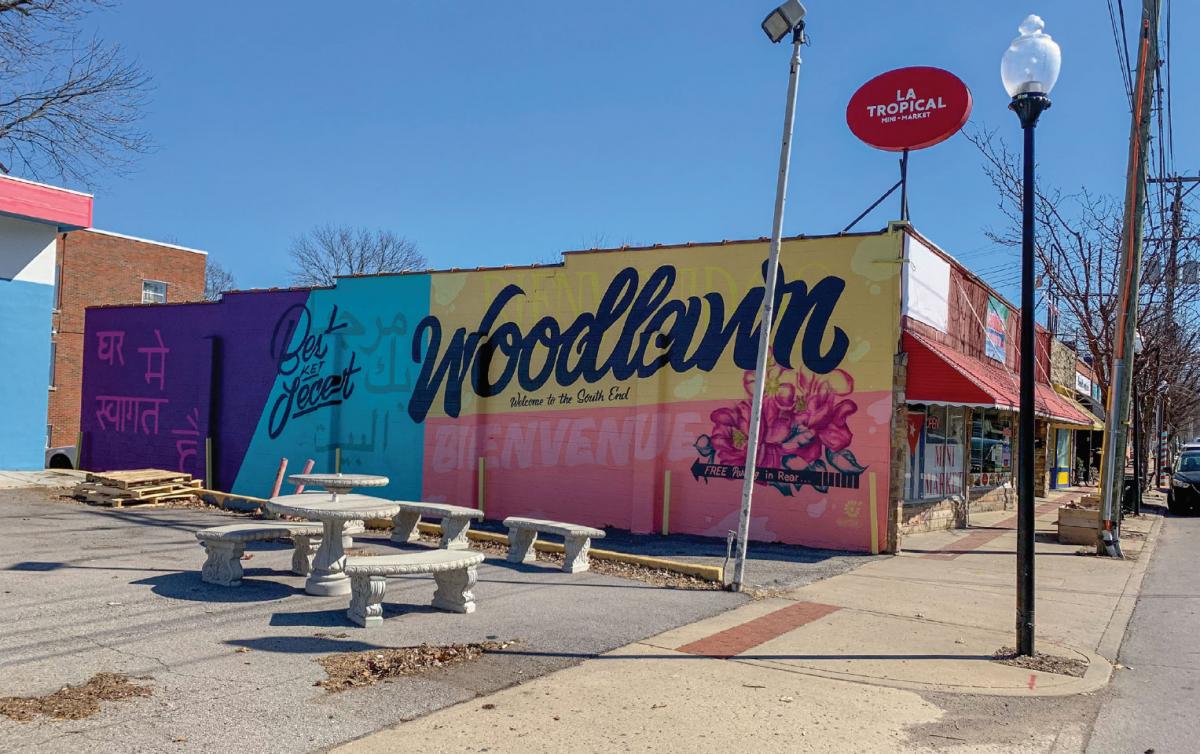 First built as a summer getaway for city residents, Beechmont is a vibrant global village of immigrants from around the world, sometimes referred to as "The United Nations of Louisville," which is helping it become the next hot community in Louisville. Located west of the Louisville International Airport and south of Churchill Downs and the University of Louisville, Woodlawn Avenue is truly unique: nowhere else in the city is there one neighborhood block with such well-preserved mid-century aesthetic, alive with a diverse community of business owners and residents. 
The corridor has experienced a decline in investment for the last several decades. However, new local retail—including ethnic restaurants, a coffee shop, and mini-grocers—imbue the neighborhood with renewed purpose and vibrancy. The high-quality, affordable housing stock is attracting younger and traditional families. An Olmsted-designed thoroughfare, Southern Parkway, meets Woodlawn at this key point, but automobile-oriented changes have created a five-point intersection with excess asphalt that is difficult and dangerous to cross.
Neighborhood identity​
A need for a stronger identity for the corridor emerged from the retail study and community outreach. A logo was created to celebrate the "World on Woodlawn," using the three predominate colors of today's shopfronts.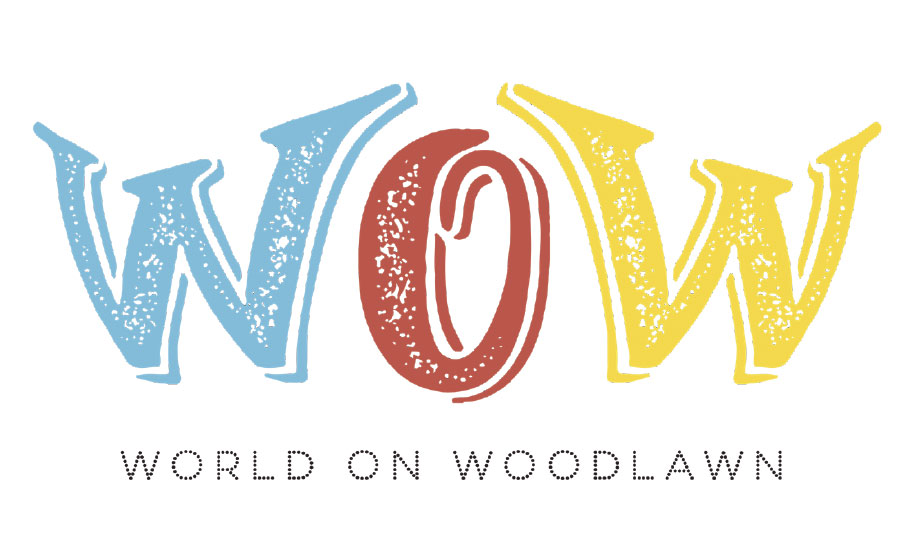 As part of implementing a Better Block crosswalk, first explored in 2018, the idea emerged of painting flags on the sidewalks. Instead of political symbols, each flag will contain the word "Welcome" in the languages found within the Beechmont neighborhood. East of the crosswalk, a world map (Ekert globe projection) is proposed to be painted in the street. The welcome banners and globe are all painted with the World on Woodlawn (WOW) brand colors.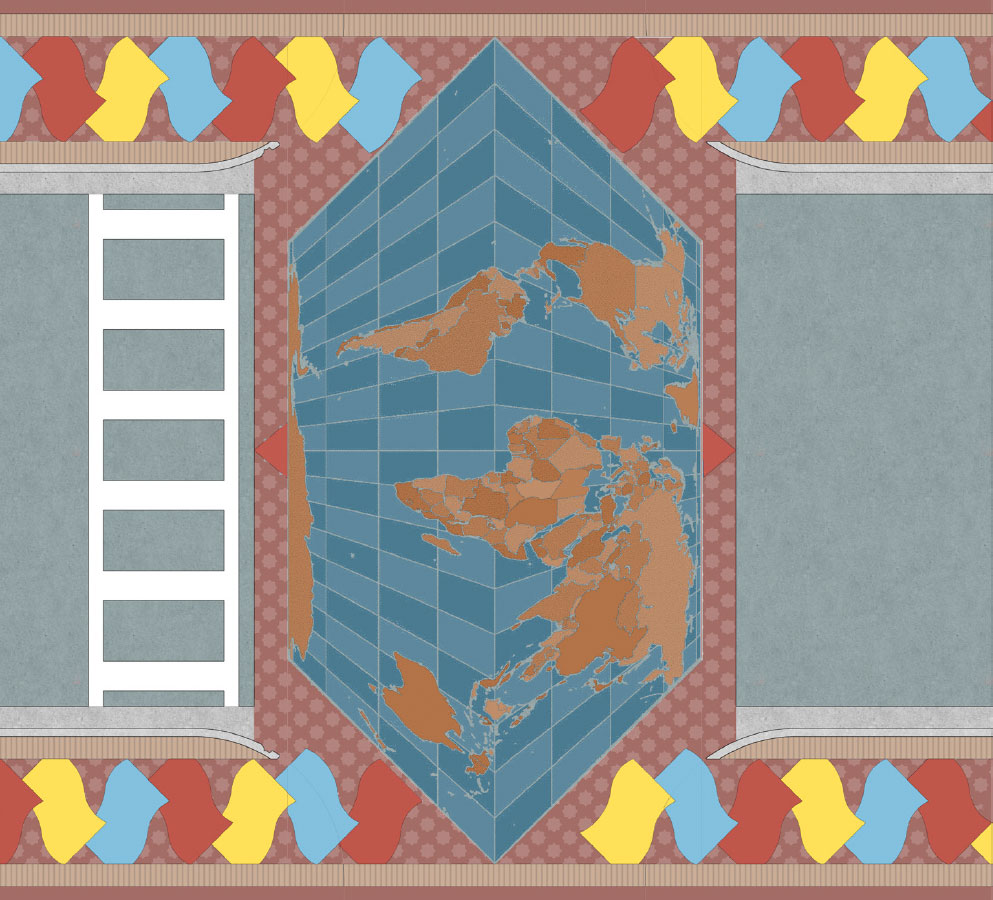 Walkability and safety
With heavy traffic thoroughfares bisecting the neighborhood, including Southern Parkway, 3rd Street, and Southside Drive, and with poorly maintained or absent sidewalks in many places, the walkability of the neighborhood could use improvement.
Most significantly, a realignment of Kenwood Way at Southern Parkway and West Woodlawn Avenue can provide a delightfully active space on all four corners, to honor the historic treasure of the Olmsted-designed parkway.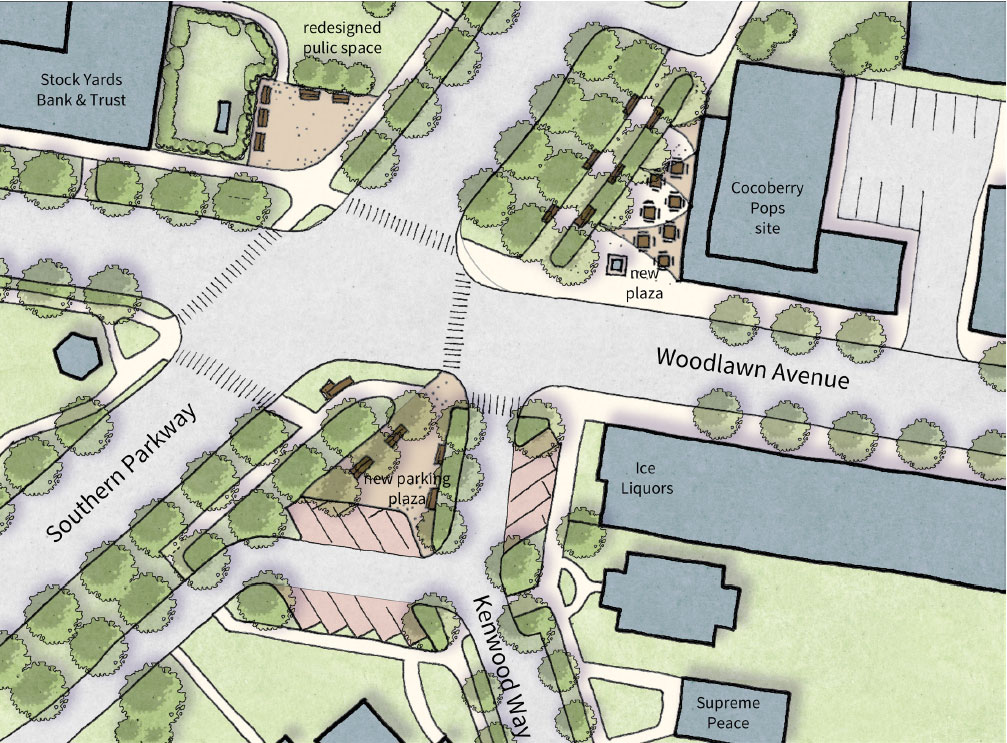 "Currently it is a five-point intersection with a lot of wasted asphalt, and it's where people get killed trying to cross the streets," Henderson says. "The redesign reduces it to four streets going into the intersection, making it much cleaner and safer for pedestrians to cross. The corner is healed." Public works and planning directors at the charrette reacted positively to the design.
The active public spaces would send a strong signal to travelers that they have arrived at a special place and encourage the local community to meet in new gathering places adjacent to this historic Woodlawn Avenue shopping district. The residual public space created by the realignment of the intersection shapes a new on-street, angled-in, parking plaza—the retail analysis found that parking capacity is needed.
Reuse historic buildings
The plan recommended that pedestrian-scale facade improvements be promoted through awareness and education, assisted with regulatory navigation and design guidance and consultation. Three-dimensional elements of the façade, such as cornices, window moldings and reveals to cast shadows and create visual interest, should be emphasized. The team stressed the importance of creating a "strong frontage zone, which defines the section of the sidewalk that functions as an extension of the building, "whether through entryways and doors or sidewalk cafés and sandwich boards." A "WOW District Design Manual" would align with streetscape improvements with the building rehabilitations.
Small-scale development
As an historic area of Louisville, the Beechmont and Southside neighborhoods that surround Woodlawn Avenue provide a continuous urban fabric. Yet because of aging building stock, disinvested infrastructure, and auto-centric property adaptations, the majority of development opportunities in the area are on the individual parcel basis and therefore small scale. This offers a unique opportunity to revitalize the corridor in a way that reflects diversity and changing neighborhood values. Tools were identified to promote small-scale development, such as city business loans and property support programs, and historic preservation resources.
Plans and rendering were created for underutilized key sites, such as a highly visible property on the southwest corner of Woodlawn and Southern Parkway, reclaiming vital street frontage and anchoring one end of Woodlawn Avenue.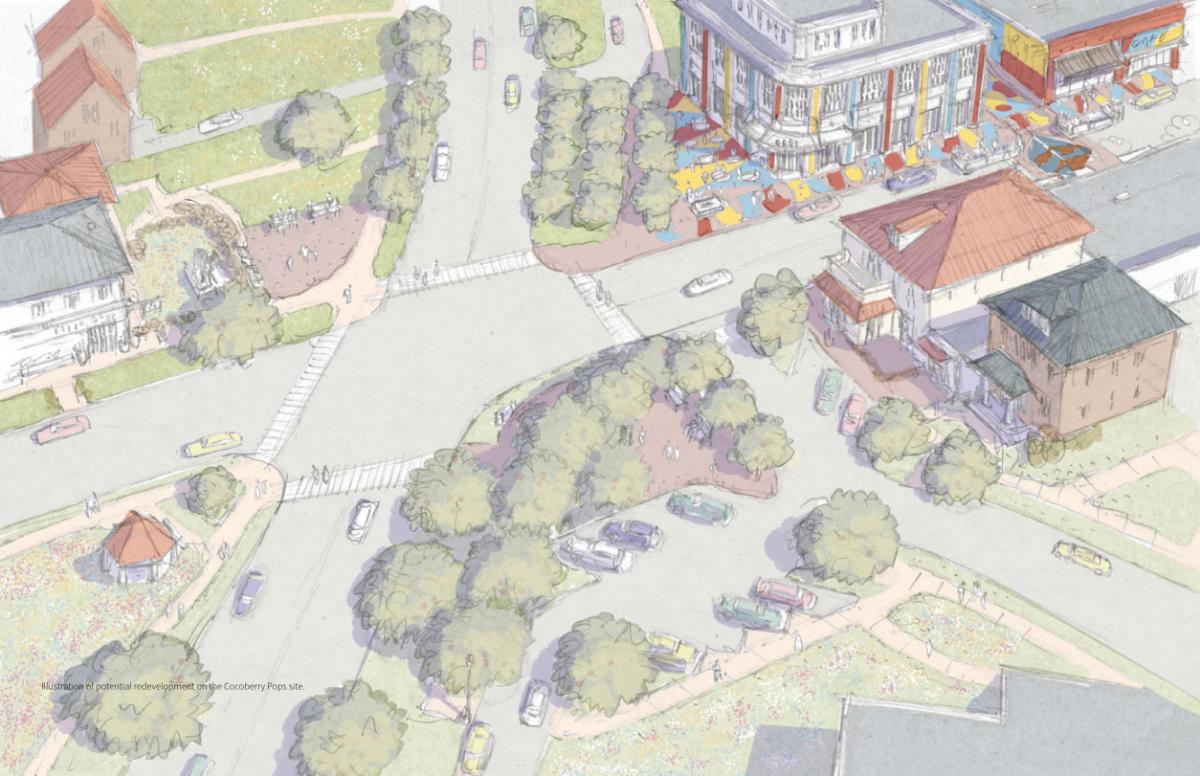 Public spaces
The charrette addressed inviting and inclusive public spaces. In addition to examples already mentioned, repurposing of space between buildings in Iroquois Manor Shopping Center, a mile south of Woodlawn, could deliver near and long-term injections of vibrant gathering places.
The Louis B. Israel Park revitalization and expansion would add yet another important public space, while making Woodlawn Avenue friendlier to pedestrians between South 1st and 2nd Streets. 
Support business
Ideas were articulated to fill empty storefronts and help property owners understand how investments in their properties help keep tenants and raise rental income. Additionally, the report calls on the community to:
• Catalog sources of funding for grants, loans, and provide language translations to help businesses take advantage of the opportunities. 
• Develop a parking management plan. 
• Support programming along the corridor through the Beechmont Neighborhood Association—for example, by initiating a pop-up beer garden once a month and starting a farmer's market.
Retail market analysis
This study finds that the Woodlawn Avenue commercial district has an existing statistical market demand for up to 43,000 square feet of additional commercial space including 24,000 square feet of retail and 19,000 square feet of restaurant space. This demand could be implemented with 12 to 20 new stores and restaurants or absorbed by existing Woodlawn Avenue businesses through enhanced operations and marketing practices.
The Legacy Project team will soon release an 86-page report that makes the case for the region to invest in Beachmont. "Having the problem statement so clearly articulated by our local non-profit partners, CFN, is the crux of why we were able to make our request clear in such a small span of time," notes Hazel Borys of PlaceMakers, the primary author. The team hopes to translate this report into local languages "to allow the economic gardening to continue over time."
While the near term action items largely have support from the City using existing funds, the report articulates the value proposition of the longer term projects, notes Borys. "We gave voice to the local leadership and great ideas that were already bubbling to the top."
Note: Some of the language from this article came from a draft of the upcoming Woodlawn: CNU Legacy Project report.