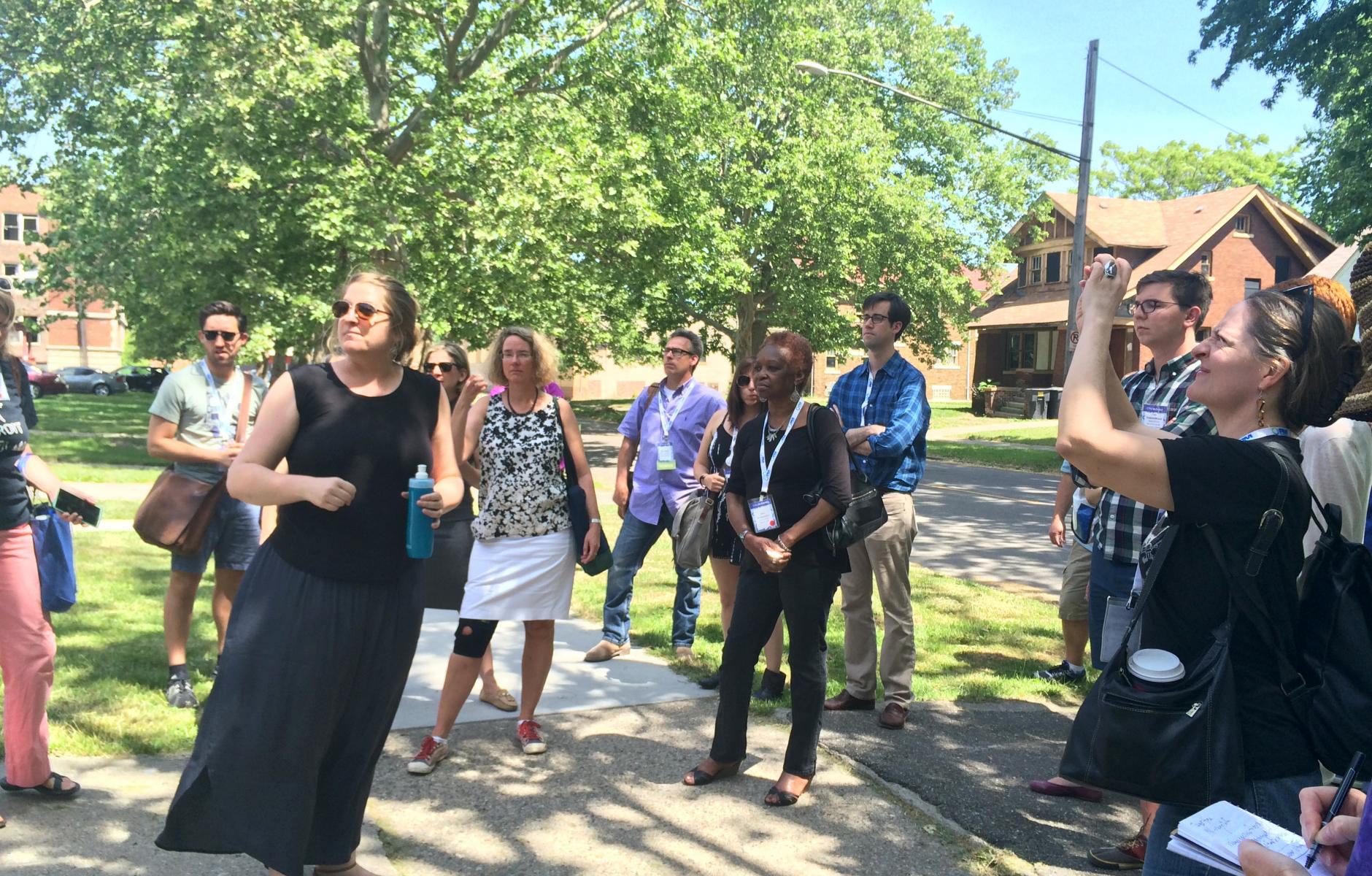 City as Platform: More than a Tour
City as Platform is more than a tour, and more than just a conference session—it is a hands-on, collaborative learning experience in the field.
First debuted at CNU 24 in Detroit, City as Platform will make an encore appearance at CNU 25.Seattle on Saturday, May 6, 2017.
Thanks to the support of over 30 Seattle-based organizations and our local host committee, Congress attendees can join local organizations and community leaders for a day of in-the-field learning and hands-on placemaking in seven neighborhoods across Seattle.
In each three-hour session, Congress attendees travel by bus or on foot to a Seattle neighborhood where they meet local leaders and residents to learn about local initiatives from the leaders themselves, then engage in a dialogue or hands-on exercise to help resolve a pressing, place-based challenge. This year's sessions range from neighborhood green stormwater infrastructure to community housing to lidding highways to reconnect urban neighborhoods.
Working on housing, park development, and fighting blight in Osborn, Detroit for #CNU24 #CityasPlatform pic.twitter.com/tS1tCzysXy

— NewUrbanism (@NewUrbanism) June 11, 2016
Detroit photographer Andrew Ross-Evans shares his debut outdoor installation with #CityasPlatform at #CNU24 pic.twitter.com/WgckKz7IZa

— NewUrbanism (@NewUrbanism) June 11, 2016
While these sessions take a variety of forms—many include a brief tour and an in-depth discussion—participating community members can expect to learn more about a project in their neighborhood, share their local knowledge and experiences, and learn from CNU's citybuilding and placemaking experts. Meanwhile, Congress attendees can expect to learn about local programs, tools, and best practices and also share and apply their national expertise to help move a local project or initiative forward.
If you live or work in a City as Platform host neighborhood, please join us! City As Platform is included in Congress registration and is free to local community members and neighborhood residents who wish to participate. Learn more about City As Platform at cnu.org/cnu25/schedule/city-as-platform.
Saturday, May 6 | 9:00 AM – 12:00 PM
How Green Stormwater Infrastructure Can Help Urban Neighborhoods Thrive
Session Organizer: Amy Waterman, Seattle 2030 District

Neighborhood | Belltown
Gentrification & The Threat To Black Churches In Central Seattle
Session Organizer | Donald King, Mimar Studio

Neighborhood | Central District
Crossing The Canyon: Designing Freeway Lids To Reconnect Seattle
Session Organizer | Scot Bonjukian & John Feit, Lid I-5 Steering Committee

Neighborhood | Downtown
Rainier Arts Center (Re)Design: Arts & Community
Session Organizer | Jeanne LeDuc, SEED

Neighborhood | Columbia City
Saturday, May 6 | 2:00 PM – 5:00 PM
Lake City Future First: Activating Public Space
Session Organizer | Chris Leverson, Lake City Future First

Neighborhood | Lake City
King Street Enhanced Greenway: Reimagining Our Rights To Our Rights-Of-Way
Session Organizer | Marisa Hagney, International Living Futures

Neighborhood | International District
Sharing Seattle: How To Create Housing That Fosters Radical Sharing
Session Organizer | Boyd Pickrell, Coho Community Housing & Grace Kim, Schemata Workshop

Neighborhood | Capitol Hill

placemaking
&nbsp&nbsp&nbsp
CNU
&nbsp&nbsp&nbsp
Congress
&nbsp&nbsp&nbsp
Detroit
&nbsp&nbsp&nbsp
Seattle
&nbsp&nbsp&nbsp
City As Platform