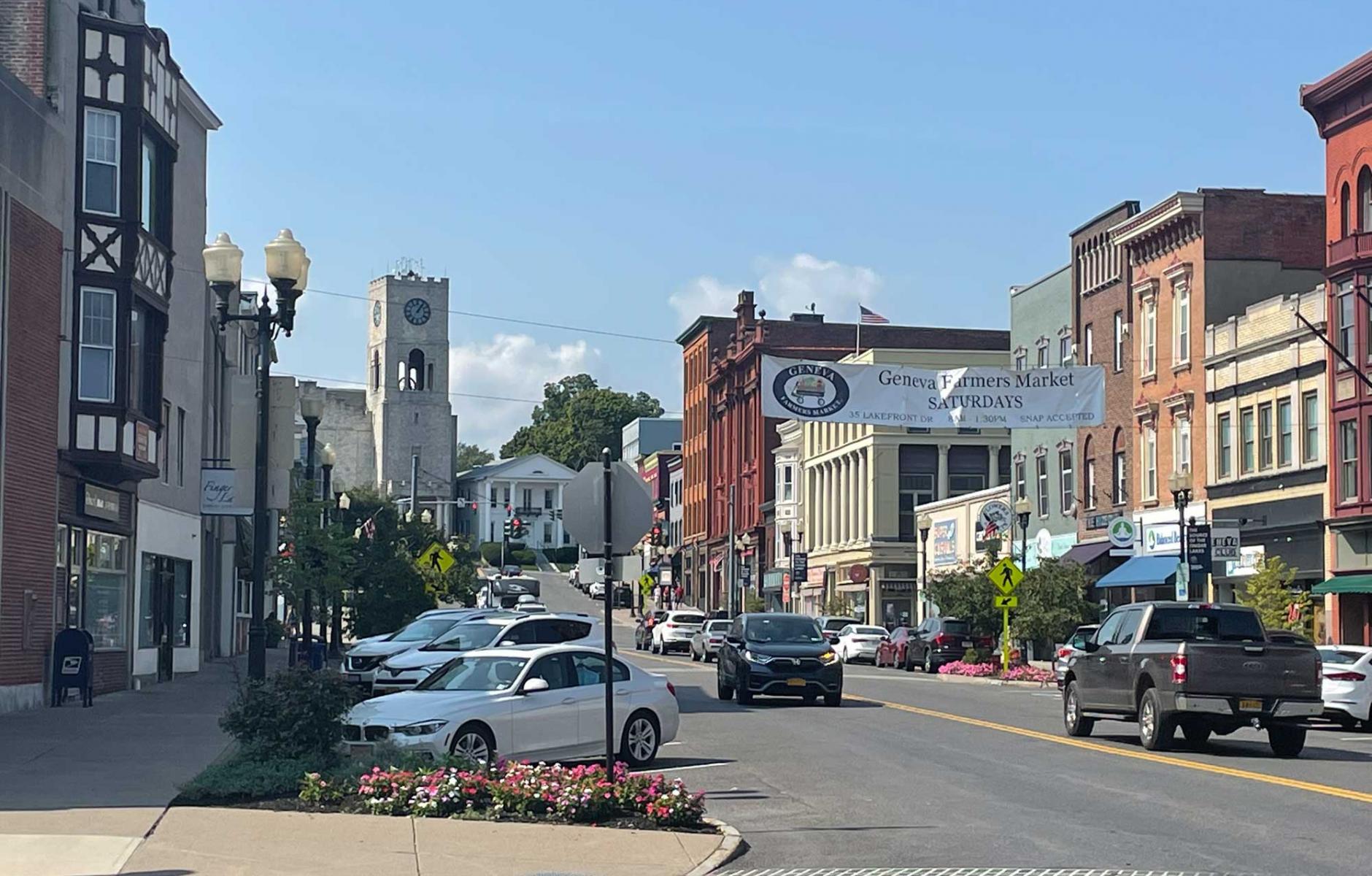 Downtown Geneva, NY. All photos by Robert Steuteville
To see America, get off the Interstate
To find hidden culture and history, you must do what most Americans rarely do — travel the old thoroughfares and see towns that were bypassed by the Interstate system. For example, take Route 20 in New York State.
If you want to see America, you have to travel the old byways that go through towns and small cities. Besides, being an urbanist means taking the scenic route (and convincing family and friends to share this experience. Start the trip early, and throw lunch into the deal).
There are hundreds of old highways that parallel Interstates across the US, and the history and culture of the nation are revealed along these routes. For example, US Route 20 is a pre-Interstate US highway that spans the northern US, from New England to the Pacific Northwest. I can't imagine many sections would be more interesting than the 66 miles from Cazenovia to Geneva, in the Finger Lakes region of New York State. I took it in mid-September, going west, with my fiancé on a road trip to Buffalo.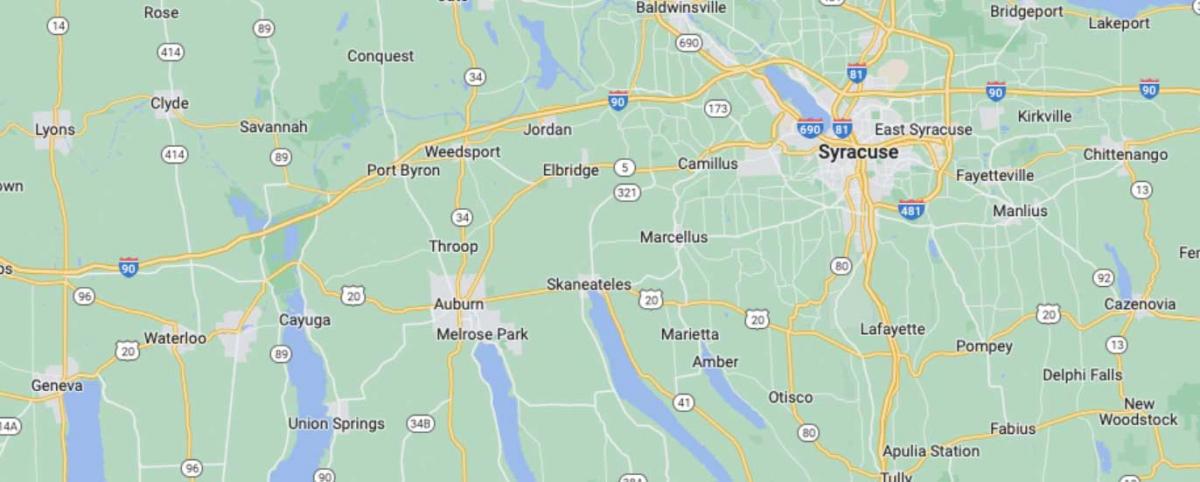 Along the way, we saw a string of old industrial villages and small cities, built mostly in the 1800s to take advantage of water power. In between, the very scenic countryside is only interrupted by a little sprawl, just on the edges of towns.
The trip starts in Cazenovia, a small college town, founded in 1793. Cazenovia has a great main street, which doubles as Route 20. The highway goes directly through the village square, and, surprisingly, doesn't spoil the public space. The mixed-use center is walkable to Cazenovia Lake. On the lakefront you will find a statue to the town founder, John Lincklaen, which is a rare tribute to a planner. The small statue, Lincklaen's Vision, shows him drawing out the streets of the town that still exist today, a reminder of the long-term influence of urban design.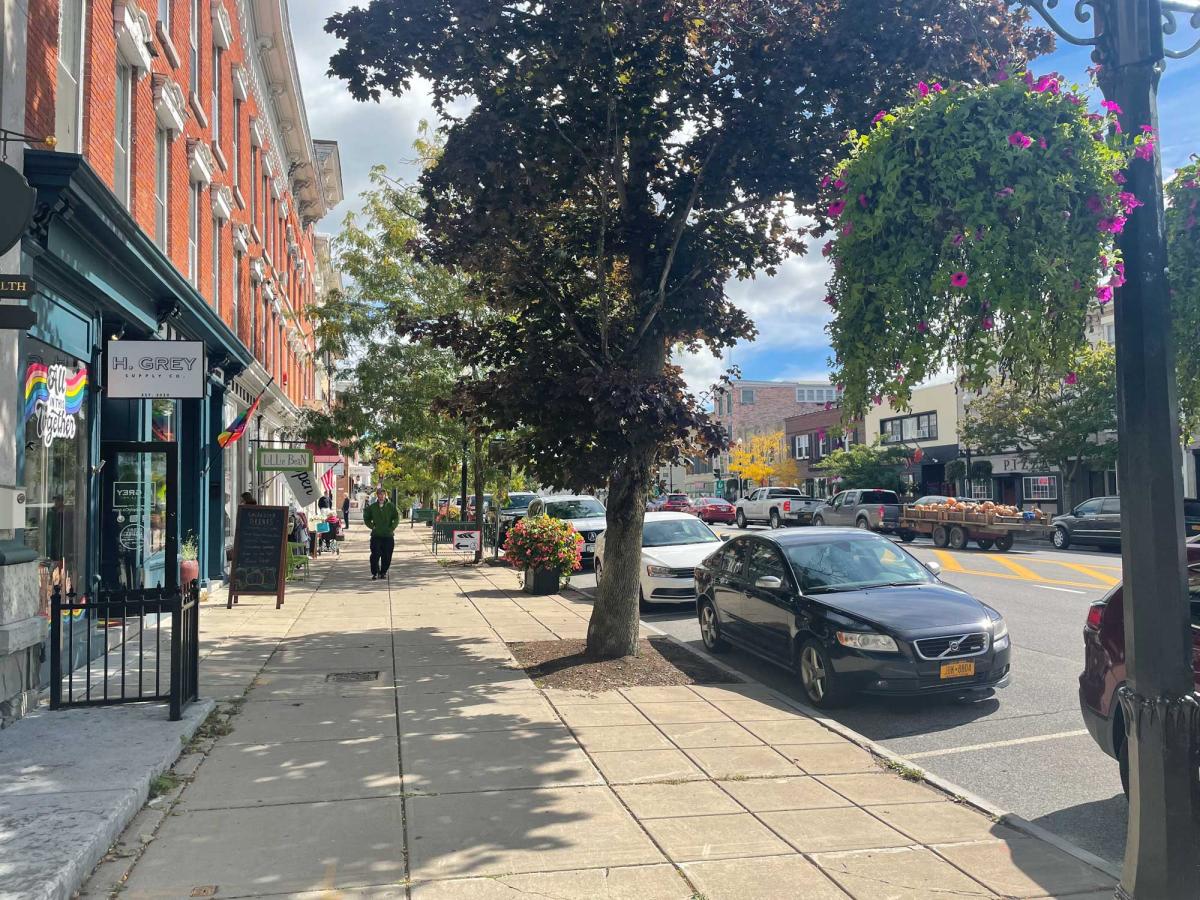 Beyond Cazenovia is 33 miles of gorgeous countryside, with a few tiny villages and hamlets. Mostly, you drive down into valleys and up over hills, through farms and a few apple orchards. I highly recommend stopping for freshly picked apples in the fall.
As an urbanist, I was aware of the Transect change from rural to more urban and back again throughout the corridor, with lessons on street design. When entering towns, sidewalks appear, and frequent intersections, street trees, on-street parking, narrower lanes, and then shops, followed by the reverse progression. In other words, the road becomes a street and then turns back to a two-lane highway. (Sure, I'm a geek, but state Departments of Transportation need to put The Transect into their manuals, just like Florida's DOT did not too long ago).
The next significant Transect shift is Skaneateles, on Skaneateles Lake, which could make a list of one of the nation's best "lake towns." Route 20 doubles as a main street that skirts Skaneateles Lake, the cleanest of the Finger Lakes, and the one that provides water to Syracuse. Skaneateles is fairly upscale, the only town on the corridor that fits that description. Built as a summer destination for wealthy industrialists, it retains a cosmopolitan character to this day. In the 1800s it was also a stop on the Underground Railroad. The village shops and restaurants in their 19th Century buildings are worth seeing on foot. It's a good place for holiday shopping. Skaneateles has the best urban waterfront along the corridor, and offers the best opportunity to experience a Finger Lake from the vantage point of a small downtown.
Leaving Skaneateles, it won't be long before you reach Auburn, New York, at the top of the next lake over. Auburn is a small city that has always been, and still remains, working class. Like many Upstate New York cities, it was devastated by urban renewal. Half of what once was a sizable downtown (for the city's population of about 27,000—it peaked at 36,000) was torn down to accommodate through traffic in the 1960s and 1970s. But the half that remains is worth seeing.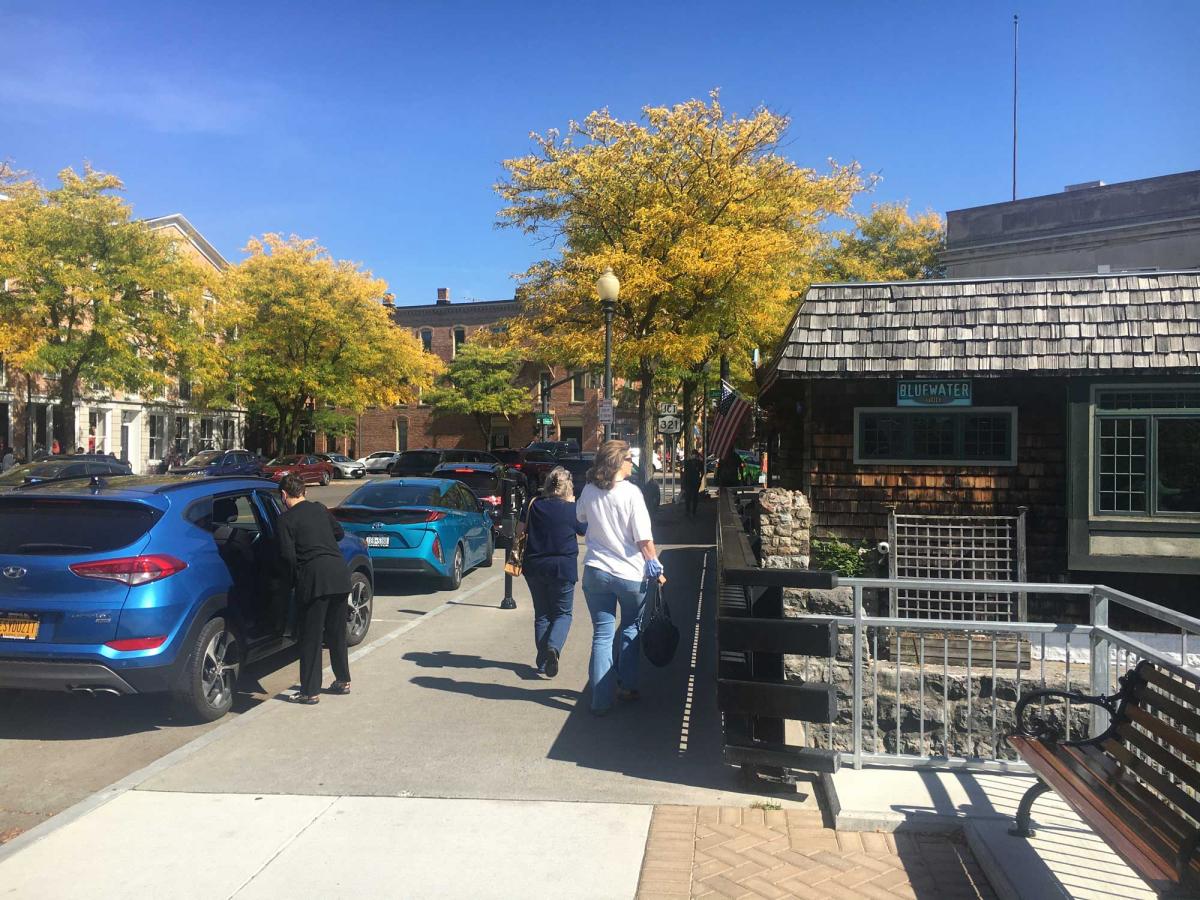 Much of the industry that built Auburn is gone (a relatively modern steel mill is one exception), but a major employer, a state prison that is two hundred years old, is walkable to downtown. Auburn's economy is reinventing itself around small-scale urban living, with restaurants and a craft brewery.  
On Genesee Street, the town's main street that partly doubles as Route 20, the highway takes a right turn to bypass downtown. Because I was paying attention to historic buildings, not road signs, I missed the turn. Consequently, I saw the best of downtown and skipped the urban renewal carnage.
I highly recommend taking the route that I did, by continuing west on Genesee Street. Auburn has a lot of history, including the houses of William Henry Seward and Harriet Tubman, both museums. Leaving Auburn, after a few miles of countryside, the thoroughfare terminates in the tiny village of Cayuga on Cayuga Lake. A right turn on State Route 90 leads back to Route 20, and the detour probably cost 10 minutes or less. (If you are traveling east, take a right on Route 90 and a left on County Route 1 to take the same route I did). 
After getting back on Route 20 going west, the first thing you see is the Montezuma National Wildlife Refuge, a large wetlands area on the north end of Cayuga Lake, one of the two largest Finger Lakes. This is worth a closer look if you have time. Even from the highway, it marks the best nature that you will encounter on the corridor.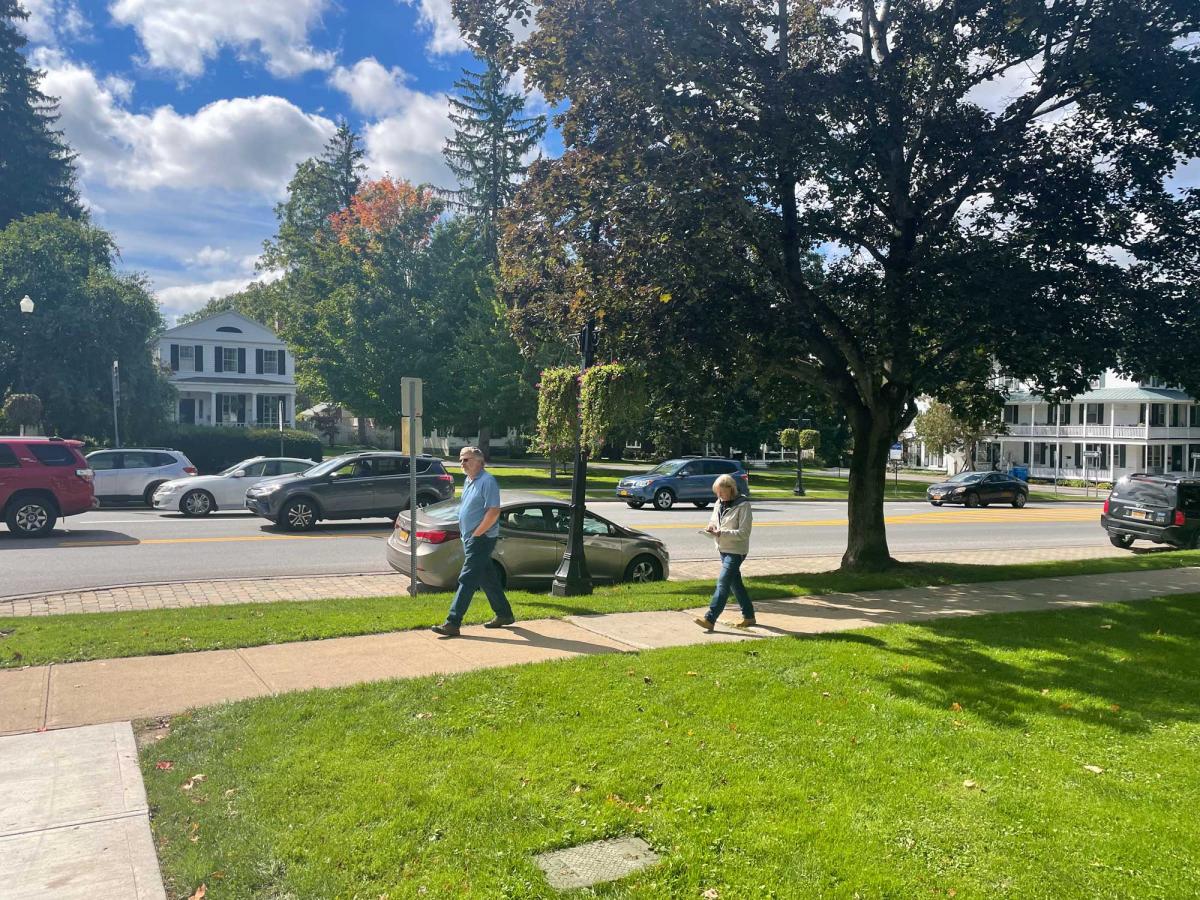 Two miles after the refuge is the Village of Seneca Falls, the site of the first women's rights convention and the model for Bedford Falls, the town of It's a Wonderful Life. Seneca Falls is an old mill town that still has industry, and there's a main street and bridge similar to the ones featured in the famous Frank Capra movie, which may be coming to a TV near you this week or the next. The Women's Rights National Historical Park, one of the smallest national parks at 6 acres, is a must-see on the well-preserved main street (which is Route 20). 
Two miles east of Seneca Falls is Waterloo—a working class mill town with a main street. Waterloo is on the Seneca River, a feeder to the old Erie Canal. There is not much to see today in Waterloo, except some historic buildings, although the town benefits from spillover tourism from Seneca Falls. People also go there for nearby outlet stores and a resort and casino (both a couple of miles to the north, oriented to I-90).
The four miles to the west of Waterloo comprise a mix of countryside and development, with some old and new houses and commercial properties, including a few 20th Century motels, now dated icons themselves. Then you get to Geneva, a small city on the northern tip of Seneca Lake. Geneva is home to Hobart and William Smith Colleges, combined institutions that give life to the downtown. You have to turn off of Route 20 to see the downtown, which is only a block to the north and well worth the short detour.
Unlike Skaneateles, Geneva's downtown has little visual connection to the lake. Still, it is very charming, with a tremendous stock of 19th and early 20th century buildings. Geneva hits the sweet spot between unpretentious and well-maintained. We enjoyed an excellent lunch at a diner with loads of local character.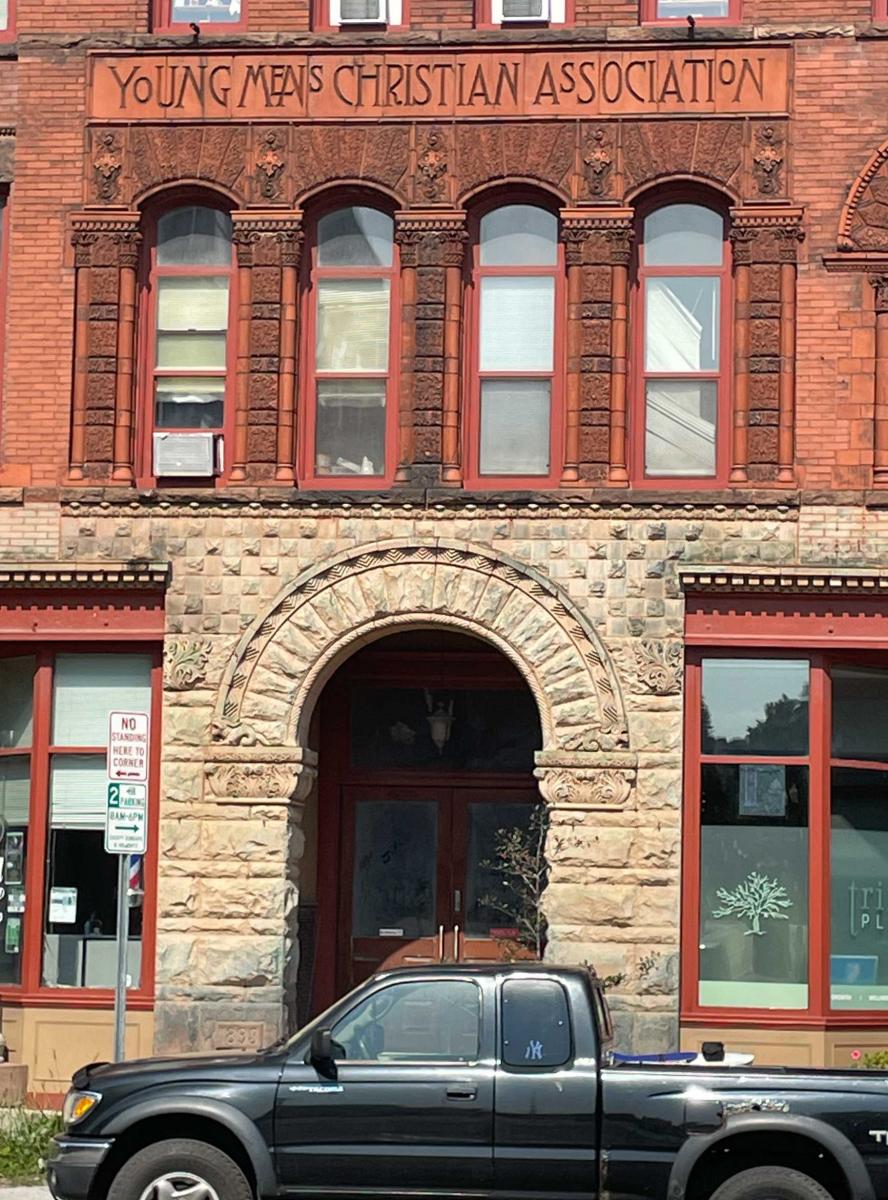 To travel the corridor of US Route 20 from Cazenovia to Geneva is, in some ways, to go back in time. With the exception of Skaneateles, which is in the same county as Syracuse, none of the towns are within a metro area—which reduces the intrusion of sprawl. Taking the detour I described between Auburn and Seneca Falls helps to maintain that time-travel illusion. Altogether, there are two small cities and four substantial villages, and in-between is a national wildlife refuge and beautiful countryside, with a few additional settlements. For an urbanist or just a sightseer, this is a highly enjoyable ride. Of course, 99 percent of travelers will simply take I-90, which parallels Route 20 a few miles to the north.
The great journalist Charles Kuralt once said: "Thanks to the Interstate Highway System, it is now possible to travel across the country from coast to coast without seeing anything." Or, you can be part of the 1 percent that takes an alternate route.
Speaking of Interstates, CNU is working on its biennial Freeways Without Futures report, which looks at freeways from a different angle. Many in-city freeways have not bypassed communities—but rather demolished substantial portions thereof. Some Interstate/freeway sections are on their way to demolition and transformation, and that's what Freeways Without Futures is all about.