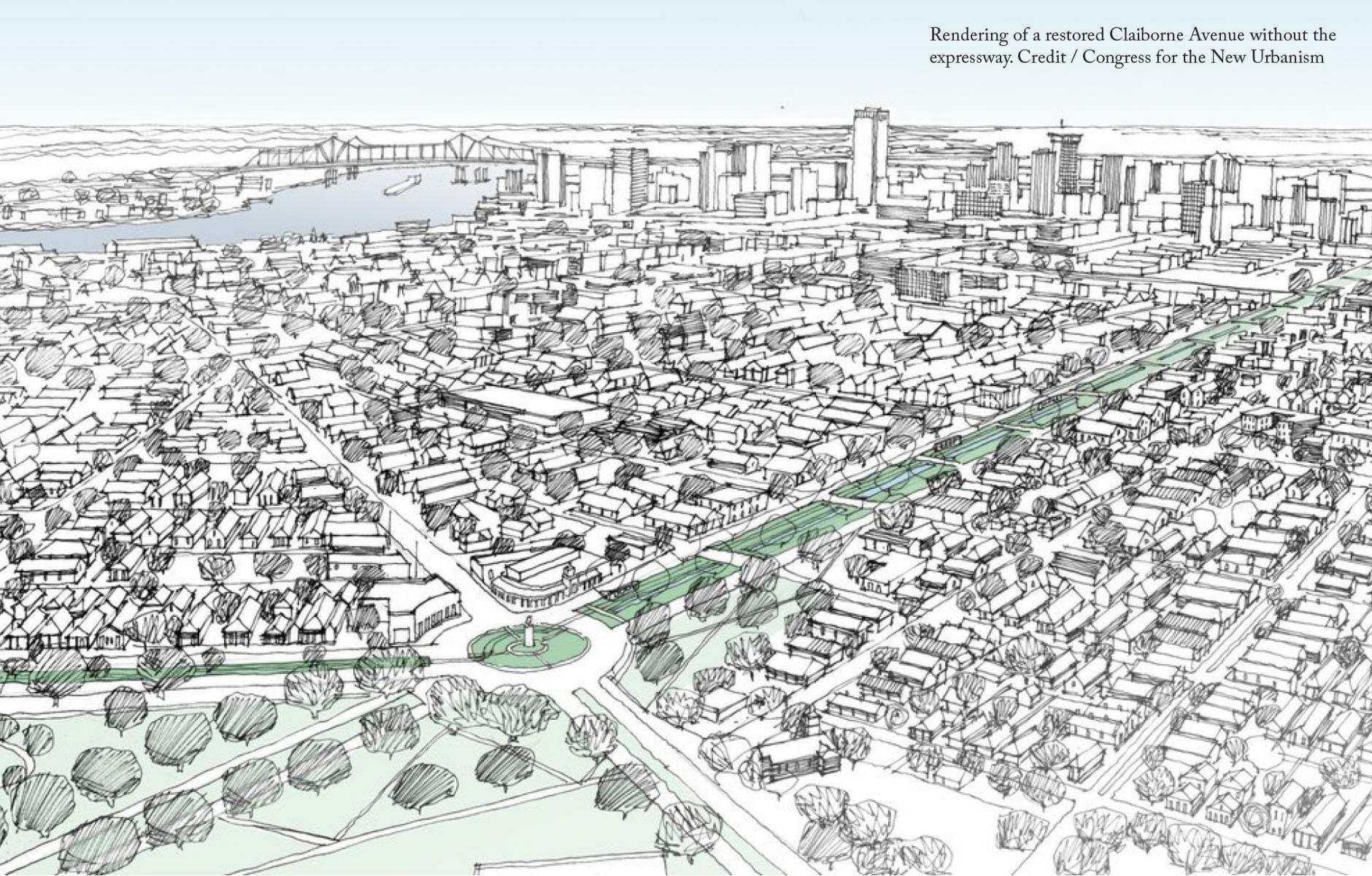 Supporting a federal role in highway removal
Highways to Boulevards campaign organizers and CNU members visited 20 Congressional offices in late October, to discuss two current proposals in Congress that would offer funds for highway removal.
In July, both houses of Congress took a momentous step toward recognizing and repairing the damage federal highways have inflicted upon urban communities. Congress has proposed not one, but two different federal highways-to-boulevards pilot programs, both of which include a novel provision to open funding for feasibility studies to community-based nonprofits. While it is still a far way off before either program becomes law, the bipartisan support for them is promising, and members of CNU teamed up with local highway campaign organizers to highlight the programs' potential to their members of Congress.
In advance of CNU's 2019 Transportation Summit, the organizers of local Highways-to-Boulevards campaigns and CNU members took to Capitol Hill to discuss the programs with their representatives, educating them on the social, economic, and environmental benefits of Highways-to-Boulevards projects. In total, they met with 20 Congressional offices, including the offices of Senators Ted Cruz (R-TX), John Cornyn (R-TX), Bill Cassidy (R-LA), John Kennedy (R-LA), Cory Gardner (R-CO), Michael Bennet (D-CO), Marco Rubio (R-FL), Rick Scott (R-FL), Tammy Duckworth (D-IL) and Representatives Cedric Richmond (D-LA-2), Steve Scalise (R-LA-1), Llyod Doggett (D-TX-35), Roger Williams (R-TX-25), Michael McCaul (R-TX-10), Ed Perlmutter (D-CO-7), Diana DeGette (D-CO-1), Brian Mast (R-FL-18), Ayanna Pressley (D-MA-7), Jesús "Chuy" García (D-IL-4), and Danny Davis (D-IL-7). 
Several of the Highways-to-Boulevards campaigns that joined in the Capitol Hill Education Day are fighting highway expansions at the same time as they are advocating for boulevard and street network solutions. 
From Colorado, members of the Ditch the Ditch campaign met with their representatives to discuss the Central 70 project, a widening of Interstate 70 through the Denver neighborhoods of Elyria, Swansea, and Globeville. Together with the group Unite Denver North Metro, Ditch the Ditch has advocated for a boulevard to replace this section of the highway, citing environmental concerns for the neighborhoods, the inappropriateness of a limited-access highway in an urban context, and the existence of an alternative through-route via I-76 and I-270. However, the Colorado Department of Transportation (CDOT) refuses to comprehensively study any alternative beyond a highway through the middle of Denver. It has begun a $1.2 billion plan to tear down the existing viaduct, bury part of the highway, add four more lanes, and expand toll lanes, shoulders, and service roads. 
Ditch the Ditch organizers are still fighting this expansion. They told their Congressional representatives that the ability to conduct feasibility studies independently of CDOT would bring information and professional expertise from outside the normal channels of infrastructure development and give all alternatives a fair consideration, including the replacement of a highway with a multi-modal boulevard.
Other campaigns, anticipating that the aging highways through their neighborhoods will need replacement soon, see this as a critical moment to begin a conversation about what should happen next. In New Orleans, the Claiborne Avenue Alliance wants to restore Claiborne Avenue to the tree-lined boulevard it formerly was before the construction of the Claiborne Expressway. The avenue was once a source of community pride and the premier destination for shopping, leisure, and socializing for the African-American Tremé neighborhood.
Members of the Claiborne Avenue Alliance came equipped to share with their Congressional representatives the data and stories they have been collecting over the previous years. In partnership with the Louisiana State University Health Sciences Center, they have documented how pollution from the highway affects those who live around it. Fourth graders from Phillis Wheatley Community School, only five blocks from the highway, also assisted in the documentation, producing their own report with recommendations for the future of the Claiborne Expressway. These were hand-delivered to Congressional aides and staffers.
The visits to Capitol Hill comes at a time when members of Congress are starting to reconsider how to spend federal infrastructure dollars. The newly-formed Future of Transportation Congressional Caucus, now 22 members strong, has committed to reimagining federal transportation policy so that it prioritizes equity, access, and sustainability as key metrics. Highways-to-Boulevards campaign organizers met with the offices of three caucus members, including founders Ayanna Pressley (D-MA-7) and Jesús "Chuy" García (D-IL-4). 
During the Transportation Summit, campaign organizers and CNU members initiated a broader discussion of what the Highways-to-Boulevards movement requires to continue its success. They identified the need for a comprehensive guide to highway removal, one that covers not only designs for the streets and public spaces that replace highways, but also includes playbooks for organizers to run campaigns and policies communities can adopt to combat gentrification and displacement around former highway corridors after removal.

Freeways Without Futures