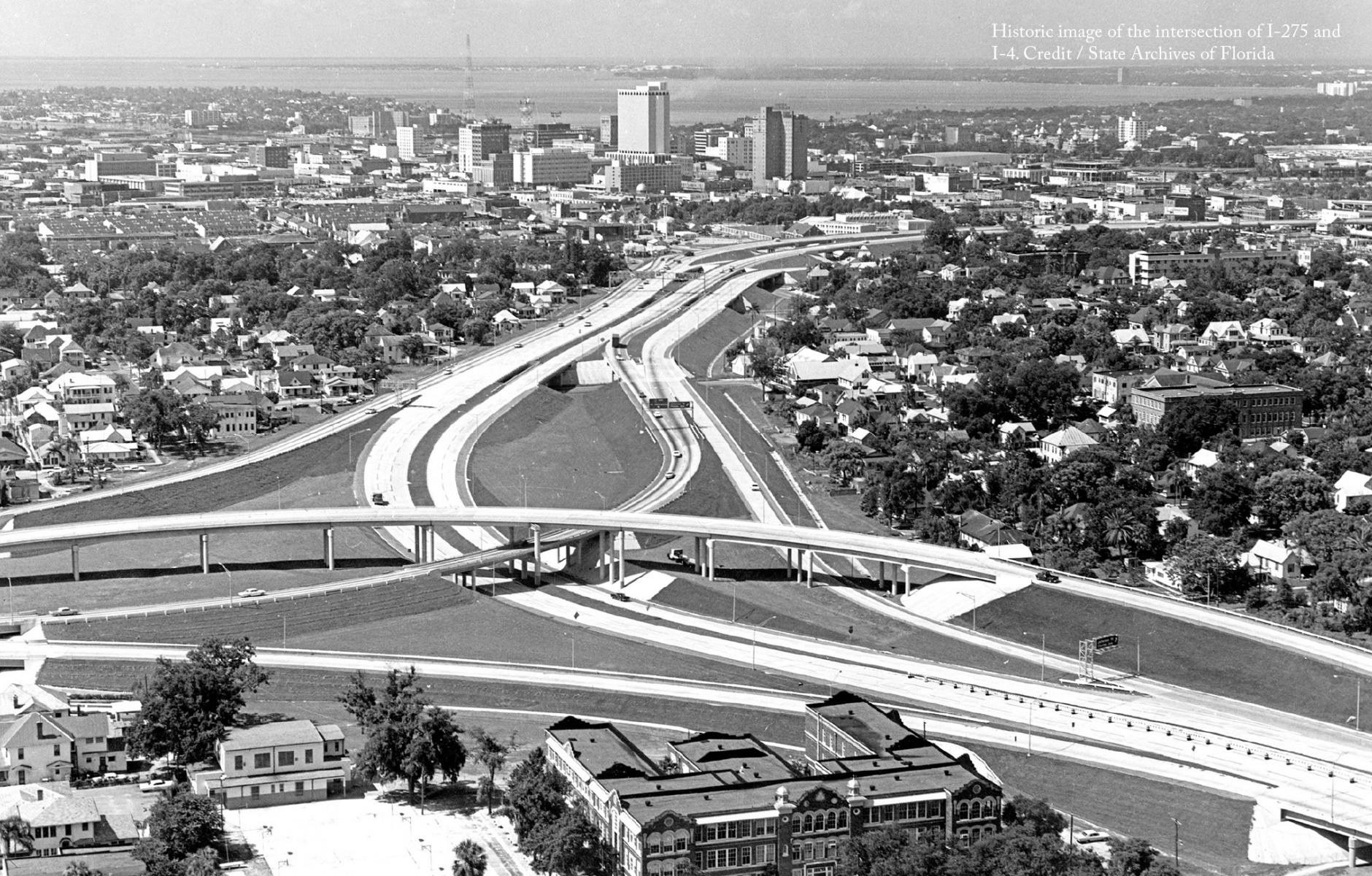 Historic image of the intersection of I-275 and I-4 in Tampa. Source: State Archives of Florida
A boulevard rather than a freeway
I-275 was built on top of Central Avenue and split Tampa in half. Transformation into a boulevard is gaining political traction due to economic and quality of life benefits.
Note: CNU's sixth biennial Freeways Without Futures report was released April 3. I-275 was one of ten highways listed.
The 11-mile stretch of I-275 that runs through Tampa touches every one of its downtown neighborhoods. Many of these neighborhoods have still not recovered from the damage done by I-275 when it opened in the early 1960s. Now there is a remarkable opportunity to reclaim this corridor for public transportation in one of the most underserved transit markets in the United States. 
I-275 was built on top of Tampa's former Central Avenue and split the entire city in half. Incalculable damage was done to Tampa's rich ethnic and historic neighborhoods, including Ybor City, the former cigar manufacturing capital of the world; and Central Park, the African-American neighborhood that some called the "Harlem of the South"—a one-time home to Ray Charles and often visited by top musicians of the era like Chubby Checker and Ella Fitzgerald.

Recent proposals by the FDOT to reconstruct the aging freeway with an expanded footprint and variable toll lanes have catalyzed community opposition to the project. One concerned citizen, Josh Frank, has started a movement, #blvdtampa, that envisions a future for Tampa without I-275.
Armed with extensive traffic data, Frank has demonstrated that Tampa is ill-served by a limited-access highway—as the majority of vehicles that travel I-275 have both local origins and destinations within the city. Instead of rebuilding the highway, #blvdtampa proposes replacing it with a boulevard more suited to local traffic.
The transformation of I-275 into a wide, landscaped boulevard, featuring bike and pedestrian paths and either light commuter rail, bus rapid transit, or a modern streetcar would give Tampa an urban spine around which to grow. The boulevard could include slow-moving local lanes protected from the main traffic, on-street parking, cycling access, pedestrian refuges that reduce crossing distances, and bus shelters.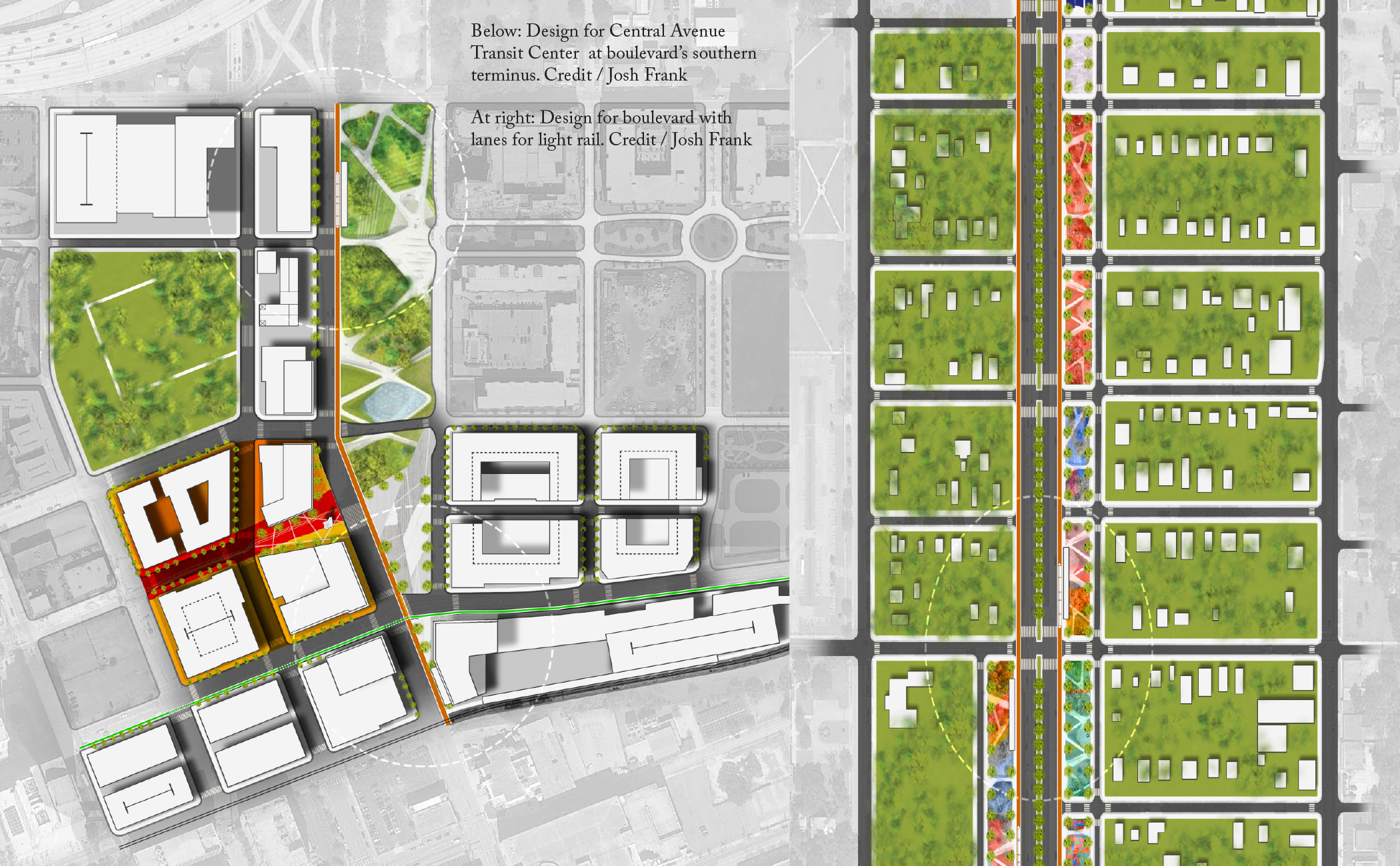 The economic benefits of this proposal are substantial. Estimates to rebuild the highway range from $3-9 billion, much of which could be saved with the boulevard option. The removal of the oversized highway would immediately open up more than 35 acres for development, boosting the City's tax base. Coupled with investment in public transit along the corridor, depressed property values in the neighborhoods around the highway would be expected to rise.
Moreover, the boulevard option has the potential to significantly improve the quality of life for people who live nearby. Thousands of homes lie within 1,000 feet of the highway, where air pollutants are most concentrated. Increased transit service on the boulevard would remove polluting vehicles from the road and offer alternatives to driving for residents who currently have few other options.
Although the proposed 11-mile removal of I-275 is ambitious, local organizations such as Sunshine Citizens, Heights Urban Core Chamber, and the Tampa Heights Neighborhood Association, as well as several members of the Hillsborough County commission and candidates for Mayor of Tampa, support transformation of the highway. The strong community support for the #blvdtampa proposal has led the Hillsborough Metropolitan Planning Organization, Tampa's regional planning agency, to include it as an option in its long-range transportation plan. Currently the campaign has begun to advocate its plan at the state level, as organizers have met twice with local District 7 FDOT officials, who now recognize the multi-modal transit corridor as an alternative option.
Note: Freeways will be a topic at CNU 27 in Louisville June 12 through 15. Discounted registration is available until May 10th.