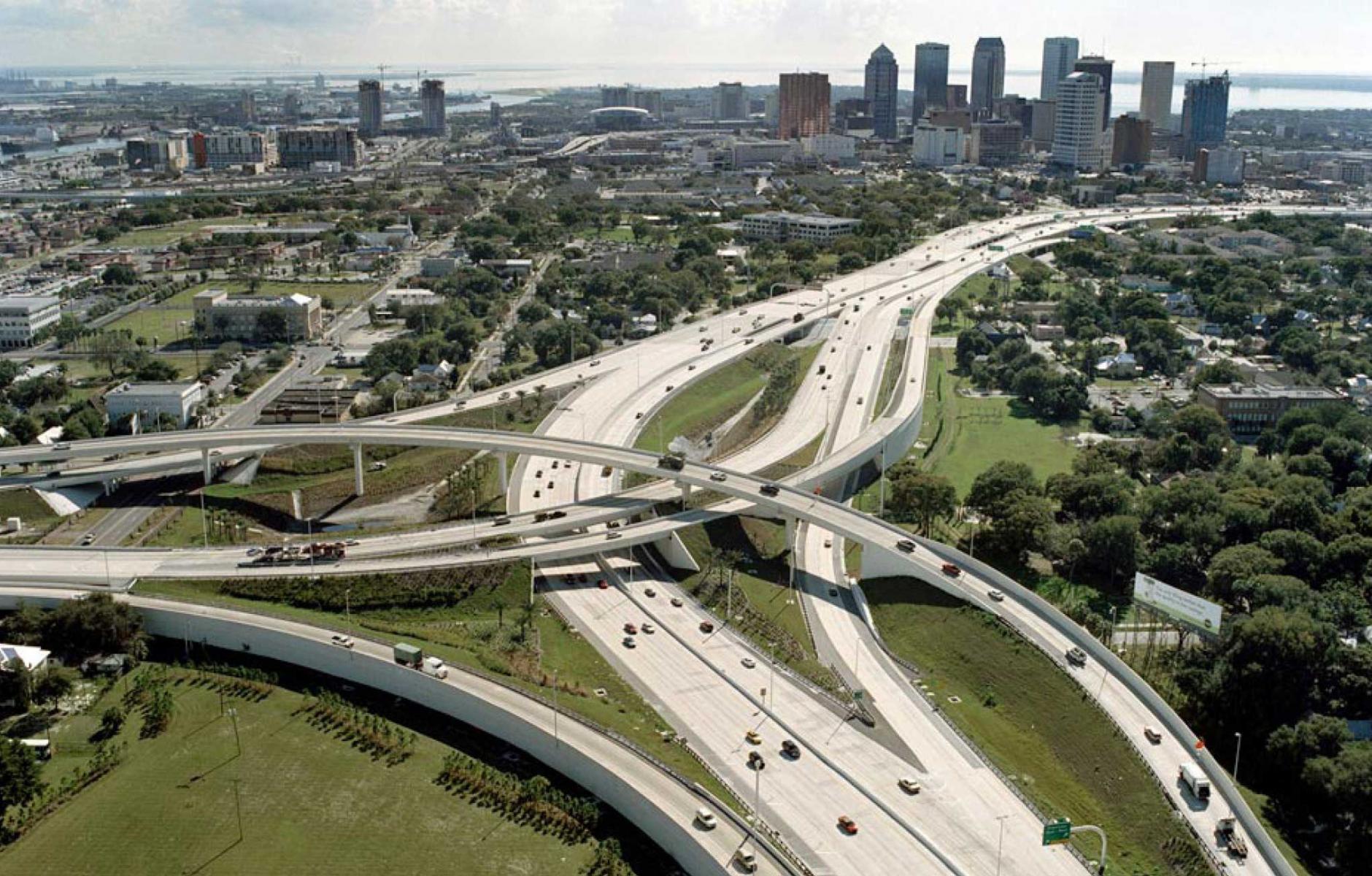 The interchange of I-4 and I-275 in Tampa. Credit: #blvdtampa
Three ways to tame major highways
CNU's biennial Freeways Without Futures report is out now! In a series of articles, Public Square is exploring common threads from the report. This is article 3.
Nearly every city in America has one: the big highway that runs across its center. It separates neighborhoods, pollutes residents' homes, and drives disinvestment, but since it's been deemed vital for traffic, there's little impetus to do anything about it. Freeways Without Futures 2021 tells the stories of Highways to Boulevards projects that buck this status quo and seek to reconnect the communities these major highways divide.
How can communities begin to tackle such divisive roads? 
First, start small to demonstrate the benefits. In Tampa, the Hillsborough County MPO is exploring the eventual removal of I-275, but right now the City of Tampa is working to transform Ashley Drive, effectively one of the highway's ramps to downtown, into a more pedestrian-friendly boulevard.
Second, make parallel investments in public transit. In both Tampa and Dallas, conversations about removing highways have gone hand-in-hand with significant planned upgrades for each city's public transportation networks. Increasing public transit reduces dependence on the highway.
Finally, consider a range of beneficial transformations. In Brooklyn, advocates and community groups have advanced a number of different alternatives for Robert Moses' Brooklyn-Queens Expressway, from outright removal to a series of caps. While these plans differ in scope and scale, they share a single principle: they all seek to repurpose the space the highway occupies in ways that improve the quality of life for residents along the corridor.
Interstate 275, Tampa, Florida
The #blvdtampa movement envisions a future for Tampa without I-275. Founder Josh Frank started the campaign when he examined traffic patterns along I-275 and saw that the majority of vehicles that travel it have both local origins and destinations within city limits. Since the Interstate isn't operating as a throughway (its intended purpose), could another type of street handle traffic and achieve other community goals at the same time?
#blvdtampa and its allies have set out to prove the benefits the city could reap by transforming up to 11 miles of I-275 in northern Tampa into a multiway boulevard, a type of landscaped street that separates through traffic from local traffic and creates an engaging pedestrian realm. Because I-275's right-of-way is so large, the opportunity exists to fit public transit into its footprint, either in the form of light commuter rail, bus rapid transit, or a modern streetcar, further reducing the need for trips by car.
The transformation of I-275 into a boulevard also prepares Tampa for future sustainable growth. A boulevard along this route provides Tampa a new urban spine that links its residential neighborhoods with downtown. The removal of the highway would reclaim 36 acres of developable land in neighborhoods that are some of the most protected in Tampa from rising sea-levels. With a flexible boulevard design, the new street can be sensitive to local context and change accordingly so that the density built around it gradually increases as it approaches downtown.
What once was seen as a fringe idea has built momentum and spread around Tampa Bay. Neighboring St. Petersburg Mayor Rick Kriseman has said that his city should explore removing I-175, which separates downtown from nearby neighborhoods. In this context, the transformation of I-275 has become part of a larger effort to improve transportation options across Tampa Bay.
For nearly a decade, local advocacy group A New Dallas has repeatedly demonstrated the enormous benefits of removing I-345 to the Texas Department of Transportation (TxDOT). And TxDOT appears willing to listen. The agency's 2016 Dallas CityMAP plan confirmed that the effects of removing I-345 would be overwhelmingly positive. 
A New Dallas has since grown into The Coalition for a New Dallas, a non-profit and Political Action Committee composed of a broad and diverse group of advocates and civic leaders. This group has since brought in Toole Design Group to take a fresh look at the CityMAP plan in order to improve design options and demonstrate feasibility.
As plans are put in place for the highway's removal, The Coalition for a New Dallas thinks that it's critical for the city to take steps to combat displacement that could result from such a serious improvement. The coalition proposes a variety of value capture and equitable development strategies where the land values are expected to be the highest and diverting some projected revenues to neighborhood stabilization and equitable development programs in areas of need where displacement is a concern. This will help ensure that residents will not only have access to newly built affordable housing, but also that they are able to remain in their current homes if they so desire, ideally with opportunities for renters to build equity.
TxDOT is expected to make a decision about a preferred alternative sometime this year. While other options may mitigate the negative effects of the highway, for The Coalition for a New Dallas there's only one clear winner: the removal of I-345 and its replacement with a robust network of urban boulevards. Dallas is already making investments to transform itself from an auto-centric city to one that is more livable, including the expansion of its subway system that will traverse the I-345 corridor. If TxDOT does its part and removes I-345, this will become a coordinated effort to make Dallas a city where all its residents can enjoy the benefits of jobs and basic services—housing, transit, schools, parks, and retail—available within a short distance.
Brooklyn-Queens Expressway, New York City
The Brooklyn-Queens Expressway (BQE) represents the paradox of famed highway builder Robert Moses' legacy. The roads, parks, bridges, and housing he constructed that reshaped New York City and Long Island to serve the public resulted in the displacement of thousands of families, destruction of tight-knit neighborhoods, and overall were built at the expense of innumerable people and communities of color. The BQE is no exception. Today, as the aging highway crumbles, New York City needs to decide if there's a better way forward.
It is clear that the highway has a detrimental effect on every neighborhood that it passes through, although some are more seriously affected than others. In particular, the wide footprint of the viaducts through the Navy Yard and Greenpoint neighborhoods have facilitated the design of auto-centric streets underneath them that are dangerous for pedestrians to cross. The trenched portion in Cobble Hill can only be crossed at a limited number of access points. And the entire highway subjects thousands of nearby residents to the concentrated exhaust of over 150,000 vehicles per day, many of which are funneled to the BQE to travel the toll-free Brooklyn and Manhattan Bridges.
To remedy these issues, a wide variety of organizations have put forward alternate visions for the future of the BQE, some of them limited to particular neighborhoods and others more wide-sweeping. The Cobble Hill Association has called for a cap over the trenched part of the highway in their neighborhood. Marc Wouters Studios' has proposed a relatively low cost series of public terraces that would extend the promenade over a reduced-width highway. New York's Institute for Public Architecture focused its Fall 2020 residency on what could be built in place of the BQE if the highway was removed altogether. These are just a handful of the ideas that grapple with the problematic BQE.
As New York City and State consider what to do with the outdated expressway in Brooklyn Heights, they should make sure to prioritize all neighborhoods along the corridor before they develop future plans. The transformation of the BQE offers a once-in-a-generation opportunity to create a more livable Brooklyn and Queens and should be seriously considered.
To learn more about the other highways in Freeways Without Futures 2021, download the report here.

Freeways Without Futures 2021