An aerial of the Culdesac Tempe design, with central pedestrian avenue lined by public spaces. Source: Opticos Design
'Car-free' development breaks ground in Arizona
Large mixed-use apartment complex in the midst of suburbia will be laid out like a European village with architecture appropriate to the southwestern desert.
It's not very often that a planned new urban community gets national coverage in the Wall Street Journal, Forbes, and Fast Company, among other publications. Yet that's the case with the 16-acre Culdesac Tempe (something of a misnomer because the project has no cul-de-sacs—not in the common sense of the term) in Tempe, Arizona.
The widespread coverage may be due to its billing as America's first "car-free" neighborhood. The Journal offered the most provocative headline: "New Arizona Development Bans Residents From Bringing Cars." 
The "car-free" claim may exaggerate the project's revolutionary transportation significance. As the local media azcentral.com reports, the retail part of this project will have parking—so cars will be involved. The 636 units of one- to three-bedroom apartments will have no parking, however. That effectively means that most residents of this apartment complex will not own cars.
Instead, residents will use the nearby light-rail station, which is a short ride to downtown Tempe and the Arizona State University campus. Culdesac Tempe will also offer car-share, scooters, bikes, and same-day grocery delivery. "Maker space" and other community amenities geared toward Millennials, Gen Z, and the tech economy are included in the plan.
Innovative placemaking design
So far, so cool—and that's not why I think this development merits attention from new urbanists. The urban designer, Opticos Design, has taken full advantage of the decision to forego parking to focus on timeless principles of placemaking. "It is similar in character to a Greek, Italian, or French historic village with irregular, narrow meandering paseos, a hierarchy of public spaces, and thoughtfully placed buildings and building elements that deliver a sense of discovery as you make your way through the project," notes Opticos. The architecture will be "purposefully restrained," with light-colored stucco exteriors appropriate to the desert climate.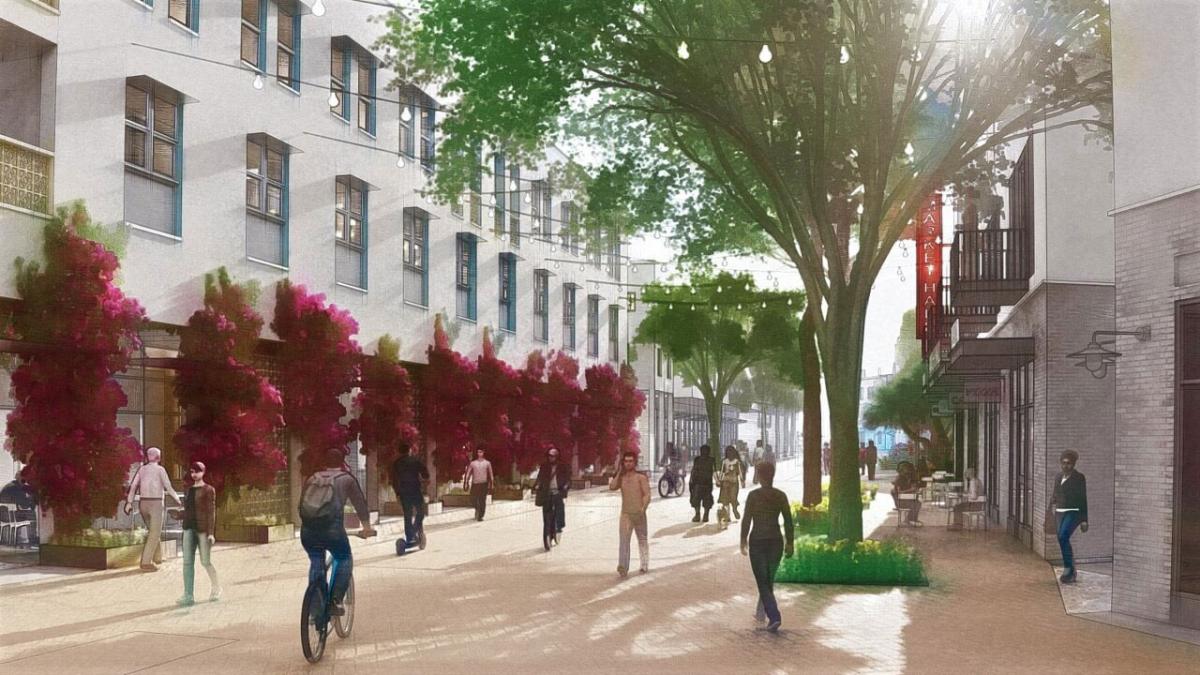 "This is a game changer," writes Opticos Principal Daniel Parolek. "Especially being built in a region that has a long history of auto-dominated development patterns. This project will prove it is time for cities to rethink parking requirements and allow the developers to respond to the market demand for car-light and car-free living. We have been waiting for a project like this for 20 years!"
The project will include seven basic residential types—all variations of "missing middle housing" that the designers specialize in. Missing middle is low-rise density—everything from townhouses to small apartment buildings. The project will also include multiple mixed-use and amenity buildings; Bookable spaces, flex spaces, gym, pool, dog wash, maker space, multi-purpose room, and rideshare drop-off.
In lieu of surface parking lots, more than half of the land area will be covered in landscaping, public courtyards, and greenery—"an unheard of ratio for an urban development," note the developers, named Culdesac.
The pedestrian-oriented design contrasts with the surroundings. The location currently has a Walk Score of 55—somewhat walkable but mostly automobile-oriented. The blocks are large and suburban in character. Apache Avenue, the main thoroughfare, is a suburban arterial with fast-moving traffic. It's saving grace is the light rail line that runs down the middle. 
The developer imagines some improvements to Apache Avenue that will make it more pedestrian-friendly. That's where the commercial development will be focused.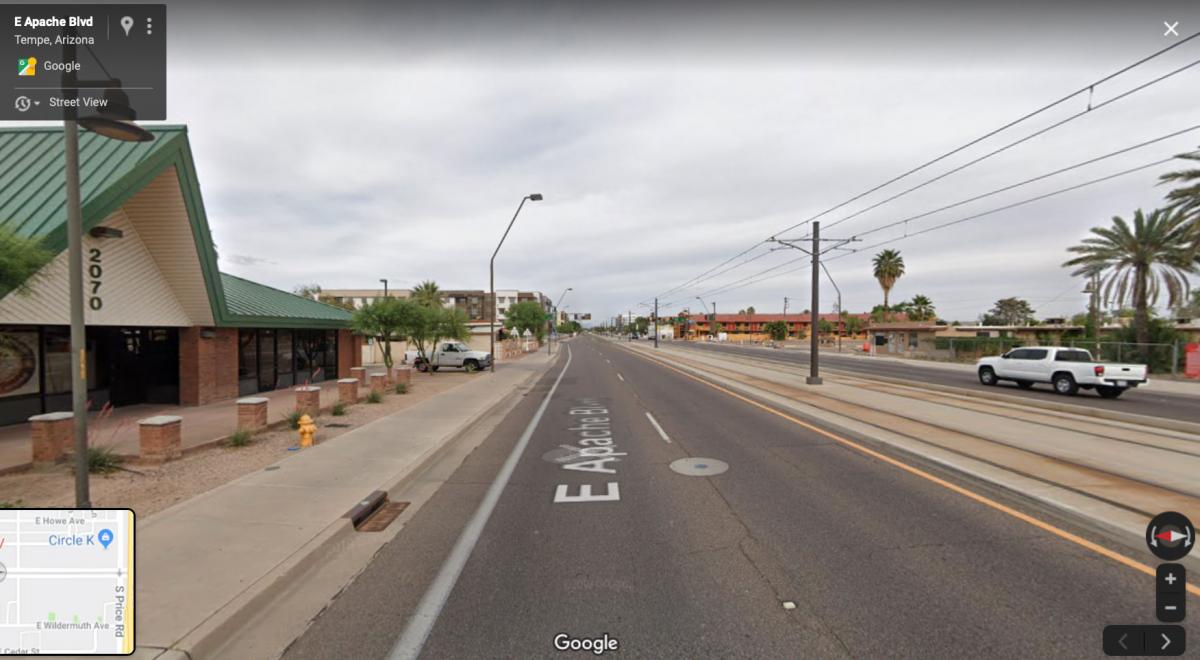 Apartment complex reimagined
Culdesac Tempe is a continuation of Opticos's recent efforts to reimagine apartment complexes. Earlier this year I wrote about Prairie Queen in Papillion, Nebraska, a new apartment community designed exclusively with missing middle housing types.  
New ideas for apartment developments are important because of the strong demand for rental living across the US. "Metro Phoenix is in the midst of an apartment building boom," notes AZcentral.com. "More than 3,000 other apartments are currently under construction or recently completed in Tempe, including River at Eastline Village, a 56-unit affordable development across the street from the Culdesac site."
The units will rent at market rate, the developer says. The average apartments rent for $1,360, according to ABI Multifamily. 
The $140 million project falls within one of Tempe's Opportunity Zones, which allows investors to take advantage of capital gains tax breaks.
The project is going through design review, yet it broke ground on infrastructure in November. 

multifamily
&nbsp&nbsp&nbsp
missing middle