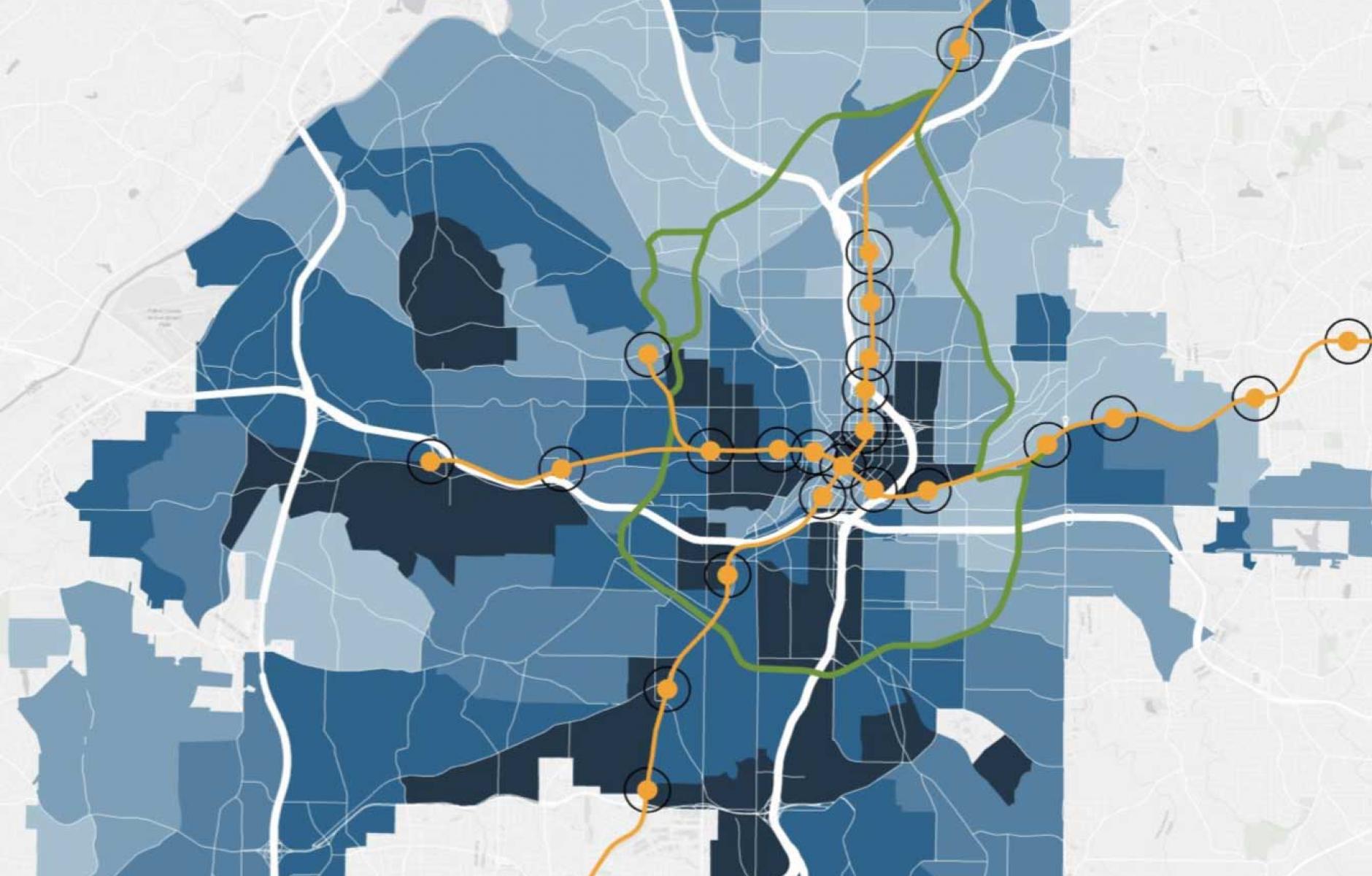 City of Atlanta map: High-volume transit lines and stations are in orange, the Beltline is in green, and places where fewest households own a car are colored dark blue.
Atlanta zoning update addresses parking, ADUs, missing middle
Atlanta is growing at an "unprecedented rate" and is trying to become more multimodal and less car-centric.
The City of Atlanta recently adopted a zoning update designed to accommodate a growing population—including reductions in off-street parking requirements and more opportunities for "missing middle" housing types and accessory dwelling units (ADUs) in single-family neighborhoods. 
The update resulted from a diagnostic test run on the city's zoning in 2015. "The diagnostic identified two buckets of items which came to known as Quick Fixes Phase I and Phase II," Keyetta Holmes, Office of Zoning and Development Interim Director, told Public Square. "Phase I items were those items that could be done in the short term. Phase II were the midterm fixes that required an in-depth review of the code and were included zoning innovations that were necessary for a more equitable code."
The city shrank from a peak of nearly a half million residents in 1970 to under 400,000 in 1990, but that trend has reversed in the last decade. The census indicates that in 2016 Atlanta's population was 472,522: a 12 percent increase in a six-year span from 2010 to 2016. This magnitude in growth has not been seen in Atlanta in the last 50 years, says city zoning commissioner Tim Keane. "Between July 2016 and July 2017, the city of Atlanta permitted more than $4 billion in construction: more than any other 12 months in the city's history."
Adds Holmes, "All estimates show that the City of Atlanta will increase its population to a million people. In order to accommodate those people we need a code that is less car centric and more multi-modal. In 2017 the City allowed accessory dwelling units as a use by right in the R-5 (Two Family) District.  To encourage density and to allow the use in other districts it was expanded to R-4 (Single Family Residential) and R-4A (Single Family Residential)." Further, the city addressed multi-unit housing, which exists but has been nonconforming. "By allowing the use by right existing units can be renovated and more units can be created."
This work is was led by the consultant team of TSW, Canvas Planning Group, and The Zoeckler Firm. "Now, … there is no parking requirement for any building built before 1965 (except for establishments with a liquor license); loading requirements are reduced citywide; ADUs are legal again in half the city; industrial mixed-use zoning now exists; missing middle is legal again; and we now have progressive parking requirements (no minimums and new caps) within 1/2 mile of MARTA rail, streetcar stops, and any transit lines that are built," noted Caleb Racicot of TSW in a Facebook post.
Atlanta joins other cities in reducing its minimum parking requirements. "A proposal to help solve San Diego's housing crisis by wiping out parking requirements for new condominium and apartment complexes in neighborhoods near mass transit took a key step forward on Wednesday," reported the San Diego Union-Tribune on February 6. The City of Buffalo, New York, eliminated minimum parking requirements throughout the city in 2017 by inserting a single line into the code: "There are no provisions that establish a minimum number of off-street parking parking spaces for development." Meanwhile, the international president of the Institute for Transportation Engineers last week recommended that cities get rid of regulations requiring off-street parking. 
While the changes to the zoning code were not "form-based" per se, neighborhood design standards were included in the update to improve the form of new infill buildings. For example, front porches or stoops are now required when the majority of existing single-family houses on a block face include these elements. Also, garage doors are required to be set back from the front facade. "The City's goal was to address concerns with regard to the environment, public health, quality of life, automobile dependence, affordability and equity," says Holmes. "Changes adopted in Phase I and Phase II are a precursor to the full update of the entire code.  It is the intent of the City to expand on all the topics we addressed in the updates and to find other innovate ways to address urban planning and design issues related to those topics in the City."
Architect Eric Kronberg, who designs and implements small development projects in the city and elsewhere, notes that "these fixes are way more substantial than most cities ever dream about fixing in their places."