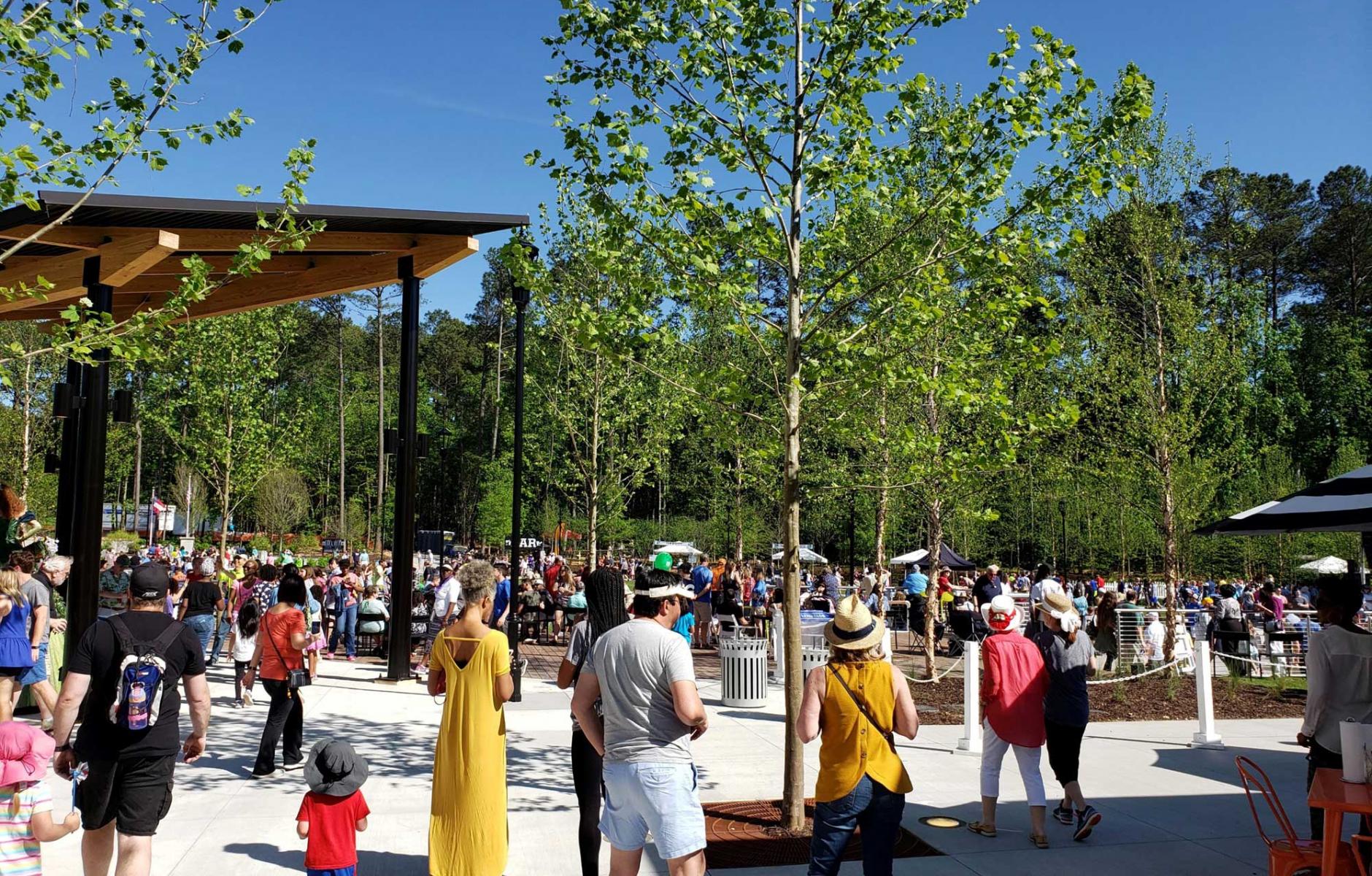 Public amphitheater in Peachtree Corners, Georgia. Photo source: Adam Williamson.
Amphitheaters spark and sustain downtown vitality
From Ancient Rome to modern America, amphitheaters are a superb facility to gather communities together.
As an urban planner, I tend to mentally dissect and evaluate every community I visit or live in—either consciously or subconsciously. What makes this community work? How could it be improved? What draws me in? On a recent trip to Italy where there is so much beauty and history, I found myself lost in thought as I observed the amphitheater in Pompeii. This is the oldest surviving Roman amphitheater built with stone, and it is spectacular. I let myself imagine life in Pompeii two thousand years ago. Here, in this magnificent amphitheater is where the citizens would gather together for an evening's entertainment, probably purchasing something to eat or drink as they walked to and from their homes. And, while gladiator combat is thankfully a thing of the past, designing and building an amphitheater to serve as the heart of a community is a time-tested idea and one that planners should certainly consider as they work to revitalize small towns and city centers. As in centuries past, amphitheaters, if located in the proper place, can add a new dimension to our modern cities and towns, and bring people of all ages together for entertainment, recreation, and interaction.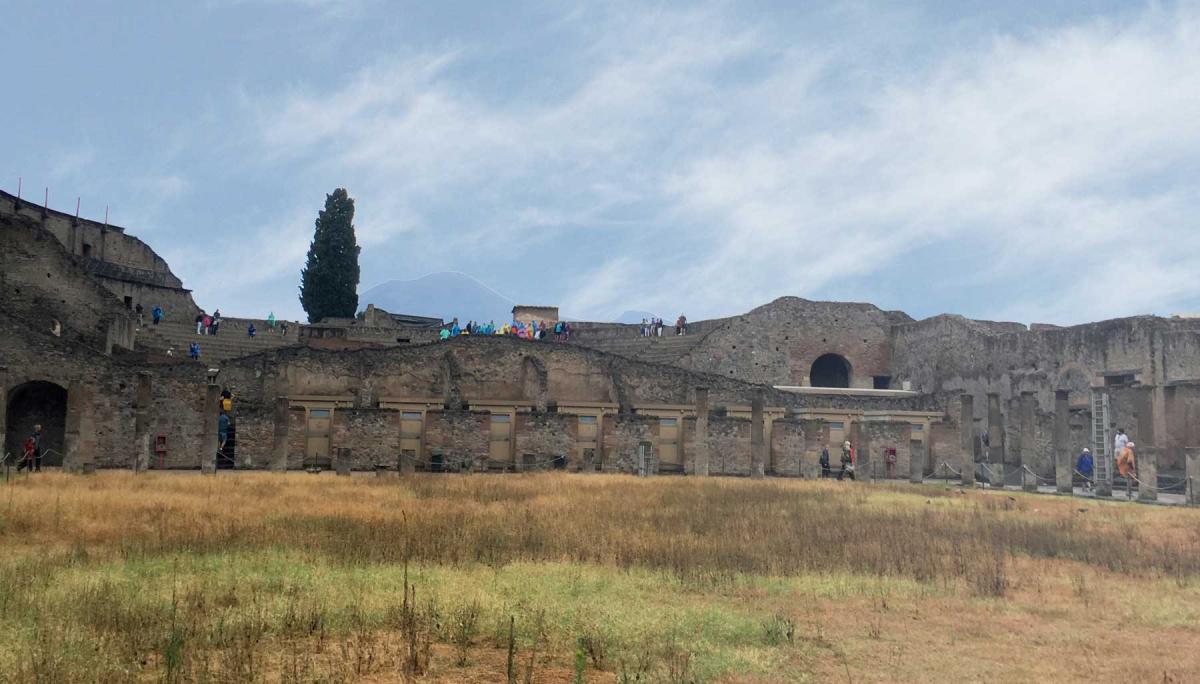 New Urbanist planners are often retained to develop strategies and recommendations to revitalize struggling downtowns. The process is not as simple as "if you build it, they will come". There are numerous examples of developments that failed to attract residents, businesses or visitors, or lost vitality over time. Each town is unique, but in general, community leaders want more retail and restaurants in the downtown area. Planners know that increasing the number of households will drive the demand for shopping and dining, and can support a vibrant nightlife, but there is sometimes opposition to denser housing. When it is feasible, my planning colleagues at TSW and I have started proposing landscaped, open-air amphitheaters as a catalyst for redevelopment. The idea is usually enthusiastically received, since people quickly grasp the advantages a multi-purpose amphitheater offers and sometimes find this idea more palatable than adding multi-family housing.
Most of our clients are attracted to the idea of open-air amphitheaters that function as flexible downtown parks. These spaces can and should be programed with multiple activities which bring people to the city, where they may also choose to shop and dine. Family-oriented programming can take place during the day and early evening, with more adult entertainment like concerts planned for evening hours. The Riverfest Amphitheatre in Little Rock, Arkansas is an example of how amphitheaters can spark downtown development. The facility was built in 1987. Adjacent to the park on the Arkansas River is the Little Rock River Market District, featuring restaurants, bars and hotels that attract people attending performances and concerts at the amphitheater. In 2013 alone, Riverfest brought in more than a quarter million people, creating an economic impact of over $30 million in the community.
When we consider incorporating an amphitheater into the plan for a new community, we need only look at the success of Seaside, Florida. The open-air amphitheater's landscape is used every day for Frisbee-throwing, picnics, relaxation, and play. The stage hosts concerts, theatrical productions, storytelling, movie nights, etc. A weekly farmer's market takes place on the grounds and the entire area is surrounded by mid-rise condos with ground-level retail and art galleries. The Seaside amphitheater is also a wonderful example of incorporating resilient design into the structure, in this case to ensure it can withstand temperature changes, water events, hurricane-force winds and other weather events. The Seaside amphitheater's resilient design benefits the entire community, since the sunken seating/recreation area also functions as a stormwater detention basin. This amphitheater serves a multitude of key functions for Seaside and is a key component in the town's three decades of growth and success.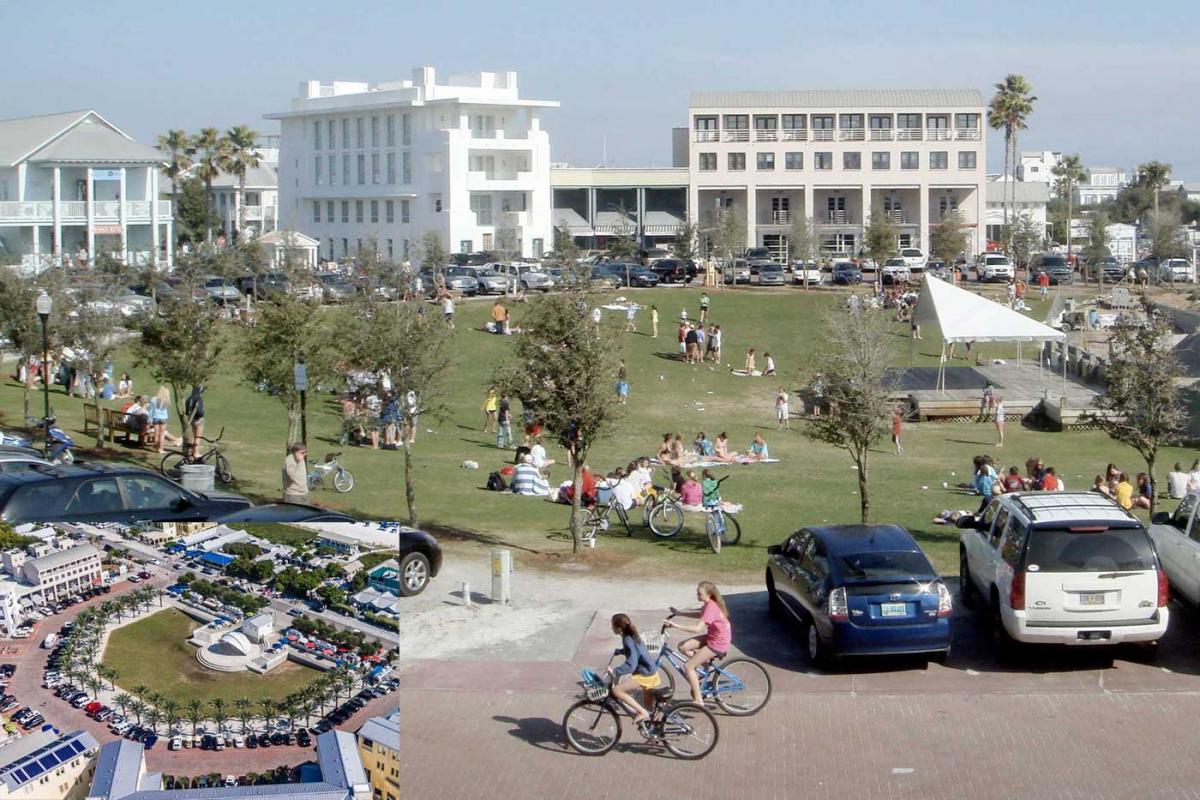 Currently, the metro Atlanta region is experiencing a resurgence of amphitheater construction, or, in some cases, parks with performance spaces. The City of Peachtree Corners, Georgia, recently built a well-received town green with performance space surrounded by restaurants. The flexibility of uses is the key to its success. The town green includes a stage, playable art area, covered pavilion, 22' digital screen, interactive water feature, public bathrooms, large play mounds, veterans monument and trail connectivity. Because the green is a destination, nearby retail has been able to successfully attract these visitors.
The historic City of Powder Springs, Georgia, has a town green under construction that is centrally located downtown adjacent to "Merchant Row." When completed, this new greenspace will include an outdoor amphitheater, interactive water feature, public bathrooms, playable art, artistic lighting and a new trailhead that connects to the 61.5-mile Silver Comet Trail. Although it is not fully completed, the new town green is already attracting new restaurants, a brewery and other exciting development that will bring life back to a previously dormant town.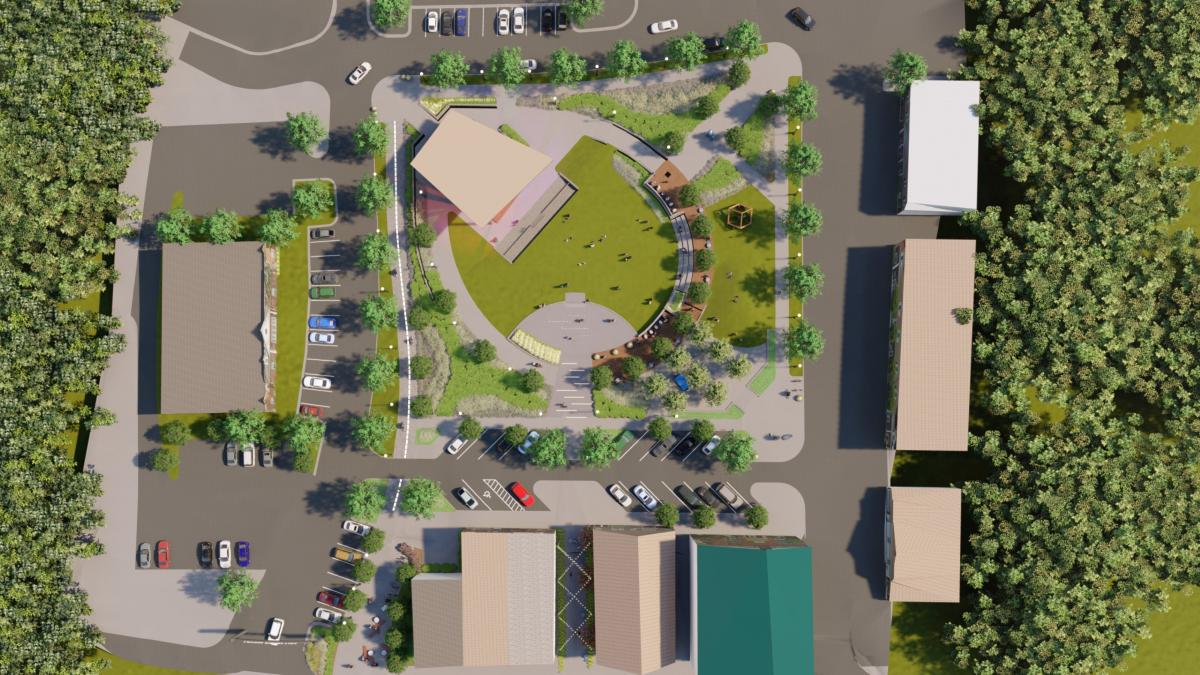 Thinking back to my time in Pompeii reminded me that utilizing town greens and open-air amphitheaters to generate excitement and spur development is hardly a new idea! One potential obstacle for modern planners is accommodating vehicles. Sometimes city leaders will push to have an amphitheater located outside of town so the development can include a large parking lot. Those projects can certainly be successful, of course, but in order to spark town center revitalization, the multi-purpose town green and/or amphitheater needs to be centrally located. I encourage my clients to consider shared parking arrangements, multi-modal access and ride-share pick-up and drop-off areas to accommodate visitors. As the ancient Romans demonstrated thousands of years ago, amphitheaters can bring communities together and generate positive economic impact if they are located properly and designed with a multitude of uses to entice visitors of all ages to enjoy the space and surrounding amenities.

community
&nbsp&nbsp&nbsp
downtown