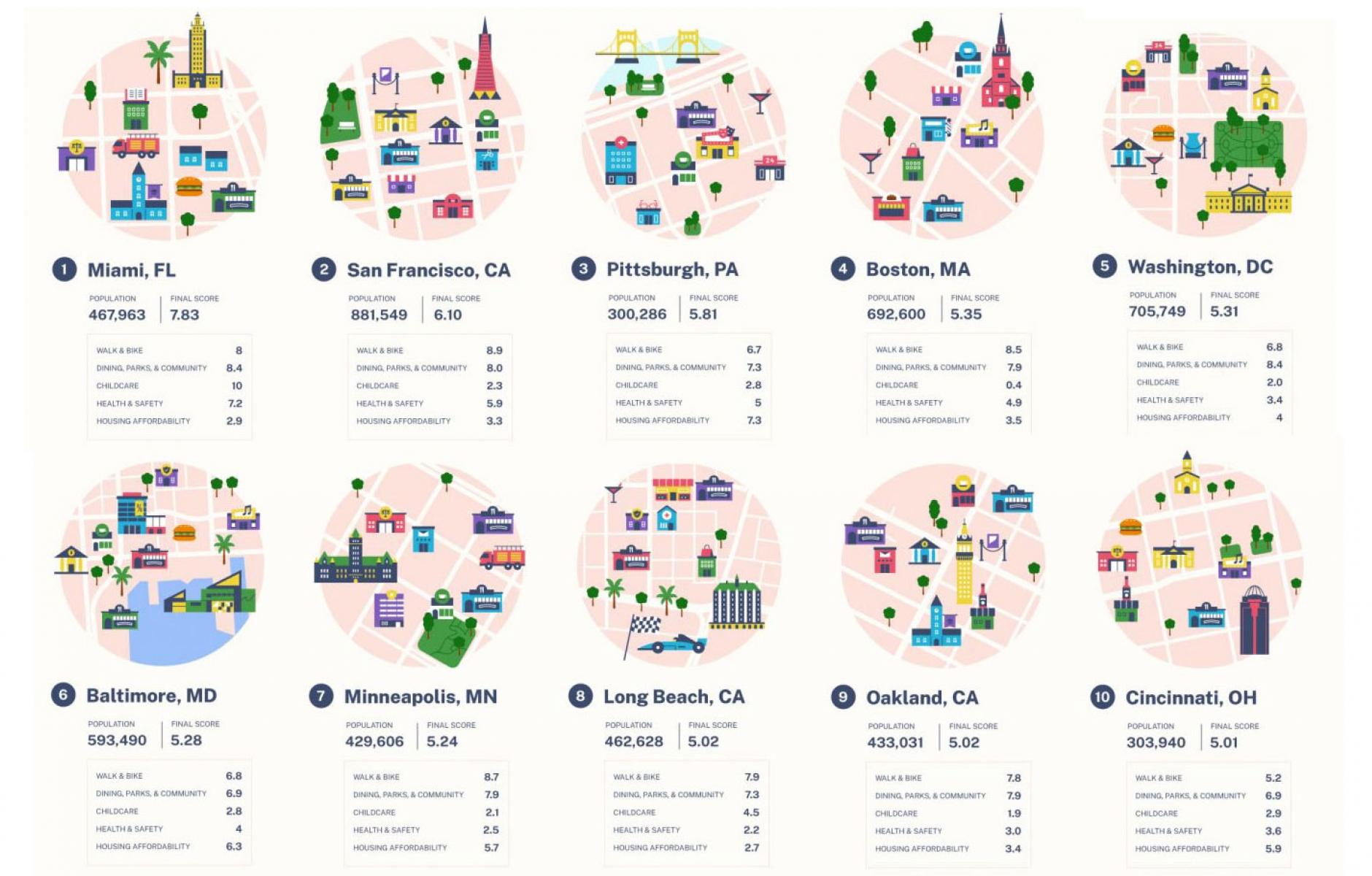 Source: MoveBuddha.com
Top 10 '15-minute city' list headed by Miami
Miami has the greatest potential for meeting 15-minute city goals, followed by San Francisco and Pittsburgh, according the first ranking of 15-minute city characteristics among large US cities.
Of all big American cities, Miami has the greatest potential for meeting the geographic goals of the 15-minute city, according to a recent analysis by MoveBuddha.com.
That Miami rose to the top over San Francisco, Boston, Washington DC, and other more obvious choices as 15-minute cities is surprising, but the website used a comprehensive analysis of 15-minute city characteristics. Those cities make it in the website's top 10 list (see graphic at top), along with Pittsburgh, Baltimore, Minneapolis, Long Beach, Oakland, and Cincinnati.

The authors read the report by Andres Duany and myself on Defining the 15-minute City, and focused on walking and biking as transportation modes. The 15-minute city may be defined as the ideal geography where all of a family's daily and weekly needs are located within a 15-minute walk or bike ride. The 15-minute city connects accessibility of needs and diversity of economy, culture, and services to the metric of time—subject to the spatial discipline of human-powered transportation.
In addition to walkability and bikeability, the score is based on measures of "dining, parks, and community," child care, which includes schools, health and safety metrics, and housing affordability. Miami did particularly well in the availability of child care and schools, but scored poorly on housing affordability. 
According to the analysis, US cities have a long way to go in meeting the goals of 15-minute cities. Only Miami and San Francisco scored better than 6 out of 10 overall. The rest of the top 10 scored between 5 and 6.
Some of the top 10 cities have good potential for 15-minute cities, and are also relatively affordable. "That's where cities like Pittsburgh, Baltimore, Minneapolis, and Cincinnati can offer more affordable options for those who prioritize walkability and bikability. All four cities have populations under 500K, great access to a wide range of necessities, and, best of all, have housing affordability scores that are much more feasible," notes MoveBuddha.com.
The website looked only at cities in the top 78 metro areas in population. Other cities in the top 25 included: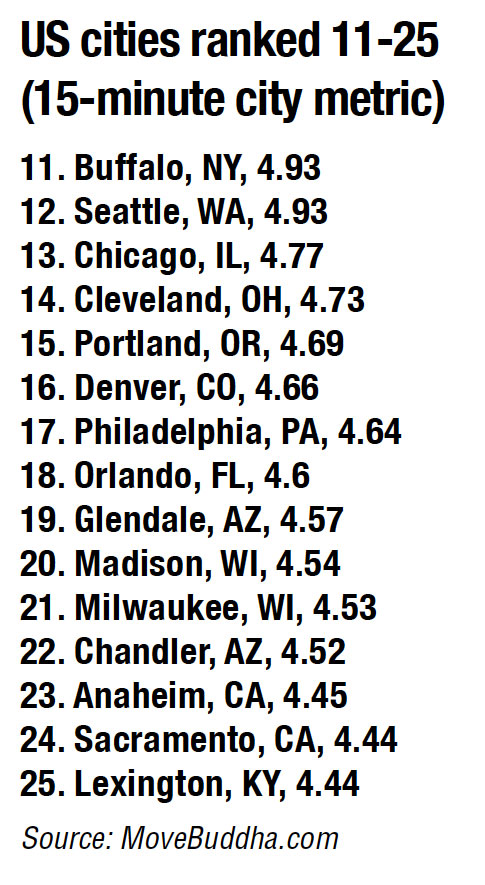 This the first comprehensive 15-minute city ranking, and the analysis may benefit from some refining. In terms of safety, the report includes the density of police stations as a metric rather than the prevalence of crime, for example. Are the availability of child care facilities as important as the parks and health care facilities? For families with small children, perhaps. Probably not for the majority of urban families that do not have children.
The ranking has a strong inclusion of health care, parks, and community gathering spaces. Jobs are included as Labor Force Participation in "dining, parks, and community," but may be undervalued as a metric.
These cities might have a somewhat different ranking if different metrics were used that were given different weight. The methodology is open for debate. And yet MoveBuddha made a number of good decisions in this analysis, providing a useful ranking for large cities.

15-minute city
&nbsp&nbsp&nbsp
popular