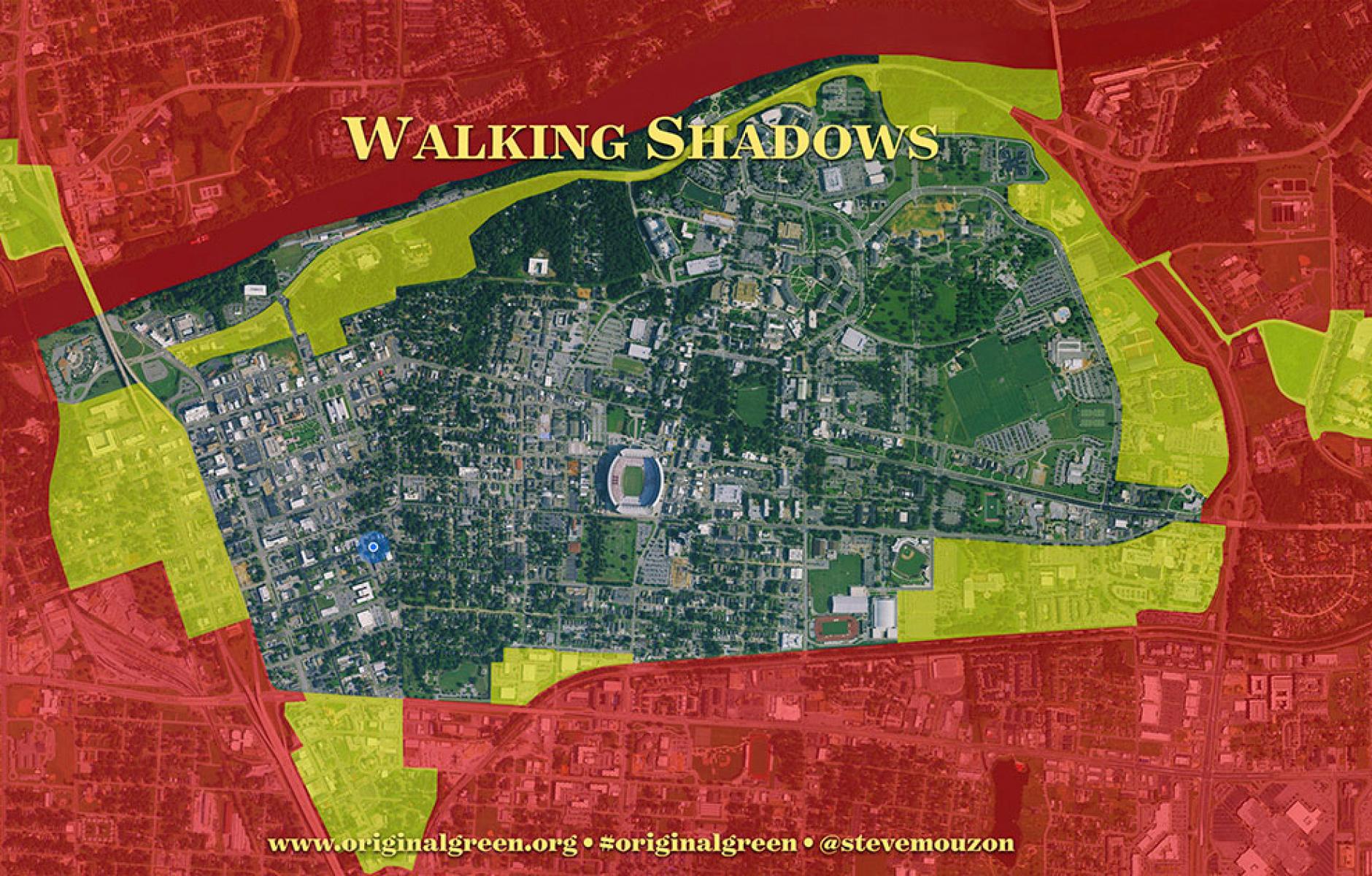 Going carless in a driving city
Even in the vast American drivable urban landscape, families can figure out how to do without a car—walking and biking to meet every personal need. Here's how it's done and you can do it, too.
   I came to Tuscaloosa, Alabama on a gig 16 months ago unsure how long I could do it because it's so much less urban than South Beach, but have been absolutely astonished by what I've learned. I'm the part-time interim University Planner at the University of Alabama, and it was never clear how long the gig would last, but assuming it would be longer than a month or two, I knew I'd have to get back to South Beach regularly to spend time with Wanda & the pups and get my dose of urbanism. So I negotiated to work 10 days a month and offered to cover lodging & travel so I could go back  forth to Miami whenever I needed to.
   We decided to rent a small loft apartment in an old bank building downtown rather than living out of hotel rooms, so Wanda and I drove the car up to Tuscaloosa the first Sunday/Monday of October, precisely 16 years after moving to Miami. She helped me set up the loft that week, then went back home to Miami.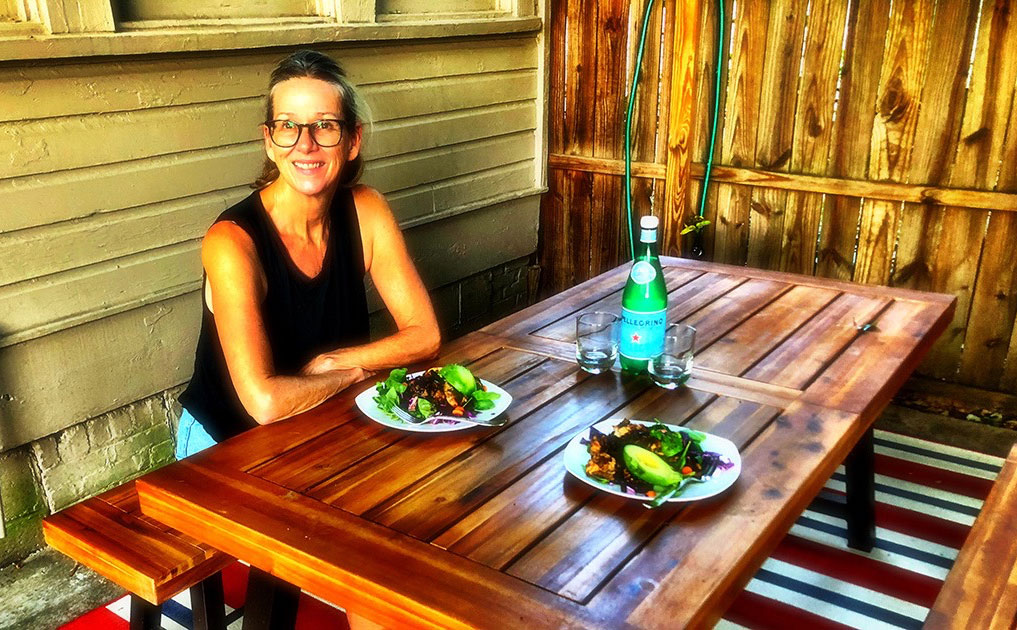 Ever since moving our business home in January 2014, we realized that while our condo is a wonderful place to live at 747 square feet, it's just a little too small to live and work, especially with all my books. While I was home over the holidays, we realized that if Wanda came to Tuscaloosa, it would be a perfect time to stage the condo so it would show better. So she spent a couple months getting it ready & joined me in Tuscaloosa in late March.
   It quickly became clear that running our business here would save around $2,600/month, which to us is big money. So we decided to rent a historic bungalow right at the edge of downtown. We moved at the end of July and have been delighted and amazed ever since. Here's why:
   In the process of discovering how much we can walk to from our bungalow, we also discovered things we won't walk to (see map at top). I call these places "walking shadows," because they're similar to the "pedestrian shadows" thrown by mega-projects or large impenetrable institutions like a gated government facility because nobody wants to walk around them. Everything on the other side is in effect "in their shadow." Walking shadows are a little different; think of them as shaded parts of the map created not by mega-projects, but by inhospitable edges. Here, they are the river on the north, railroad tracks, arterial thoroughfares, or industrial districts.
   The yellow shadows are accessible by bicycle because you can get through them faster. For example, the town center of Northport in the northwest corner of the map is accessible by bike because you can get across the bridge fast, but the heavy traffic just beside the bike lane is so scary that nobody walks all the way across. The red shadows are simply no-go zones. There might be good urbanism beyond, but after you've run the gauntlet of the bridge crossing or whatever, your desire to go further is pretty much spent. This is a really useful analysis technique that should be broadly used.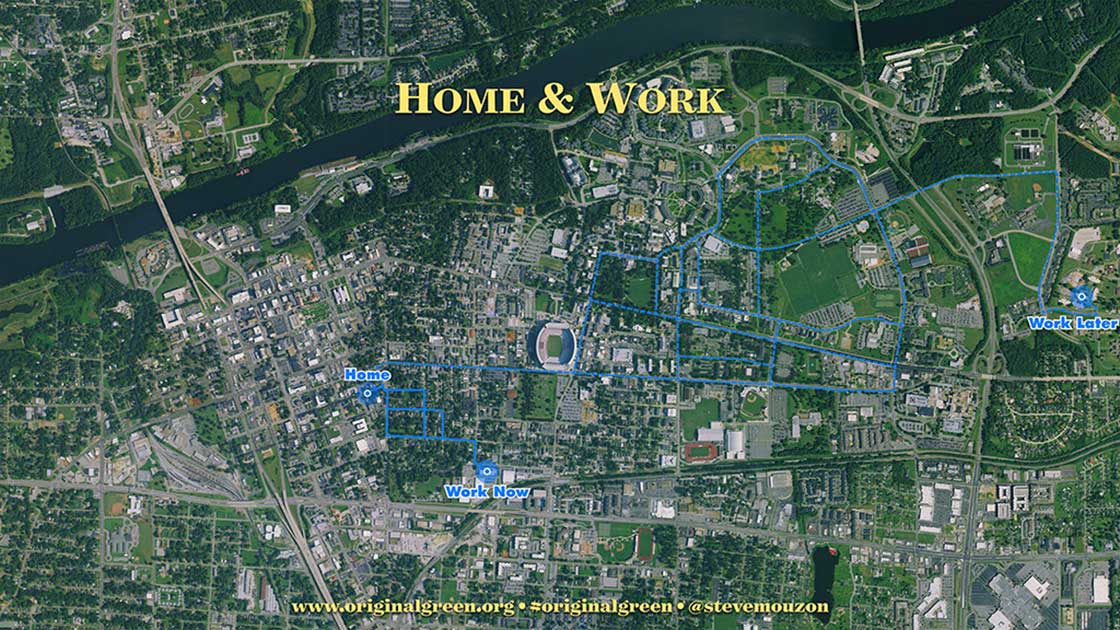 Our bungalow is marked Home and is at the eastern edge of downtown. As you'll see below, this is a magical location because it puts so many things within walking reach. I've long said that I'll never again live where I can't walk to work, walk to the grocery, and walk to the pharmacy because if you can walk to the latter two, there are probably several other destinations nearby as well. My gig at the university is currently located just ⅝ mile southeast (about a 12 minute walk), and is marked Work Now. My workgroup is scheduled to move this year to the location marked Work Later, which is across a US highway and much further east. Even if not for the highway, it would be a one-hour walk each way, which really cuts into the day. So when my workgroup moves I'll buy a bike and will spend about the same time getting there (12 minutes) as it currently takes me to walk.
   One other thing: Back in 2010 just after the Original Green book came out, I did this same exercise for our life on South Beach and dubbed it the Web of Daily Life. Back then, I showed only the most direct path to each destination, but I've learned since then that's not the way Walk Appeal works. If you walk the same path every day, it can get boring, and boredom lowers Walk Appeal. So on these maps, I'm showing many different ways you can walk while traveling about the same distance. It keeps life interesting.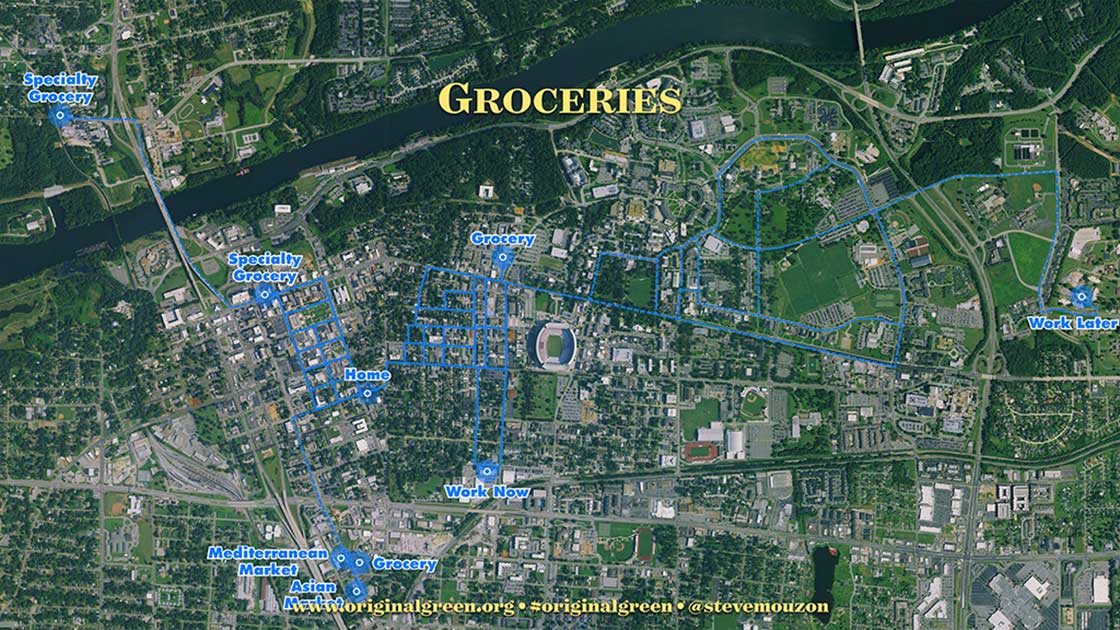 One of the main reasons I thought I couldn't live here long term is because there's no grocery nearby. On South Beach, there's a Whole Foods 4 blocks away and a Publix is ½ mile away. It took me a little while to realize there were any groceries at all, but there is a Publix northwest of the stadium. But it was about a mile from both the loft apartment and also our bungalow. I was accustomed to walking a few blocks with a bag of groceries, but… a mile??But then I tried it. Because there are many paths to get there, it's actually interesting. Part of that is because there are students living all along the way, doing crazy student things, and highlighting the fact that there's nothing more interesting to humans than other humans. In any case, there's not only the Publix, but several other specialty groceries as well. Today, the only time we buy groceries by car is in those rare times when we've driven to the red walking shadow for some other reason.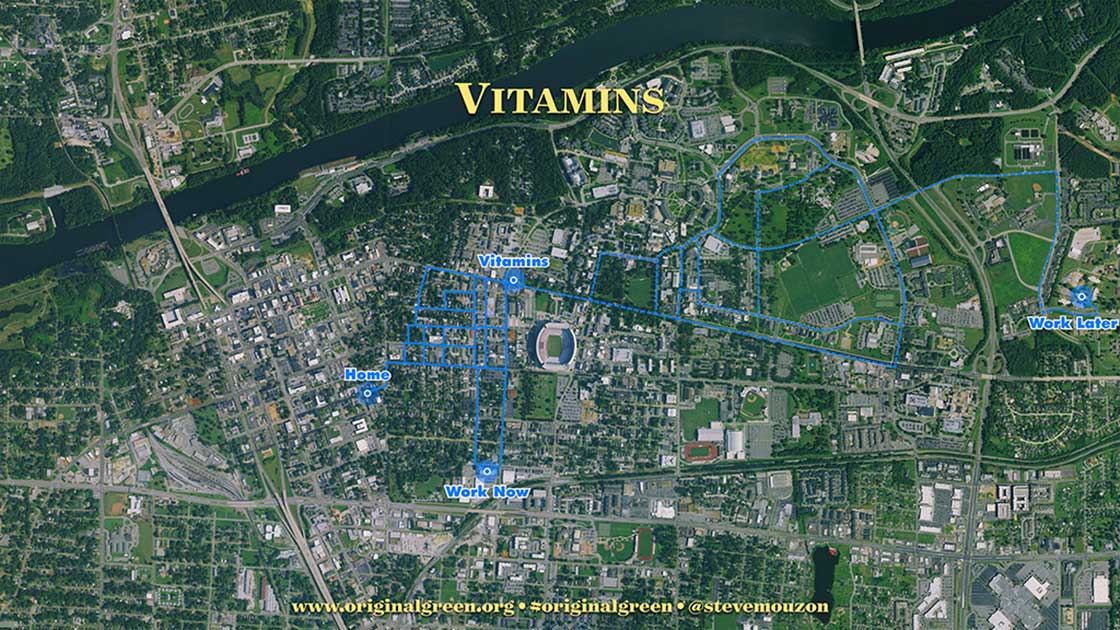 My mother opened her health food store in the mid-70s when I was in high school, and brought in speakers from all over on many nutritional issues. I have since then been committed to staying as healthy as I can by a range of practices, including wellness supplements. I was originally driving to a health food store which I really loved, but which was deep in the red walking shadow. Recently, I realized there's a GNC just beside Publix. Yes, it's corporate and doesn't meet all my needs, but it works for the basics and I order some things online.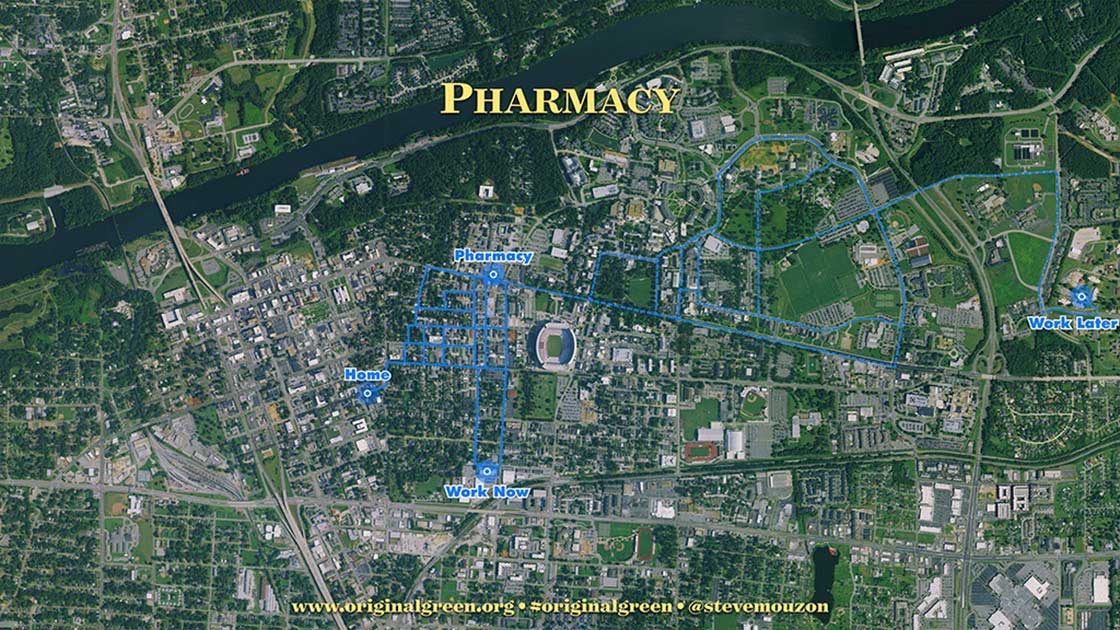 The pharmacy is an essential to me not for the drugs (because I rarely need prescriptions) but because it has become the modern-day general store. And, like groceries, pharmacies tend to be located near several other types of destinations as well.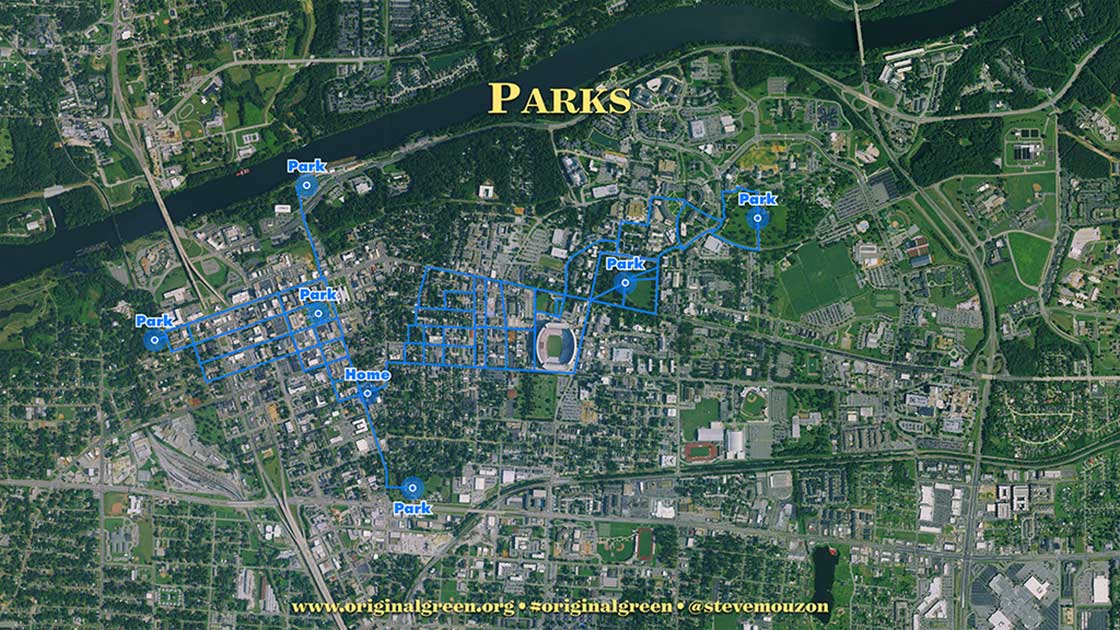 Here's a shocking fact: On South Beach, we were within walking distance of four parks. In Tuscaloosa, we're within walking distance of six! Technically, it's more than that; these are just the ones we go to.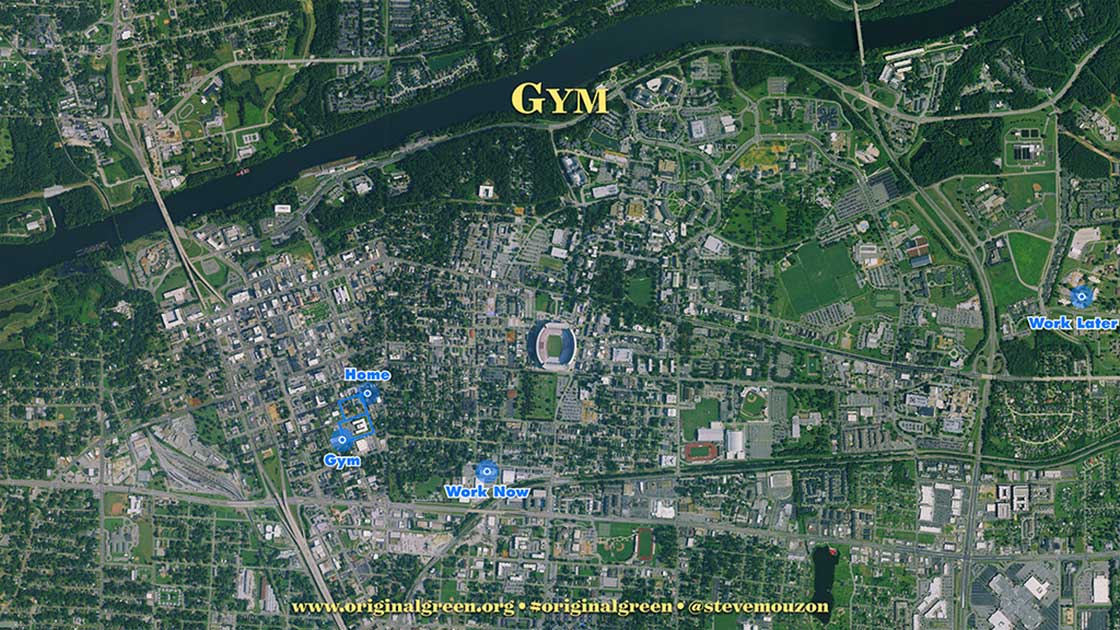 We're members of the downtown YMCA, which is just around the corner, at well under a 5-minute walk. Wanda hasn't yet canceled her membership at her South Beach gym because it has a location here, but it's deep into the red walking shadow, and an annoying drive.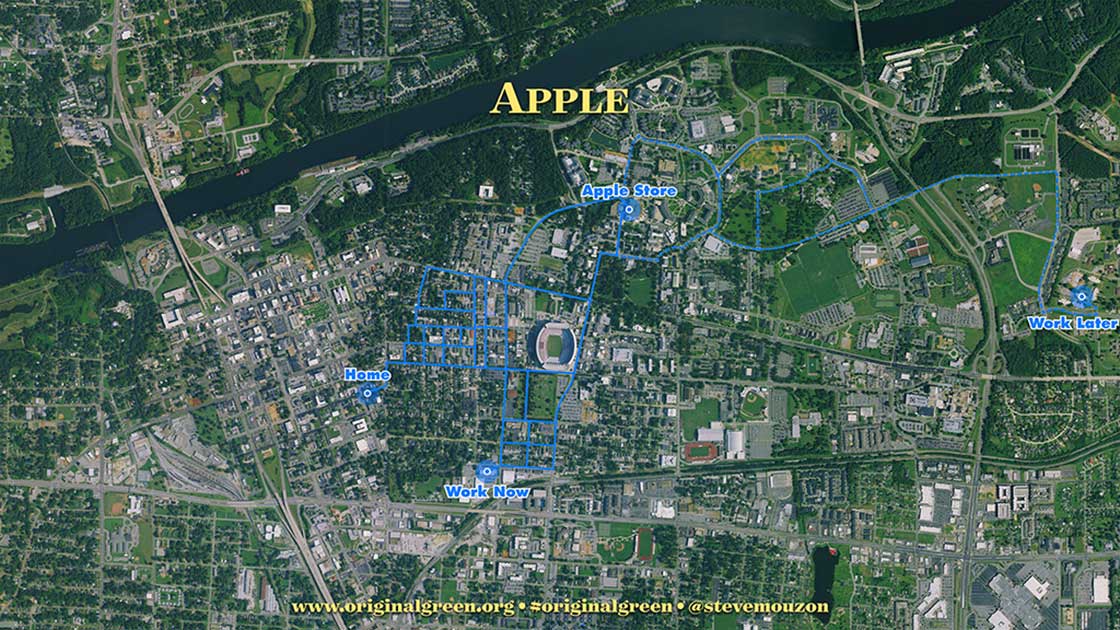 OK, so it's not a corporate Apple Store with geniuses and stuff, but the Apple-focused part of the supply store in the student center is an authorized Apple retailer, and they carry pretty much everything I'd buy at the Apple Store an hour away in Birmingham.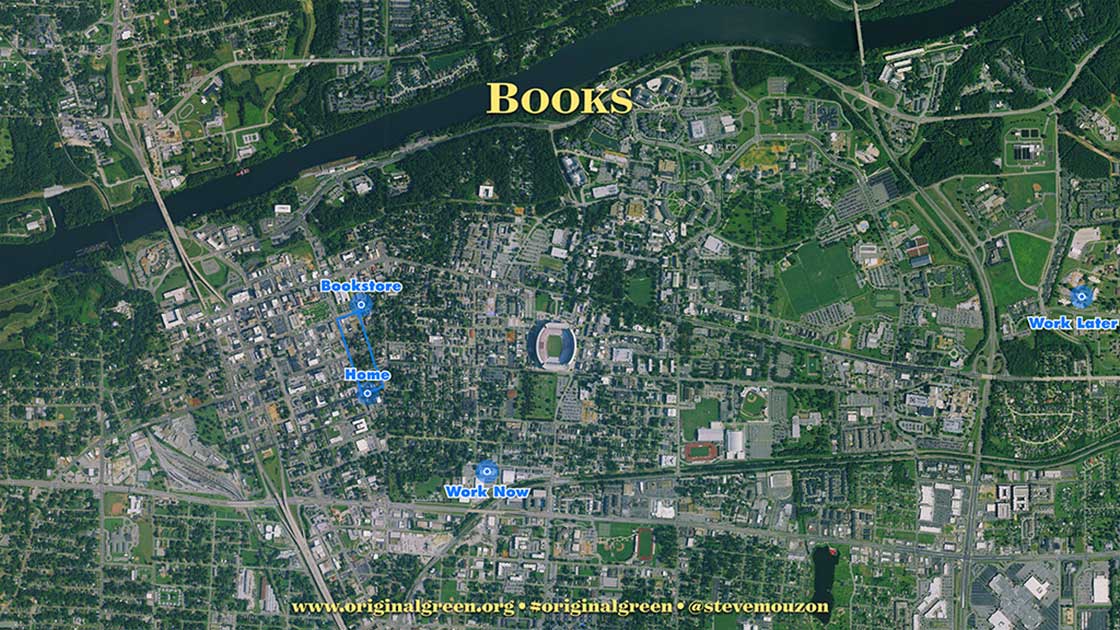 You've heard for years that independent neighborhood bookstores are dead, right? Well, they're back from the dead. Ernest & Hadley is a great one just five blocks away. After all those years in the wilderness of big corporate bookstores, I think Ernest & Hadley helped me relearn why we love the indies so much. I was there a few weeks ago and they had a couple of the Foxfire books from the 1970s, which were published right about the time of my "all-things-natural" awakening in my teen years. They contained all sorts of folk wisdom about building, living, eating, and so many other facets of life. But I hadn't thought about them in years. Excitedly, I asked if they could get the whole set. They could. And now I'm the happy owner. That would never have happened in a big corporate bookstore, because they would have had the current most popular books, just like all the other corporate stores.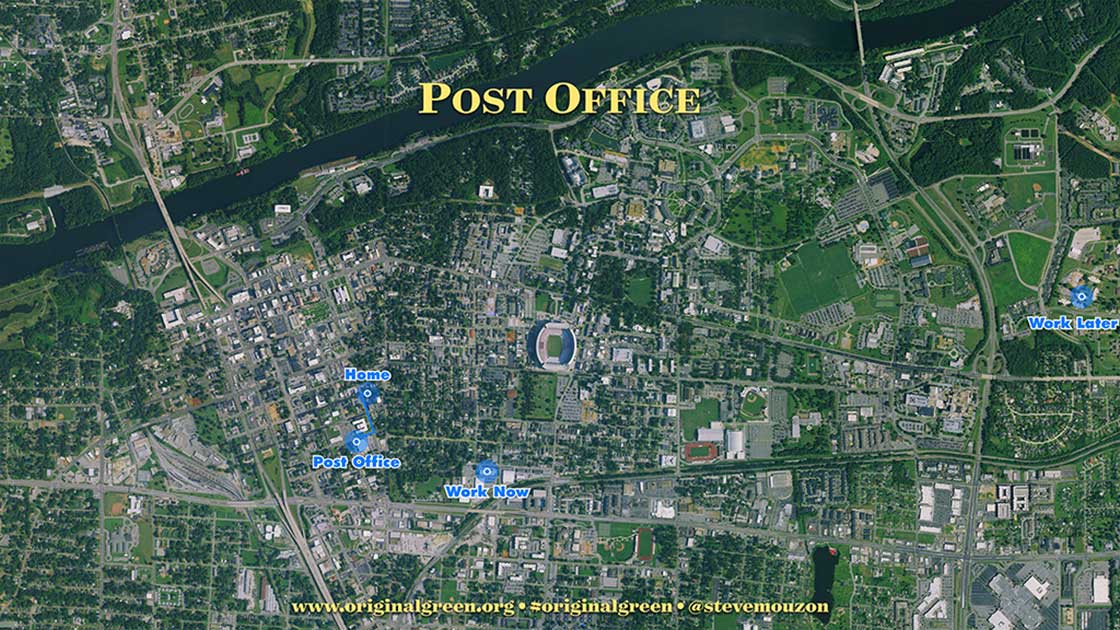 The downtown post office is even closer than the bookstore and the gym. We're renting the bungalow because we don't know how long my gig will last, so we get all our business mail at a PO Box since we can keep the address if we move to another rental house.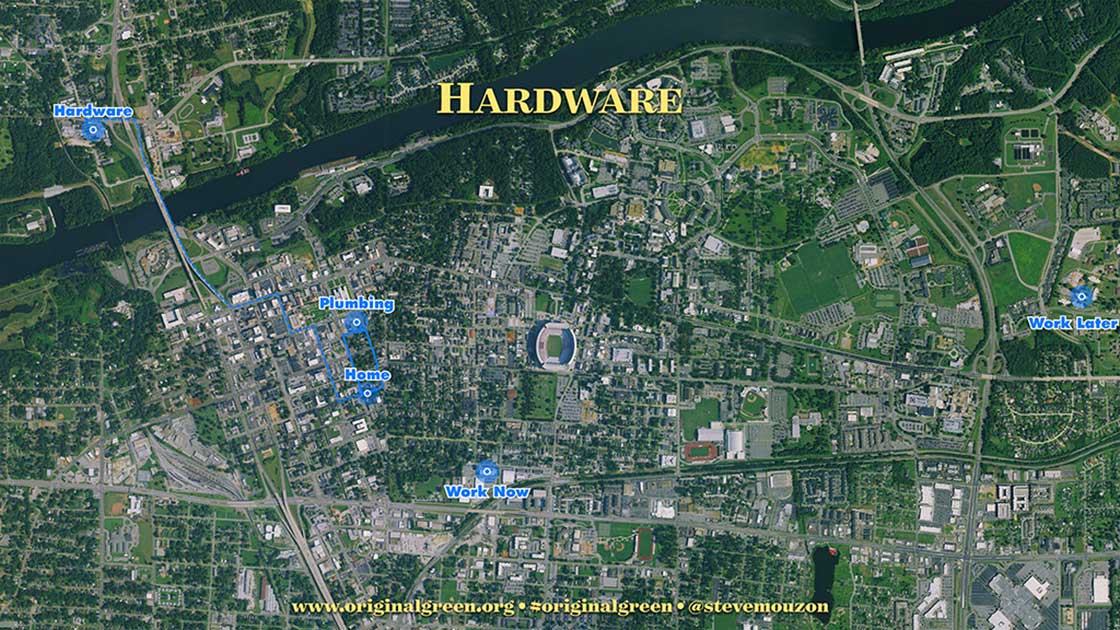 Anders Hardware is a wonderful old-line hardware store where you can find pretty much everything you need. When I first came here, they had a second location near the University, but have since consolidated back to their main store on Main Avenue in Northport. Fortunately, that's within the yellow walking shadow where I won't walk, but will bike. And if we ever needed plumbing fixtures, there's a much closer location just a few blocks away.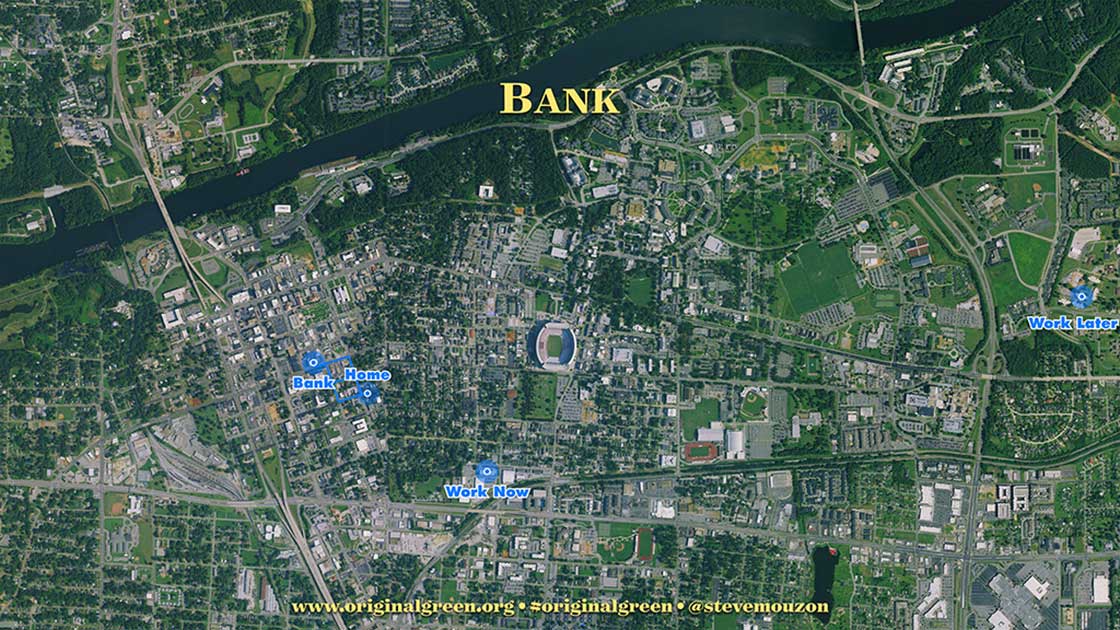 Our bank is another very close one, just a couple blocks away.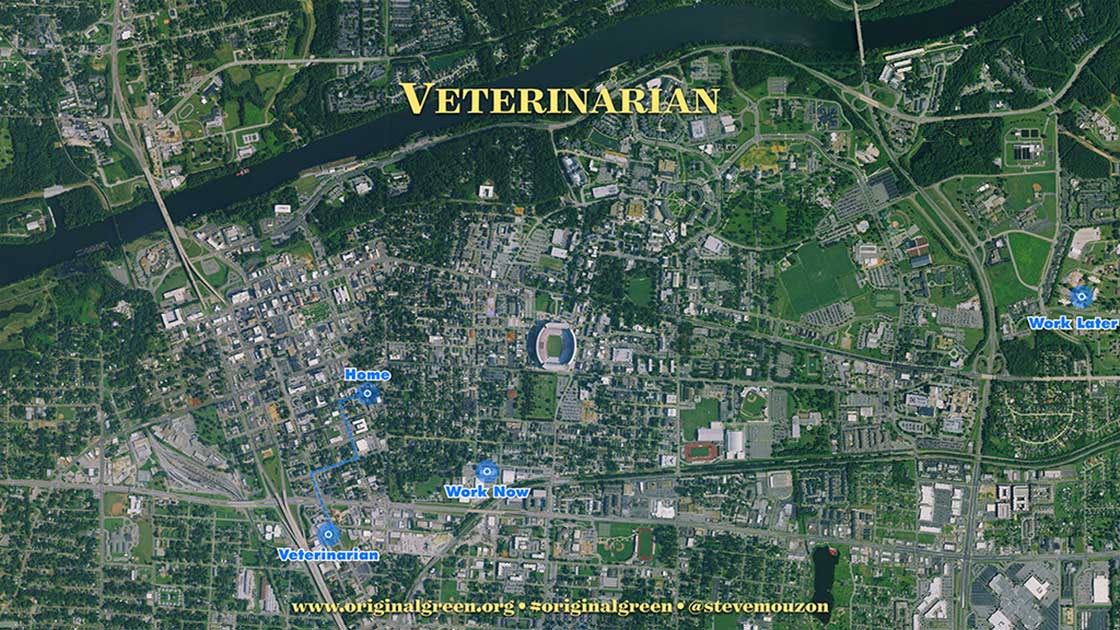 Our vet is in the yellow walking shadow, across 15th street. That means we'll bike there but not walk there. "Wait a minute," you might ask "are you saying you'd take your dogs to the vet on a bike??? Yes, exactly. Soon after moving to South Beach, Wanda got a really sturdy beach bike with two saddlebag baskets and a big front basket. She put the dogs in the front basket and rode all over the beach, much to the delight of all the tourists. And also the locals. The idea caught on, and now there are people with dogs in bike baskets everywhere you look.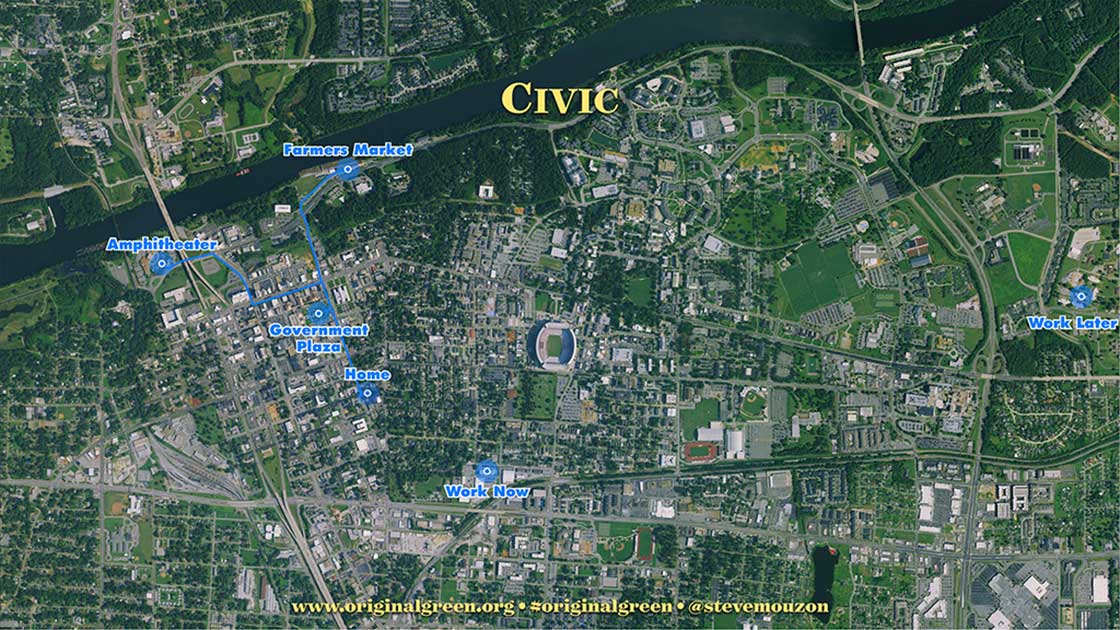 These are the permanent civic buildings and spaces we've been to repeatedly, and there are others within walking distance as well, such as the Dinah Washington Cultural Arts Center; we need to check it out sometime soon. There are also two major annual festivals in Northport that we have not yet attended but which are nationally known. The Kentuck Festival of the Arts is held in early October; people travel from hundreds of miles around to attend. The Dickens Downtown, an early December Victorian holiday celebration has recently received a lot of national attention as well.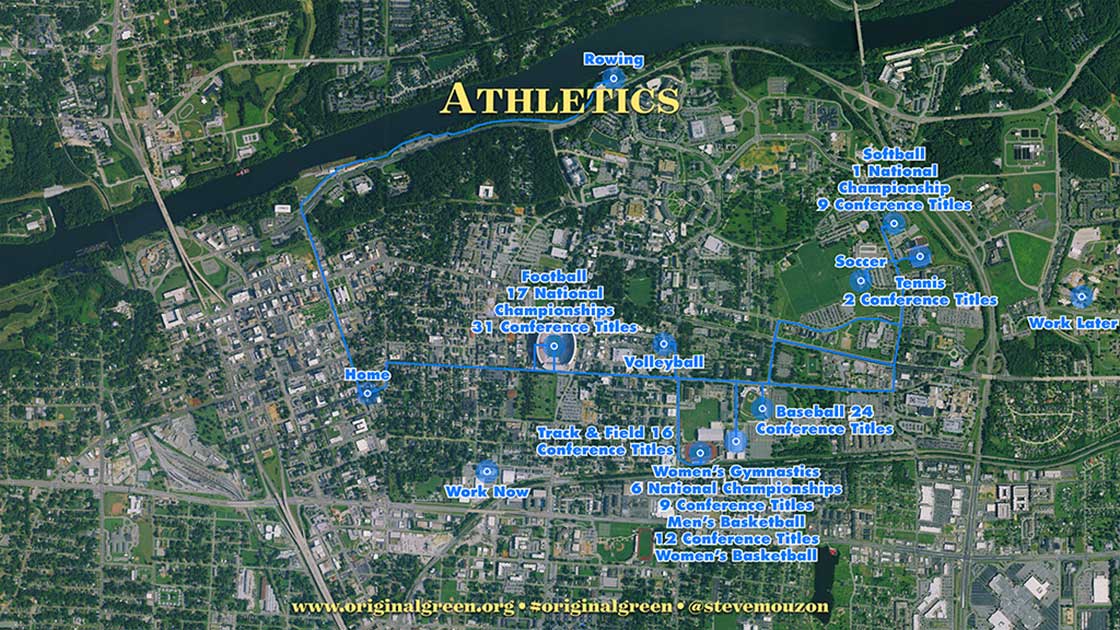 Athletics? Oh, my! Just look at all those championships! With all due respect for the Miami metro area where we've been living for 16 years and which has 60 times the population, do all of the universities there combined have anywhere near as many championships? Especially national championships? And there's no chance they're all within walking distance, as they are here.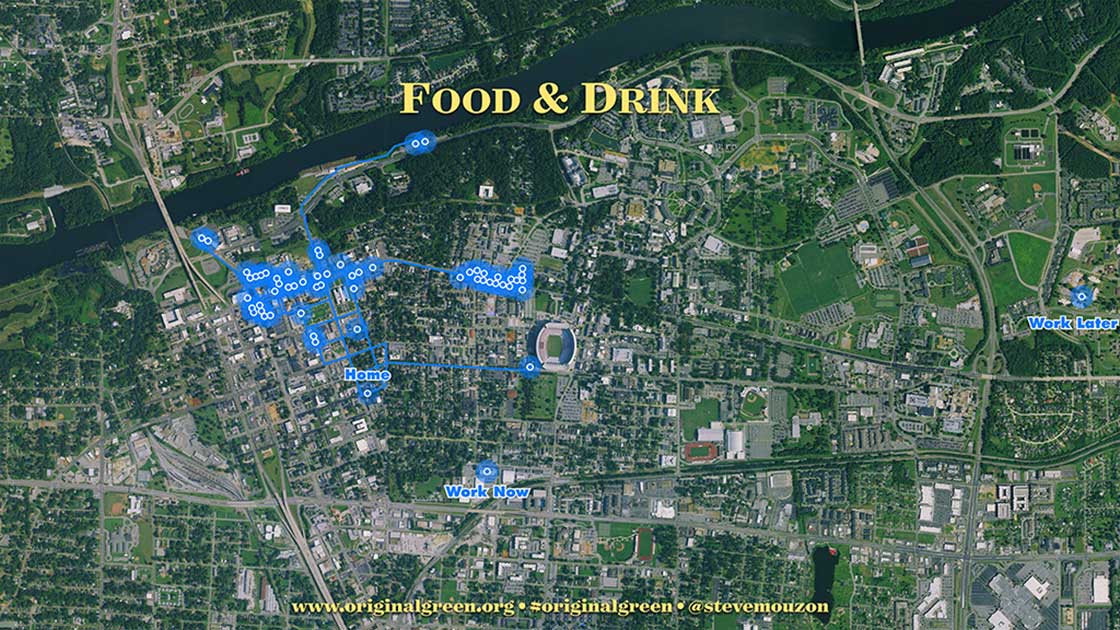 As for food & drink, these are just the ones we're aware of; we seem to discover a new one every couple weeks or so. It's really important to note that these are the sum total of the walkable places to eat & drink in the entire city of Tuscaloosa. Every other place in town is accessible only by car. Had we chosen to live anywhere else, there is no restaurant to which we could walk.
   And that gets to the major point of this post: Other than athletics (all those championships are truly rare), there are probably places in thousands of towns & cities across America where, if you're living there, you could walk to all these things. Obviously, being right on the edge of downtown is a great place to start looking. You just have to be surgically precise in selecting the place.
   What you cannot do is the normal thing: look for the most bells & whistles in a new house with the lowest cost per square foot. Do that, and you'll get stuck in a really boring subdivision somewhere from which you cannot walk to anything. So choose well. Life is too shot to spend too much time with your steering wheel in a land of Auto Domination.
This post originally appeared on The Original Green.

15-minute city