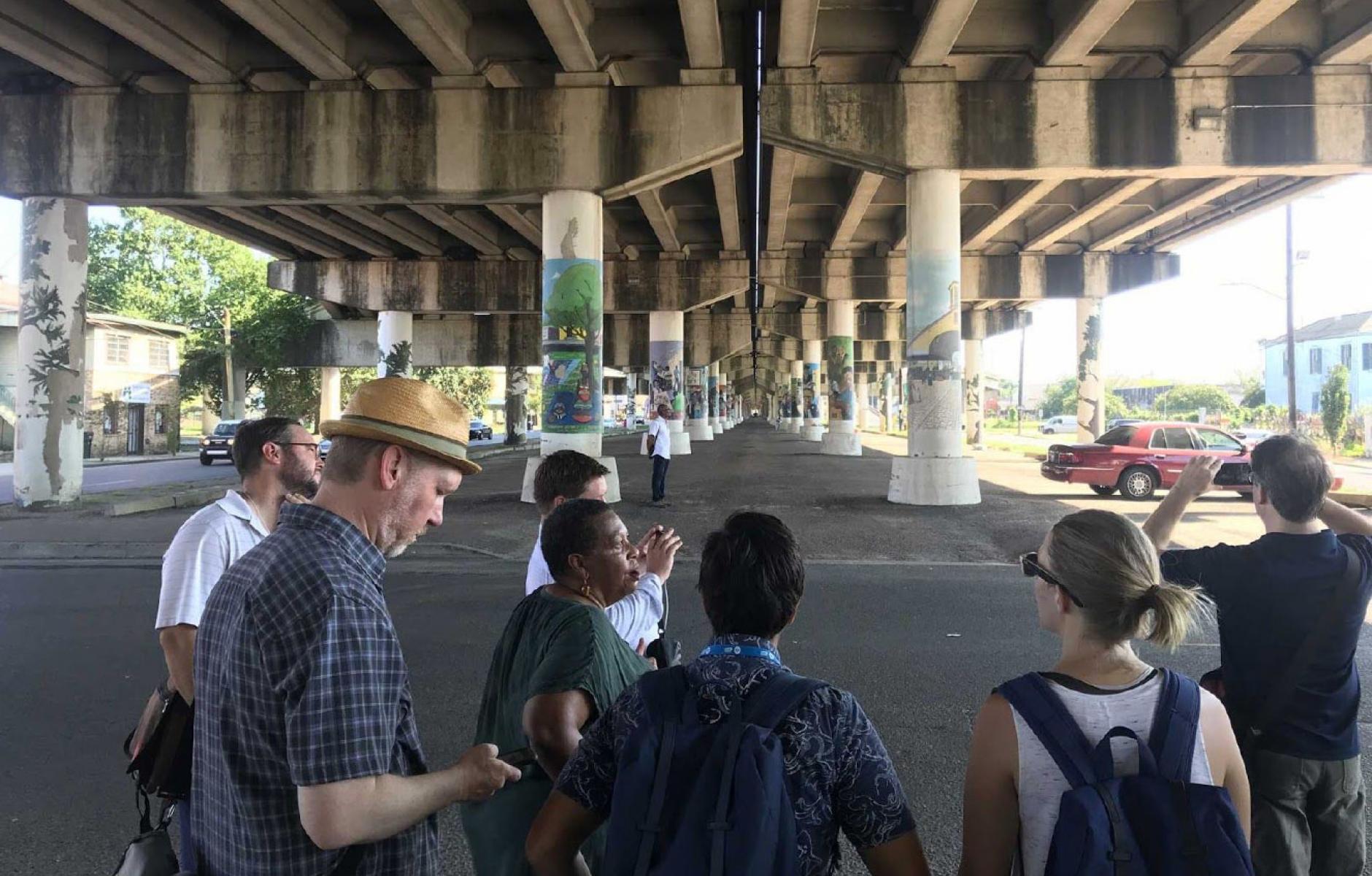 Amy Stelly (center) and the Claiborne Avenue Alliance, a New Orleans-based highways-to-boulevards campaign, give a tour of the avenue to 2018 Transportation Summit attendees. Credit: Julia Schlau
The launch of Freeways Without Futures 2021
Know a highway that's got to go? Submit a nomination before November 25, 2020.
This week the Congress for the New Urbanism launches our call for nominations to the seventh edition of its Freeways Without Futures report. 
Since its inception in 2008, our biennial report has covered over 30 different urban highways that burden the communities around them with significant health hazards, loss of local businesses and services, and streets that are hostile to pedestrians. To date, five of the highways featured in this influential report have been removed. Another four are currently in the process of being removed or the authority that owns them has committed to removal. This is a huge win for cities and residents alike. 
Since the release of our 2019 report, we've seen an accelerated pace of change and interest in highways-to-boulevards conversions. Shortly after the report's publication, the New York State Department of Transportation selected the removal of I-81 in Syracuse as its preferred alternative and the Hillsborough County Metropolitan Planning Organization voted to officially study the removal of I-275 in Tampa. Later in the year, Governor Andrew Cuomo launched a design competition to support the removal of the Skyway in Buffalo. 

Moreover, 2019 was a year with its share of (de)construction. The removal of the Sheridan Expressway in New York City and the Alaska Way Viaduct in Seattle were both completed. And new buildings and developments continue to spring up along the former right-of-way of Rochester's Inner Loop (removed after our 2017 report), which the city has leveraged to provide essential services and affordable housing. 
All of this activity has attracted attention on Capitol Hill. Congress has proposed two separate federal highways-to-boulevards pilots programs that would fund community engagement, feasibility studies, and the construction costs of highway removal. Last October, highways-to-boulevards advocates from around the country traveled to Washington D.C. to discuss with their Congressional representatives the community benefits of these programs. 
The events of 2020 have only demonstrated the increasing need for additional highways-to-boulevards conversion projects. The drastic drop in driving during the early stages of the pandemic exposed shortfalls in highway maintenance budgets and exacerbated the problems of the funding schemes that were already struggling to pay for these roads. There has also been an increased demand for flexible streets that can host a variety of community-serving activities, which, as the Onion points out, highways most certainly cannot. 
Campaigns for racial justice have also set highways squarely in their sights. It is no surprise that protest movements have occupied highways, given the racist legacy of highway building and the spatial inequalities they continue to perpetuate today. In this context, it is clear that a highway's presence is a burden residents have at times learned to live with, yet removal can unlock community benefits, such as a healthier environment, increased access to quality public and green space, and support for local businesses and jobs. At the same time, if a highway is removed without consideration and preparation for the changes this will cause (increased attractiveness of nearby neighborhoods and subsequent rising property values and rents), then removal risks stewarding a subtle form of displacement.
This brings us to the call for nominations to Freeways Without Futures 2021. In Freeways Without Futures 2019, we advocated that highway removal campaigns consider and work to implement anti-displacement strategies from the start. We're seeking nominations that take this message to heart and plan to channel the benefits unlocked by taking down an expressway to serve the members of the community who currently live around it. There are many metrics to evaluate a highways-to-boulevards campaign, but this one should be considered first and foremost. 
Submit your nomination for Freeways Without Futures 2021 today.