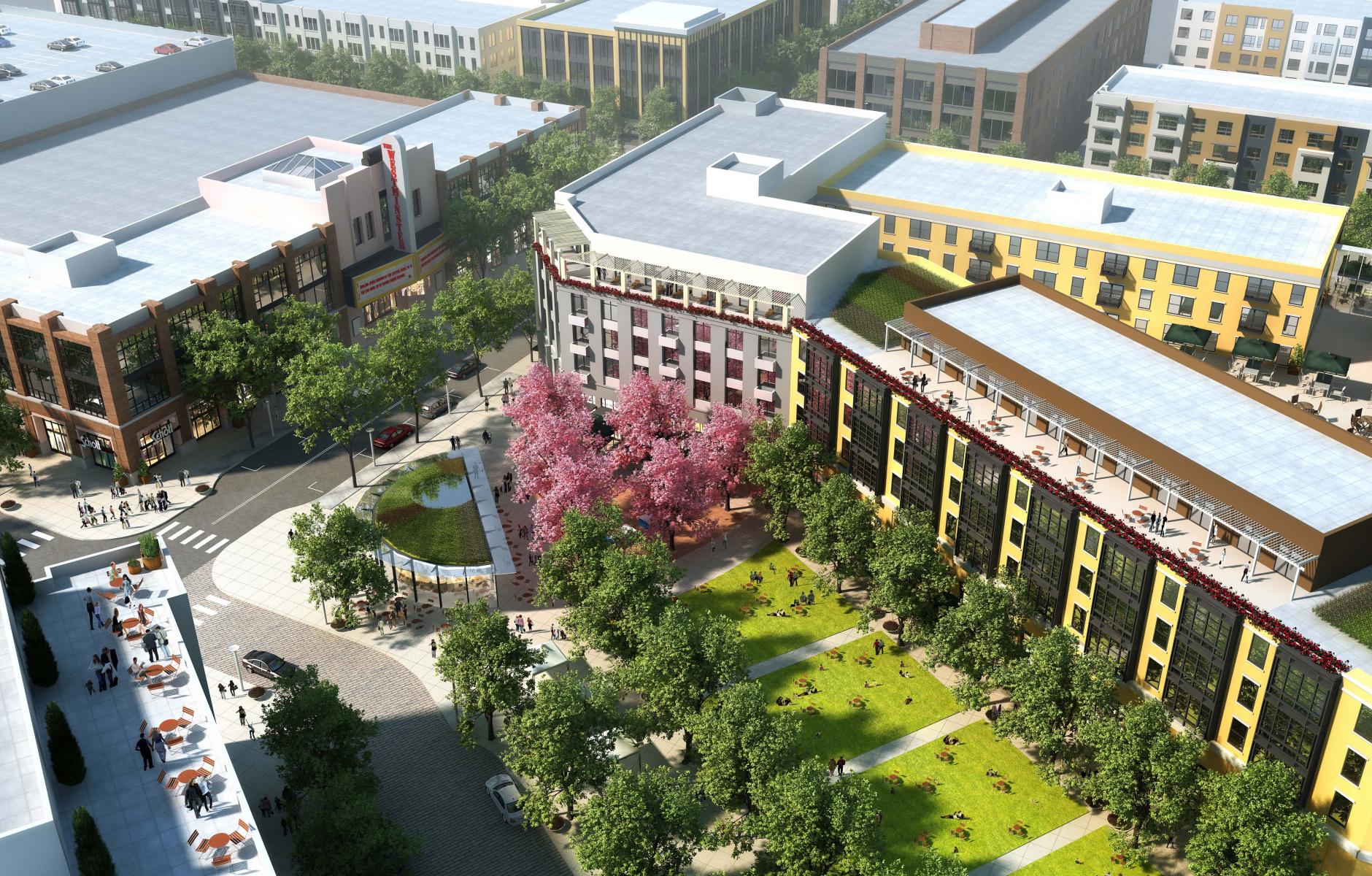 Aerial rendering of Downtown Westminster. Courtesy of site planners Torti Gallas + Partners.
Converting a shopping mall to a downtown
Downtown Westminster, Colorado, is designed as a 'place' that grows organically with affordable housing included.
A new downtown is being built for Westminster, Colorado, a suburban city with no previous walkable downtown—on 105-acre former shopping mall site. Downtown Westminster will include 2,300 residential units with substantial affordable housing, and 1.7 million square feet of commercial uses—such as a grocery store, shops, restaurants, a movie theater, and office space. There will be 18 publicly accessible parks and civic spaces. 
Construction of the first phase is rapidly advancing. "Three of the four development projects currently under way at the Downtown Westminster area should be completing work in the next few months — with more projects getting underway at the same time," reported the Westminster Window, a local news publication, in March. These developments comprise nearly 400 dwellings, 27,000 square feet of retail shops, and a microbrewery. 
Downtown Westminster is located in an Opportunity Zone, which makes a timely build out likely. When the 105-acre site is finished—the estimate is 2024—the city has plans to make the downtown even larger by extending the street grid to adjacent sites. The project adds to affordable housing in Westminster—at least 20 percent of new housing must meet affordability standards on a site with no housing to begin with.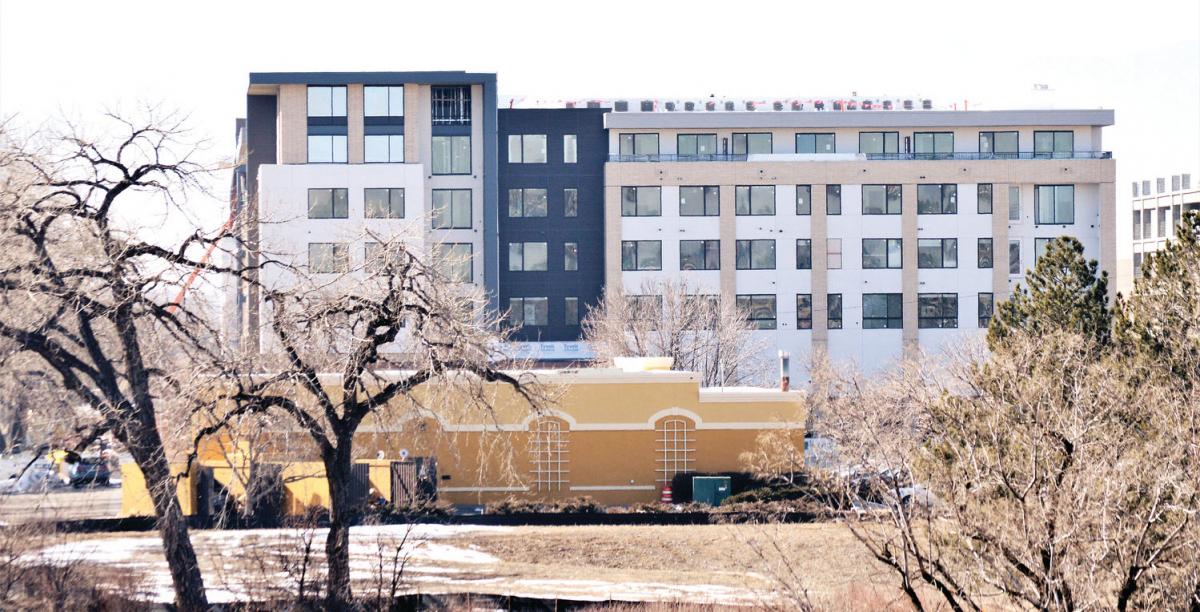 Downtown Westminster is designed not as a "project," but as a place. It will grow incrementally over time, and is expected to become the center of public life in a community that has evolved from a purely suburban growth pattern. The city purchased 95 percent of the site and is acting as the "horizontal developer," selling individual parcels to developers who are implementing the vertical construction. In addition to building the streets, infrastructure, and key public spaces, the city kicked off the project with a "park once" parking garage.
The City of Westminster grew rapidly over the past 70 years with little remnant of the settlement's original footprint. With a little over a thousand people in 1950, the city now tops 114,000. Lacking a true urban, social, and cultural center, and anticipating significant growth in population and jobs over the next 20 years, the City of Westminster is striving to create a downtown that will last and evolve over time, becoming the center of life, activity and economic growth.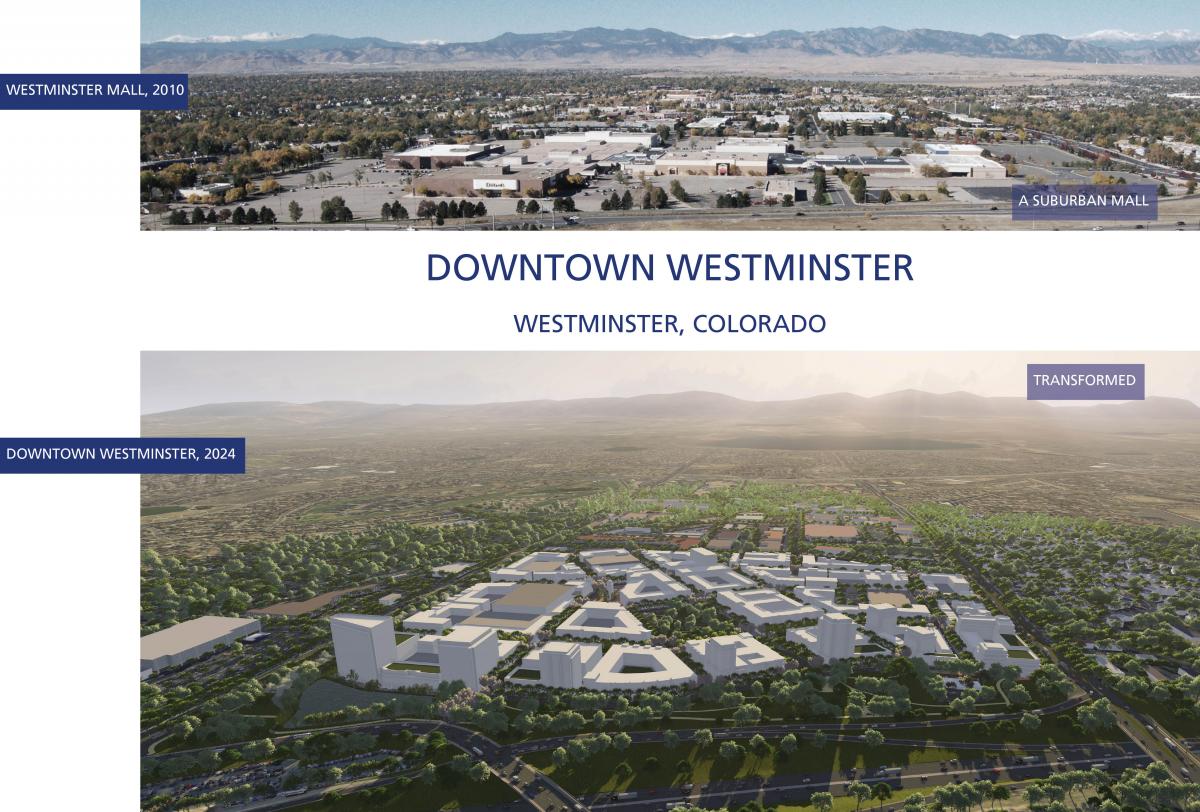 The Downtown is envisioned as a cohesive and sustainable mixed-use district with a well-defined hierarchy of blocks and streets and a distinct community identity. The Project provides for a transit-oriented, walkable, diverse neighborhood composed of rental and home ownership units as well as regionally serving retail, office, and civic spaces in a tight network of trails, parks, and plazas.
The plan allows for the site to:
Provide a pedestrian-oriented environment, with building-to-street relationships that foster an active, engaging pedestrian realm;
Become the visual and physical center of the City of Westminster, with an urban form that reinforces the human scale and an urban environment; and a street-grid orientation that visually connects the site with prominent peaks of the Front Range;
Provide an interconnected circulation network for vehicular, bicycle and pedestrian circulation including the re-routing of Westminster Boulevard through the site to become the 'main street' of the new Downtown;
Connect the City's green space system into the site with a multi-faceted public-space and park network;
Ensure direct, convenient access to transit with facilitated access to the Downtown Westminster BRT station and a future Regional Transit District FasTracks rail station.