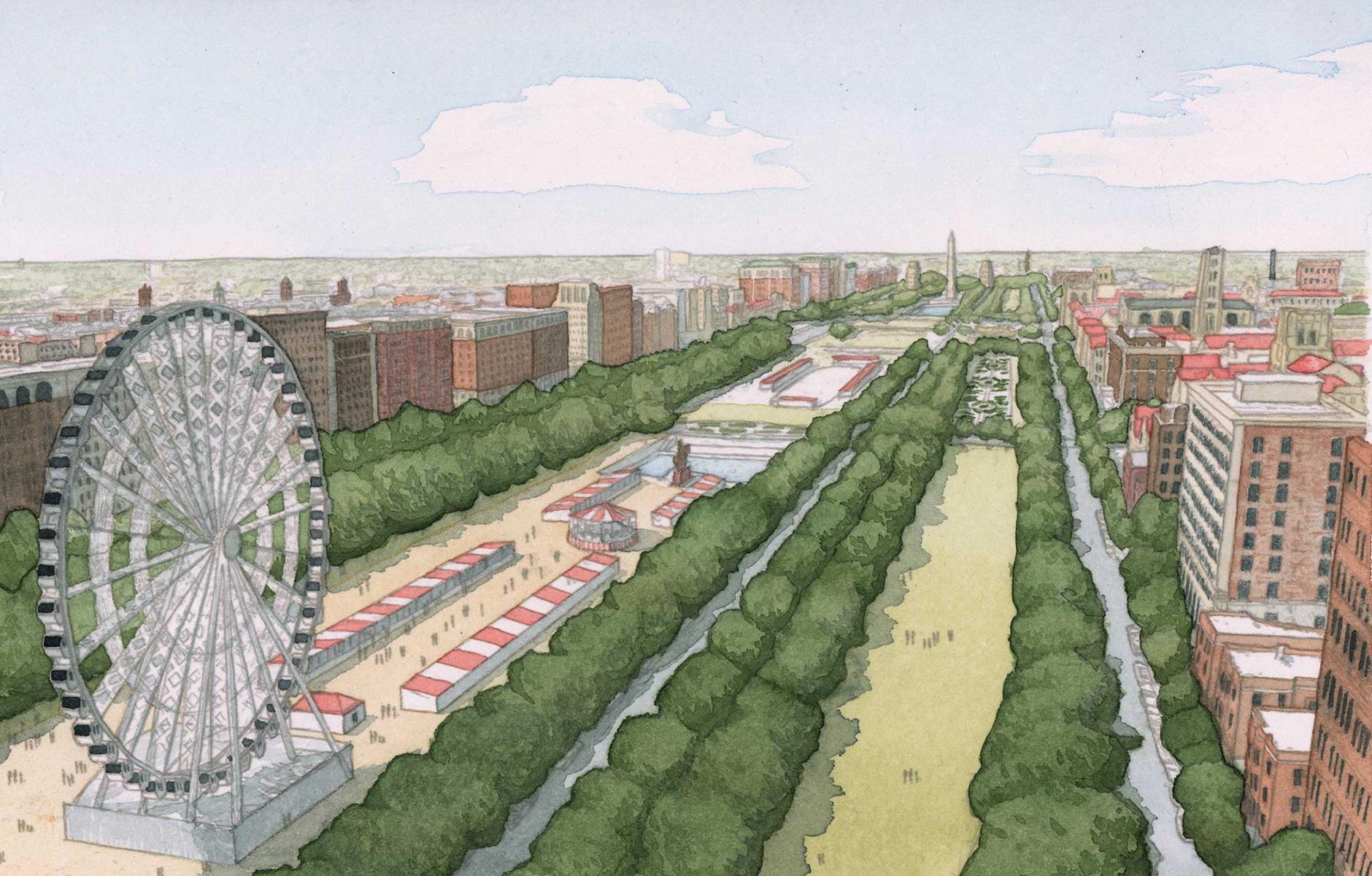 Midway Plaisance looking west. Image source University of Notre Dame School of Architecture.
Powerful public space to knit Chicago's South Side
A new vision for Chicago's grandest boulevard connects two neighborhoods and provides a setting for 4,200 new housing units.
The Midway Plaisance is Chicago's grandest boulevard. One mile long and an eighth of a mile wide, "The Midway" connects Jackson Park on the east to Washington Park on the west, flanked on the north by the University of Chicago, and on the south by a historic neighborhood, Woodlawn. An original element of the 1871 plan for The Chicago South Park by Frederick Law Olmsted and Calvert Vaux, The Midway featured prominently in the Columbian Exposition of 1893, where it was the site of the world's first Ferris wheel. Today it hosts transportation and active recreation, but remains an unfinished urban asset. Urbanizing Chicago's Midway Plaisance (UCMP) re-imagines The Midway as the center of a baroque-scale urban corridor spatially defined by new residential and mixed-use buildings, that would better serve its adjacent neighborhoods, the University of Chicago, the city as a whole … perhaps even the nation.
In a grand urbane vision that looks for inspiration to Rome, Paris, Washington DC, and Chicago's own Daniel Burnham, UCMP impressively addresses practical issues of land use, transportation, form-based-codes, incremental development, traditional Chicago neighborhood building types, race and class mistrust, equal justice under the law, and land-value-taxation as a strategy to promote economic revitalization in Woodlawn without neighborhood displacement. By defining The Midway's southern edge with 10-12 story University and apartment buildings and providing sites for 4,200 new dwelling units and 500,000 square feet of retail and office space, and by terminating its eastern axis with a new Ferris wheel overlooking Jackson Park and its western axis with a relocated Obama Presidential Center (OPC), UCMP reconceives The Midway as an activated urban boulevard now connecting rather than dividing two historic neighborhoods.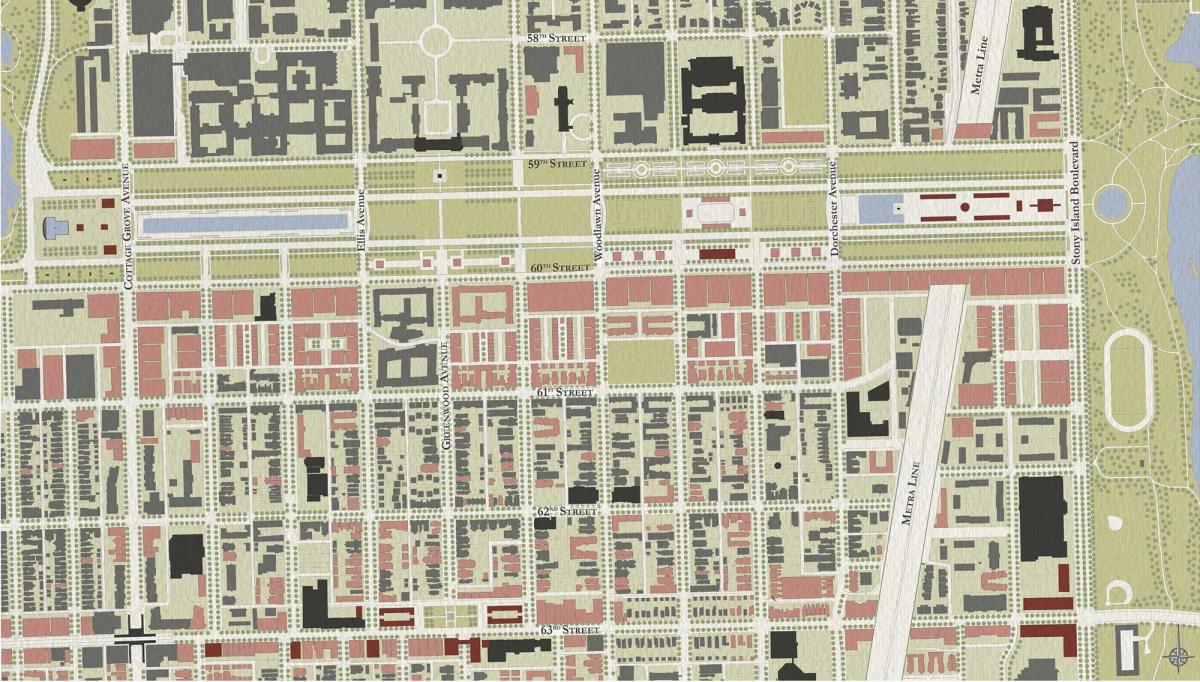 But UCMP opens up even larger civic opportunities. Foremost is its proposed alternative to the controversial Obama Presidential Center, currently proposed as an a-historical monolith located on a comparatively obscure site in Jackson Park southeast of The Midway. The UCMP proposal is more urbanely monumental: a 250-foot obelisk flanked by two twelve-story buildings-cum-pylons terminating the west end of The Midway at the southeast corner of Washington Park. This locates the OPC and its practical benefits more closely to both Woodlawn and the University, and more firmly grounds President Obama's historic presidency in America's aspirational ideals of justice, freedom, and equality.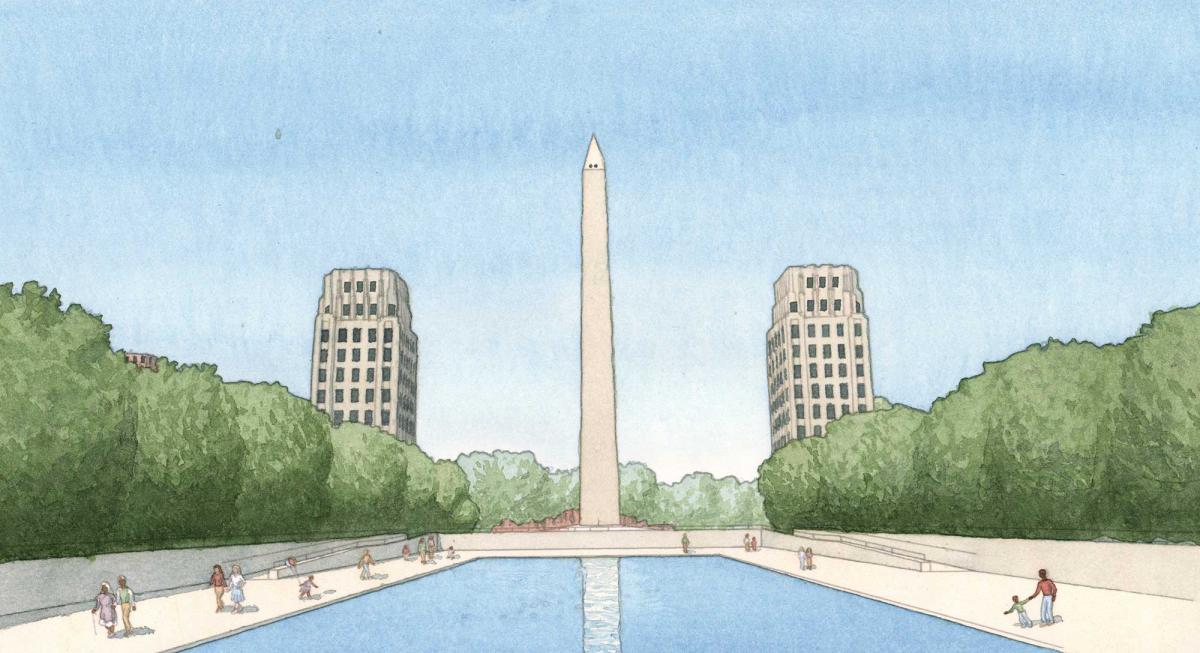 Urbanizing Chicago's Midway Plaisance won a 2019 Student Grand Prize Charter Award from the Congress for the New Urbanism (CNU) for Marie Acalin and Roger Foreman of the The University of Notre Dame School of Architecture. Philip Bess was the studio critic. The winners will be formally recognized on June 14 at CNU 27 in Louisville.

Charter Award