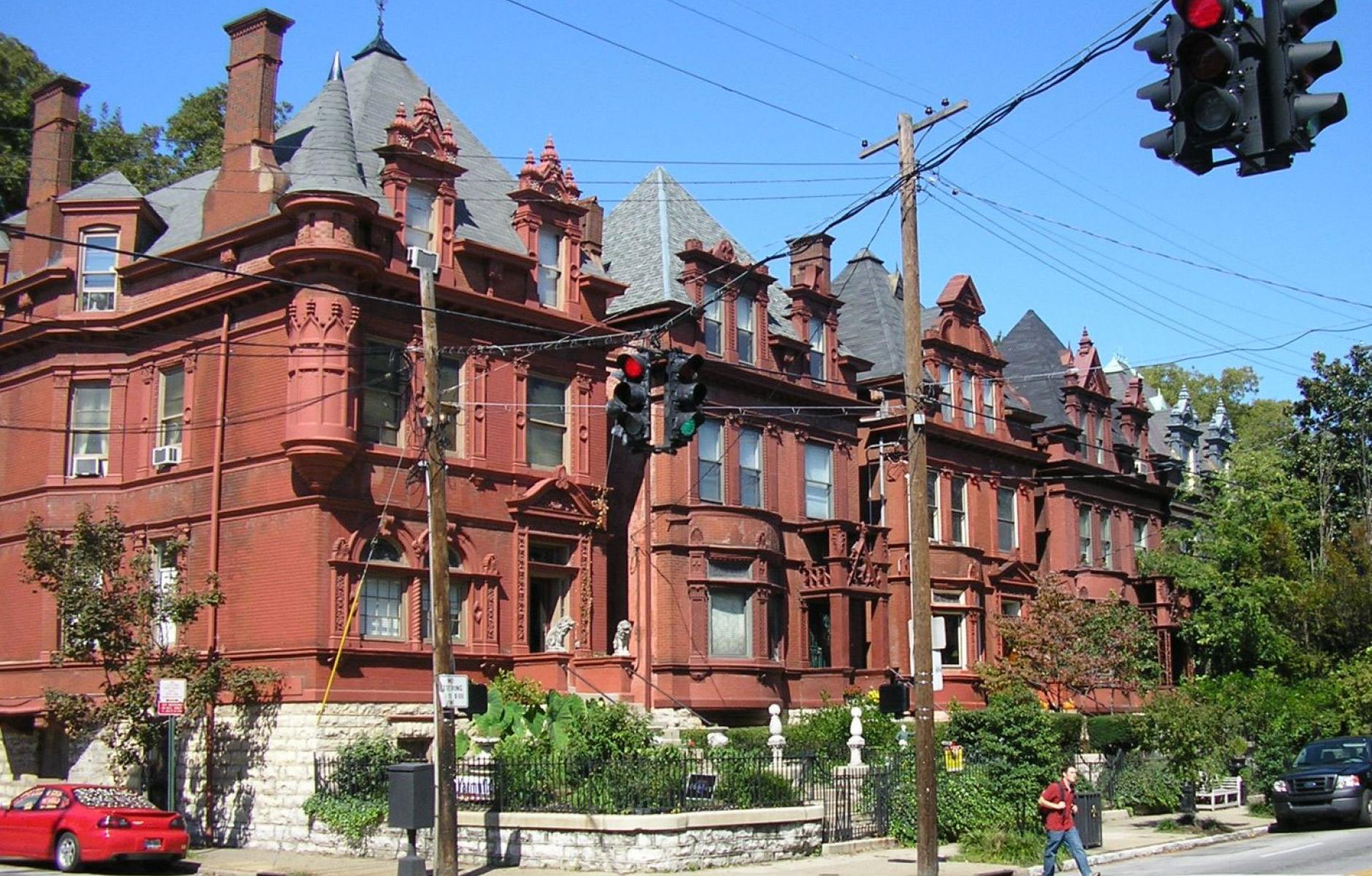 Houses in Old Louisville. Source: Wikimedia Commons.
Ten things to see and do in Louisville (while at CNU)
Still haven't registered for CNU 27.Louisville June 12-15, or are planning fun side activities for your trip? Then this list of some of our local favorites is for you. The discounted registration rate for CNU 27 is available until May 10th.
1) Main Street and the Old Forester Distillery
A favorite of local new urbanists, this stunning downtown destination was a triumphant return to Main Street for Old Forester, the iconic makers of sour mash, who claim bragging rights to the first bourbon ever sealed in a glass bottle. Whisky Row is now the epicenter for bourbon tourism, and is home to ReSurfaced, a Pop-Up Plaza on Main Street, which is the site of our CNU 27 closing party, as well as a CNU tour. You won't need to look far to find plenty of barrel-aged goodies for your check luggage. 
2) Old Louisville 
Like beautifully detailed Victorian architecture? We are guessing you might. Louisville happens to have the nation's largest collection of Victorian mansions. If you are looking for some inspiration, or want a nice spot to read some of Jeff Speck's latest book in an idyllic park, look no further than Old Louisville. Then, stop in for a bite at Mind of a Chef star Ed Lee's flagship restaurant 601 Magnolia while you're in the neighborhood, which by the way, also contains some wonderful examples of Complete Streets.  
3) Louisville Slugger Museum & Factory
Is anything more iconic to the American Pastime than the Louisville Slugger? If you aren't already registered for CNU's tour, you can always drop by during normal hours. Custom personalized bats are available in the Museum Store daily. And within short walking distance to all of the CNU 27 venues, why not stop in and make your ash, maple, or birch dreams a reality? The little Sluggers in your life might appreciate one.
4) NuLu—Louisville Antique Market, Joe Ley Antiques, Feast and Climb Nulu 
It is no secret that NuLu is in the middle of a new urbanist revival, but this might come as a surprise; in addition to great eats and unique shops, this hip, evolving, extremely walkable district in Louisville has some of the best antique malls in the country. Like to hunt for treasures at incredible bargains? You must check out the Louisville Antique Market and Joe Ley Antiques. Getting hungry? Drop by Feast for some amazing BBQ and a Bourbon Slushie (yes, a Bourbon Slushie). Then burn off any extra calories from those side dishes at Climb Nulu while taking in this emerging new district. 
5) Cherokee Park and Beargrass Creek 
Beargrass Creek in Cherokee Park is the site of one of our CNU 27 Legacy Projects, and it is theplace to go to stroll, jog or picnic close to downtown. One of the original parks designed by Frederick Law Olmsted, the park has a scenic loop of 2.4 miles, the perfect distance to reunite over a walk with your new urbanist friends, or get in a quick morning bike ride. Gresham Smith and the Kentucky Waterways Alliance have joined forces with CNU to envision new sustainable designs for areas along the creek, which connects more than a dozen Louisville neighborhoods. Get a first-hand look before the Legacy Project presentations, and take in then Emerald Necklace scenery. 
6) Churchill Downs 
With an hourly 30-minute walking tour of Churchill Downs, the Kentucky Derby Museum is a great way to recharge between 202 sessions. At $15 dollars for a tour, you can experience the recently renovated museum, or catch the Churchill Downs evening event—Downs After Dark—which features stakes races, live music, and a New Orleans theme on June 15th. Connect in person with the equine pre-sprawl transportation method of choice (very fast horses). 
7) The Ferguson Mansion 
Visit this monument to chateauesque Beaux Arts architecture, and enjoy a free guided tour Monday-Friday at 2 pm. The Ferguson Mansion was built at the turn of the century, and it cost ten times as much as a standard home at the time. The mansion is known for its mosaic-tile, stained glass, marble and coffered ceilings. Get some inspiration for your next designs, while exploring a true Louisville architectural landmark.
8) Big Momma's Soul Food Kitchen and other fantastic minority owned local restaurants
Early reports from CNU staff site-visits contain tales of "the best darn fried chicken I have ever tasted," at Big Momma's. But also be sure to check out the full list of minority-owned establishments for a slice, bowl, leg, or rack, of authentic Louisville hospitality—while supporting the local businesses that make Louisville beautiful. 
9) Louisville Mega Caverns e-bike tours and ziplining 
The earliest urbanists were said to live in caves, and primitive transportation plans were drawn upon cave walls by torch light. If you would like to follow in our predecessors footsteps, and are up for some subterranean adventure tourism, why not zoom around on an e-bike in total darkness in a cave that contains the largest building in the state of Kentucky—which also boasts its very own building code? Talk about a form-based code. Are you still reading? 
10) Garage Bar 
As new urbanists, we usually love it when old buildings are retrofitted. This is one we really love. Can you imagine a future where outdated auto-service garages are reimagined as comfy restaurants with wood-burning stoves? Uber over to Nulu, enjoy local art, over local Bourbon, and get acquainted with friends, old and new. Garage Bar is located in the Highlands neighborhood, one of Louisville's oldest, with beautiful streets and eclectic shops. 
Bonus activities: Hear plenary speakers Donald Shoup, Lonnie Ali, Louisville Major Greg Fischer, Maurice Cox, and Doug Kelbaugh; attend workshops and advanced sessions on Form-Based Codes, ADU (accessory dwelling unit) Advocacy, Eco-districts, Incremental Development, Suburban Retrofit, and a "Code Hackathon;" choose from 17 tours; see breakout sessions on 13 tracks; and hang out with your most admired colleagues in urban planning, design, and development. 
For CNU 27 registration, click here.

Louisville
&nbsp&nbsp&nbsp
CNU 27