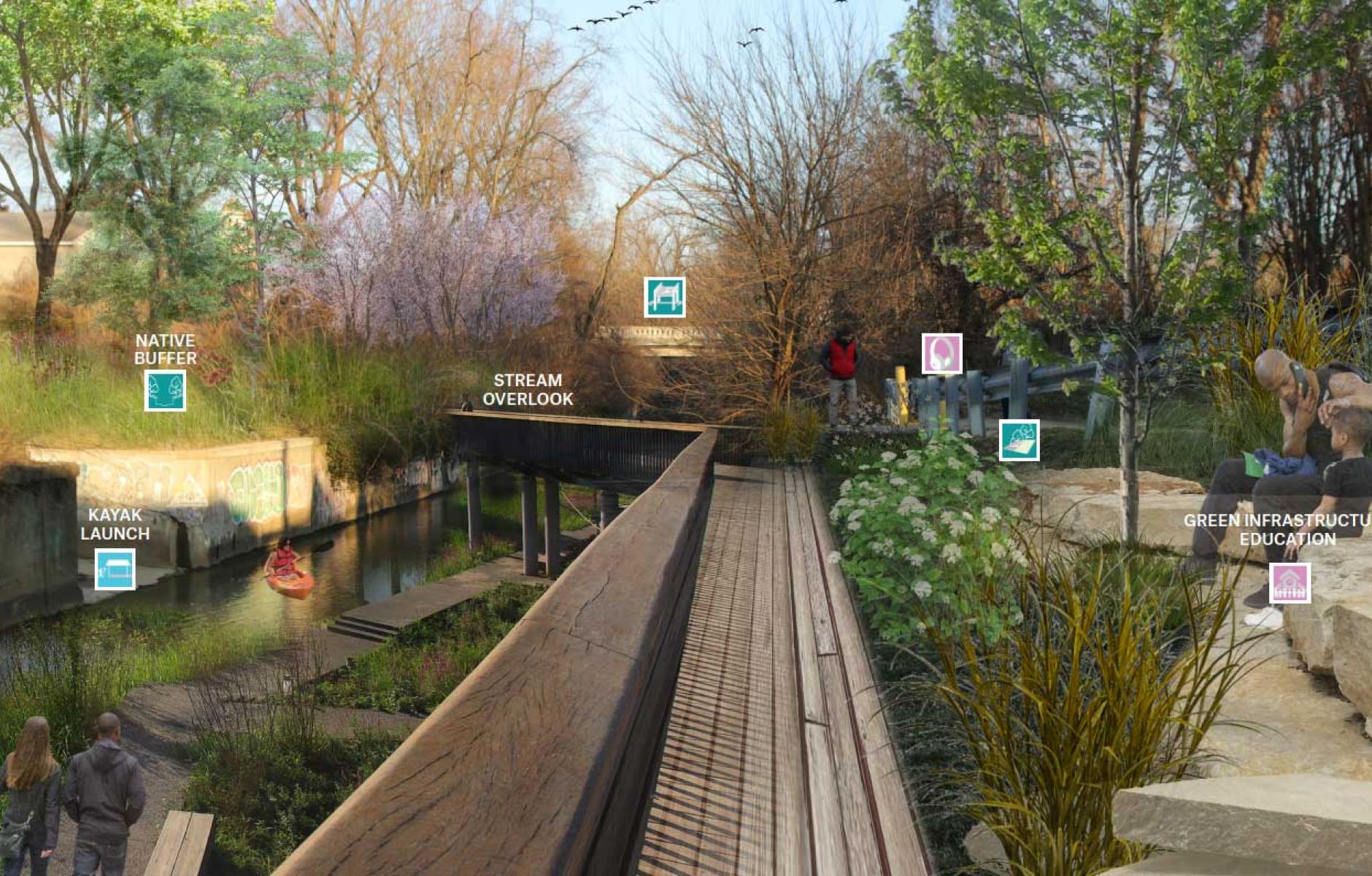 Placemaking and natural restoration along Beargrass Creek. Image by Gresham Smith.
Connecting to a hidden natural asset
A CNU Legacy Project explores the potential of an underutilized creek corridor that runs through more than dozen neighborhoods in Louisville, Kentucky.
The South Fork of Beargrass Creek meanders through 13 or 14 diverse neighborhoods in Louisville, Kentucky, yet few nearby residents take much notice of the waterway. The creek has long been channelized, hidden, and used as part of the city's stormwater system. During storm events, overflows often send combined rainwater and sewage into the creek—so it has a less-than-pristine reputation.
Yet the creek is clean enough at most times to support wildlife—and it represents an opportunity for the communities along its path to connect to nature. The future promises to be cleaner for Beargrass Creek—the US Army Corps of Engineers has pledged millions of dollars to clean the waterway up if the city can come up with matching funds. The Metropolitan Sewer District is expanding capacity so that overflows into the creek are expected to decline.
A CNU Legacy project, led by the planning and design firm Gresham Smith and sponsored by the Kentucky Waterways Alliance, focused on creating a cohesive vision for physical connectivity along and adjacent to the creek, from the Louisville Zoo to the Ohio River. Biohabitats contributed ecological engineering expertise.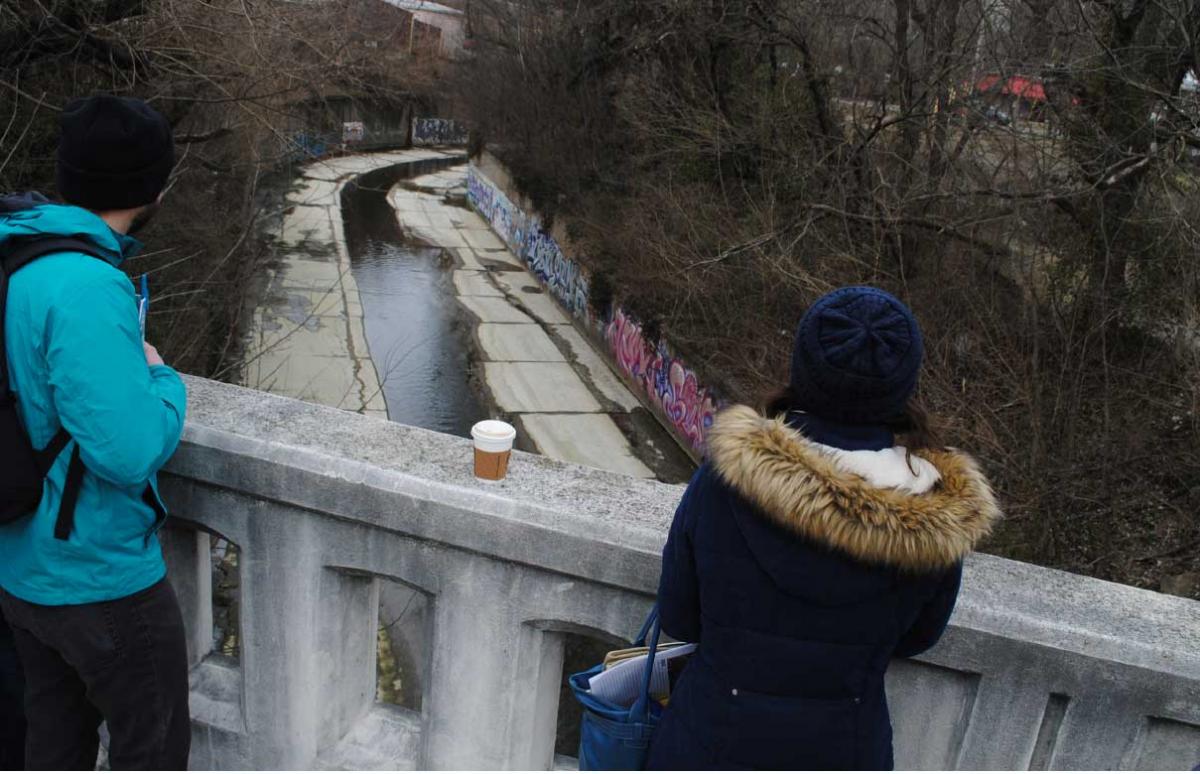 Legacy Projects take place in advance of CNU's annual Congress, to be held in Louisville June 12-15 this year. They offer a way for the Congress to leave an enduring mark on the host city and region. The designs are led by nationally recognized urban design firms and sponsored by local organizations. Connecting Beargrass Creek is one of four Legacy Projects in Louisville that leveraged well over $400,000 in donated design expertise for the city.
Gresham Smith looked toward big ideas that could be incrementally implemented. Some steps that could make an immediate impact on the creek include: building a pop-up kayak launch, making a podcast tour of the South Fork, tactical urbanism projects, educational partnerships, and building turtle ramps. 
The longer-term vision for improving connectivity, environmental and public health, and destinations along the creek include a kayak launch and park along Eastern Parkway; a parklet along Ruffer Avenue; a "three bridges" concept near the intersection of Oak and Schiller to bring awareness to the creek's presence, and green infrastructure improvements at Joe Creason Park and Black Crown Forest.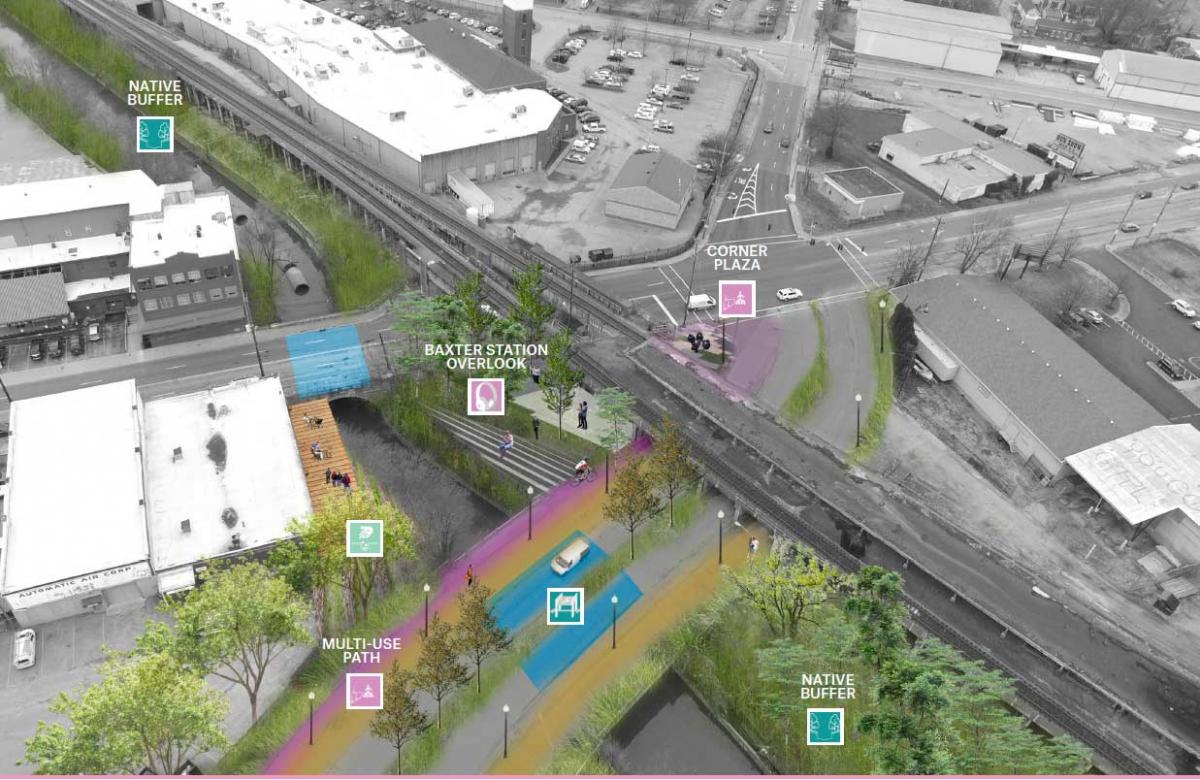 The theme of "connectivity" can mean a multimodal corridor with walking and cycling paths and launch points for kayaks and canoes; or increasing the awareness of the creek for tens of thousands of people who live near it, notes Patrick Henry, a landscape architect with Gresham Smith. It can also mean connecting to the ecology and improving the health of the stream for wildlife. Economics are another way to connect to the waterway's potential. "There are many great examples of mill towns that turn little bodies of water into central attractions for creative districts, or bar and restaurant districts," Henry says. "You can think of it in a lot of different ways, including as an opportunity for placemaking."
The city, however, is facing a $35 million budget shortfall, so that will limit capital for projects in the near term. "If you were to create pedestrian path along the creek, it would cost in the multiple millions of dollars," Henry says. "So, we looked at doing it in some areas where it may be feasible." 
The health of the creek could be improved incrementally, by "depaving" areas with unnecessary and underutilized asphalt and concrete, and installing bioswales to catch the first flush from storms and filter the rainwater. "The design work was multifaceted, he says. "We tried to think about spending every dollar three times. Each intervention can take the form of an environmental solution, and aesthetic solution, and person solution."
The South Fork of Beargrass Creek is a potential asset for Louisville neighborhoods, spanning all levels of income, age, and human diversity. And residents all need to connect to nature, through a corridor that supports a wide range of flora and fauna—including birds, fish, and land animals.  

Legacy Project
&nbsp&nbsp&nbsp
stream
&nbsp&nbsp&nbsp
nature
&nbsp&nbsp&nbsp
corridor
&nbsp&nbsp&nbsp
Louisville
&nbsp&nbsp&nbsp
Beargrass Creek