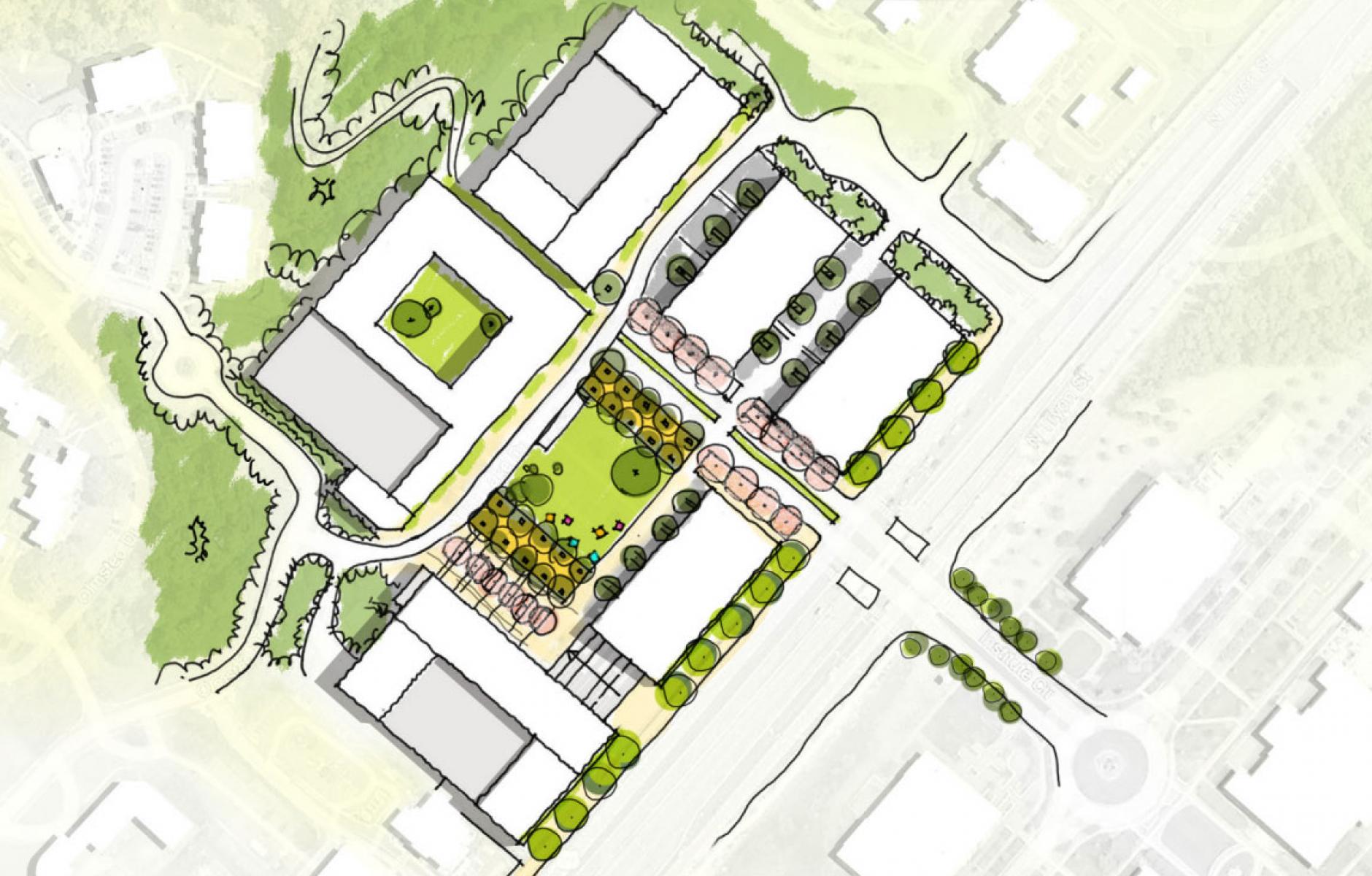 University City village plan. Source: Perkins+Will
Creating a mixed-use college town in an 'edge city'
CNU and affiliated designers visited a sprawling part of Charlotte to plan the transition of a 16-acre shopping center into a mixed-use center, with connections to a major university—UNCC. Temporary public space drives suburban retrofit.
The challenge for University City in Charlotte is two-fold: Finding a way to humanize a classic 'edge city' while providing an off-campus gathering space for a major research university, University of North Carolina Charlotte (UNCC). By focusing on the public realm first, a team of designers have identified ways to meet those goals—with important implications for the university and the city has a whole.
The term 'edge city' was coined by writer Joel Garreau in 1991 to describe suburban agglomerations of commercial and residential buildings with scale comparable to downtown, but using automobile-oriented design in far-flung locations. The 7.5-square-mile University City, eight miles north of Charlotte's city center, fits that description—with a score of Fortune 500 corporate offices and a dozen international firms, in addition to the university. About 15,000 people and 30,000 students call University City home, notes Tobe Holmes, planner for the University City District. 

Due to its design, University City has little sense of place or urban synergy. Hotels, corporate buildings, retail centers, and residential complexes are scattered among large parking lots and access roads, linked to high-speed arterials. Even adjacent to UNCC (on the other side of a four-lane stroad), a visitor is hardly aware that a university is nearby. Public infrastructure investment in the area is tremendous, including a Lynx Blue Line light rail station that connects to the central business district. University City is one of Charlotte's five municipal service districts.
CNU and affiliated designers visited University City in late March to examine an important opportunity—a 16-acre shopping center called Mallard Pointe that is in transition (anchor store Kohl's closed, leaving a large retail space vacant). On that site, designers envision a mixed-use center, with culture and connections to the UNCC, using the tools of suburban retrofit and tactical urbanism.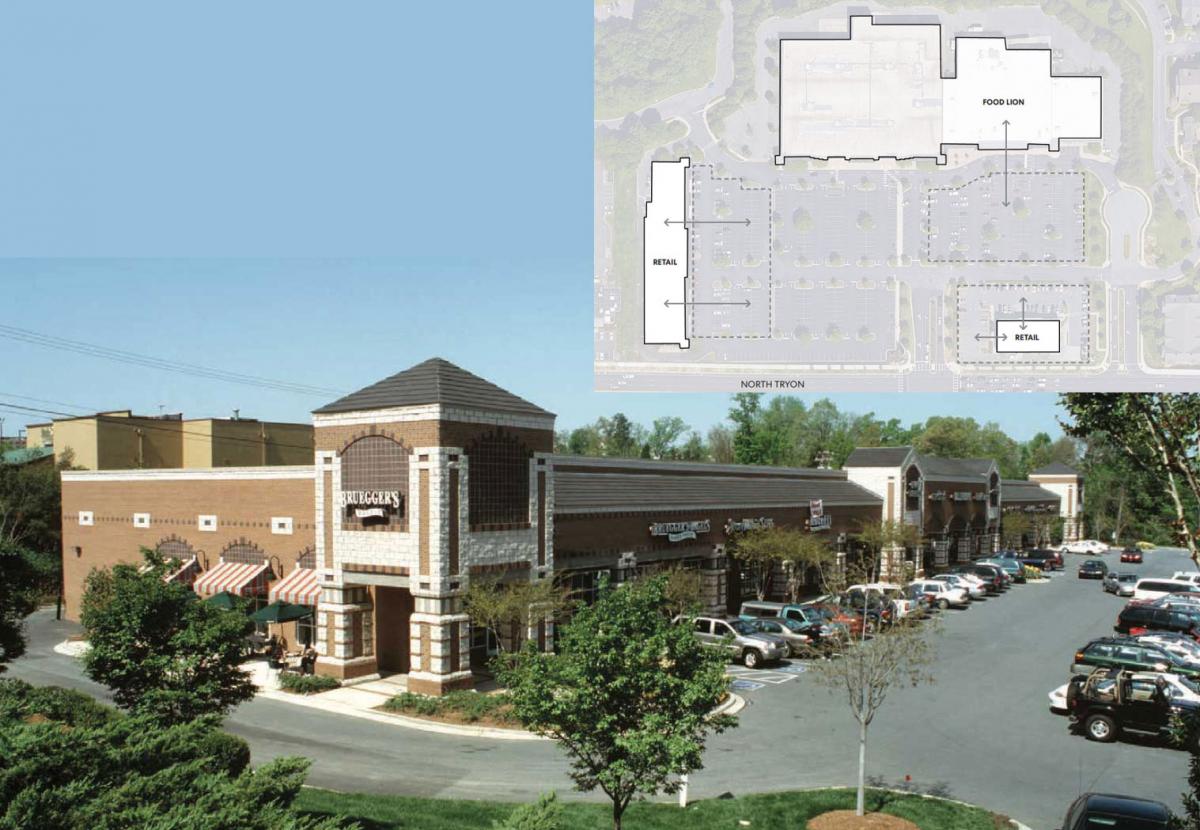 The occasion was a Legacy Project, an annual design and implementation event that applies CNU's placemaking expertise to make a difference in the Congress's host region—in this case Charlotte (CNU 31 will take place there May 31-June 3). During a three-day charrette, Designers from Perkins+Will and Street Plans planned six urban blocks and a town square. The University City District sponsored the charrette with CNU, and UNCC architectural students contributed ideas, along with remote advice from suburban retrofit guru Ellen Dunham-Jones.
Tactical urbanism offers a strategy for public space to drive site development and activity, says David Green of Perkins+Will, who credited Mike Lydon of Street Plans with advancing this line of thinking. "This was particularly ingenious because it framed the conversation around an intervention that is initially cost effective, which provides immediate returns, so it wasn't hard for people to embrace," Green says. Now the discussion revolved around the design of a strong place, or public framework, that anchored the project. What followed was a logical, compelling testing of various scenarios that reduce risk for the developers and freed designers to focus on programming and reinforcing the public realm—rather than particular uses on the site. "The big takeaway for me was using something seemingly ephemeral to create something permanent," he explains.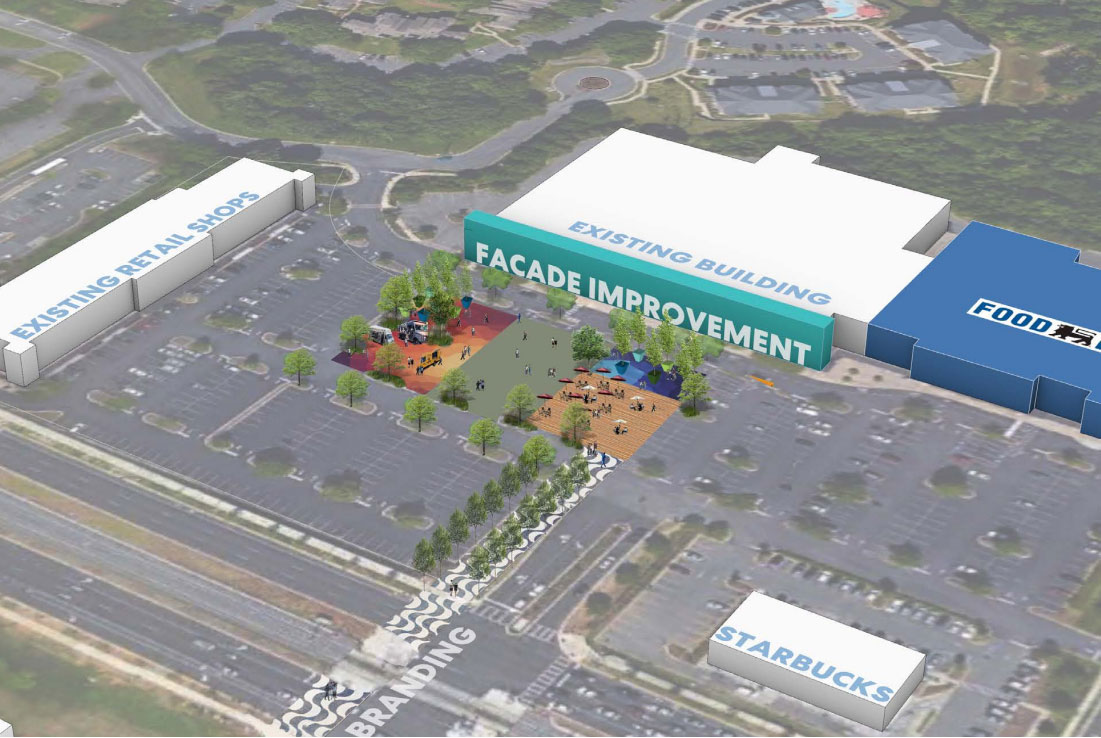 The project could have a substantial impact on its surroundings, especially the campus. "The activity of the square drew in the university," Green says. "They could see themselves in the place; a branding opportunity, but also a space that students, alumni, faculty, and staff could call their own."
The site is well-situated next to the rail station, across from UNCC, and connected to a man-made lake with retail, hotel, and office buildings that comprise a walkable oasis in the district. A nearby greenway connects to Uptown Charlotte (the central business district), in addition to residential complexes within walking distance. A redeveloped shopping center site could be the heart that UNCC and University City needs. 
Planners faced a hurdle—Mallard Pointe shopping center has an existing mixed-use redevelopment plan for site owners Cambridge Partners—the existing plans were modified to retain key aspects but make the public realm more immediately inviting. Designers looked at how to improve crossing of the arterial, North Tryon Street—a designated state highway—and used tactical urbanism to design a pop-up square in the parking lot—with programming to give students, alumni, and others a reason to go there. The square would become permanent as the project advances.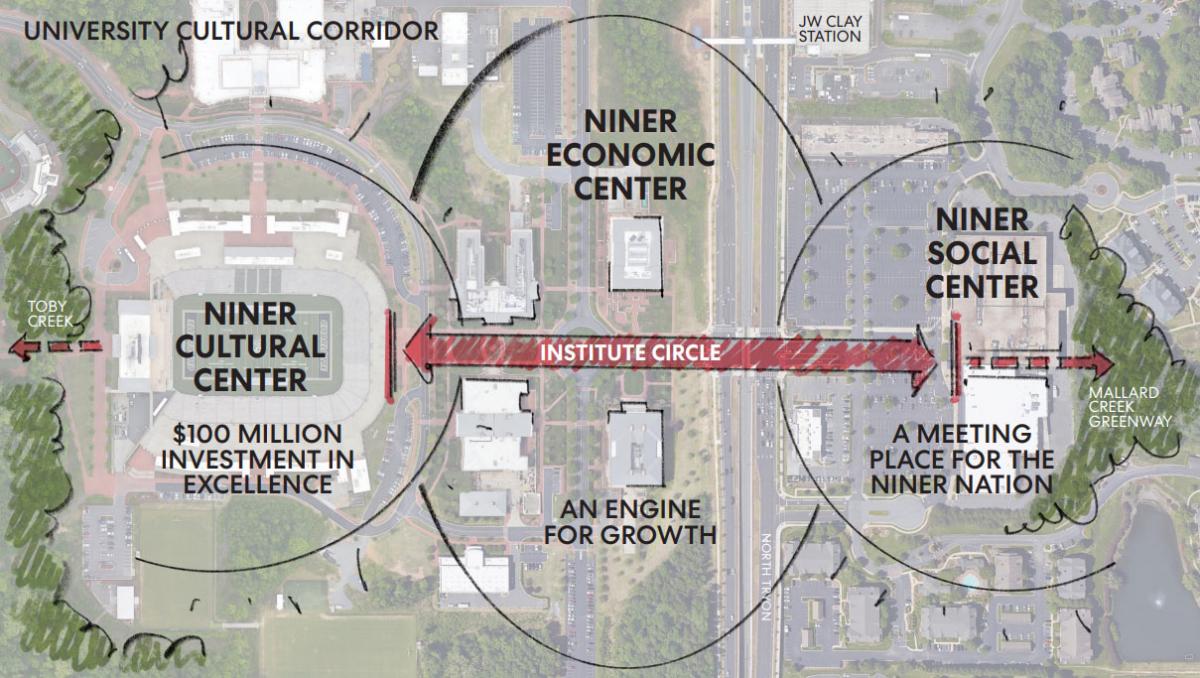 The big idea is to make University City a "college-town" that gives students a sense of place by making a more direct connection with the site, which was dubbed "Niner Village," after UNCC's mascot.
"This is a tremendous opportunity for the land owners to capture value hidden in plain sight, as students and faculty expressed clear desire for a campus-adjacent center," says Lydon of Street Plans. "Pairing the initial investment in mixed-use residential with a programmable public space will drive value for the first phase and provide the social activities and a gathering place that is not easily found off campus."
Safely crossing North Tryon, a wide, 4-lane major arterial with light rail in the middle, is a big concern. The crossing distance is close to 50 yards from the UNCC entrance to the shopping center—half a football field. In addition, the posted speed limit is regularly ignored (60 miles per hour is common). One idea: Paint a large UNC Charlotte crosswalk with logo and colors to give visual connection between campus and shopping district; also, to promote traffic calming.
The aforementioned square would consist of a pavilion, lawn area (could be artificial turf), and flex space on the parking lot in front of the former Kohl's, the façade of which could be decorated with a mural and lighting. Designers looked at umbrellas and large planters with trees for shade and seating. The flex space would allow for festivals, markets, and other events.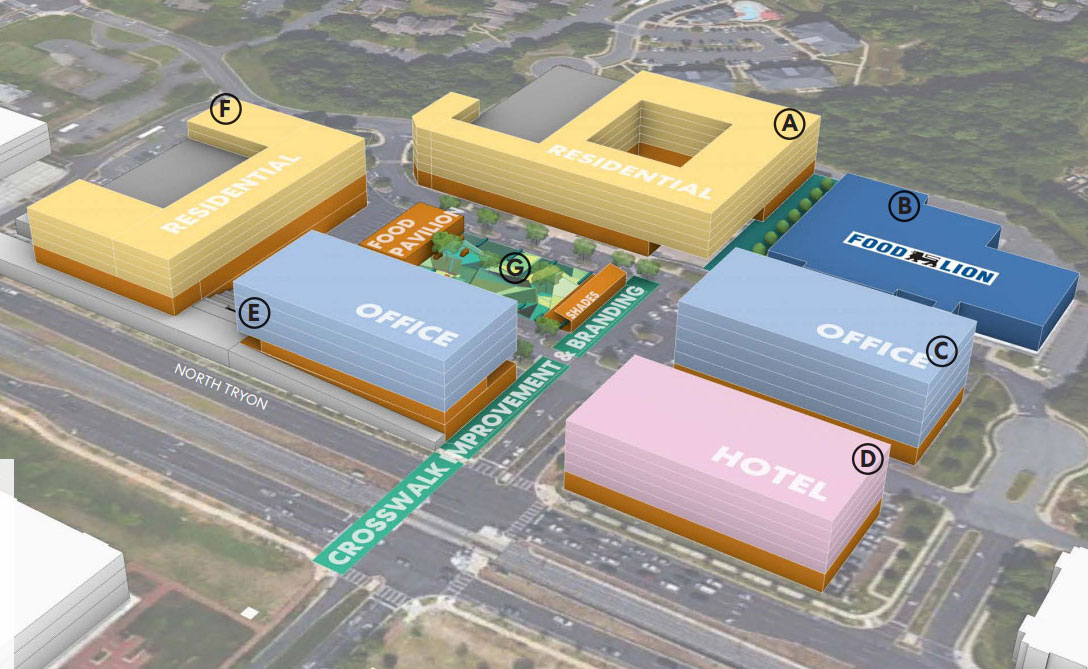 Another key public realm idea is to build an extra-wide, grand staircase from the sidewalk along North Tryon down to the site to create a safer, more desirable pedestrian entrance (in contrast with current entrance at a traffic light). This stair is needed because of a large elevation difference between the sidewalk and parking lot at the south end of the shopping center, and it would improve access to the rail station, taking advantage of one of the current good features—a wide sidewalk along a section of North Tryon, protected from the traffic by street trees. The stair would make the public space more visible from the street and from a pedestrian bridge at the station.
Across from Mallard Pointe shopping center, the entrance to UNCC leads into an economic center fueled by the university's research capacity, then to the stadium (frequented by alumni), and finally to the heart of campus. The 16-acre site, with a proposed 1.12 million square feet of development, is well-situated to link the campus to the rest of the district.
The mixed-use development could take place incrementally, in five or six phases. Improved connections to non-automotive travel, including Lynx and greenways, are needed, Lydon said. Linking uses, modes of travel, and the campus, research, and outside community would be a game changer, according to the University City District.
"Creating a main street has proven difficult and something that even the really well designed places can't get right, given that vibe and energy has to be authentic," says Holmes of the University City District. "The central public space idea Mike brought, to me, accepts the struggle of designing out of the problem and says—places are authentic because they are rooted in character and are always changing a little, and this is what people come back for over and over again. There's also some realization that we have to build in some stickiness to the place and commit to programming it.  It has to come alive like the best main streets do."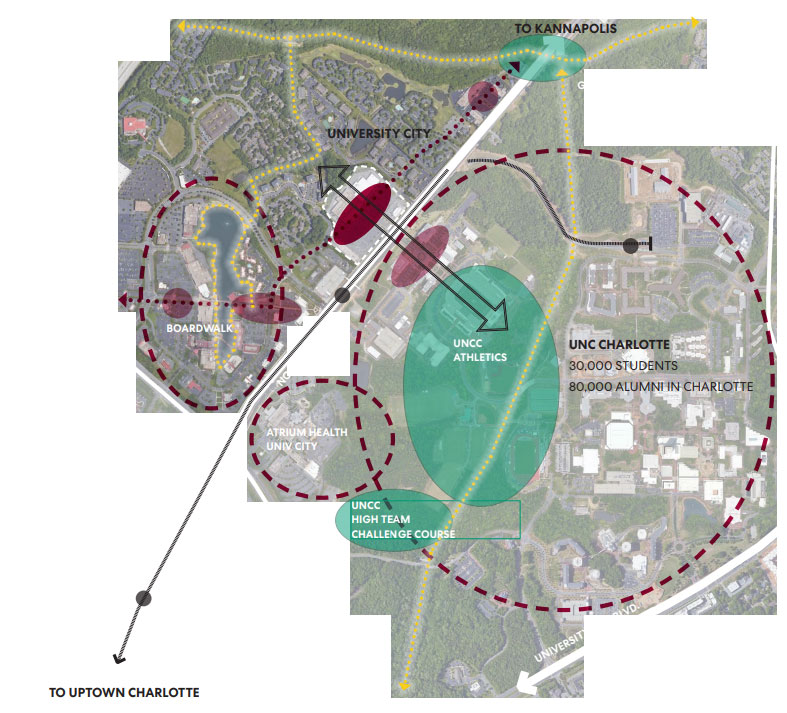 Legacy Project