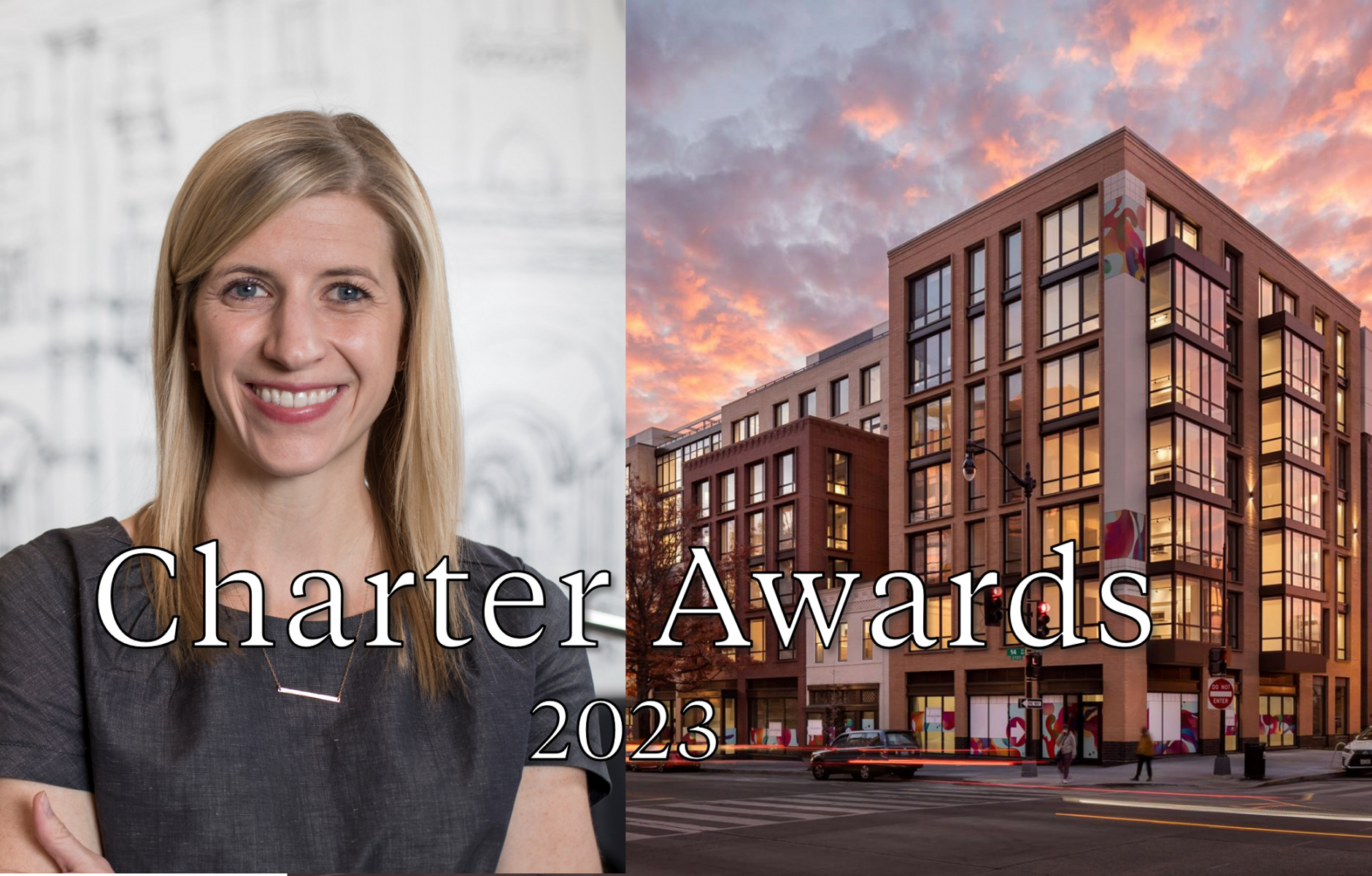 Get the 2023 Charter Awards inside scoop
Megan O'Hara is the 2023 Charter Awards Jury Chair. A focus of this year's jury will be on projects that build great places for all by being accessible and equitable.
Note: I sat down with 2023 Charter Awards Jury Chair Megan O'Hara to discuss her New Urbanist background and her experience as both an applicant and Charter Awards jury member. The conversation has been edited for clarity. Learn more about the 2023 Charter Awards application here. 
Megan O'Hara learned about CNU as a student in the BA architecture program at Notre Dame. She was part of the students for New Urbanism Chapter and during her time helped organize and host a conference inviting New Urbanist professionals to come speak with students. "I knew I wanted to pursue a career in urban design and planning," Megan says. After Notre Dame she joined Urban Design Associates under Ray Gindroz who is known for his early involvement in the New Urbanist movement as one of the earliest architecture firms to concentrate on the design of neighborhoods and cities. She attended her first CNU Congress in 2006 and has been involved with CNU ever since.
"CNU provides a unique forum for discussing ways that design and policy can influence and create quality places for everyone," says Megan. She also appreciates how the membership is self-critical and has evolved over the decades to address new challenges. Even more, the networking aspect of CNU is unique and different from other organizations as there is a broader range of professions represented which allows for a diversity of perspectives and backgrounds to all gather at the same table which is not the case for other large organizations.  
Charter Awards involvement
Megan was involved with UDA's Charter Award submissions and in 2016, her project Orleans Landing in Detroit received a Merit Award. The Orleans Landing project created top-of-the-line urbanism on a remediated brownfield site in a sector of Detroit with diverse assets— waterfront land, brick industrial buildings, greenways, and historic streets—but little economic activity. 
Last year, she was invited by jury chair Andrew Von Maur to serve as a juror for the 2022 awards. "It was an engaging and challenging process," she says, "and we felt that as a jury, the 2022 awardees demonstrated that the nominees are pushing the movement forward." Megan also helped present some of the awards at the 2022 ceremony and felt very honored to do so.  
This year's jury is looking for applicants that demonstrated excellence in the design and development in the three categories of:
The region: metropolis, city, and town
The neighborhood, the district, and the corridor
The block, the street, and the building
The jury will also be looking for projects that are examples of the Board's commitment to building great places for all people, regardless of background, race, income, or ability, and to create a more inclusive, engaged movement. As stated by CNU Executive Director Rick Cole, "Vibrant and prosperous places to live and work should be the birthright of every American."
The jury is challenging applicants to frame their submission through the lens of asking who is being served and how projects increase access and bring the benefits of quality places to all, especially those with more limited resources and privileges. Projects that make places accessible and equitable, embody a wide range of the Charter of the New Urbanism principles, and are currently built or being implemented are strongly encouraged to apply.
Lessons and tips for applicants
"Until serving on the jury, I did not realize the emphasis on projects that have been substantially implemented," says Megan. There is a focus on projects that are put in place because they can demonstrate the benefits of New Urbanist design in real time. There is also a category for emerging projects and student projects to allow different types of applications and build momentum for future implementation.
Megan also appreciated the 2022 jury focus on equity and improving access to the great benefit of quality places. She was especially impressed with projects such as the El Punto Neighborhood Revitalization project. This community-driven initiative has revitalized a disadvantaged neighborhood in Salem, Massachusetts, through public art, affordable housing, historic rehabilitation, and wide-ranging community projects. This type of project may not have been awarded in previous years since while the revitalization has done an amazing amount of implementation it didn't have the designer-lead approach typical of other Charter Awardees. Megan hopes this year's jury will continue to focus on and recognize good work from unconventional applications. 
The jury would like to see applications from anyone trying to make a quality place for all. "We encourage anyone who is advancing the principles of the Charter of the New Urbanism and making a difference in people's lives to apply," says Megan. The jury would also like to see projects that focus on environmental justice, resilience, and sustainability in addition to layering the environmental focus with social and economic investments to stabilize and make communities more sustainable. 
Feeling inspired? Applications for the 2023 Charter Awards are open through January 13, 2023. You can learn more and apply at: https://www.cnu.org/charter-awards