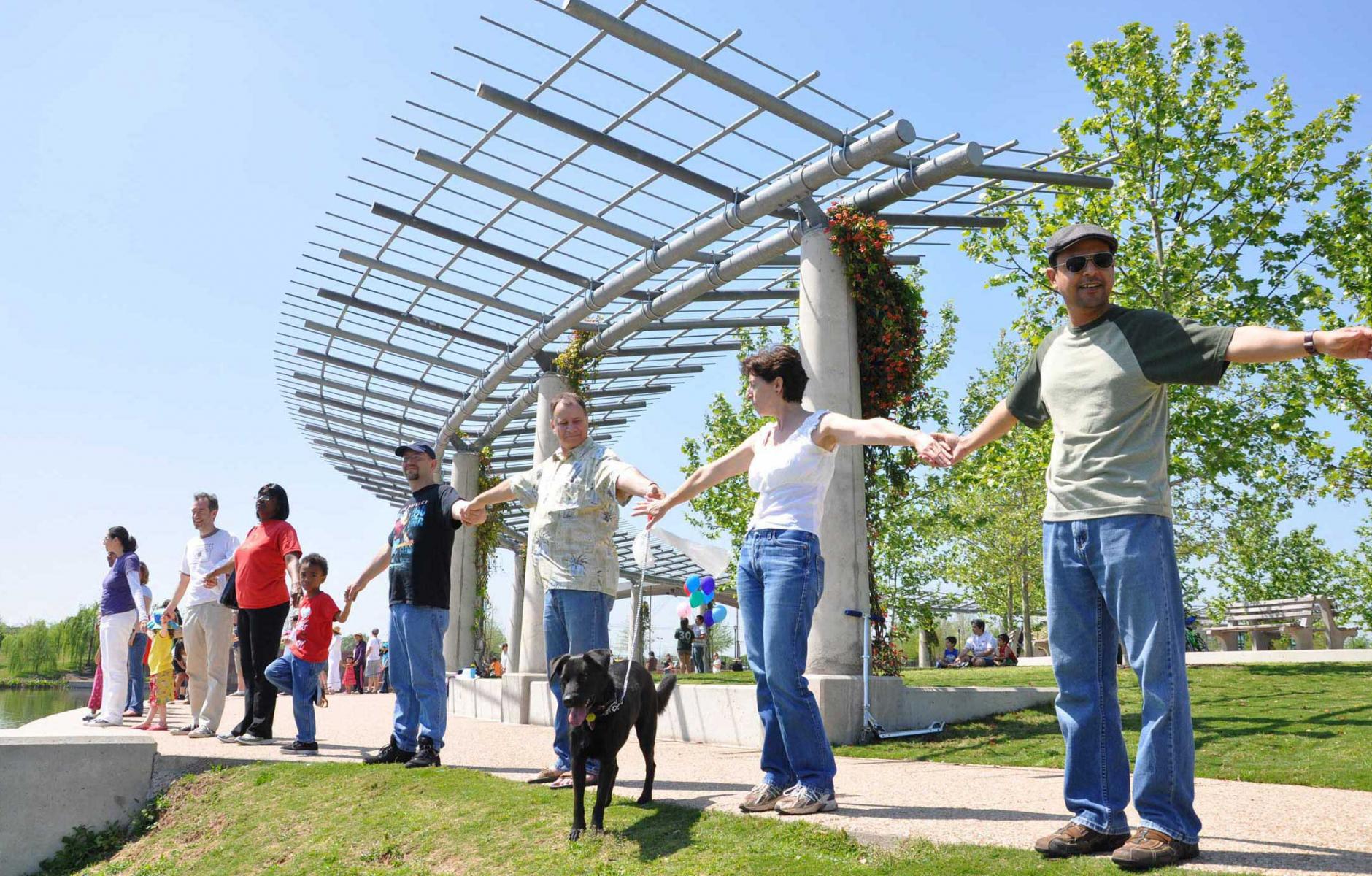 Residents of the Mueller neighborhood in Austin holding hands during the pre-pandemic solstice. Photo Veronica Castro de Barrera
Ten political benefits of walkable places
This is fourth in a series of articles on the advantages of building human-scale cities and towns.
There are many benefits to building walkable places and complete neighborhoods, backed up by research and common sense. A research report called Cities Alive by Arup, a multinational engineering and design firm, enumerated 50 advantages of walkable places. This article, the fourth in a series, is based on that report and focuses on political benefits.
Supporting walkable communities relates to leadership, urban governance, sustainable development, and planning opportunities. Physical design—the architecture of community—doesn't come close to solving all problems. But it is the cornerstone of a lasting legacy that political leaders may bestow on a municipality. Mayor Joe Riley of Charleston, South Carolina, is one of the most successful mayors of the last half century in America, maintaining strong popularity for 10 terms before retiring in 2016. He was a new urbanist through and through and that city will bear his mark for generations, maybe centuries. Here's 10 political benefits of designing and building human-scale cities and towns:
Enhancing the tax base
Urban centers are the most valuable places in cities, and they garner far more than their share of tax revenue, helping to support services throughout the municipality. The Rosslyn-Balston corridor in Arlington, Virginia, once an automobile-oriented strip, was transformed over decades through political leadership promoting transit-oriented development and walkability. The corridor comprises 11 percent of the county's land, and produces nearly 50 percent of its tax revenue. 
Fostering competitiveness
At a time when people and capital are mobile, and many employees are working remotely, walkability is increasingly important. When people and businesses have choices, they are looking for places that is unique. For a city or town, that qualities can be enhanced through human-scale planning and development. Melbourne, Australia, had a drab downtown 30 years ago, but investments in walkability have driven an 830 percent increase in residents in the core, plus 275 rise in cafes and restaurants—a transformation that became known as the "Melbourne miracle," according to Cities Alive.
Building public consensus
A pedestrian-friendly environment spreads well-being broadly, Arup notes, and so "investing in walking is a strategic tool in order to enhance public consensus in favor" of the political establishment that is promoting those goals. Leaders may encounter resistance at first to lowering traffic speeds or shifting street areas from cars to pedestrian spaces, but these policies tend to be popular over time. A broad and inclusive public process is critical to gaining support.
Supporting urban centers
Downtowns and main streets are the economic and social lifeblood of cities and towns. Walkable urban centers establish much of the image and identity of communities—these places are where people often gather for socializing and events. You can't have a strong city without a strong center. Creating places where people want to hang out, outside of cars, is key. That means planning and building human-scale streets and public spaces, with active uses that attract residents and visitors.
Promoting citizen empowerment
"Walking can enliven public spaces and promote increased feelings of attachment between citizens and their habitual places," Cities Alive reports. "This could push people to have a voice in a city's changes and actively contribute to making policy decisions and developing actions better fitting their needs and aspirations."
Promotes sustainable behavior
If public officials want citizens to engage in more sustainable behavior that cuts carbon emissions, a good strategy is to make it easier to get out of the car. Such a physical environment supports virtuous circles of behavior that lead to greater sustainability.
Supporting regeneration processes
"Urban regeneration prevents urban decline and sparks positive economic, social and environmental impacts," Cities Alive notes. "The creation of walking environments is often considered as a powerful tool for urban regeneration."
Addressing city resilience
A walkable city is less vulnerable to breakdowns in transportation systems. "Walking is an independent and reliable transport mode, in the sense that it needs little facilitation by infrastructure and is always available," says Cities Alive. "Therefore, increasing the walkability of a city provides an opportunity to improve its resilience in different settings."
Boosting flexibility and enabling micro-solutions
"A car-less street, or one where cars have less prominence, is less regulated and more flexible, offering more opportunities for the development of pop-up interventions, temporary solutions and bottom-up initiatives," according to Cities Alive. This quality was highlighted during the pandemic, when thousands of streets, all over the world, were quickly transformed to allow for more outdoor dining and activity. Many of these changes will be permanently installed.
Promoting cultural heritage
When streets and public spaces near historical buildings and landmarks are made to be more pedestrian-friendly, the appeal of the heritage assets is enhanced, contributing to their preservation, according to Cities Alive. 
To find out more on these and other advantages of walkable cities and towns, follow the links in the article or read the report, Cities Alive: Towards a Walking World. There are references to studies not linked above.Read also the first two articles in this four part series, Ten social benefits of walkable places, Ten economic benefits of walkable places, and Ten environmental benefits of walkable places.