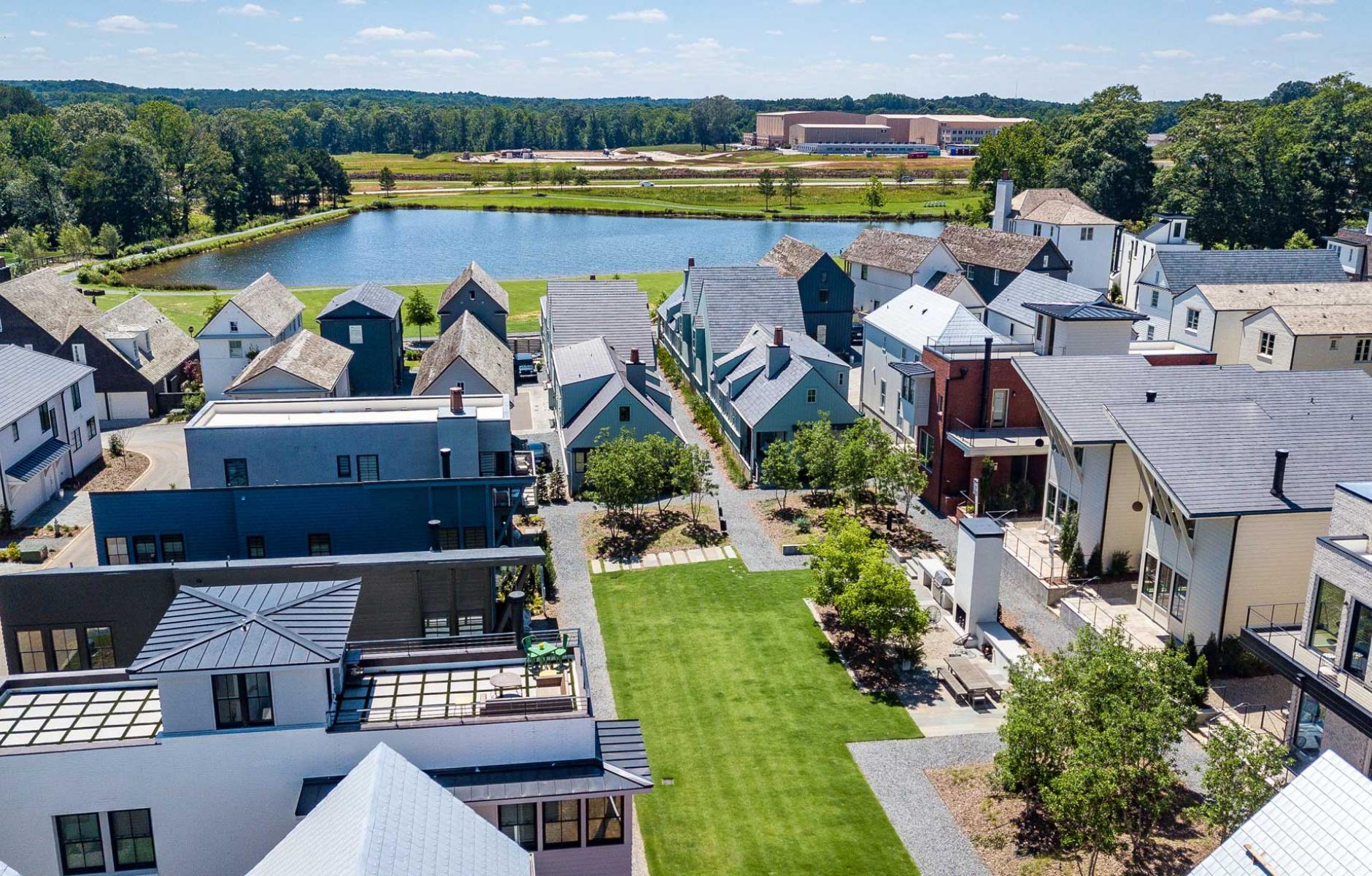 Aerial of "Bellwether Park," part of a Trilith "green street." Courtesy of Lew Oliver Inc.
'Green streets,' gentle density in a new studio town
Trilith in Fayetteville, Georgia, is built around the idea that well-designed public space contributes to individual happiness and community well-being. Lew Oliver Inc. won a 2021 CNU Charter Award in the Neighborhood, District, and Corridor category.
Trilith is inspired by the words of Enrique Peñalosa, former mayor of Bogota, Colombia: "Great public space is a kind of magical good. It never ceases to yield happiness. It is almost happiness itself." With that idea in mind, each part of Trilith is intended to connect to the whole community and the larger regional fabric. Each building is designed to nurture the pedestrian, promotes social connection, and facilitates safety.
Trilith is a new town in Fayetteville, Georgia, of 1,400 homes and nearly 400,000 square feet of commercial space, adjacent and connected to Marvel Studios, the state's major film producer. The living spaces include 600 single-family houses, 100 townhouses, and apartments. Lot sizes are small—ranging from 1,800 to 3,200 square feet—which cuts land, development, material, and sales costs per house. More than half of the homes front a "green street"—park-like thoroughfares designed for human-power mobility and rainwater infiltration.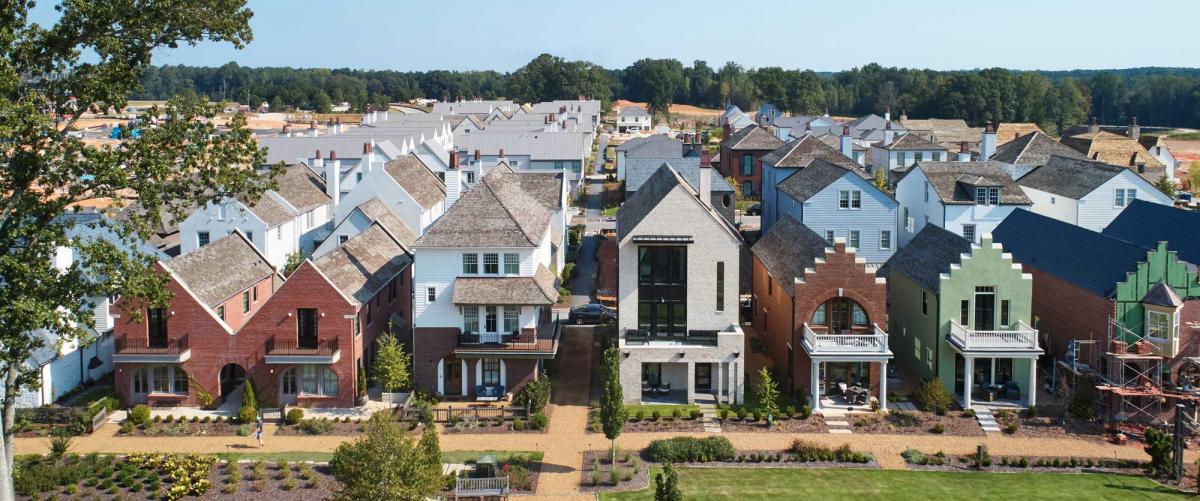 The commercial space includes retail, local restaurants, and innovative spaces related to the film industry—including 60,000 square feet of smart stages and virtual production technologies. The streets in the town are designed to serve film production.
"Watching Trilith grow from a wheat field into a remarkable community in just a few years has been exciting," says Ed Johnson, the mayor of Fayetteville. "The sense of community and great placemaking is evident from the moment you arrive. We are proud to partner with the leadership at Trilith to create something special here." 
More than half of the Town of Trilith's 235 acres are preserved as parks and green space. Open space ranges from neighborhood parks, woodland preserves, grand lawns, and civic plazas in the downtown area. The long-time farmland and mature tree canopies create an interesting juxtaposition of settings. The urbanism was shaped by existing trees and the picturesque topography was preserved in the urban plan. As part of an eco-conscious growth outlook, the planning team preserved more than 50 percent of the tree canopies in the 235-acre "town" component of the project (adjacent the 700-acre innovation/movie studio campus).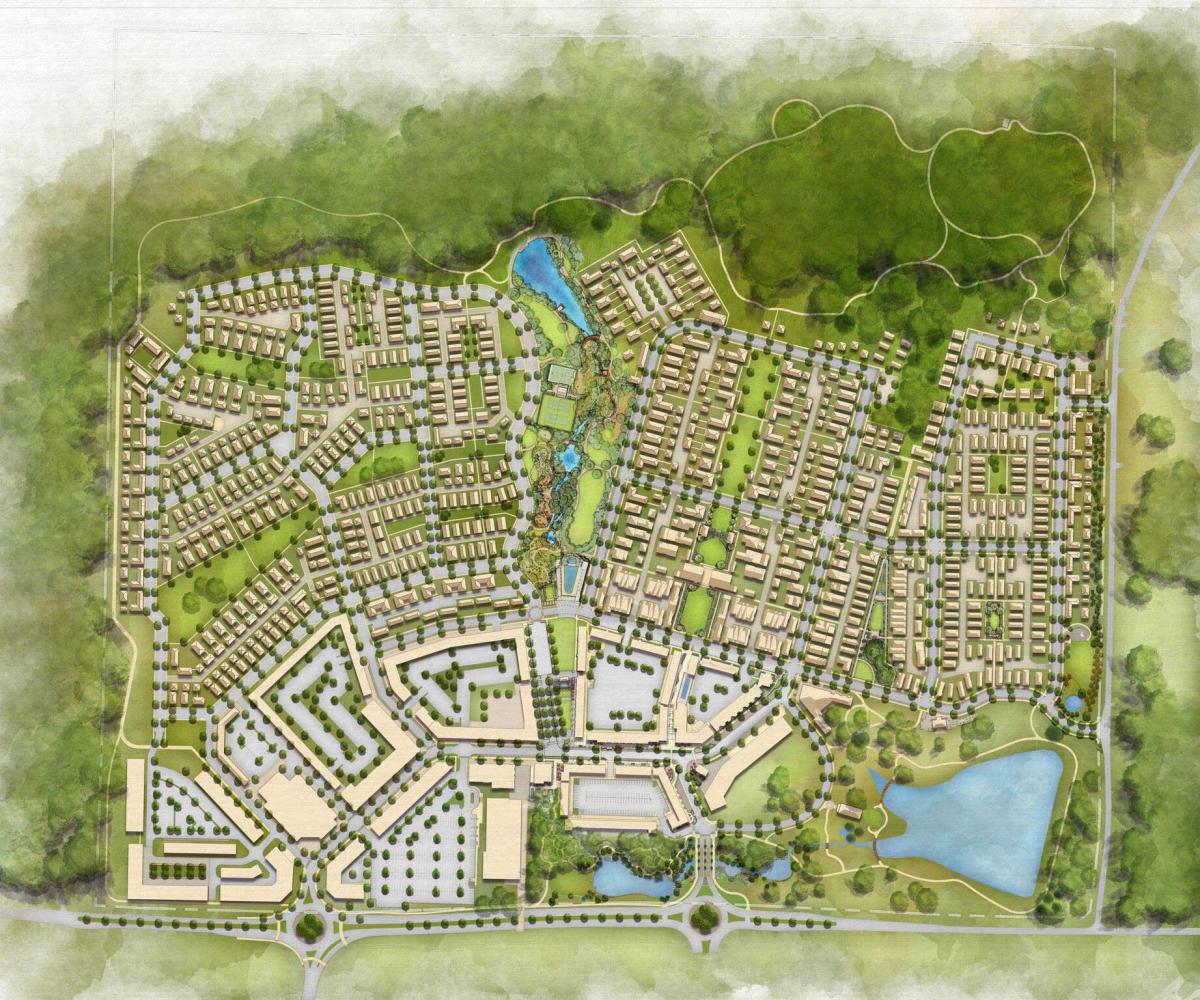 Trilith is pioneering a kind of density that is approachable—gentle rather than harsh. The houses fit in with the new demographic of smaller households. The project is environmentally sustainable and yet is also financeable and appealing to the market. The buildings and public space are exceptionally well detailed. 
The master plan pattern is a weave of green streets, vehicular streets, and alleys in each direction, woven as a textile. The threads repeat as follows: street, alley, green street, alley, street and so forth. Inspired by Christopher Alexander's A Pattern Language,this system is a low-carbon alternative, reducing development footprint and increasing pedestrianism.
Aimed at bolstering creative and film industries, Trilith incorporates walkable, mixed-use principles with pioneering design and construction methods. The studio-town marriage nods to pattern languages of the past while developing a unique cultural ambience for people seeking community authenticity and connection to nature.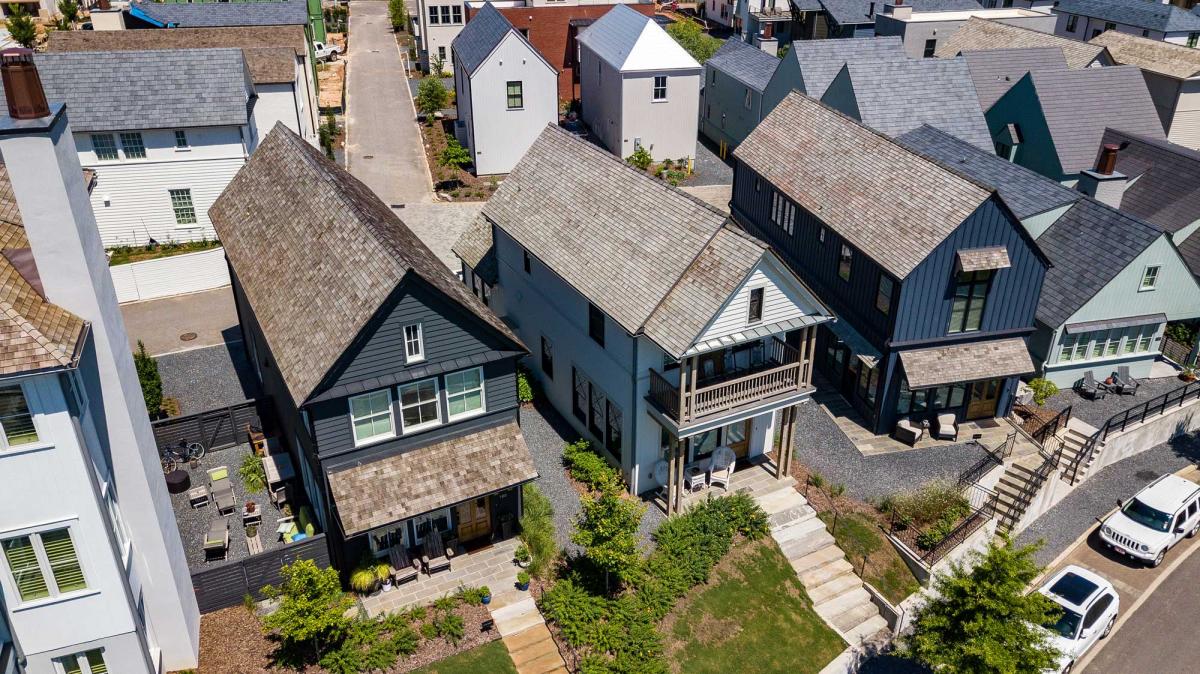 More than 400 people reside at Trilith, despite construction having just started a few years ago. Trilith plans to make room for another 4,600 residents, with buildout anticipated in phases over the next eight years. 
The town planning firm was charged with creating top-notch urbanism, while preserving as much countryside as possible. New Urbanism was the central design strategy to achieve the development team's goals, thus the human-scale experience remains an underlying priority from land planning, to engineering, landscape, and architecture.
Trilith
Lew Oliver Inc: Principal firm
Trilith Development Corp: Client
HGOR, Chau Wall, and Philip Shell: Landscape architects
Lou Nequette: Commercial building architect
Cindy Cox: Original master planning team member
Pace Lynch Realty: Commercial developer
Rob Parker, Rick Halpert, Brett Baker, Jake Pitman, Belle Doss: Development team
Dan Cathy: Chief visionary
Jim Pace: Early development team member
2021 Charter Awards Jury
Goeff Dyer (chair), Master Planning and Urban Design Strategic Lead, B&A Planning Group
Amy Stelly, Artist, designer, urban planner with Claiborne Avenue Alliance
Marques King, Economic Development and Design Manager with Jefferson East, Inc.
Alli Thurmond Quinlan, principal, Flintlock Architecture & Landscape
Andrew von Maur, Professor of Architecture at Andrews University

Charter Awards 2021