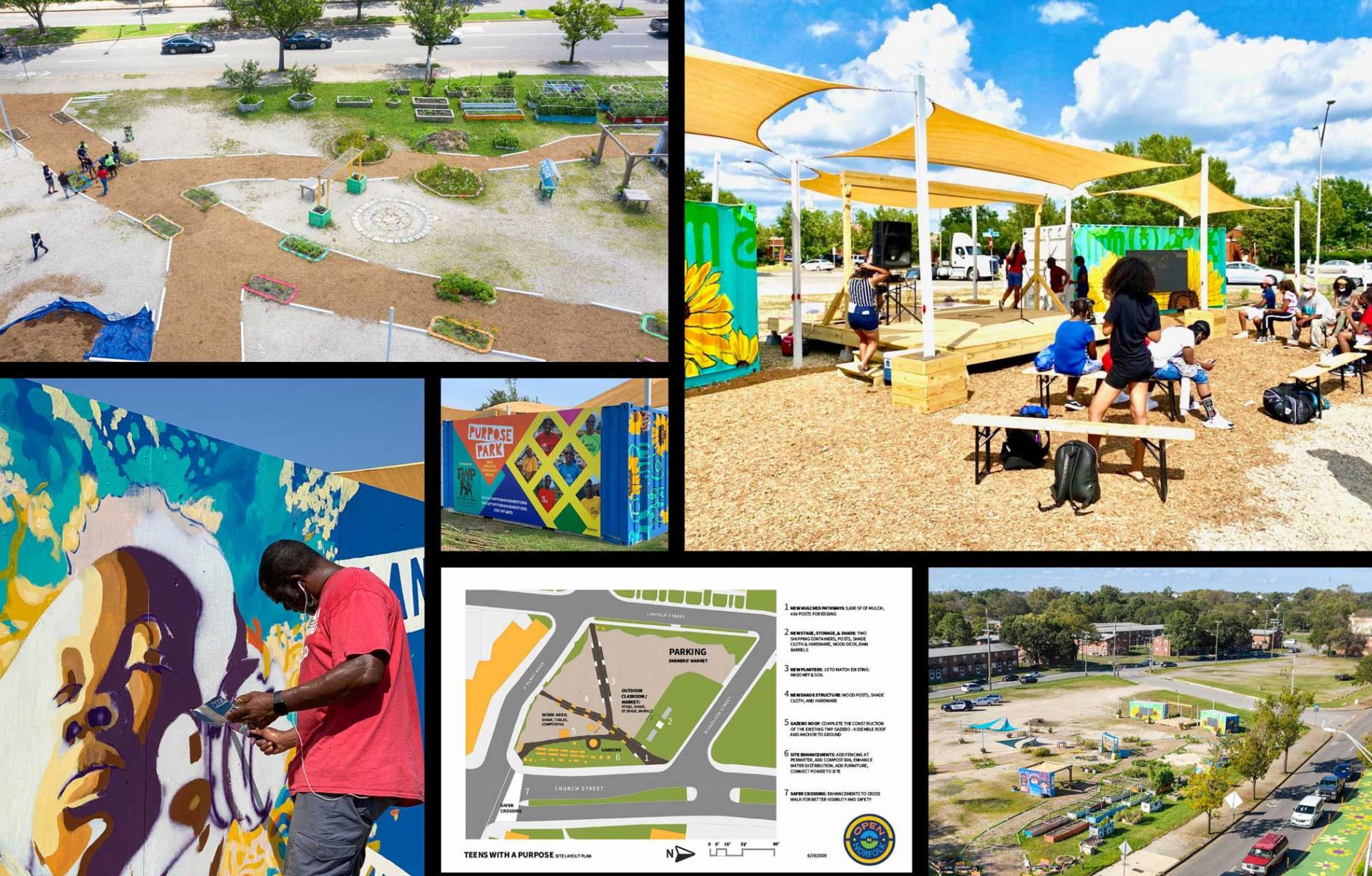 Teens with a Purpose Neighborhood Spot (Purpose Park)—plan and images of community garden, stage and outdoor classroom, public art on shipping containers, and road diet with mural
Tactical Urbanism on a citywide scale
The urban planning response to Covid in Norfolk, Virginia, was imaginative and comprehensive. Work Program Architects, Yard & Co, and Team Better Block won a merit award in The Region: Metropolis, City, and Town category of CNU's 2021 Charter Awards.
Tactical Urbanism offered key urban design tools in 2020, when cities had to quickly repurpose public space to allow more outdoor activities and dining during the pandemic. OpenNorfolk demonstrated how to use these tools in a coordinated, citywide fashion, generating tangible benefits to a wide range of people.
"Covid presented real design problems that could be solved through Tactical Urbanism, and Norfolk showed how to use this concept across a city, and not just ride on the coattails of the times," says Amy Stelly, juror and urban planner with Claiborne Avenue Alliance.

Like many cities, Norfolk faced declining revenues in 2020—more than 550 city employees were furloughed—even as the demand for services rose, businesses and residents suffered, and public needs changed dramatically due to the public health crisis. 
OpenNorfolk implemented three kinds of projects to address overlapping problems: 
"Streateries" and outdoor dining that allow restaurants to operate safely.
Streetscape changes to provide safe outdoor activities and put mobility of pedestrians first.
"Neighborhood Spots"—pop-up community squares in places where public facilities had closed.
The program led a coordinated effort to get the city back on its feet after an extended lockdown. It was implemented with remarkable speed. For example, the team designed and built three pop-up community hubs in one week. Designers, city staff, politicians, health officials, and other collaborators worked together, embracing a culture of getting to "yes" quickly, the team reports.
Projects included four unique resident-design community squares, four road diets, and collaborations with restaurants citywide.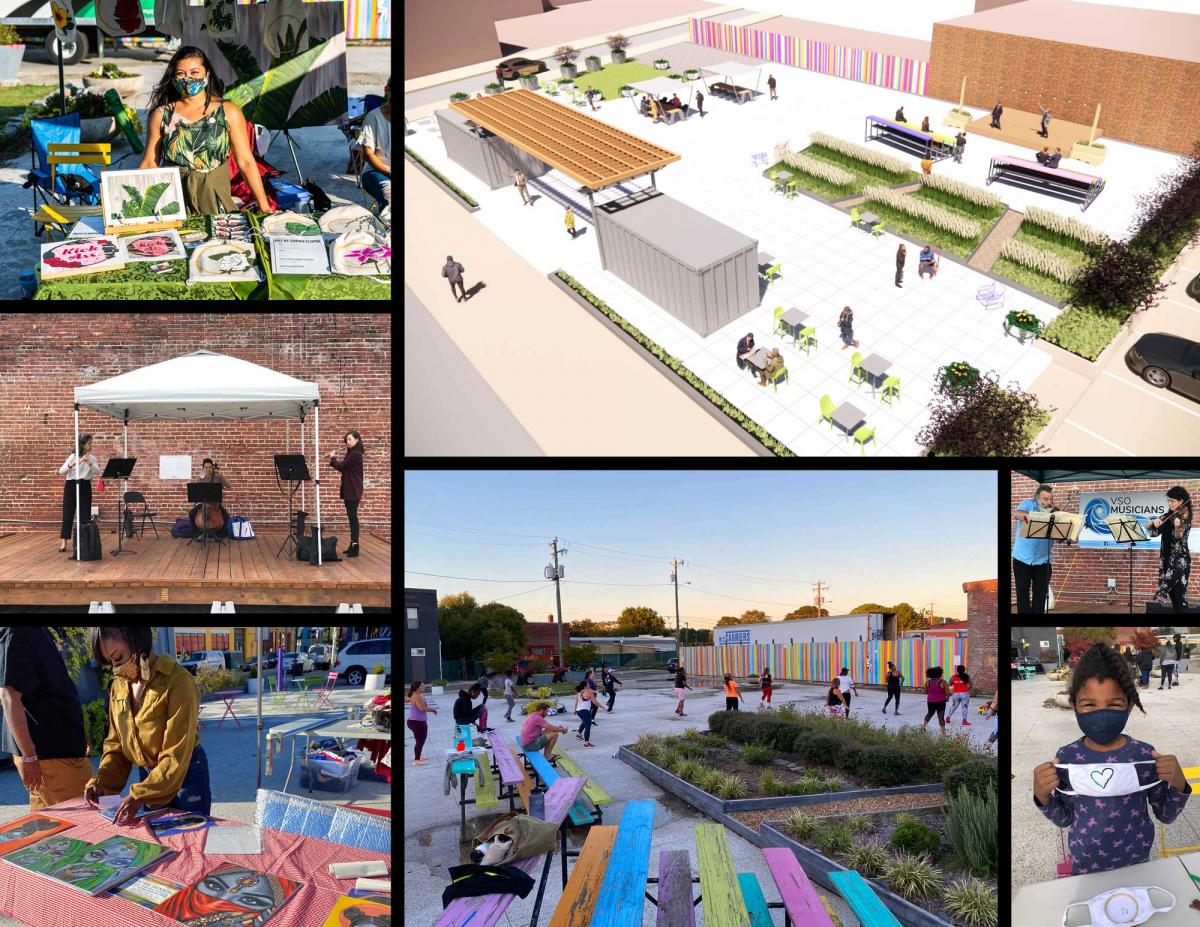 Neighborhood Spots
Neighborhood Spots—pop-up community squares—gave local arts organizations places to lift the spirits of residents and keep talented artists and musicians employed. These "spots" were located in communities whose libraries and recreation centers had been shuttered by budget cuts. They served as safe places for summer refuge, commerce, celebration, and learning with visual togetherness.
The four Neighborhood Spots—Broad Creek, Five Points, The Plot in the NEON District, and St. Paul's "Teens with a Purpose"—reinforce each community's unique identity. Broad Creek was nestled among live oak trees on a former elementary school site, next to the Hope VI Broad Creek development. Five Points was sited at Norfolk's most challenging intersection, at the center of five high-speed roads with no shade. Nevertheless, this spot became so popular that people came from all over the city to participate in activities, hear live music, shop at a market, or take a class. The PLOT, in the middle of Norfolk's NEON Arts District, had support from the local symphony and opera, local musicians and artists, a comedy club, and other groups. "Teens with a Purpose,"in the heart of St. Paul's, a public housing project that is part of a HUD Choice Neighborhood Initiative, was built by dozens of teen interns. It included community gardens, an outdoor classroom, a stage for performing arts, and more.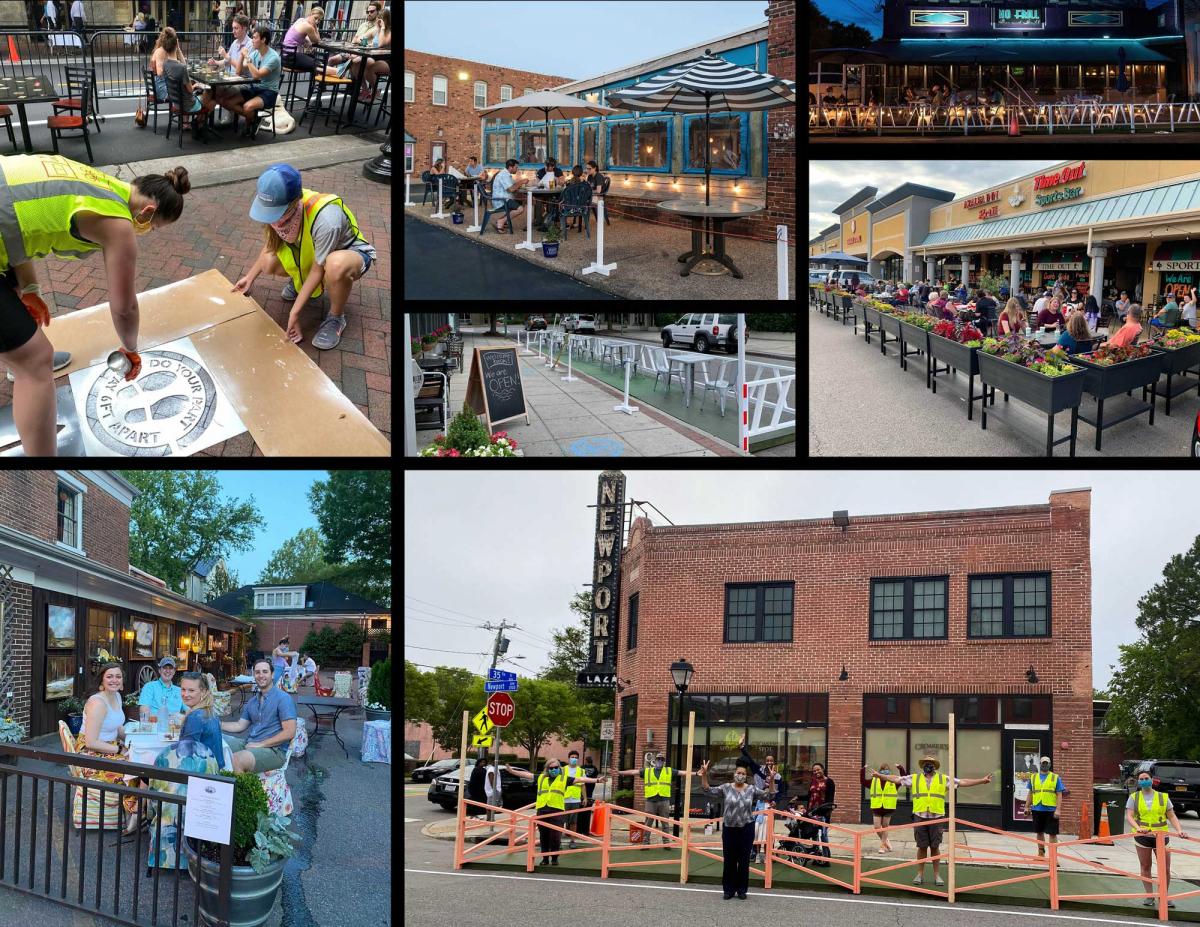 Impact on small business
The program was implemented throughout the city and reached more than 500 small businesses. Volunteers designed and distributed signs to restaurants, requiring the use of masks and showing fun, alternative ways to greet friends. The text was translated into Spanish and Mandarin.
Team members set up outdoor dining with planters, handmade stanchions, ropes, pennants and string lights in parking lots. More than $100,000 of outdoor patio furniture was delivered to restaurants in need. Seventy percent of all assistance went to minority and woman-owned businesses.
"Outdoor dining has helped increase our sales week over week. The additional tables have allowed us to continue to keep staff employed," notes one restaurant owner. With hundreds of new customers attracted, dozens of businesses were launched, a sign of hope of the midst of a difficult year.
The team worked with the Building Official, the Fire Marshal and the City's right-of-way permitting department to design more permanent outdoor dining guidelines. So called "streateries," outdoor dining in the street, were designed to be dismantled in 2 hours, in the event of strong Nor'easters and hurricanes that contribute to coastal flooding in low-lying Norfolk.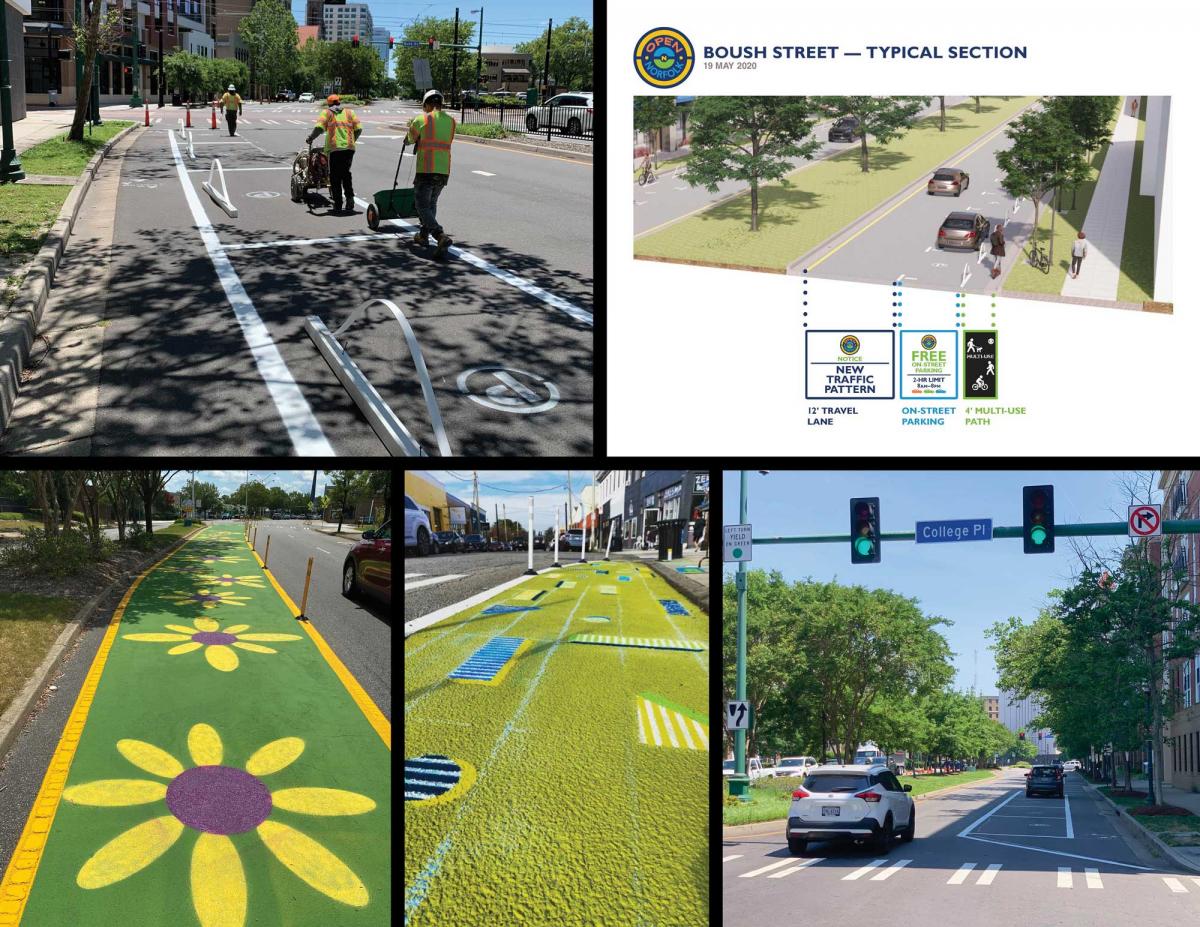 Walkability
As parking spaces gave way to outdoor dining, the team initiated four significant road diets, slowing traffic from an average of 47 miles per hour to 25 miles per hour. The designs encourage pedestrian activity and include bike/scooter lanes. OpenNorfolk also brought fully functioning mixed-use places closer to where people live, letting some people avoid the cars altogether.
The road diets on Boush Street, Granby Street, and Church Street slowed traffic, replaced on-street parking displaced by outdoor dining, and improved the pedestrian experience.
"It is successful Tactical Urbanism, but it is coordinated across an entire city, which is what gives a plan like this one legs," says Marques King, juror and economic development and design manager with Jefferson East, Inc. "It shows that this guerilla trend can have a regional impact if coordinated steps are taken."
OpenNorfolk
City of Norfolk, client, political lead, and project originator
Work Program Architects, Norfolk, VA, lead firm, project manager
Yard & Co, Cincinnati, OH, Neighborhood Spot builder and manager
Team Better Block, Dallas, TX, quick-build transportation planner
Downtown Norfolk Council, partner
Teens with a Purpose, partner
2021 Charter Awards jury
Goeff Dyer (chair), Master Planning and Urban Design Strategic Lead, B&A Planning Group
Amy Stelly, Artist, designer, urban planner with Claiborne Avenue Alliance
Marques King, Economic Development and Design Manager with Jefferson East, Inc.
Alli Thurmond Quinlan, principal, Flintlock Architecture & Landscape
Andrew von Maur, Professor of Architecture at Andrews University

Charter Awards 2021