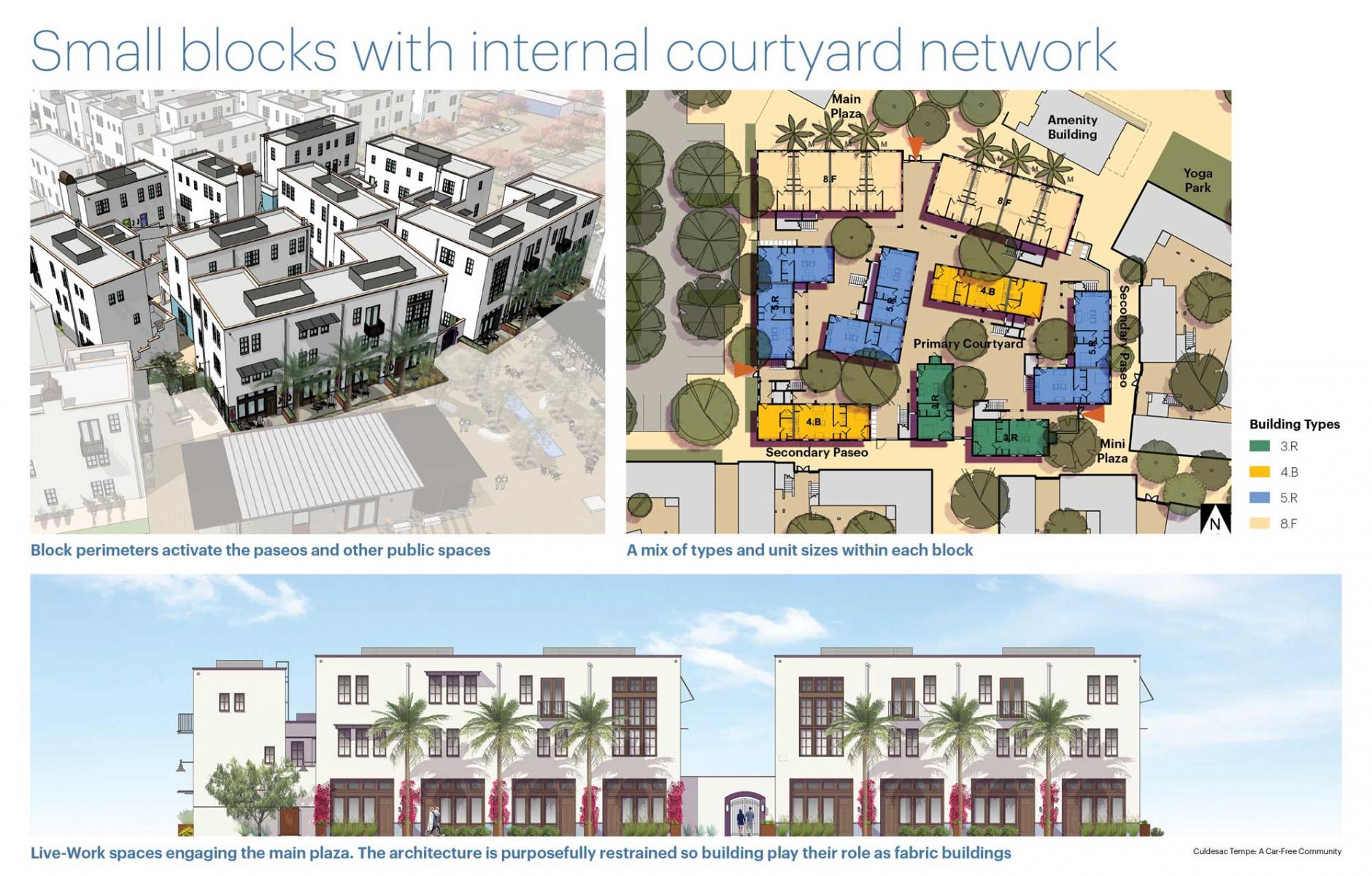 Anticipated 'car-free' development moves forward
Culdesac in Tempe, Arizona, a model community that combines urbanism with technology, is demonstrating an untapped demand for car-free living. Opticos Design won a merit award in the Emerging Projects category of CNU's 2021 Charter Awards.
In one of the nation's most automobile-dependent cities, a development is testing a new model of car-free living. The market is responding well: Phase one of Culdesac Tempe, due for completion by the end of 2021, is pre-leased, and more than three thousand people nationwide have expressed interest in living there. The majority of initial residents will be coming from out of state—many specifically to live in Culdesac.
The response suggests that the project is tapping into an unmet demand for car-free living. "It's a big vision for a small slice of the city, but it might just be the future of safer, more sustainable neighborhoods," notes Curbed.

The brainchild of a high-tech startup and new urbanist planners, Culdesac is one of the more highly anticipated new developments in the US. The 15.5-acre neighborhood includes 636 living spaces in a range of types, and 48,000 square feet of commercial and nonresidential uses. A small parking lot is included for retail, but none for residential. With so little land used for storage of cars, Culdesac devotes 40 percent of the site to plazas, paseos, and other civic space—some of which will feature the work of local artists.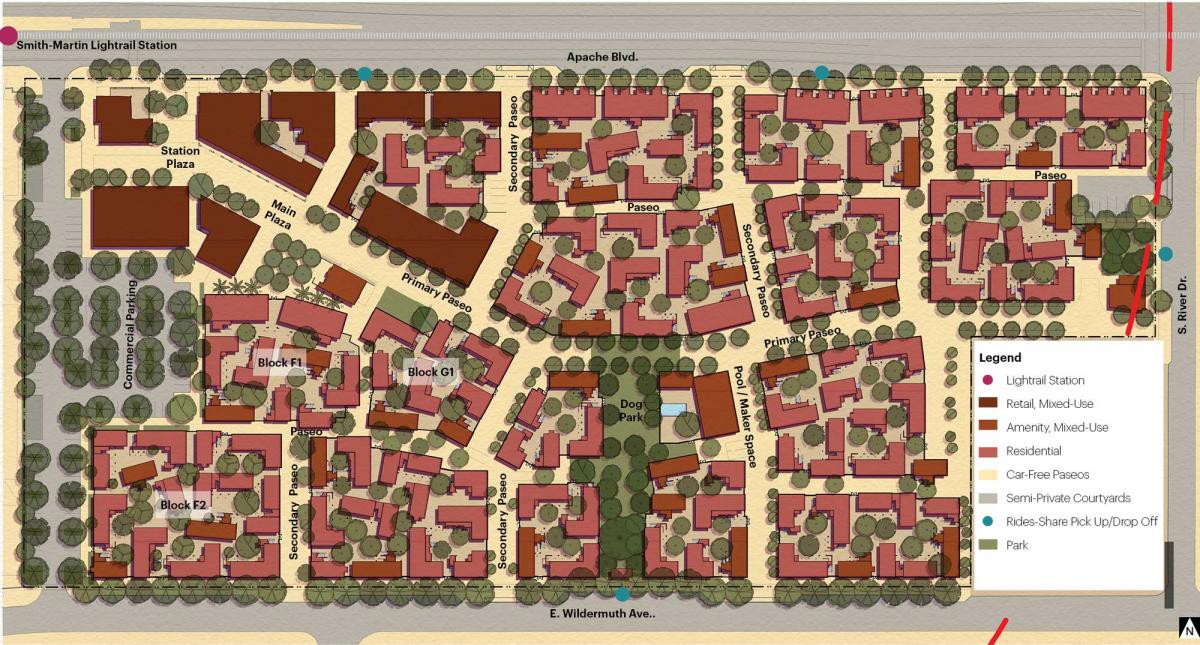 Culdesac features a range of public spaces, including a dog park, a Station Plaza, a picnic park, a community pool, and the project's Main Plaza designed to host neighborhood activities.
The removal of the car allows for a porous, fine-grain urban pattern with a network of narrow, shaded, pedestrian-only paseos, intimate courtyards, and a central plaza activated by restaurants, a small grocery, a co-working space, and a coffee shop.
The residential units face a network of shaded, semi-private, shared courtyards at the core of blocks designed to encourage socializing. The architects were careful to design living spaces so that the paseos are activated, with eyes on the street.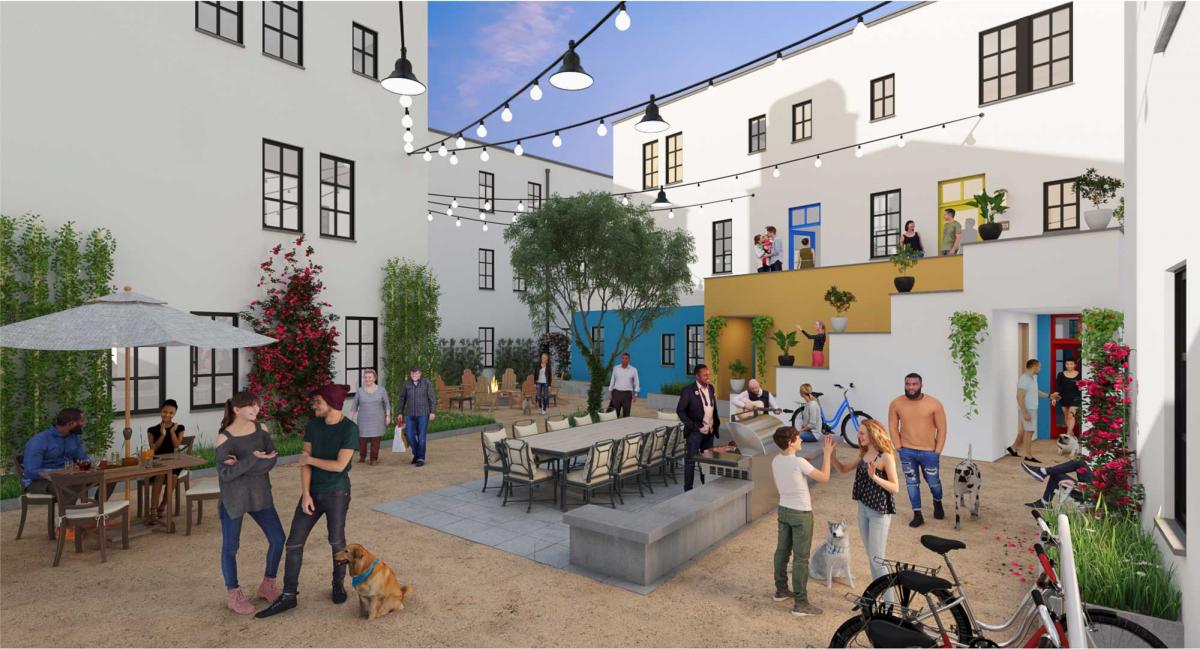 The project employs unique, desert-responsive, courtyard housing. The system consists of seven 2-3 story building types housing, at most, 8 units per building. The units range from 685 to 1,200 square feet.
Mobility options and connection to transit are key to the car-free concept. Culdesac is located next to a light rail station, and an adjacent plaza provides transit riders with a pickup location for scooter rentals, rideshare or hourly car rentals. Rideshare zones are distributed throughout the site to hail a ride; car-share is available on site for longer weekend trips; an E-scooter infrastructure facilitates short trips; sidewalk delivery robots replace the need for trucks on site; and bundled mobility subscriptions allow residents to make on-demand transportation more affordable.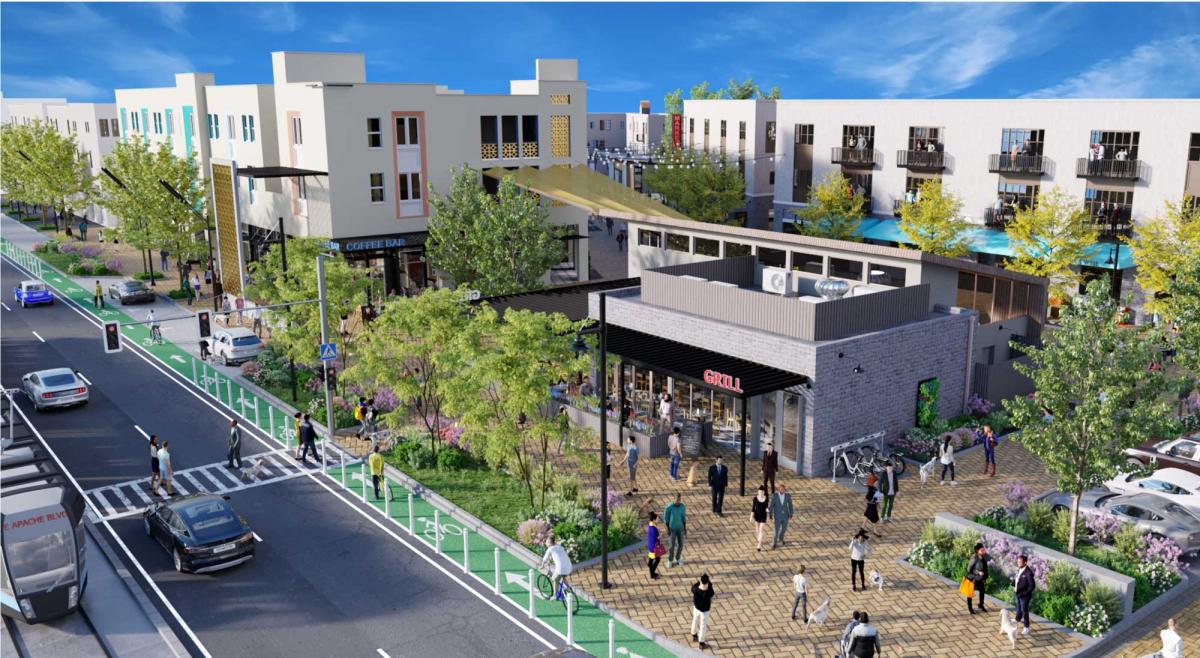 The innovation extends to climate-responsive, sustainable, desert-appropriate design. Shadow studies, modeled at various times of the year and times of day, were an important design tool. The courtyard units are designed as shallow, one-room deep buildings to promote cross ventilation and passive cooling, and to maximize natural light. In addition, all buildings include thoughtfully placed shading devices, particularly on western and southern-facing elevations to minimize solar heat gain.
Culdesac delivers the first car-free neighborhood built for shared mobility, in the heart of the US car culture. "On an empty lot near Phoenix, perhaps the most auto-addicted city in America, a start-up is betting $170 million on a more walkable future," notes The New York Times.
Culdesac: Car-Free Community
Opticos Design: principal firm, architecture and planning
Culdesac: client, developer
Floor Associates: landscape architect
Wood Patel: civil engineer
Blackmon Rogers Architects: contributing design architects
LM Design Studio: contributing design architects
2021 Charter Awards Jury
Goeff Dyer (chair), Master Planning and Urban Design Strategic Lead, B&A Planning Group
Amy Stelly, Artist, designer, urban planner with Claiborne Avenue Alliance
Marques King, Economic Development and Design Manager with Jefferson East, Inc.
Alli Thurmond Quinlan, principal, Flintlock Architecture & Landscape
Andrew von Maur, Professor of Architecture at Andrews University

Charter Awards 2021