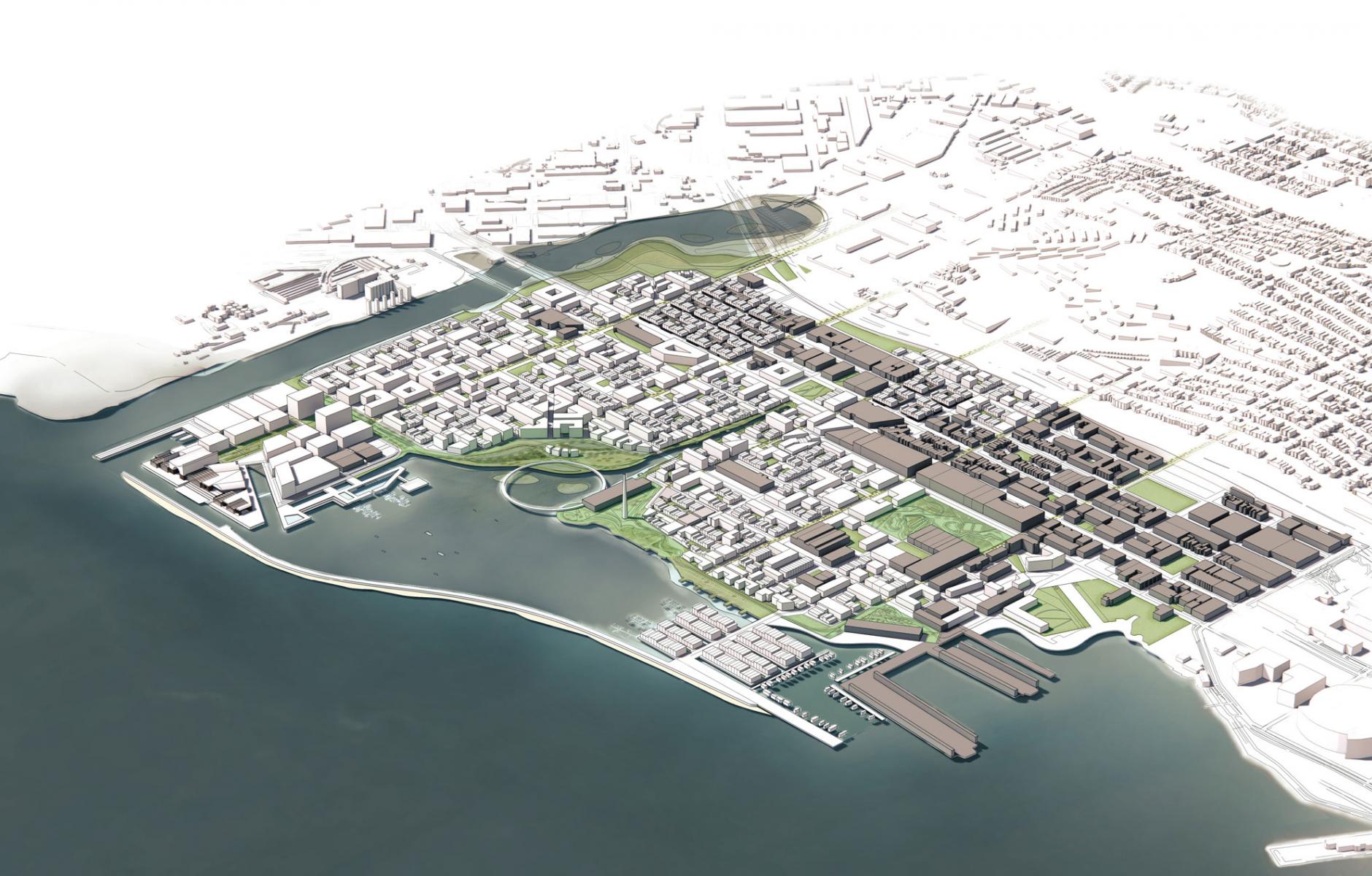 Aerial view of the master plan. Existing buildings are shown in brown, and proposed new buildings in white. By Asma Boutrik, Jaime Varas, and Dewi Bleher.
A mixed-use plan for former industrial waterfront
The Central Waterfront in San Francisco, California, is an opportunity for sustainable development. A UC-Berkeley team won a student merit award in the Neighborhood, District, and Corridor category of the 2021 CNU Charter Awards.
The San Francisco Central Waterfront plan addresses climate change, proposes the reuse of former industrial sites, and enables the development of a considerable amount of much-needed housing. The 420-acre district is connected to transit, part of an emerging development corridor along the Third Street Light Rail line that links downtown, Mission Bay, and the Bayview District.

"This is a great example of promoting redevelopment along the lines of how cities were built," says Alli Thurmond Quinlan, principal of Flintlock Architecture & Landscape, and a 2021 Charter Awards juror. "It sets up a street grid and breaks the blocks into bite-sized pieces that can be built in an incremental way that is focused on people and not cars. It provides for small-scale urbanism, and does it in a way that is responsive to the needs of development moving forward."
The Central Waterfront has been designated as a priority area for development under the Bay Area 2040 plan, sponsored by the Metropolitan Transportation Commission and the Association of Bay Area Governments. The area contains a neighborhood with many historic townhouses called Dogpatch, the Pier 70 district, former shipyards, and a sizable piece of the City's industrial heritage. Pier 70 includes industrial buildings dating back to the 19th Century, some of which are now occupied by tech firms.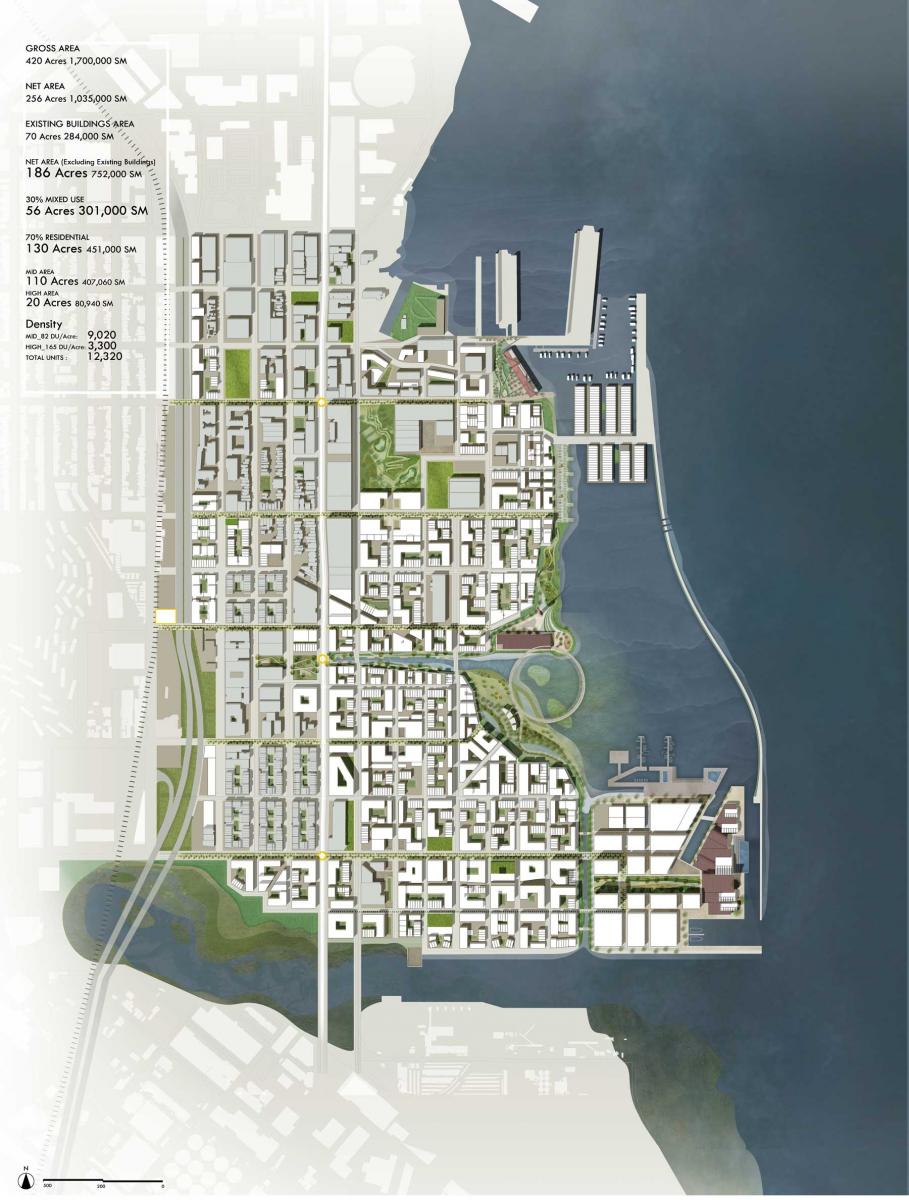 Given that the area is threatened by sea level rise, the plan proposes a sea wall extending from one pier to another in San Francisco Bay—which would calm the waters around the Central Waterfront, making it safe for small boats like kayaks. This strategy allows development to take place without raising the land or constructing a levee that would block the view. The plan also proposes the reclamation of original creeks and marshlands on the site. 
The team extends the existing street grid out towards the Bay, creating new sites for incremental development and housing. Half of the proposed 12,000 new units would be designated as affordable housing, Boutrik says. 
The project transforms the current brownfield waterfront into a series of continuous public open spaces, which include plazas, parks, and outdoor activity centers. The open space totals 30 percent of the design.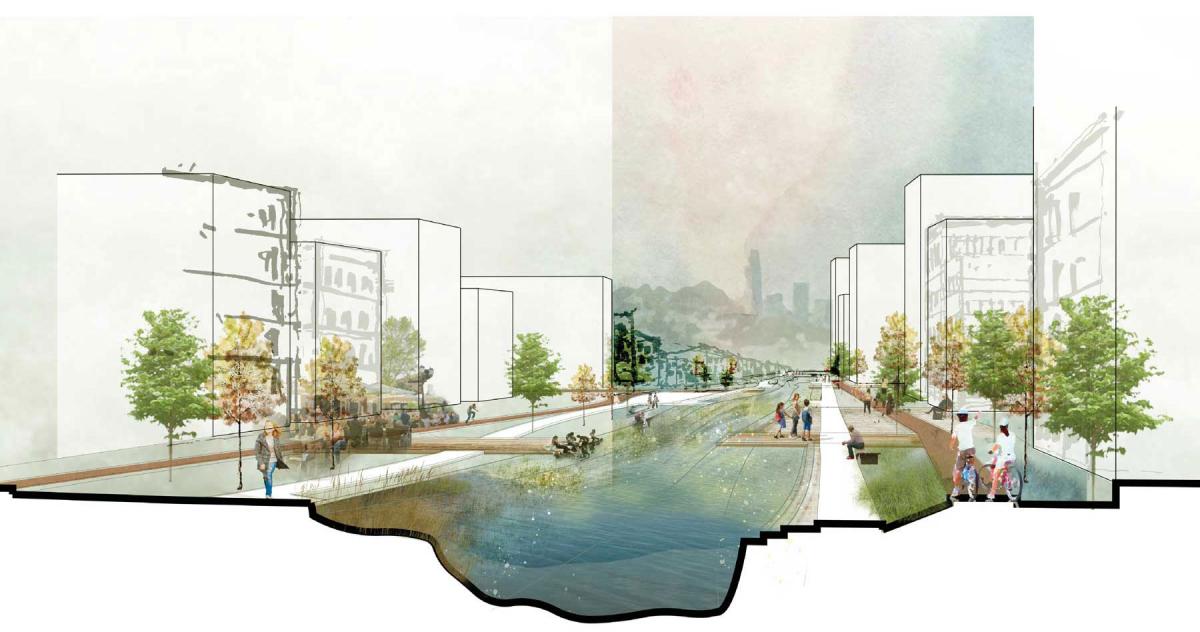 The plan proposes an architectural "kit of parts" that would achieve fairly high density while also allowing for diverse, small-scale urbanism. The net density of these buildings would be 65 units per acre, which would contribute to the support of transit.
San Francisco Central Waterfront
Asma Boutrik, Jaime Varas, and Dewi Bleher, University of California, Berkeley
2021 Charter Awards Jury
Goeff Dyer (chair), Master Planning and Urban Design Strategic Lead, B&A Planning Group
Amy Stelly, Artist, designer, urban planner with Claiborne Avenue Alliance
Marques King, Economic Development and Design Manager with Jefferson East, Inc.
Alli Thurmond Quinlan, principal, Flintlock Architecture & Landscape
Andrew von Maur, Professor of Architecture at Andrews University

Charter Awards 2021