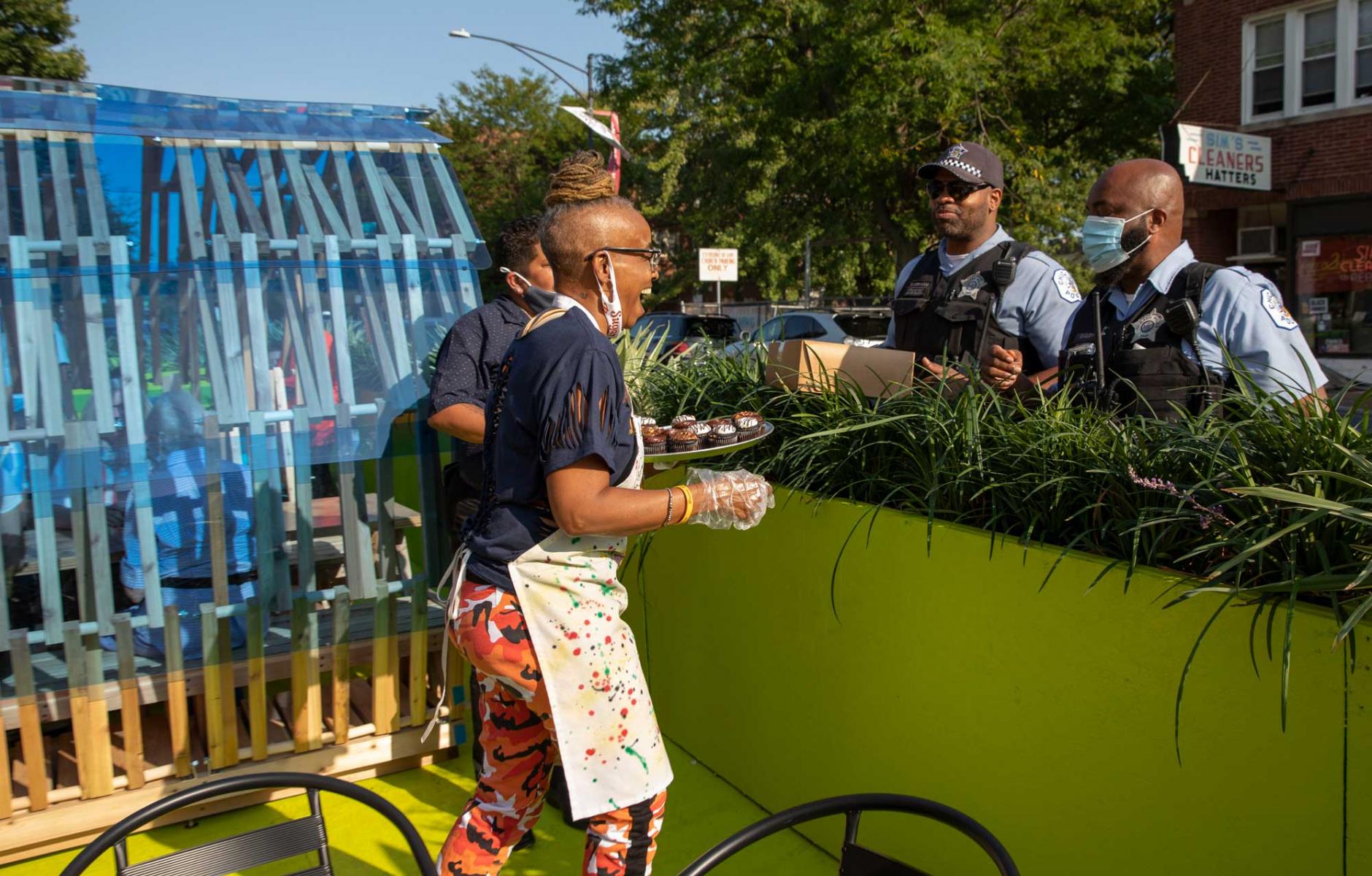 Police are offered cupcakes on a sunny day. The Boardwalk brings together many members of the Chatham community. Source: site design group
Parklets jump-start neighborhood main street
The 75th Street Boardwalk in Chicago, Illinois, was created to activate economic and social activity during Covid. Site design group won a 2021 CNU Charter Award in the Block, Street, and Building category.
The 75th Street Boardwalk is a series of temporary community built parklets and civic structures along two blocks of the main street of Chicago's Chatham neighborhood. The parklets, located in street parking spaces on both sides of the thoroughfare, feature play structures, workout equipment, seating and dining areas, food sales, shopping, and other attractions (dogs are encouraged in two locations). 

"We think of it as fourteen outdoor living rooms where you can dine, eat, recreate, and lounge. … It really addresses some of the disinvestment and inequity that we've suffered," says Nedra Sim Fears, Executive Director of Greater Chatham Initiative.
The largely African-American community suffered from Covid business closures and unrest following the death of George Floyd. The project was designed to jump-start economic and social activity on the neighborhood main street, 75th Street. The need was urgent, so the entire project was conceived, designed, and built in 12 weeks, opening in early September of 2020.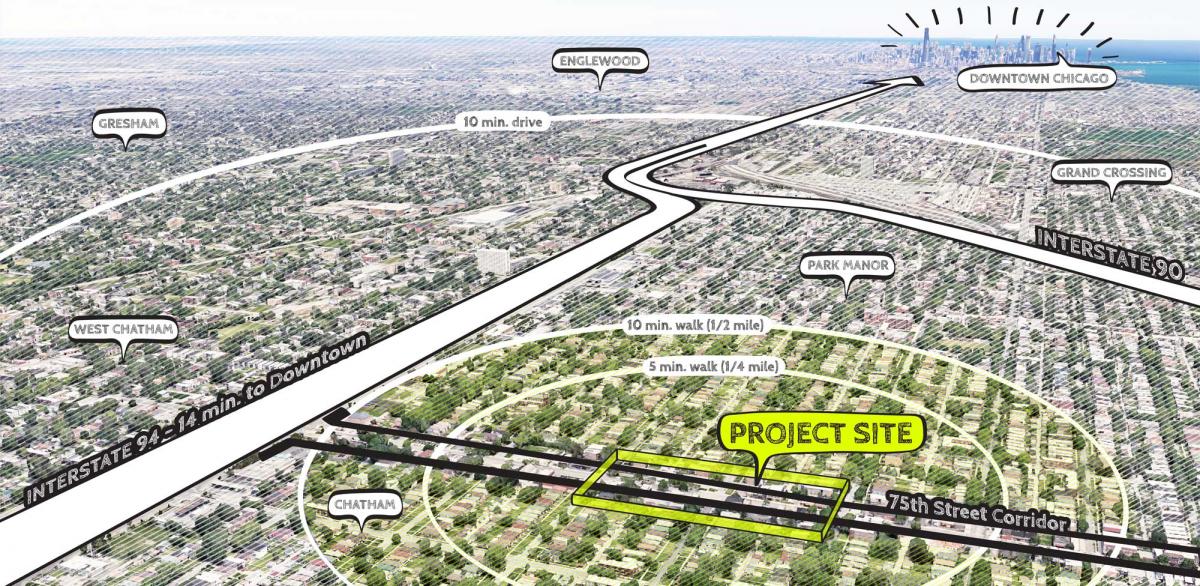 The parklets were designed to last three months, but they have remained throughout the winter and early spring, and, due to popular demand, are expected to stay at least through the summer of 2021. The 75th Street Boardwalk is constructed of plywood used to board up businesses during the protests. Local youths helped to build it, mentored by adult carpenters from the neighborhood.
The Boardwalk is located along an urban commercial district known as "Restaurant Row," comprising more than a dozen long-time, family owned businesses. It activates the public right-of-way by replacing on-street parking spaces with safe outdoor dining and gathering opportunities. 
The parklets total 4,250 square feet of civic space, offering 13 businesses an opportunity to expand their services outdoors. In its first month of the project, revenue of adjacent businesses rose by nearly 30 percent increase.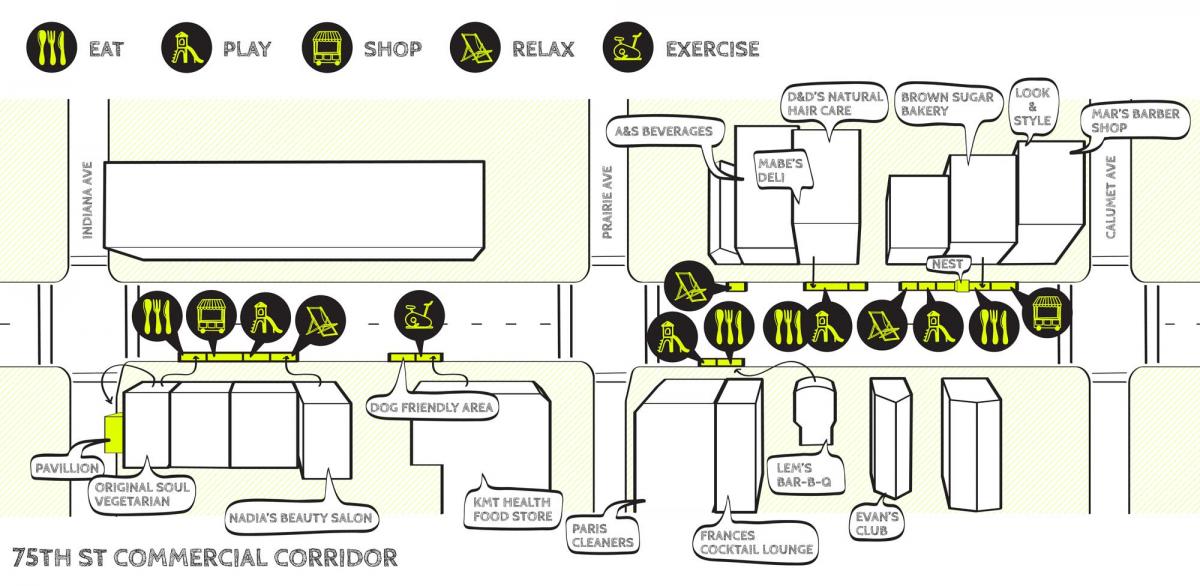 "The [75th Street Boardwalk] is not only thinking about the problem, this is creating the truth. I'm very excited about the Boardwalk, projects like this are so important because they give the community an opportunity to come together around something positive," says Stephanie Hart, Owner of Brown Sugar Bakery.
The design incorporated built-in planters that build ambiance, while the planter walls meet safety requirements and separate the Boardwalk from adjacent traffic. Two unique structures were designed and installed: "The Nest" creates a special seating area for a single group, while "The Pavilion" provides a covered bench and bar top that can be used for multiple groups simultaneously.
Local residents, business owners, and community leaders were deeply involved in all stages—from the initial meet-and-greet to the Boardwalk's construction. More than 50 volunteers showed up to paint the structures a bright green—the color chosen by the community.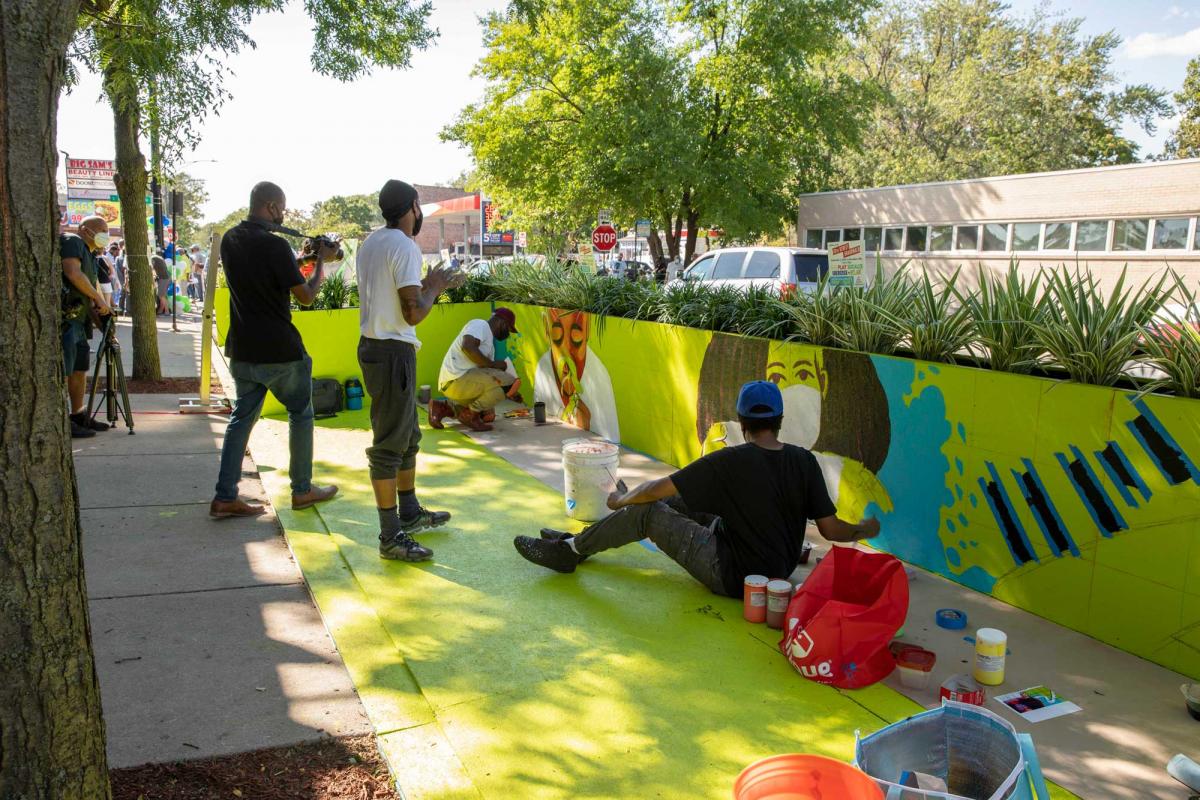 The design was a collaborative effort of landscape architects, architects, and planners, who worked pro-bono. Their mission was to help South Side businesses and restaurants re-open safely amid the COVID-19 pandemic. The 75th Street Corridor in Chatham was selected for its potential and location within a historically disinvested neighborhood.
This location was also the site of a similar tactical project, smaller in scale, executed by CNU and sponsored by the Richard H. Driehaus Foundation. in 2017. Then as now, businesses owners and the community benefited from a more appealing and improved public realm.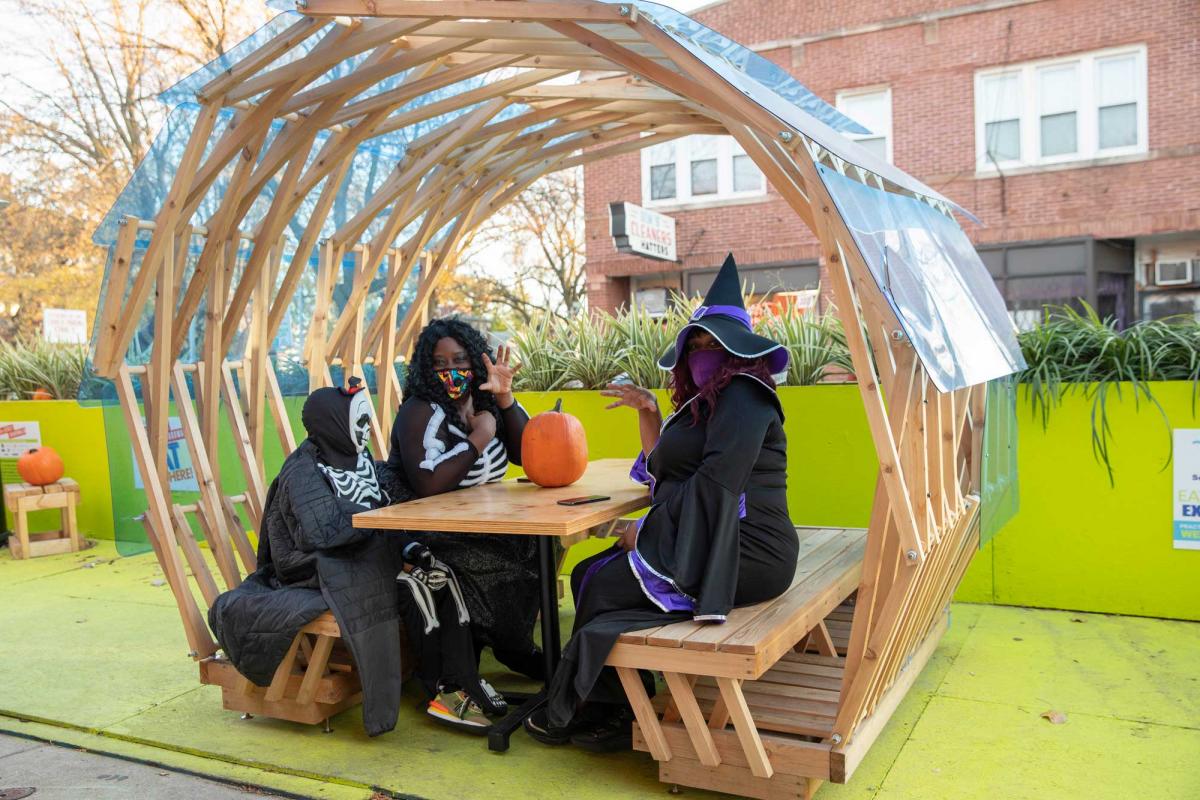 "Our hope is that this Boardwalk will serve as a model for other corridors, because it's a quick way to get people energized and show them that change is possible," notes Maurice Cox, Commissioner for the City of Chicago Department of Planning and Development.
75th Street Boardwalk
site design group, ltd.: principal firm
Greater Chatham Initiative: client
City of Chicago: client
Brook Architecture: architect
Vladimir Radutny Architects: architect
Booth Hansen: architect
Krueck + Sexton: architect
IIT School of Architecture: architect
2021 Charter Awards Jury
Goeff Dyer (chair), Master Planning and Urban Design Strategic Lead, B&A Planning Group
Amy Stelly, Artist, designer, urban planner with Claiborne Avenue Alliance
Marques King, Economic Development and Design Manager with Jefferson East, Inc.
Alli Thurmond Quinlan, principal, Flintlock Architecture & Landscape
Andrew von Maur, Professor of Architecture at Andrews University

Charter Awards 2021