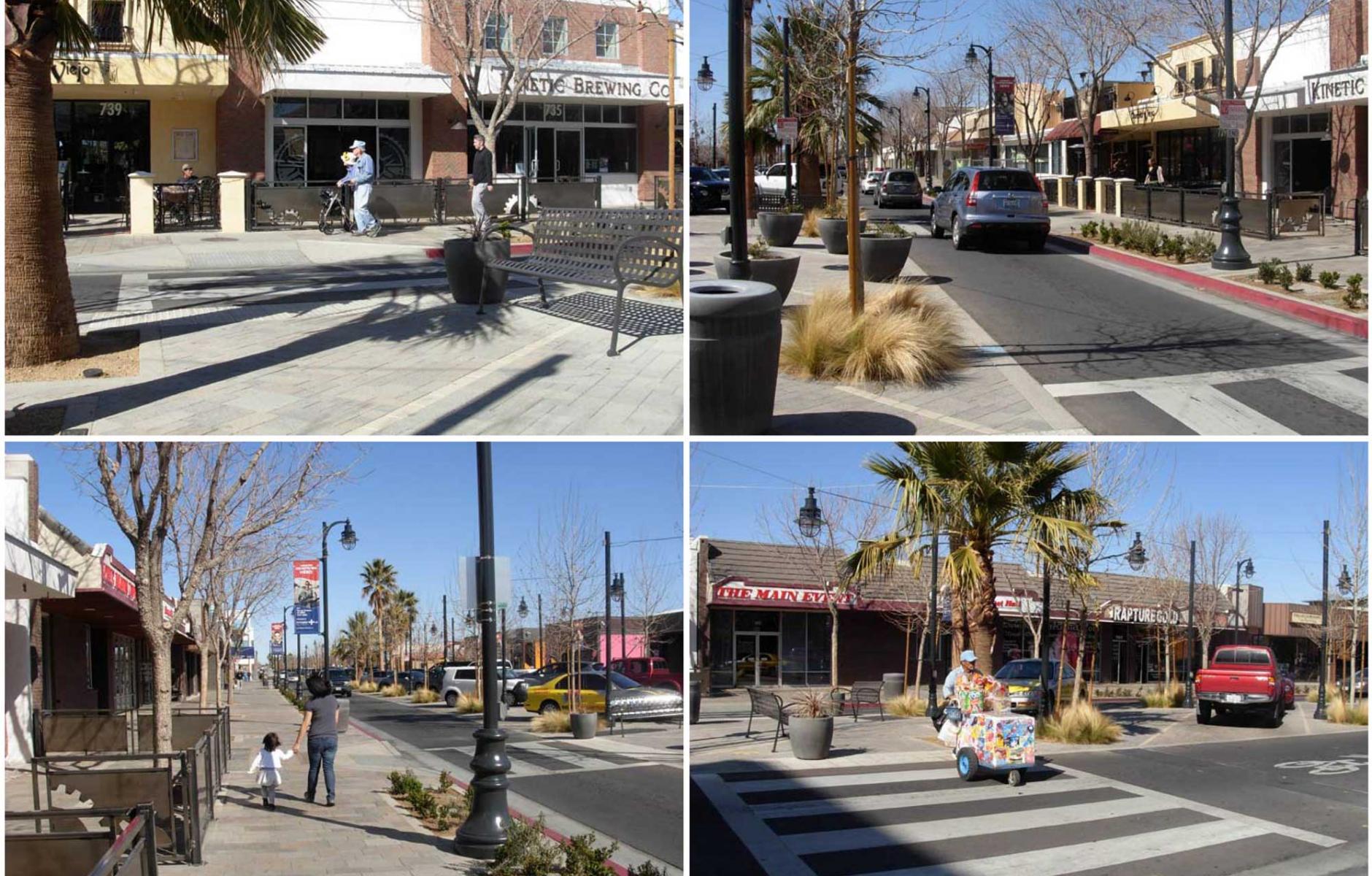 Views of Lancaster BLVD circa 2012.
Setting the standard for main street transformation
Lancaster BLVD in Lancaster, California, changed the way we think about creating "sense of place" in a busy downtown thoroughfare. Moule & Polyzoides won a 2021 CNU Charter Award in the Neighborhood, District, and Corridor category.
"Lancaster BLVD changed the way we think about boulevards," notes Andrew Von Maur, professor of architecture at Andrews University and a 2021 Charter Awards juror. "It also changed the way we think about parking."
This strikingly original street redesign had an enormous economic impact on Lancaster, a suburban city in the desert of southern California. A street that previously held minimal attraction to pedestrians, and had little sense of place, suddenly became the social, cultural, and economic heart of the city. Lancaster BLVD testifies to the power of street design to forge a community identity, and put a city on the map. 

The project, completed in 2010, sets the gold standard for main street renovation in America, and does so with a fiscally lean design. The rapid construction schedule—eight months—and the relatively low price tag of $11.5 million, were driven by a design decision to leave the curb locations and the intersection dimensions intact.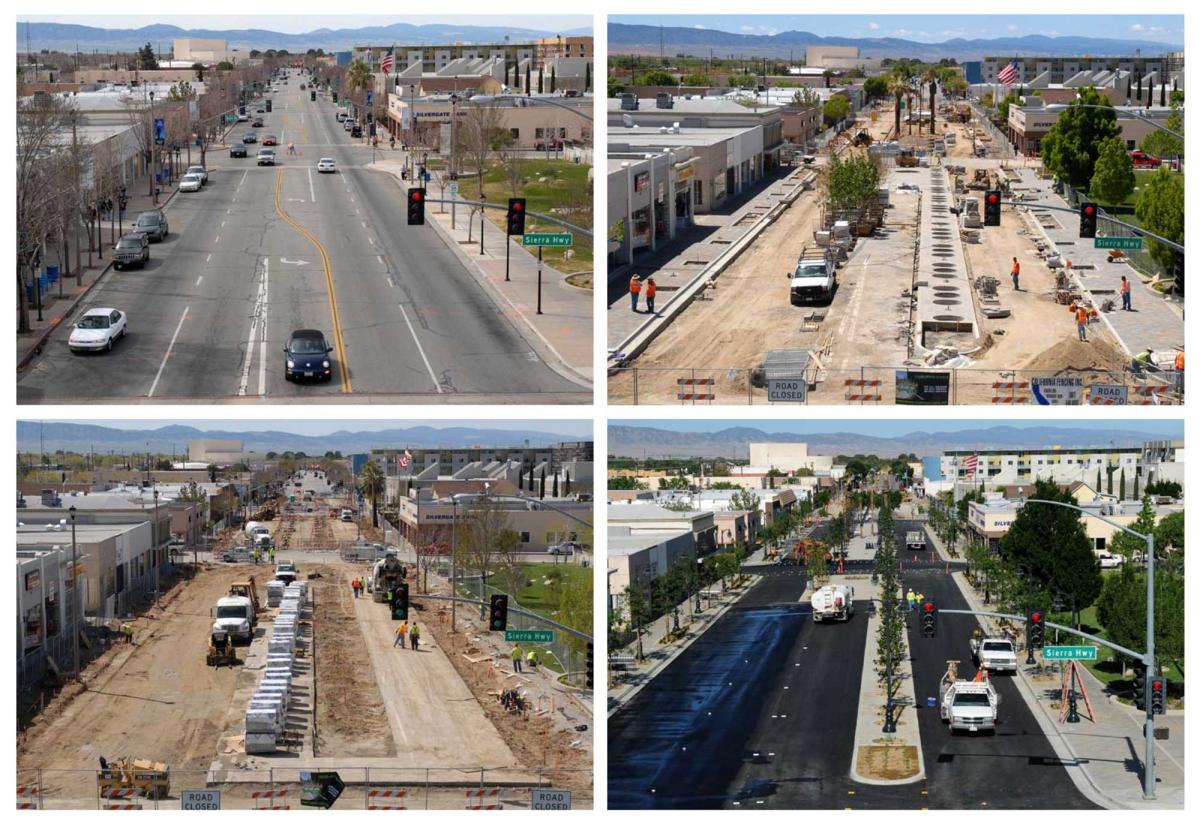 The former five-travel-lane thoroughfare is redesigned as an extended city park. A 30-foot-wide shaded central "ramblas" was added, a multi-functional public space, inspired by Barcelona's famous thoroughfare. The ramblas accommodates a range of public events, including a farmer's market, street fairs, and a parade seating. When not in use, the central space provides everyday diagonal parking.
That Lancaster Boulevard had not already won a Charter Award came as a surprise to the jury, so well-regarded is this project.
"The results have been nothing short of astonishing," says Amara Holstein on Build a Better Burb. "Completed in 2010, the nine-block stretch … has completely rejuvenated downtown. People flood in for events, from farmers' markets to holiday fests, or to go to 50 new shops, restaurants, and businesses that have since opened, along with a new park and museum. Cars don't drive faster than 10 to 15 mph, and injury-related traffic collisions are down. Overall, the project has been estimated to have generated $273 million in economic output."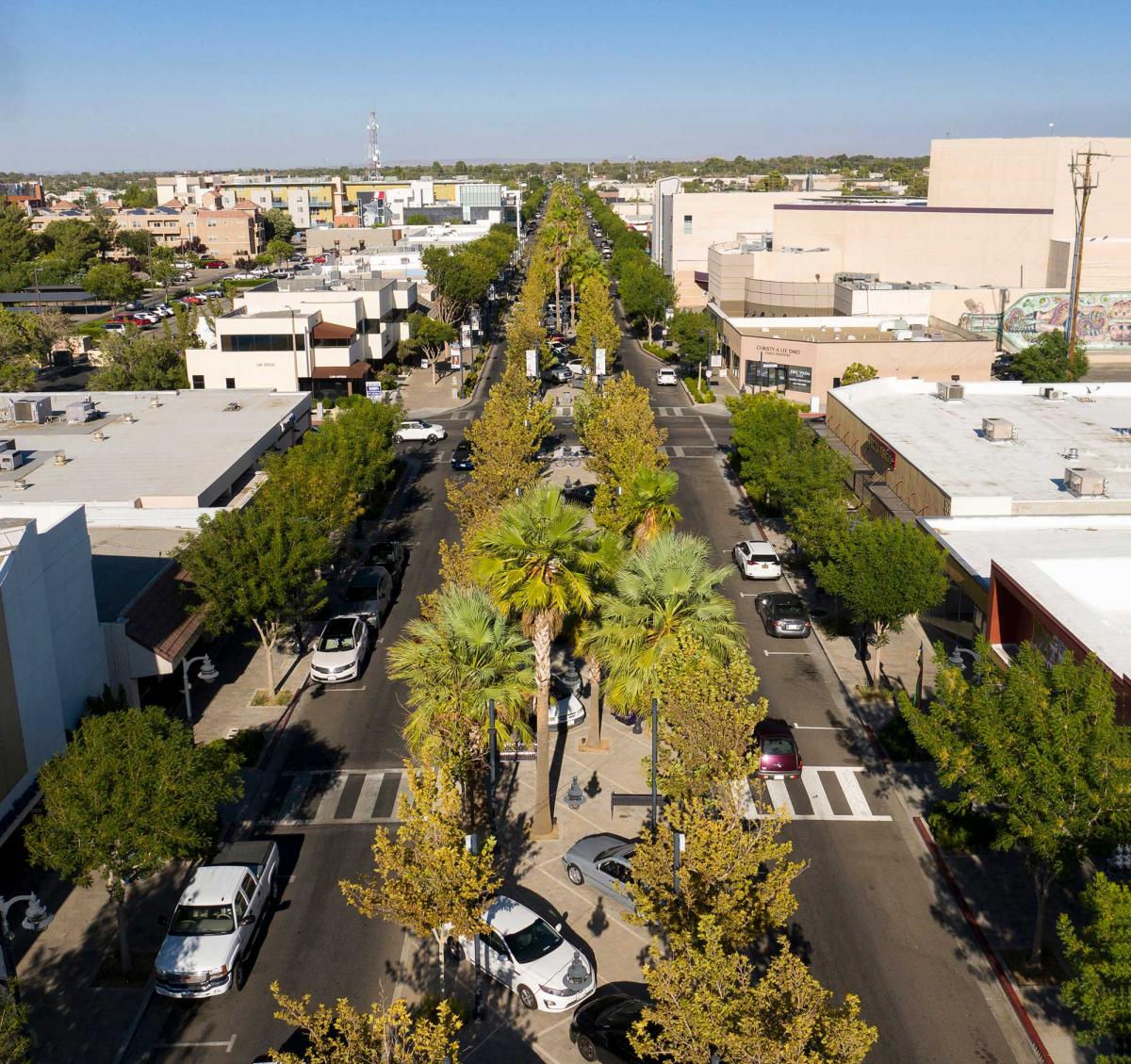 Lancaster BLVD amounts to far more than a street redesign, as the impact has reverberated throughout the corridor. More than 800 permanent jobs were created, in addition to 1,100 temporary construction jobs during the Great Recession. Just over 800 housing units have been built or rehabilitated; more 116,000 square feet of commercial space has been constructed or renovated. Tax revenue from downtown is up 96 percent compared to the same period in 2007, the year before revitalization efforts began.
Lancaster began as a small railroad town with a tiny grid of streets in the late 1800s, and it still only had a few thousand inhabitants by the middle of the 20th Century, when the aerospace industry brought substantial suburban housing and commercial development. 
Over the many decades, "it lost much of its native character as its main street and environs adapted both to the automobile and to Lancaster's nascent role as regional center," according to the design team. "It ultimately suffered from high-speed traffic, poor pedestrian experience, excessive parking, and reduced retail activity."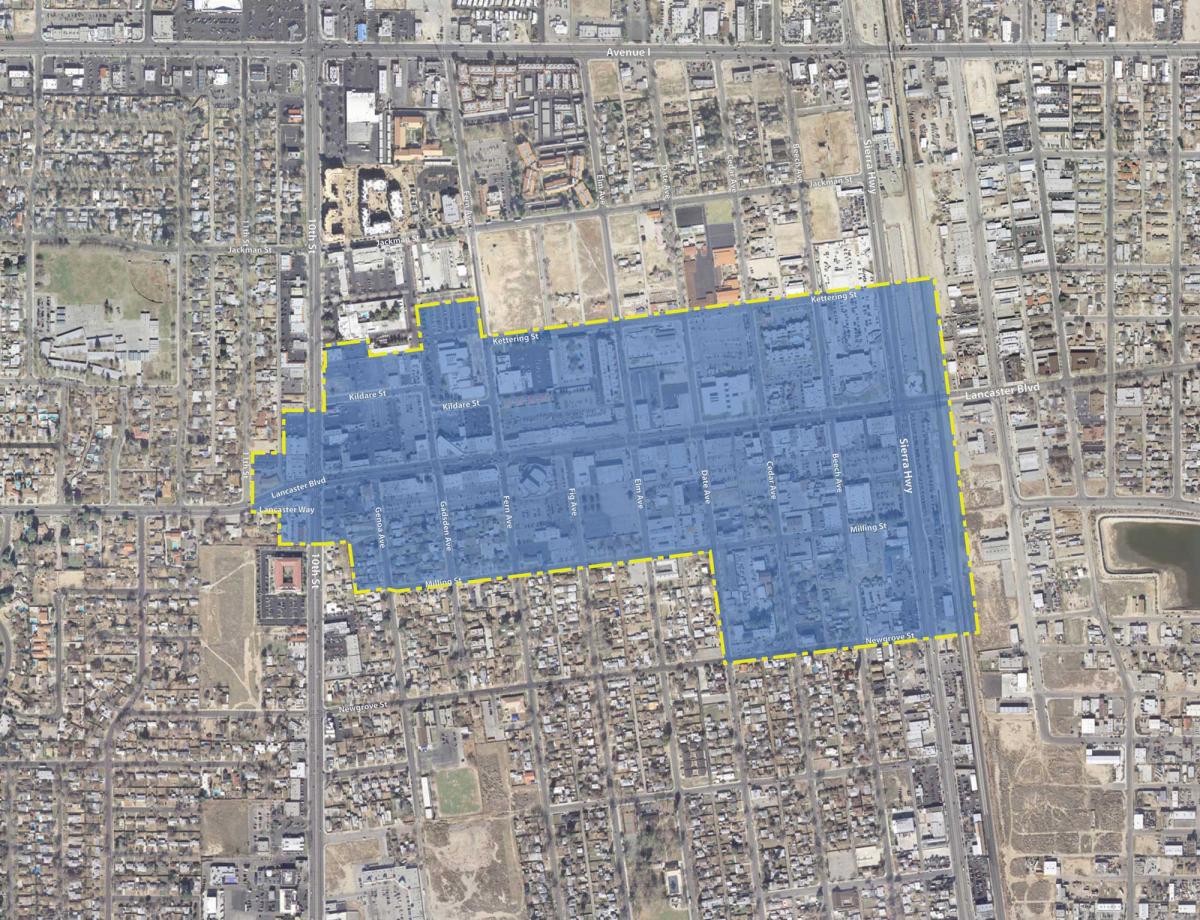 The transformation began with a 2008 Downtown Specific Plan that sought to reverse the negative impact of suburban planning on downtown. The city quickly acted on recommendations, using redevelopment funds (a system that was disbanded in 2012). The Streetscape Plan is composed of eight primary design elements: Rambla (Median Parking); Gateways and Gateway Buildings; Mid-Block Crossings; Alleys & Paseos; Roundabouts and Intersections; Arcade and Façade Improvements; Plaza; Block Transformation & Infill Projects; Street Walls; and Parking.
"The project created a plan for the boulevard that went from concept to implementation within a year, demonstrating that effective outreach, intelligent design, and seamless communication among all stakeholders can make such project not only visionary, but also efficient and expedient," notes the design team.
Downtown Boulevard Transformation
Moule & Polyzoides, Architects and Urbanists: Principal firm, lead architect, and urban designer
City of Lancaster: Client
Fong Hart + Schneider Partners:Landscape designer
Swift and Associates:Parking and transportation consultant
Urban Advantage:Photo-transformation artist
2021 Charter Awards Jury
Goeff Dyer (chair), Master Planning and Urban Design Strategic Lead, B&A Planning Group
Amy Stelly, Artist, designer, urban planner with Claiborne Avenue Alliance
Marques King, Economic Development and Design Manager with Jefferson East, Inc.
Alli Thurmond Quinlan, principal, Flintlock Architecture & Landscape
Andrew von Maur, Professor of Architecture at Andrews University

Charter Awards 2021