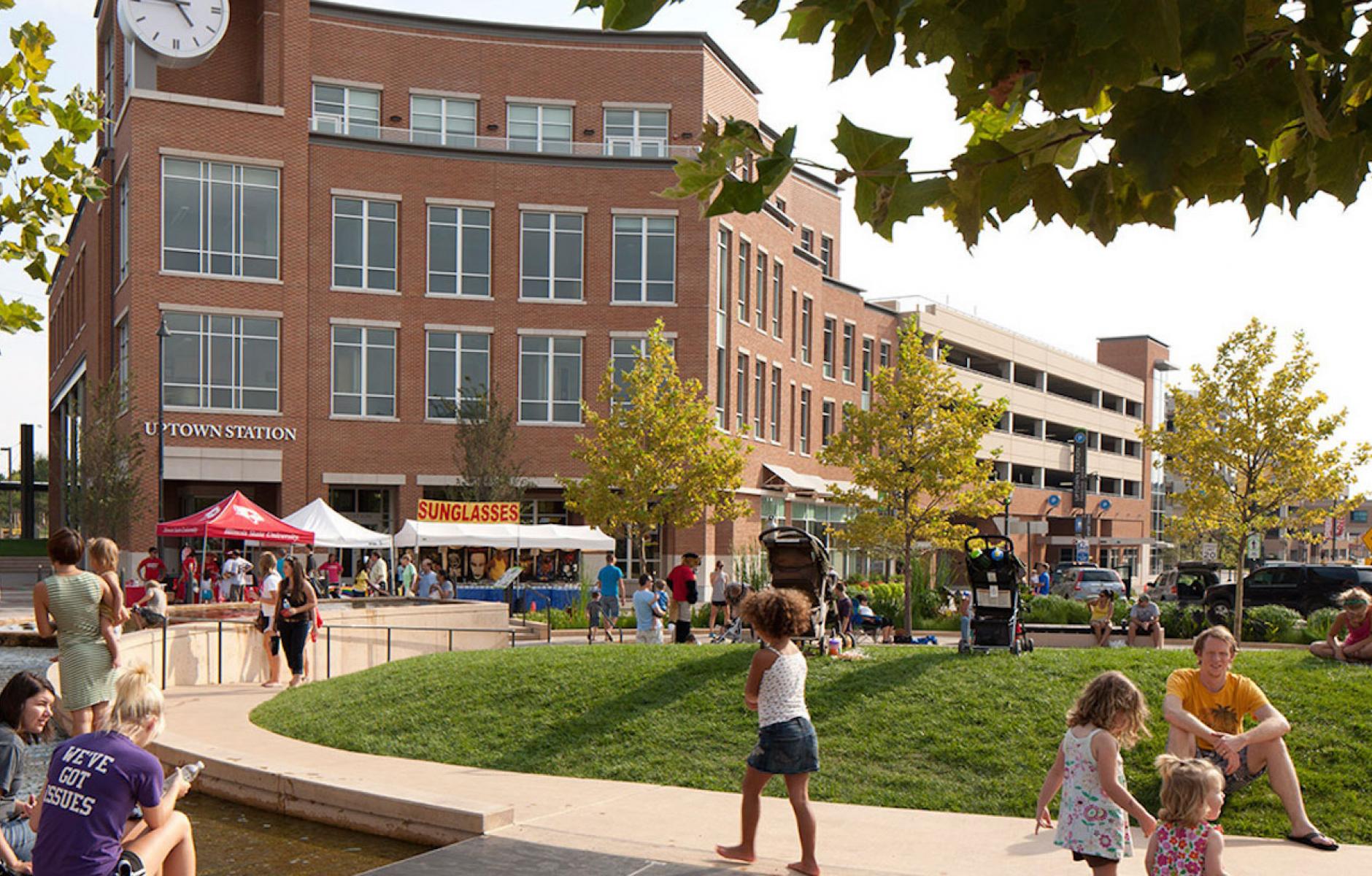 Plaza in Normal, Illinois
CNU is more than the annual Congress; In 2020, our work is more important than ever
Beyond the event you have come to expect, CNU staff works year-round on programs, research, and partnerships that are shaping the practice of urbanism from the local to the international level. None of this is possible without the ongoing support of our members. 
You may know that CNU is an organization with the mission to champion walkable urbanism. You may even know a few of the program staff who deliver the content and resources you have come to expect (looking at you, Rob!). But still, there are many who think that CNU just exists to put on the Congress every year. And I'm here to tell you that we are so much more than that. 
Programs with real impact
Four years ago, CNU launched the Project for Code Reform, which has grown from a demonstration of how powerful incremental code reform can be into a mainstay of our programmatic work. Alongside members, we have developed pathways to code changes in Michigan, Vermont, and New Hampshire. We have worked with other national nonprofits, like AARP, to increase the scale of this approach. We have delivered hundreds of coding changes that are community-specific, enabling the development of more Missing Middle housing, commercial corridor revitalization, and more walkability. This project demonstrates CNU's capacity to take a long-running desire amongst the membership about addressing the nuances of code reform to a national scale.  

Every other year, CNU brings highway removal and reclamation to the national consciousness with our Freeways without Futures report, which details campaigns across the country that are pushing to replace aging highways that are out of context with their surroundings with city streets and boulevards that include cars, but do not make them a priority. We are the only national nonprofit having this conversation. Because of this, members of several congressional committees have reached out to CNU to help craft legislation to establish a federal Highways to Boulevards pilot program to help communities plan for highway removal. As debates on COVID-19 recovery begin to include infrastructure debates, CNU envisions a reparative infrastructure program that reknits communities and begins to address the damage caused by decades of in-city freeways.
Research, writing, and conversations that inspire
Beyond Freeways without Futures, CNU has also published several reports that contribute to conversations bubbling up in the movement. Last year, we delivered Building Local Strength, which compiled interviews and research to identify strategies for locally-led, sustainable development that can build resilience within communities that have been historically underinvested due to a slew of racist planning and financial practices. 
You know you can depend on Rob Steuteville's Public Square to bring you analysis on trends, insights on innovative projects, and a deep connection to the movement through his writing. His voice has been a critical part of CNU's success and all of his work is supported by membership dues. 
In March, we launched On the Park Bench, a webinar series presenting interactive conversations with thought leaders in New Urbanism and allied industries, providing an opportunity for the audience to engage in real time. These webinars have ranged in topic from understanding the role of small-scale manufacturing in commercial revitalization to a recent episode about equity-first strategies for building resilience within communities. 
Vision and leadership
CNU also leads the movement in a number of ways. Not the least of which is our annual Charter Awards, which recognize exemplary work by CNU members and their allies who design and build places people love. The winners not only embody and advance the principles of the Charter of the New Urbanism, they also make a difference in people's lives. This year, the Charter Awards celebrated 20 years of this work and in that time more than 300 projects have been selected for awards by CNU juries. From the beginning, the Charter Awards helped to identify significant trends in the movement, such as rebuilding more livable public housing, regional scenario planning, transit-oriented development, form-based codes, Tactical Urbanism, and more.
This year, CNU also released a new strategic plan that sets our organizational direction for the next three years. It's an impressive document that puts us on a path to build resilient places through supporting complete neighborhoods, legalizing walkable places, and designing for a changing climate. All of which will be fulfilled by our program staff. 
And, on top of it all, the Congress
And while I like to point out the places in which CNU is making strides outside the annual Congress, it remains a large part of how we guide discussion and debate, set the stage for innovation and information sharing, and provide a platform for networking and connections. Plus, it's something I spend a lot of time on. This year, with CNU 29.Design for Change, I'm especially looking forward to leveraging an online platform to reach new heights together. If you're feeling generous, become a sponsor today. 
Join CNU today
Supporting CNU by becoming a member means that you are directly responsible for bringing all of our program work to life – from the annual Congress you have come to expect to the Project for Code Reform and everything in between. To all our members, thank you for your continued support and for giving me an opportunity to demonstrate what we do year-round to lead this movement.