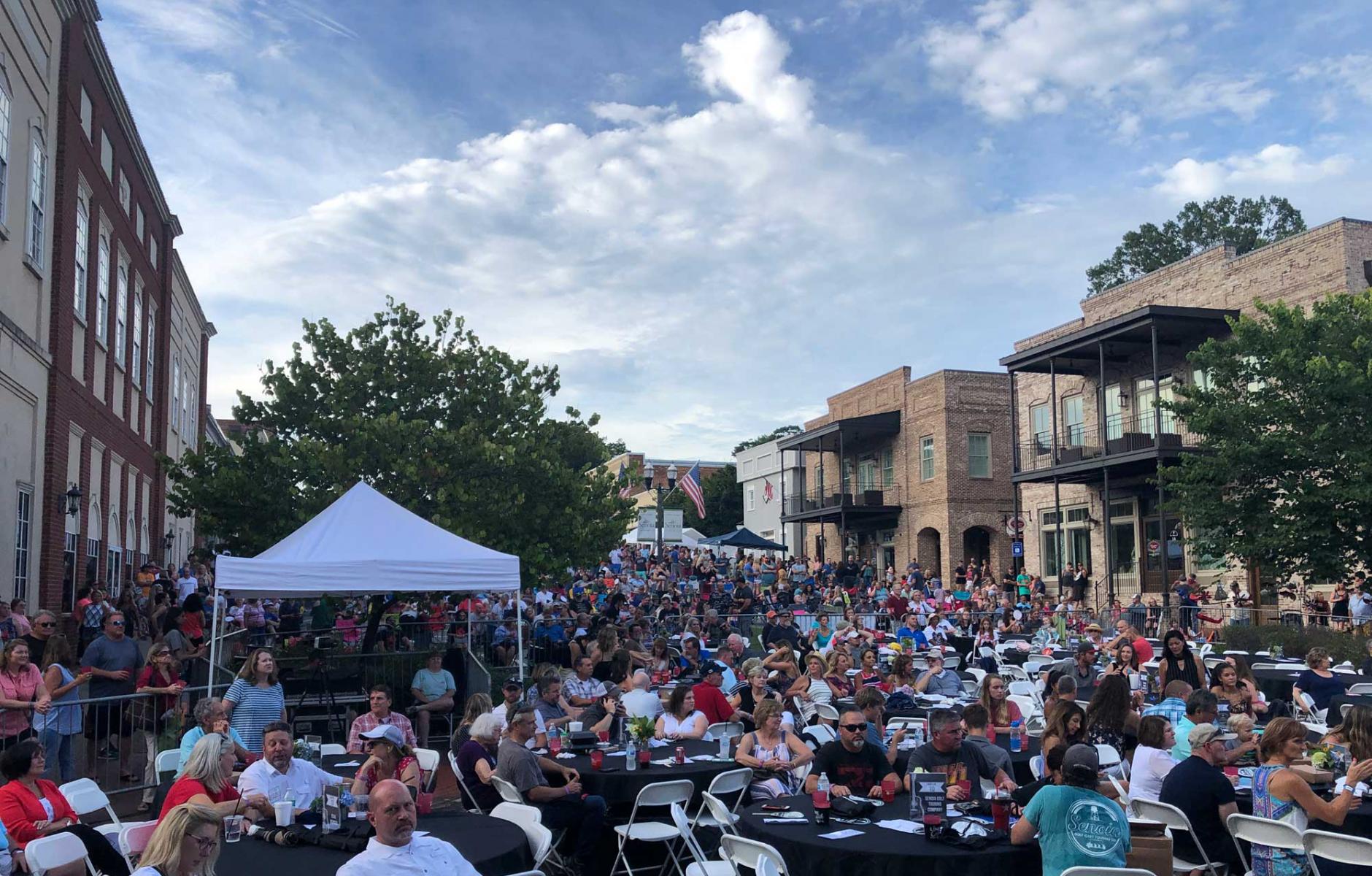 A celebration on Main Street, Senoia, flanked by historic buildings and new construction.
Historic Main Street reclaims identity
An against-the-odds comeback, launched in the Great Recession, has brought life to a waning Main Street while enhancing the historic character of Senoia, Georgia. The project won a 2020 CNU Charter Award for Historical Concepts.
A Main Street revival in Senoia, Georgia, is an inspiring example of what is possible even during a down economy. Fifteen years ago, the town's center was near dormant, with only eight operating businesses. A proposal to build a strip mall with a "dollar store" on the historic Main Street spurred a 15-year movement to restore the downtown economy and character. Senoia has since become a popular setting for the movie and television industry, as a stand-in for a small southern town, including the popular TV series The Walking Dead.
"The Dollar Store was the catalyst to getting citizens around the table," says local entrepreneur Scott Tigchelaar. "No one wanted to see Main Street go that way, but there were no mechanisms at the time to fight it. That opened their eyes to the value of master planning a vision for the town." 
In the wake of warding off the strip mall, the visioning process generated Main Street design guidelines and a new historic preservation committee. A bold vision of what Main Street could become, by Historical Concepts—which won a 2020 Charter Award for its long-term work in Senoia—inspired Tigchelaar to form Historic Development Ventures. Redevelopment began in 2008, in the midst of the Great Recession, with a three-story mixed-use building on a vacant lot at the city's primary intersection. This building was unusual because of the timing, but also because the existing one-story scale of Main Street. The construction of a vertical mixed-use building in 2008 was rare anywhere in America at the time, let alone in a single-story context. 
The developer followed with another three-story mixed-use building in 2009, on another vacant parcel at the same intersection, at the heart of downtown. The 46,500 square feet of residential, restaurant, and office space was quickly leased, validating market demand. "Main Street's restoration was designed not only to make the town vibrant again, but to do it in a way that was true to its historical look and this makes it a perfect setting for filming," says Tigchelaar, a former film industry executive. 
The town followed with streetscape improvements, begun in 2010, to reduce excess asphalt, add greenery and street trees, and make crossings safer.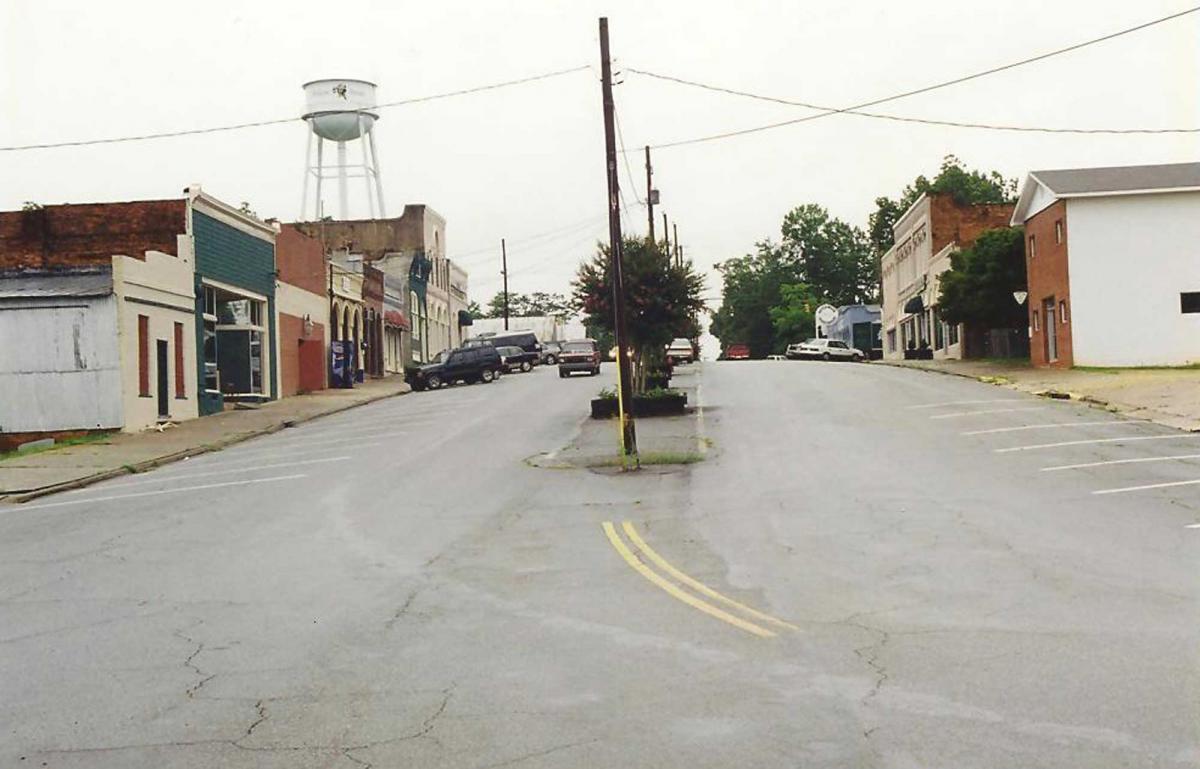 The developer then launched a new infill neighborhood at the end of Main Street on the site of a former cotton gin. The 8-acre parcel included a mix of uses and buildings, with single family homes, townhomes, lofts, live-work spaces, and a boutique hotel.
In the years that followed, buildings were renovated and new businesses opened, increasing the total from eight to 80—an order-of-magnitude growth in business activity downtown. A residential pattern book was created and new single-family homes were built in proximity to Main Street. The film industry brought economic development, and events like parades and an antique car show brought visitors to the town.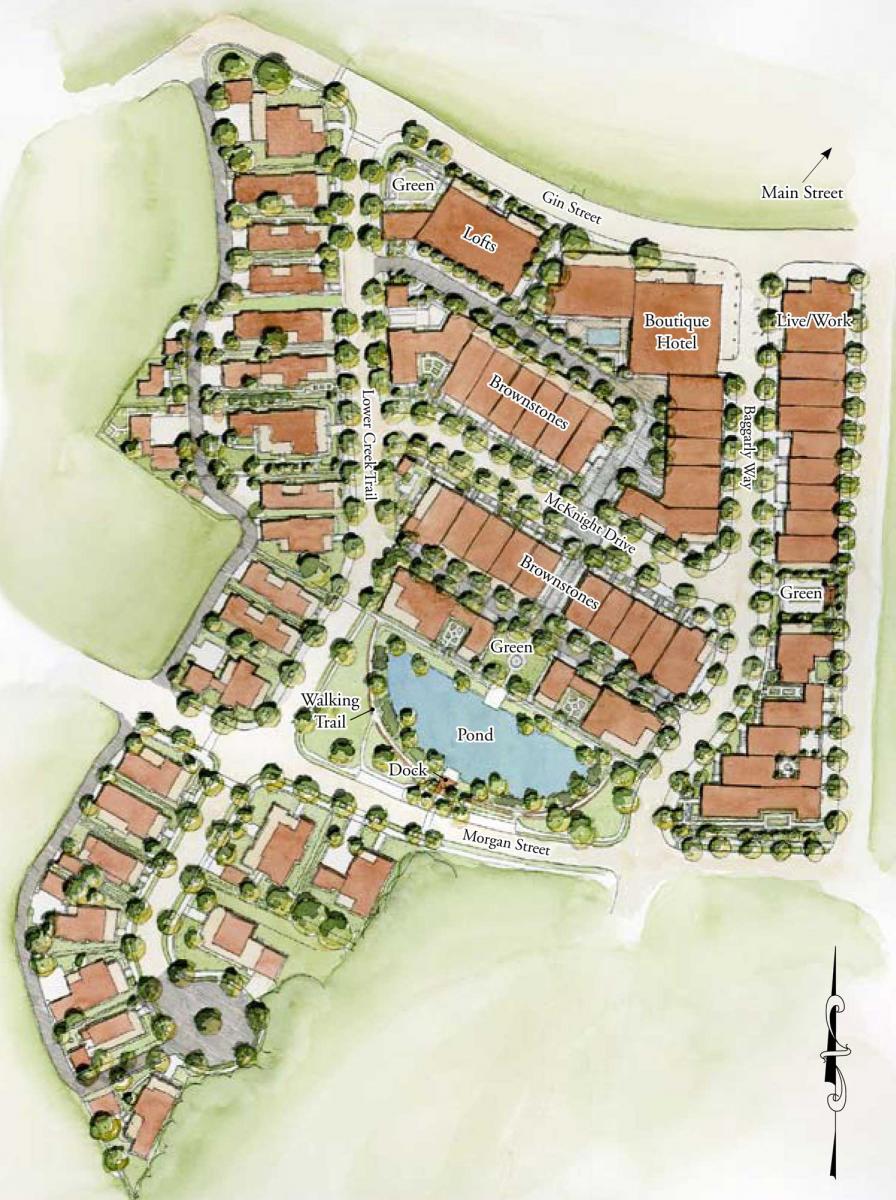 By 2017, Main Street was almost built out yet there was unmet demand for more commercial space, so the entrepreneur and architect proposed to extend the district. On one of the last remaining Main Street parcels, two new mixed-use buildings now frame a courtyard that serves as a pedestrian connection to the street beyond, where a whole new block of development has emerged in keeping with Senoia's historic character. 
Almost every project in Senoia over the past 15 years has involved some form of public-private partnership. Senoia has been fortunate in having a patron developer, but without the support of the mayor, council and townspeople, Tigchelaar could not have achieved what he did. 
Most of Main Street is built on a significant grade, so attention was paid to leveling sidewalks and making them safe. The slopes allow for basement commercial spaces, such as restaurants. Careful attention is paid to materials and landscaping. Buildings are appropriately scaled to frame Main Street as well as patios, courtyards and pedestrian connections.
In 2019, a farmer's market opened in a former cotton warehouse building. The new and restored downtown buildings blend so well that visitors are often surprised that 25 percent of the street frontage is new. Work continues on expanding downtown. In January 2020, the City partnered with Habitat for Humanity on an affordable housing "pocket" neighborhood of eleven homes. Historical Concepts improved upon the original cul-de-sac site plan, producing a neighborly environment with houses close to the street, sidewalks and a shared park space.
"Senoia showcases the power of incremental development," says Allison Quinlan, the owner of Flintlock Architecture & Landscape and a Charter Awards juror. "It's not a flashy process. But if citizens show up every day and work on it, it can have a wonderful effect over time."
Senoia, Georgia: Reclaiming Small Town Identity
Planner & Architect: Historical Concepts
Public sector client: City of Senoia, Downtown Development Authority
Private sector client: Historic Development Ventures 
Contractors: John Bynum, Idea Houses; Tiernan & Patrylo for mixed-use buildings
Engineers: Hovey & Associates for projects by Historic Development Ventures; Sam Serio / Keck & Wood for the City improvements
Photographer: Simon Upton (hired by Historical Concepts to photograph the work)
2020 Charter Awards Jury
Goeff Dyer (chair), Master Planning and Urban Design Strategic Lead, B&A Planning Group
Marieanne Khoury-Vogt, Khoury Vogt Architects
Mitch Silver, Commissioner of New York City Department of Parks and Recreation
Andrew Von Maur, Professor of Architecture at Andrews University
Allison Quinlan, owner, Flintlock Architecture & Landscape

Charter Awards 2020