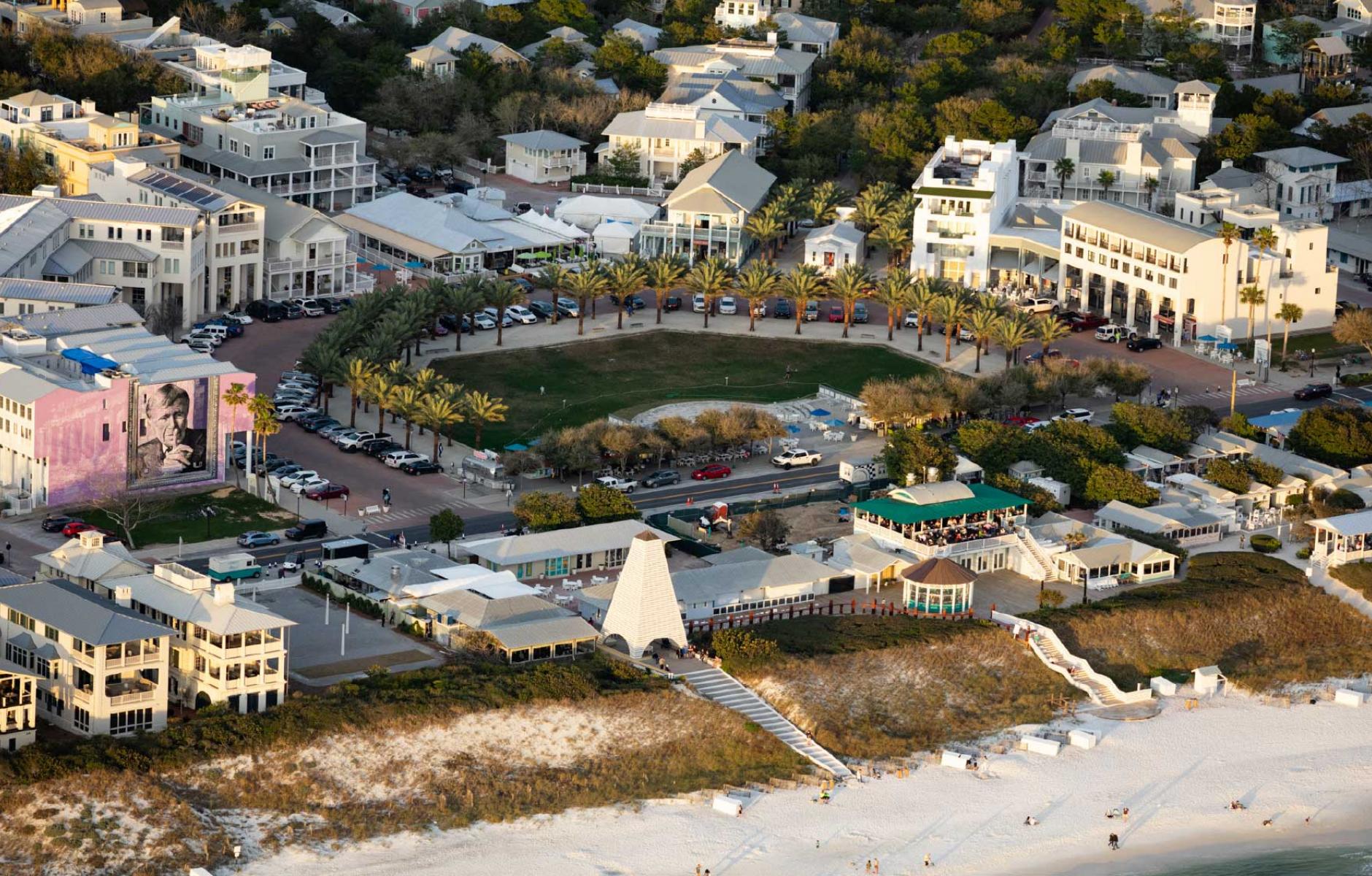 Seaside, Florida, from the air, traversed by Route 30A (the thoroughfare between the town square and the beach). Credit / Seaside Institute
Future of mobility in South Walton County
A new report looks at autonomous vehicles and other advancing mobility technologies with recommendations on how they can be used to create more livable communities.
The mass production of private automobiles in the 20th Century, marketed at a price affordable to the majority of Americans, did more than just transform the way we travel; it changed our way of life. 
We now stand at the cusp of another transportation revolution, one that once again will affect more than how we get around. Autonomous vehicles (AVs), advances in micro-mobility such as e-scooters, and dynamic parking pricing will change the design of cities and how we move about them. 

The Congress for the New Urbanism is exploring how these new technologies affect the overall planning and development patterns of cities, towns, and regions. CNU is also offering recommendations for the implementation of these new technologies in ways that support complete neighborhoods and create vibrant, inclusive places. In partnership and with funding from the Seaside Institute, CNU gathered a team of experts in early February to explore these issues on Highway 30A, a 17-mile long corridor connecting beach communities in South Walton County. CNU recently published The Future of Mobility: Reimaging Walton County's Route 30A. Nelson\Nygaard and DPZ CoDesign also contributed to this report.
Much of the national discussion for AVs has been abstract and centered on major cities. The 30A workshop examined AVs and other new technologies in specific, real-world locations and a range of contexts, from town centers to rural highways. 
Local context
Forty years ago, Route 30A in Walton County, Florida, began an experiment with New Urbanism—with the development of Seaside— that would spread across America and overseas. This coastal corridor, anchored by a series of small, walkable towns like Seaside, Rosemary Beach, and Alys Beach, is one of the region's unique assets and there is a strong desire to preserve its special, walkable character.
Route 30A provides access to the beachfront in Walton County, which has a rapidly growing population of 71,000. This section of beach has become an international destination, partly due to its New Urbanist developments. It is the primary engine of Walton County's economy.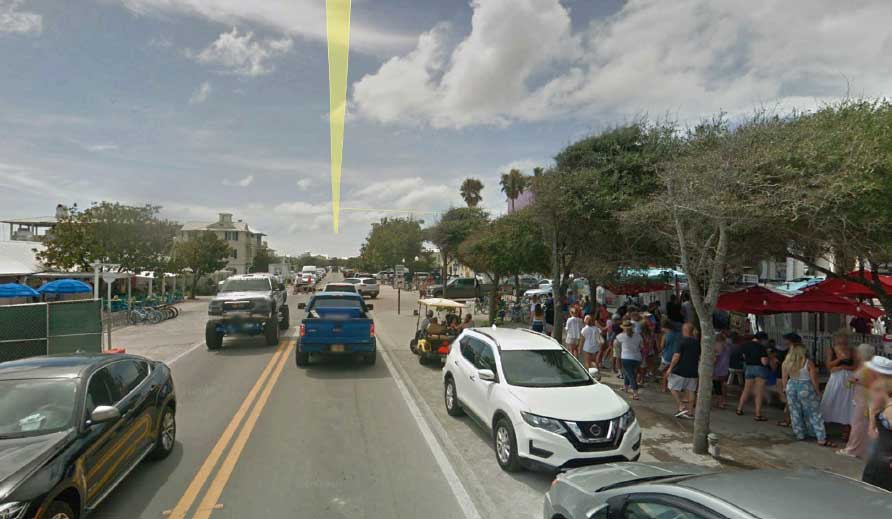 This increase in popularity has not come without drawbacks. During peak season, the traffic on this road becomes congested at key intersections and there are few alternative routes. Providing mobility for residents, extended-stay tourists, commuting workers, and day-trippers is a top priority for the county, which is developing a 2040 Mobility Plan that will address multi-modal transportation, land use, and parking along the corridor. 
The 2040 Mobility Plan also looks to new transportation technologies along 30A—like electric, shared autonomous vehicles (AVs)—as a potential solution for the mobility issues faced by those who travel the corridor. However, these solutions need to be implemented in a way that does not compromise the qualities that make the 30A communities lovable. Route 30A is an important test of how to reconcile design for local walkability with the demands of new mobility technologies. 
Seven principles
Formulated from the results of the workshop in Seaside, this report includes seven principles to guide the development of Walton County's 2040 Mobility Plan: 
Design walkable streets 
Prioritize community over transportation technology
Design efficient and effect mass transit 
Establish policies that support safety and compact mixed-use development 
Support micro-mobility 
Consider short- and long-term solutions 
Take a realistic view of technology 
Based on these principles, the report makes short- and long-term recommendations for street design along 30A, transit planning, pricing policies for parking, micromobility implementation, and coding. Finally, it offers two tactical urbanism projects that Walton County can implement right away as demonstrations of these future mobility principles. 
While the principles and recommendations it includes are geared toward Walton County's 2040 Mobility Plan, they are also highly relevant to other communities about to undertake similar transportation plans and projects. The recommendations include:
Locate two-way multi-modal lanes on the southern (Gulf) side of Route 30A 
Currently, the typical rural and suburban sections of Route 30A accommodates automobile drivers with one travel lane in each direction and cyclists, pedestrians, and golf cart drivers on an 8-foot separate paved pathway. Route 30A's right-of-way is variable, ranging from 50' at its narrowest in Seagrove Beach to 110' at its widest section in Alys Beach.
The addition of the proposed lanes separates travel into three different categories:
Automobiles operating at the posted speed limits of 25 mph within the urban communities along 30A, 30-35 mph in rural and suburban context,
Multi-modal mobility options including electric bike and scooters, golf carts, and autonomous shuttles, operating at a speed of 15-25 mph, and
Bicycles and pedestrians, moving at below 15 mph on the existing paved pathways/trails. Cyclists have varied skill levels and professional, or avid, cyclists are still allowed by law to travel with motor vehicles. Many choose this option.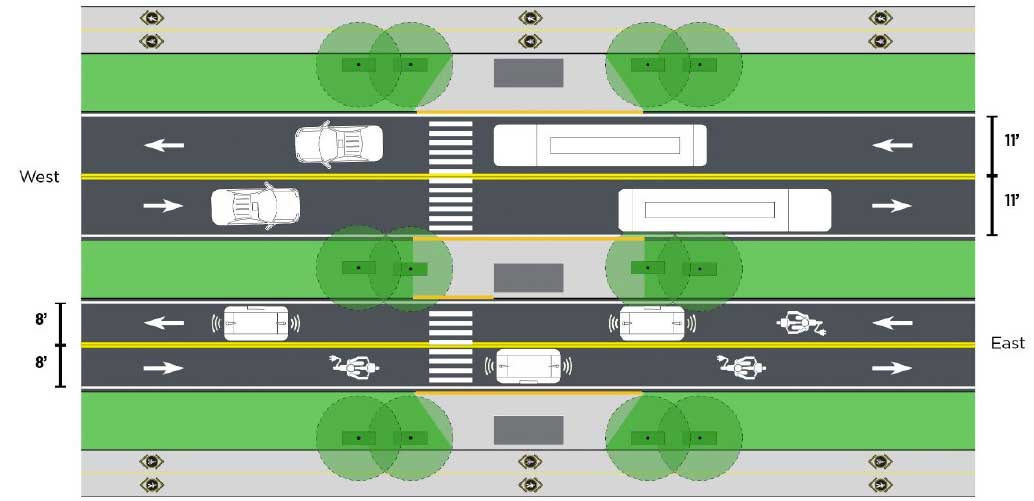 This split is based on the critical consideration of speed when organizing multi-modal lanes and also allows for design flexibility, as it accommodate existing micro-mobility options like e-bikes and scooters, while at the same time anticipating future developments like autonomous shuttles.
Re-imagine Route 30A along the town square in Seaside as a shared street 
During peak season, there are more people at Seaside's town center who cross 30A on foot than drive through in cars. The five painted crosswalks that traverse the 440' section of 30A adjacent to Seaside's town square attest to the frequency with which pedestrians cross the road here. Given the high pedestrian counts and walkable character of the rest of Seaside, a contextually-appropriate solution is to transform this portion of 30A into a curbless shared street, seamlessly connecting the town center to the beach.
Create a transit system along the 30A corridor 
A linear resort corridor, such as Route 30A, can offer an alternative to automobile travel in a congested environment by providing an attractive transit option. In order to be an effective option, the transit needs to be protected from congestion, ensuring reliability and reasonable travel times.
The transit would be designed to serve a variety of markets, including long-term and daily visitors, employees, and residents. There exists currently a handful of targeted transit options along 30A, but nothing like a daily transit system that is available for long span of hours, achieving competitive transit times. 
The system would be designed to evolve from smartly-marketed conventional transit, during pilot operation, as various route and service patterns are tested, to more advanced technology, including autonomous operation. The transit would operate within the right-of-way and multimodal lanes of a reconfigured 30A. 
Reform county policies to encourage a decreased demand for parking
Autonomous vehicles have the potential to drastically reduce parking demand, a continuation of a trend already started by ride-hailing. But AVs by themselves won't necessarily achieve this. To take full advantage of the potential for freeing up parking, cities and counties need to change their existing policies. Walton County should take advantage of this expected decline in demand to reevaluate parking along Route 30A and transform it in ways that will reduce congestion along the corridor.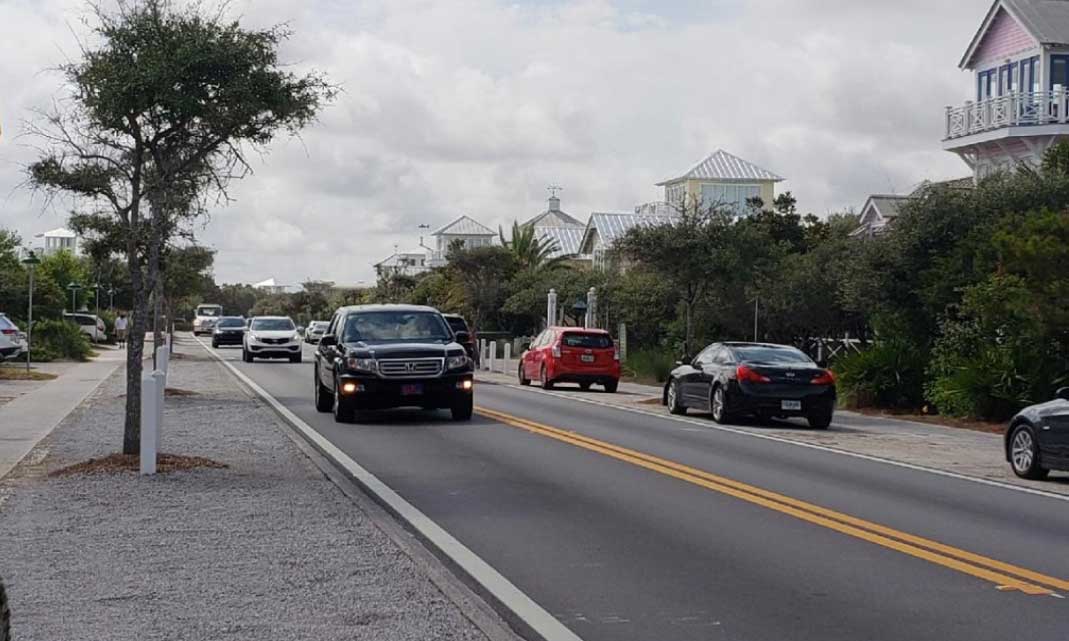 Walton County needs to charge the right price for curb parking, or remove it. Parking along 30A in places like Seaside's town center warrants the latter treatment. The space occupied by curbside parking here can be repurposed to create additional room for the pedestrians who crowd Seaside's sidewalks during peak season. Elsewhere, curbside parking can be removed to create queue jumps for transit, making the system more efficient, or to acquire space for multimodal lanes.
Develop micromobility options suited for trips on 30A's multi-modal lanes
While AVs are evolving rapidly as a technology, "micromobility" is here today. In its redesign for 30A, the county should anticipate and welcome increased use of electric bikes, scooters, cargobikes, velomobiles, as well as bike-share and scooter networks. Battery powered e-bikes are used today on the corridor, and micro-vehicles are likely to become far more common as consumers purchase them and app-based sharing networks are established. Micromobility has the potential to replace a significant number of automobile trips, especially in the peak season.
The corridor has significant potential for growth in micro-mobility, especially if 30A is redesigned to be more walkable and bikeable. The major barriers to micromobility in Florida—lack of connected street networks; large, pedestrian-unfriendly arterials; and dangerous intersections—are manageable and surmountable on 30A. The corridor connects nearly all of the destinations near the beach—and it is a relatively small-scale thoroughfare that has been made walkable in a number of locations. The highway is already somewhat friendly to micro-mobility, and it can be made even more so.
Code for an evolving mobility future
At heart, the coding recommendations focus on connecting land use to transportation and supporting the desired context. 
The county should establish transportation context areas that are coordinated with the intensity and diversity of land uses. Recently, Florida DOT has adopted context area designations that are current best practice and roughly tied to the New Urbanist Transect. In broader practice, context areas should be used as criteria for transportation decisions. Context should distinguish, at a minimum and at a granularity no less than 40 acres:
Rural areas, excluding rural towns
Special-use areas such as resorts and industrial parks
Suburban areas, commercial and residential
Compact residential areas
Compact mixed-use areas
Intensive residential areas
Intensive mixed-use areas
Use Tactical Urbanism to test two ideas: A "shared street plaza" at the Seaside Town Center, and a "queue jump" for 30A transit. 
The plaza could be tested through a number of steps outlined in the report, including the closing of parking lanes, applying paint, introducing temporary signage and features to calm traffic, and placing street furniture in the closed lanes. Most importantly for future mobility solutions, the plaza offers a way to all modes to travel safely through Seaside's center, without adding lanes or compromising the town's walkable character.
For transit vehicles operating in general purpose lanes, a queue-bypass system is needed to protect transit vehicles from congestion at critical intersections, especially numbered county routes. At these intersections, a single added lane would be installed on each approach (upstream) to the intersection that is for transit only. This lane is controlled by a single, short signal phase, and this phase would be activated only when a transit vehicle was in the queue.
Walton County's population is expected to grow substantially over the coming decades, which makes this an ideal time to plan ahead for the future of transportation. County planners report that a single developer—the St. Joe Company—has entitlements to develop housing and services for 300,000 new residents in the region over the next 50 years. "These people will be our new neighbors, and they will want to visit the beach," said Robert Davis, the developer of Seaside, at the workshop. "We need to move more people without putting more vehicles on the road. And we can enhance the character of 30A as it moves through villages and towns." Public transit is lacking on 30A—yet new technologies open options for transit and multi-mobility that, combined with policies, could take many cars off the road and provide functional transportation far into the future. At the same time, it is imperative to consider placemaking when designing the transportation systems of the future. 
Note: Ideas from this report will be discussed at CNU 28.A Virtual Gathering. The session will be called Innovations in Design and Mobility and will be held on Saturday, June 13 and 2:30 pm ET

autonomous vehicles