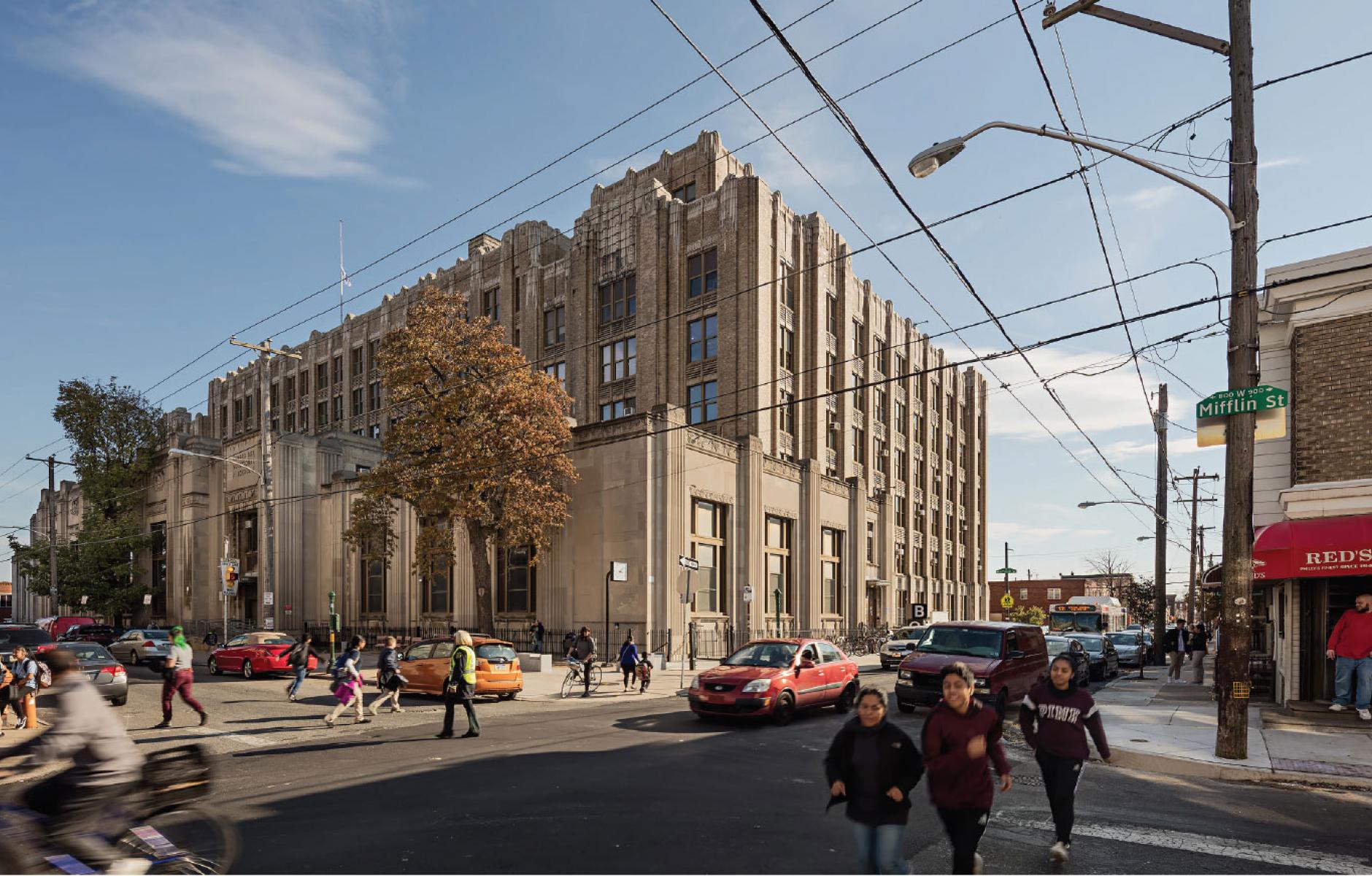 Photos courtesy of: Scout LTD
Former high school becomes entrepreneurial center
Bok converted an abandoned vocational high school into a beehive of affordable workspace and community activity in Philadelphia, Pennsylvania. The project won a 2020 CNU Charter Award in the Block, Street, and Building category for Scout LTD.
&nbsp&nbsp&nbsp&nbspMAY. 26, 2020
The magnificent art deco Bok, where Philadelphia high-school students learned a wide variety of trades for nearly eight decades, was a "maker-space" of its time. The former citywide vocational high school was closed in 2013 and sat vacant for two years until Scout LTD purchased the property with a vision of providing affordable workplaces for small businesses in the South Philadelphia neighborhood.
The 340,000 square foot historic structure, built by the WPA in 1936, now harbors 170 local businesses, more than half owned by women (compared to the city's average of 17.5 percent). Bok is a true incubator—45 percent of the businesses had never rented space before, and 73 percent of owners live in the surrounding neighborhood.

The building is surrounding by a low-rise neighborhood with a population density of 40,000 people per square mile, greater than Brooklyn, a little more than a mile from Center City and two miles from Philadelphia's other top employment hubs—the Navy Yard (now a business center) and University City. Bok is located within a 10-minute walk from the Broad Street subway. More than 70 percent of the tenants walk, ride a bicycle, or take various forms of transit to work.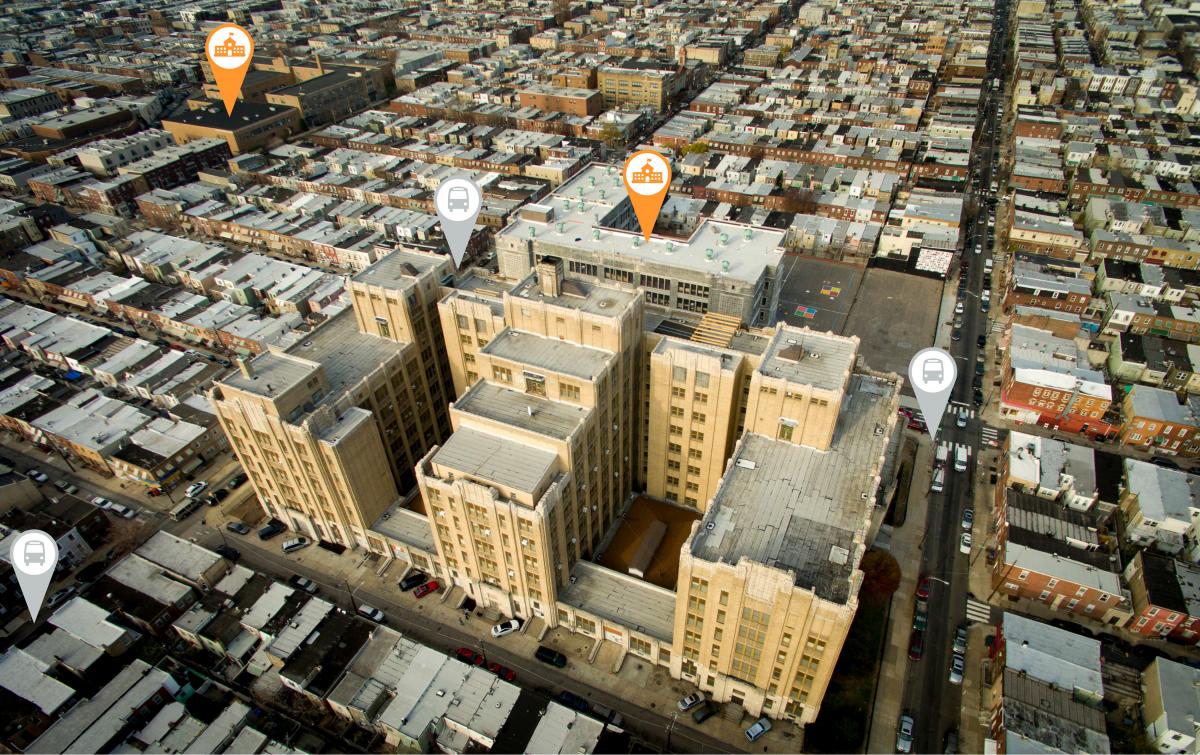 "This is a different way to revitalize a neighborhood," says Andrew Von Maur, a CNU 2020 Charter Awards juror and professor of architecture at Andrews University. "They are not doing condos, which is gentrification. Instead, this project builds on the strengths of the local people and strengthens the neighborhood."
Rather than a complete and costly redo, the owners sought tenants that fit the existing facility. "The former culinary training kitchen provides infrastructure for a local catering company," the company reports. "A local bakery utilizes the high electrical capacity, concrete flooring, and floor drains of the former machine shop to create a fully operational production space. The former home economics classroom, which was outfitted to resemble a 1940s Philadelphia living room, now holds a local vintage curation and styling shop, whose owners saw great value in the style the room provided. The approach matches tenants with spaces that can accommodate their needs, as opposed to designing anew."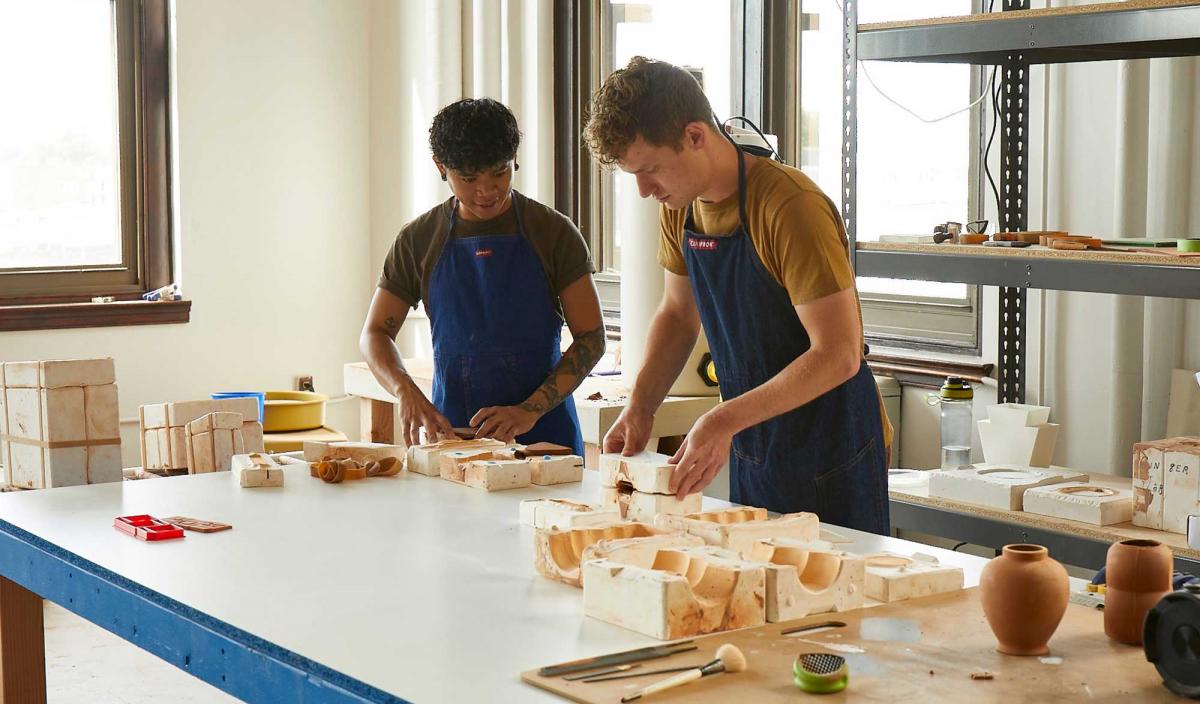 The renovation has been cost-effective and incremental. The $24 million invested is a small fraction of what such a facility would cost, built from scratch—if such construction were possible today. Re-activation began with the top-most building asset—a rooftop that featured a unique city skyline vista.
"Within 30 days of closing on the building, we self-constructed and self-opened a pop-up bar to share the view with the community and meet our neighbors. Almost overnight, crowds flocked to the bar." The popularity of the destination among millennials, who posted selfies on Instagram, generated a quick backlash from many Philadelphians—some of whom did not know that the iconic high school had closed. That was a good news/bad news moment for Scout LTD, which learned to discuss ideas more with key stakeholders—including former students.
The seasonal bar continues to be a source of revenue for Bok, and the developer uses the proceeds to fund other activities—including community events. "For example, the former gymnasiums hold weekend craft fairs and markets as well as cultural events and performances, attracting over 30,000 visitors in 2019 alone. Established community partners use the event spaces at no cost to host dance recitals, graduation ceremonies, and a weekly gathering for Southeast Asian elders who live in the neighborhood."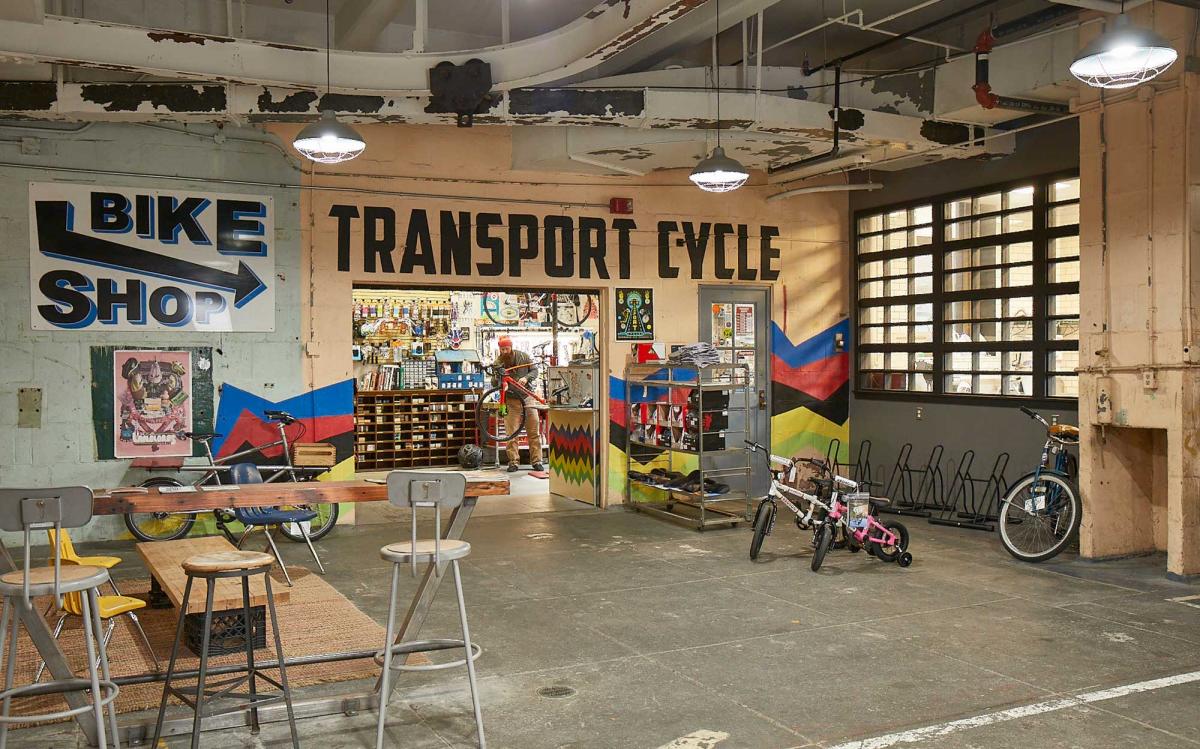 SEAMAAC, a local non-profit refugee-founded agency, organizes a weekly elder's gathering at Bok, bringing together an average of 80 Southeast Asian elders for programs and socializing. The building now houses a daycare for infants and young children as well as a drop-in indoor play space, allowing local parents to bring their young children for play and regular classes.
The developer sought ways to activate the outside of the monumental structure, which is a work in progress. The former auto mechanic shop, located at the rear of the building, with garage doors along the street, has been transformed into a public facing entrance. Today there is a coffee shop, luncheonette, bike shop, ceramics studio, retail shop, and gallery for both the public and tenants to enjoy. Embedded into the building are several service-oriented businesses, including a hair salon, a chiropractic office, a tattoo shop, and ESL classes. Work is underway to convert a 7,120 square foot wing into a health center that will provide culturally-sensitive care to South Philadelphia's immigrant and refugee populations. 
"This wasn't some big budget, highly subsidized project," says Mitch Silver, a juror and Commissioner of New York City Department of Parks and Recreation. "It is a living, growing place. They took an abandoned building and turning it into a people center—a vertical village."
Bok
Developer: Scout LTD
Historic preservation: Powers & Co
MEP engineering: Advanced Engineering Inc.
Construction: Squall Co. 
Construction: Anchor Management
Fire safety: TLC Engineering Solutions
2020 Charter Awards Jury
Goeff Dyer (chair), Master Planning and Urban Design Strategic Lead, B&A Planning Group
Marieanne Khoury-Vogt, Khoury Vogt Architects
Mitch Silver, Commissioner of New York City Department of Parks and Recreation
Andrew Von Maur, Professor of Architecture at Andrews University
Allison Quinlan, owner, Flintlock Architecture & Landscape

Charter Awards 2020