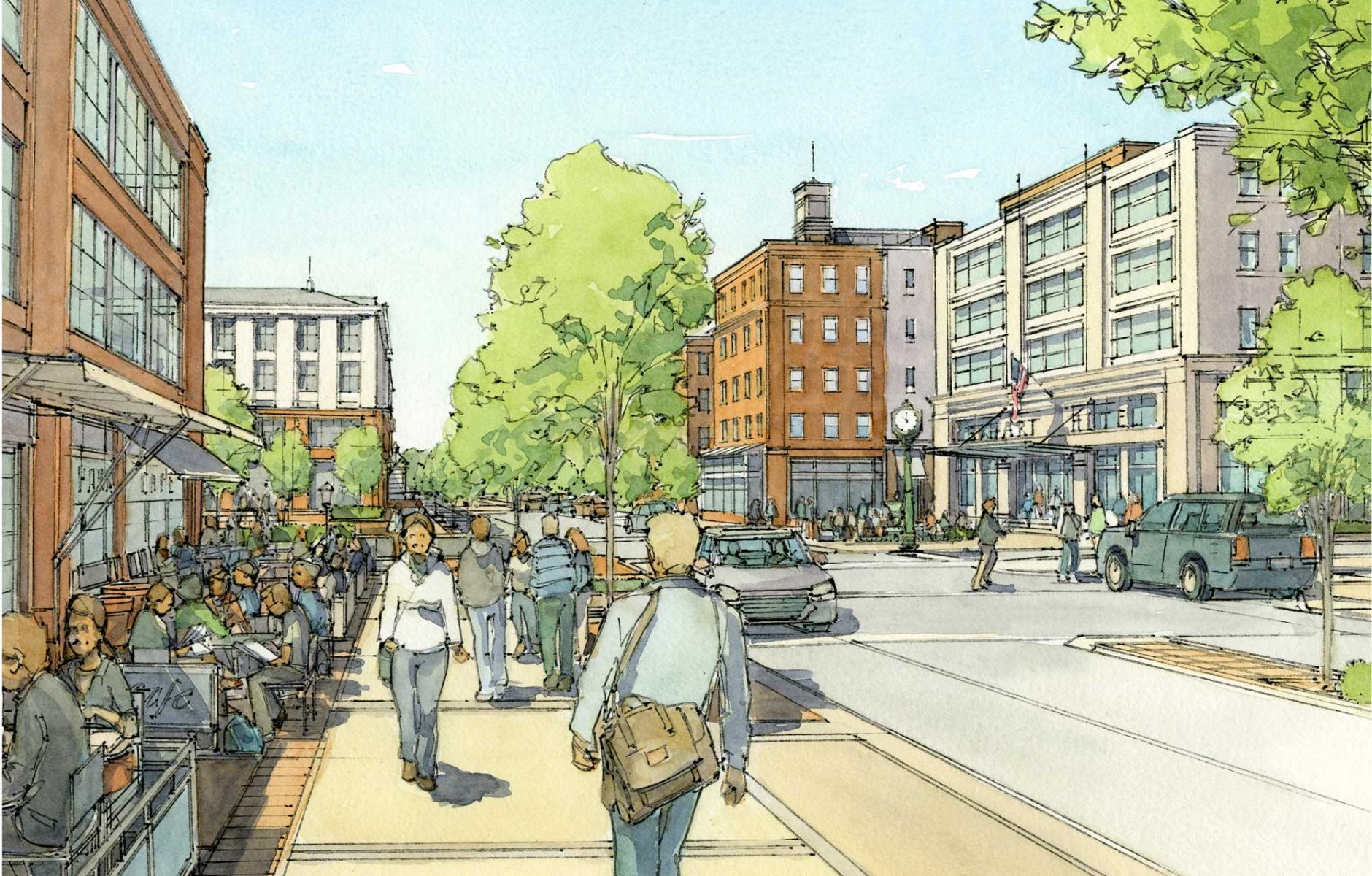 The district's primary thoroughfare, Jackson Boulevard, has undergone streetscape improvements and future development will introduce mixed use and sidewalk cafes.
Small industrial city diversifies with new urban district
The River District Implementation Plan is building a new walkable neighborhood across from downtown Elkhart, Indiana. Speck & Associates and Stantec's Urban Places won a merit award in CNU's 2020 Charter Awards.
An underutilized peninsula across the river from downtown is giving Elkhart, Indiana, an opportunity to diversify its economy. The city is a center of RV manufacturing—an important jobs base that is nevertheless vulnerable to shifting markets and demands.
The city was set to begin revitalizing the 90-acre River District—occupied by brownfield sites, low-density strip malls, and automobile-repair businesses—with a handful of key projects in the queue. These projects, however, looked much like the typical sprawl that had sprung up around the city in recent decades. An aquatic/fitness center proposed a big-box-style plan dominated by a parking lot, a supermarket proposed a suburban site plan, and planned apartments scattered parking around the site and privatized the waterfront. Also, the city had committed $10 million to building a parking structure, despite ample nearby parking.

A public-private partnership, River District Implementation Team (RDIT), realized that these developments would undercut any sense of place in the new district. RDIT hired a new urbanist team, led by Speck & Associates and Stantec's Urban Places, to propose cost-effective changes appealing to the growing market for an urban lifestyle. The new plan included:
Screening the aquatic/fitness center parking from view with new mixed-use buildings built to the sidewalk and framing a new main street leading to the center's front door.
Developing a shared-parking strategy to eliminate the need for the garage. The City agreed to divert its $10 million budget to plazas, squares, and public parks in the district instead.
Moving supermarket parking to the interior of a building-lined block, and reconfiguring the streetscape to orient the store's main entrance to a public square lined by additional mixed-use buildings.
Replacing the riverside apartments with street-lining buildings, and adding a street that makes the riverfront public and brings its value deep within the community.
Re-assigning the front parking lot in the second complex to serve as part of landscaped boulevard, without losing parking capacity within the project. Ground-floor apartments were given street-facing entrances, converting a drivable suburban project to walkable urban.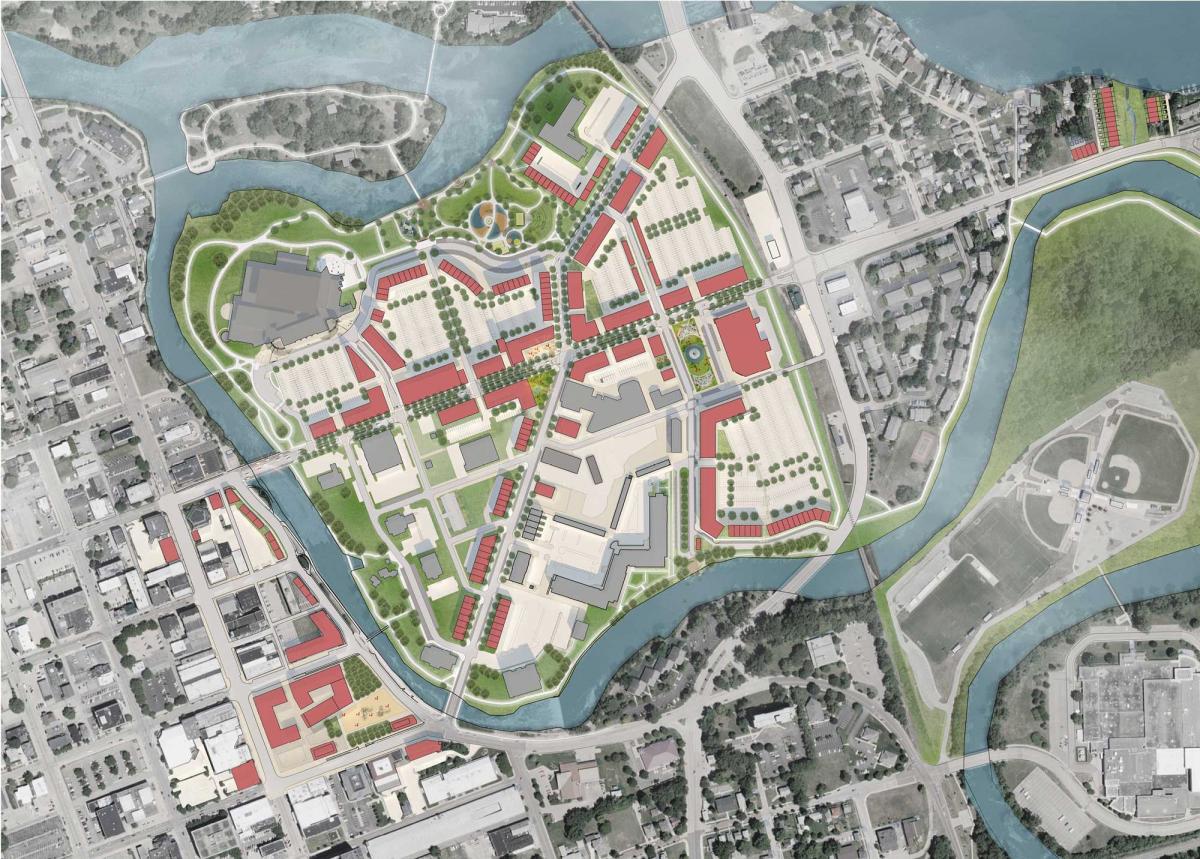 New Urbanist principles guided the revitalization in other key ways:
With a river on three sides, the district had clear edges but no center or strong connection to downtown. The plan introduced a small urban plaza and hotel at the center to create a "heart" for the neighborhood and redesigned key walking routes to downtown to make them more prominent and pedestrian-friendly.
The district's primary thoroughfare, intended as a walkable main street, looked and felt like a 4-lane regional arterial. The plan prescribed a 4-to-3-lane road diet which was completed in late 2019.
A system of bikeways and multiuse paths tied the district more closely to other neighborhoods, creating an integrated hub within the regional bike network.
The plan brought an underused park to life by lining it with townhouses rather than parking lots and driveways.
This plan has had a remarkable impact in a short time. The aquatic/fitness center and the first mixed-use project with 200 apartments opened in 2019; district-wide streetscapes were substantially completed in December 2019. A second mixed-use project under construction will include a 45,000 square foot grocery and 173 apartments, slated to open this spring. "This is design as urban triage, prioritizing key corridors and centers," notes Charter Awards juror Allison Quinlan, owner of Flintlock Architecture & Landscape. "You don't have to do everything all at once." A catalyst for the plan was the idea to not waste $10 million on parking, when surface parking is already available on the peninsula, notes Quinlan. Instead, some of that investment was steered toward improving the public realm.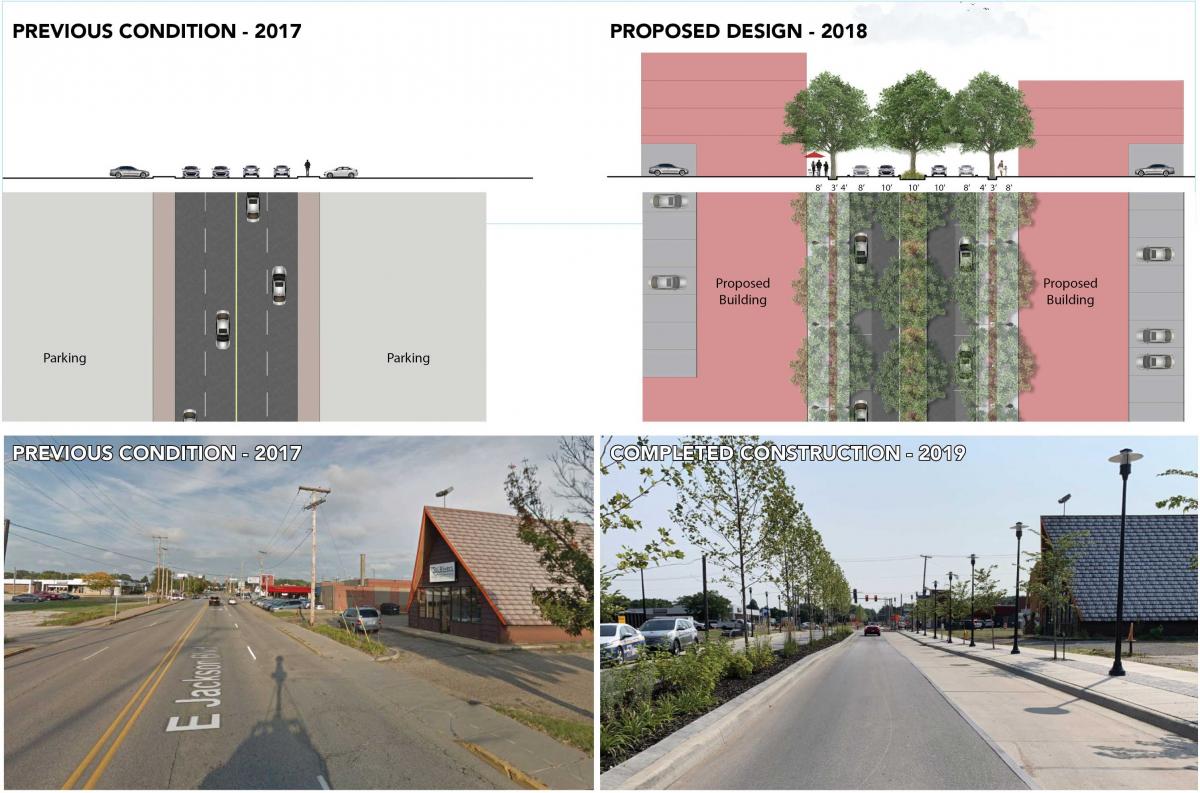 The overall project is projected to provide a total of 1,000 units of apartments, townhouses, and live-work buildings by 2025. That's accompanied by 170,000 square feet of retail and substantial workforce and civic space. A town green, civic plaza, a riverfront kayak launch site, a 4-acre park, and nearly a mile of new bicycle lanes are included in the plan.
The previous plan proposed inserting car-dependent development at the densest point on the Transect, immediately across from downtown. Civic leaders realized that this would be a mistake and "opened the door to the creation of a walkable, urban district," notes the project team. New Urbanist principles provided a framework for a "an act of preemptive sprawl repair" that will generate economic and community value for the city.
"We knew we needed revitalization," notes Dave Weaver, chair of RDIT. "This plan is providing strategic direction at 30 thousand feet together with the design details on the ground that is really making a difference in getting where we need to go."
River District Implementation Plan
Client, Public-Private Partnership: River District Implementation Team
Lead Consultant, Urban Designer and Planner: Speck & Associates with Stantec's Urban Places
Residential Market Analysis: Zimmerman/Volk Associates
Illustrations: Carrico Illustration
Engineering, Landscape Architecture: JPR
Municipal Planning and Public Works: City of Elkhart
2020 Charter Awards Jury
Goeff Dyer (chair), Master Planning and Urban Design Strategic Lead, B&A Planning Group
Marieanne Khoury-Vogt, Khoury Vogt Architects
Mitch Silver, Commissioner of New York City Department of Parks and Recreation
Andrew Von Maur, Professor of Architecture at Andrews University
Allison Quinlan, owner, Flintlock Architecture & Landscape
Note: The 2020 CNU Charter Awards will be officially presented on Saturday, June 13, at CNU 28.A Virtual Gathering, including a 20-year retrospective by Elizabeth Plater-Zyberk. Registration is open for CNU 28.

Charter Awards 2020