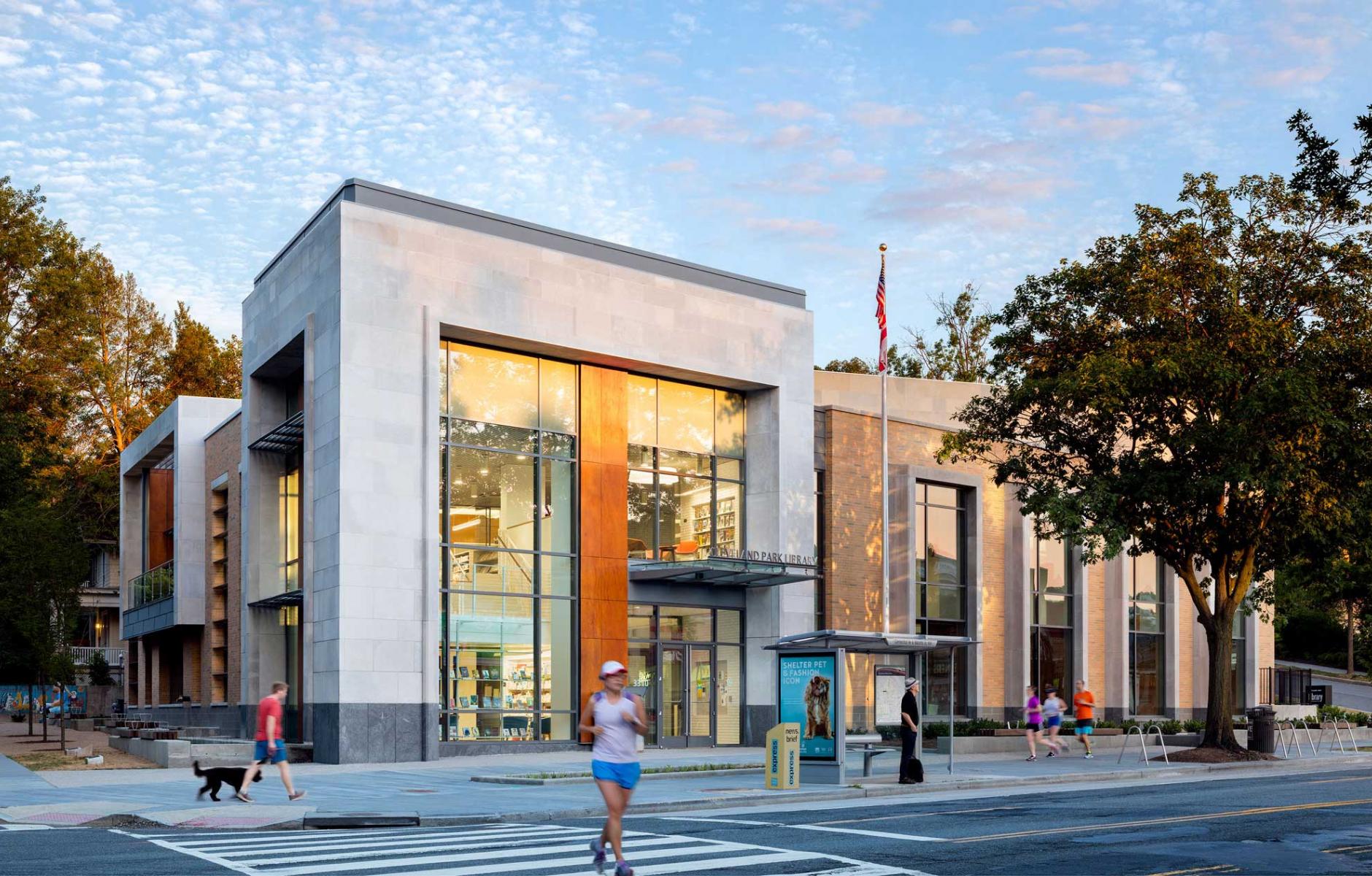 Cleveland Park Library, from Connecticut Avenue.
Neighborhood library elevates civic space
The Cleveland Park Library serves as an inviting beacon of culture for a neighborhood in Washington, DC. The building won a merit award for Perkins Eastman DC in the Block, Street, and Building category of the 2020 CNU Charter Awards.
The Cleveland Park Library is a "civic beacon" at the southern end of Cleveland Park's main street on Connecticut Avenue in Washington, DC. The building, completed in 2018, is contemporary in design, yet it has a timeless quality. 
It replaces a 1953 facility that had outlived its usefulness. The building contributes 27,000 square feet of library space, 4,000 square feet of flexible meeting space, and a 1,300 square foot public garden. Since opening, foot traffic and circulation has risen by a third from the former library. The numbers, though, don't fully tell the story of what makes this building special.

The neighborhood anchor serves as a gateway to the main street district. It relates to context and invites people of all ages to enjoy the facility. Second-story reading porches humanize the side-street building faces, and the scale relates to historic single-family houses on Macomb and Newark streets. The limestone, brick, and glass façade along Connecticut Avenue employs a more formal language appropriate for a civic building on one of the city's main thoroughfares.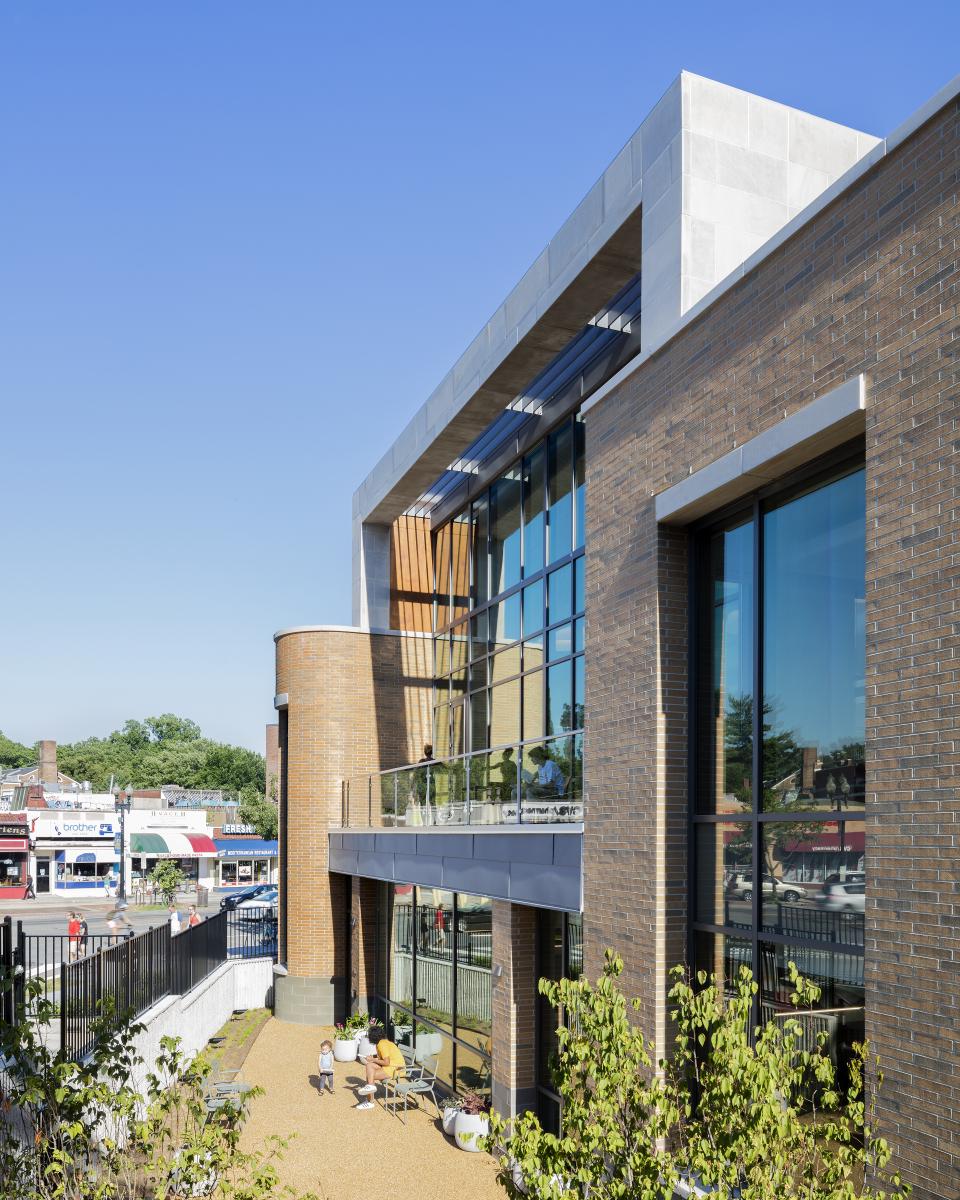 All around the half-acre site, the grounds, landscaping, and furnishings are designed to promote a sense of community. There is a bus stop, bike racks, and many places to sit. A small play area and public garden further engage the public with human activity. 
Inside the library, windows, public reading, and work areas are oriented towards the public realm. One bank of tall windows offers an impressive view of the main street district, and another faces a park of regional significance. 
"The new Cleveland Park Library is at once bold and iconic yet deeply respectful of the neighborhood's historic architecture—the flexible design, natural light, and inspiring spaces will ensure its relevance for generations to come," DC Public Library Executive Director Richard Reyes-Gavilan.
Several elements from the original building were included to make the new building reflect the history of the old. Etched glass panels featuring illustrations from local author and original library advocate Catherine Cate Coblentz, dating from the 1950s, were rehung in the atrium area of the new building. In the 1960s, the community raised funds for a "blue cat" sculpture inspired by one of Mrs. Coblentz's books, and it was situated in the children's room—where it remains today. The memorial bench, panda statue, and signage are also among the elements relocated from the original building.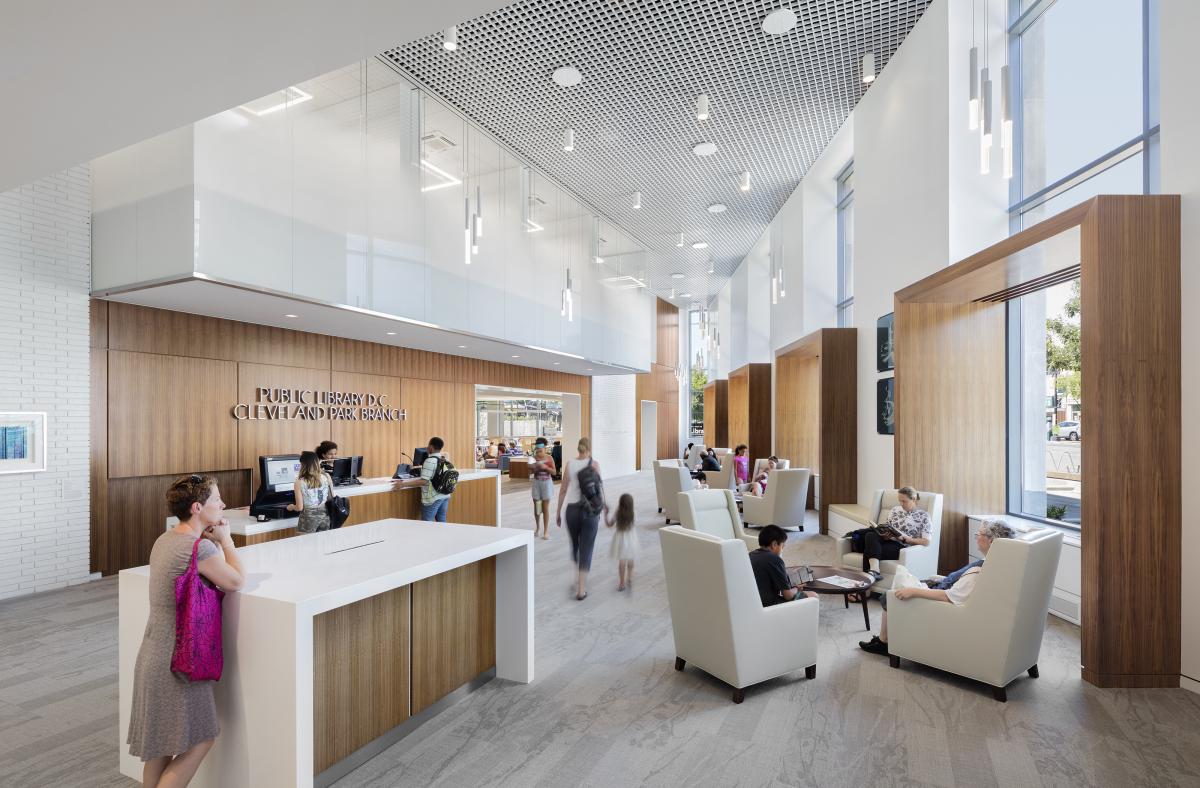 The library exemplifies what a 21st Century public library ought to be: a place with resources for all; a space for community groups of all shapes, sizes, and scope to meet, talk, and act; a new civic resource that encourages increasing patronage by the community; and, a responsive place that evidences strong environmental stewardship while preserving the best aspects of local history within and without the building. 
During the community engagement process, residents voiced an interest in increased meeting space, resulting in multiple flexible meeting spaces featuring movable walls that can accommodate up to 400 people in various configurations. During the first three months after opening, the average monthly booking of the meeting spaces increased to 153, a threefold increase from the old library.
"I like the idea of elevating civic spaces," says juror Mitch Silver, Commissioner of New York City Department of Parks and Recreation. "This one is done beautifully. There is something special about doing civic places right rather than 'it will do.' It's not just welcoming inside, but outside as well. That sends a strong message of the importance of civic projects. It will make a child want to be there."
"It's a building that will age well," notes architect Marieanne Khoury-Vogt, a juror.
Cleveland Park Library
Architect: Perkins Eastman DC
Owner, client: DC Public Library
Mechanical, electrical, plumbing engineering: Setty & Associates
Civil engineering: AMT, LLC
Structural engineering: ReStL
Energy Conservation: In Posse/AKF Energy
Landscape architect: Landscape Architecture Bureau
Library programming: Library Planning Associates
Photography: Joseph Romeo Photography and Maxine Schnitzer Photography. Images copyrighted: © Joseph Romeo and © Maxine Schnitzer
2020 Charter Awards Jury
Goeff Dyer (chair), Master Planning and Urban Design Strategic Lead, B&A Planning Group
Marieanne Khoury-Vogt, Khoury Vogt Architects
Mitch Silver, Commissioner of New York City Department of Parks and Recreation
Andrew Von Maur, Professor of Architecture at Andrews University
Allison Quinlan, owner, Flintlock Architecture & Landscape
Note: The 2020 CNU Charter Awards will be officially presented on Saturday, June 13, at CNU 28.A Virtual Gathering, including a 20-year retrospective by Elizabeth Plater-Zyberk. Registration is open for CNU 28.

Charter Awards 2020