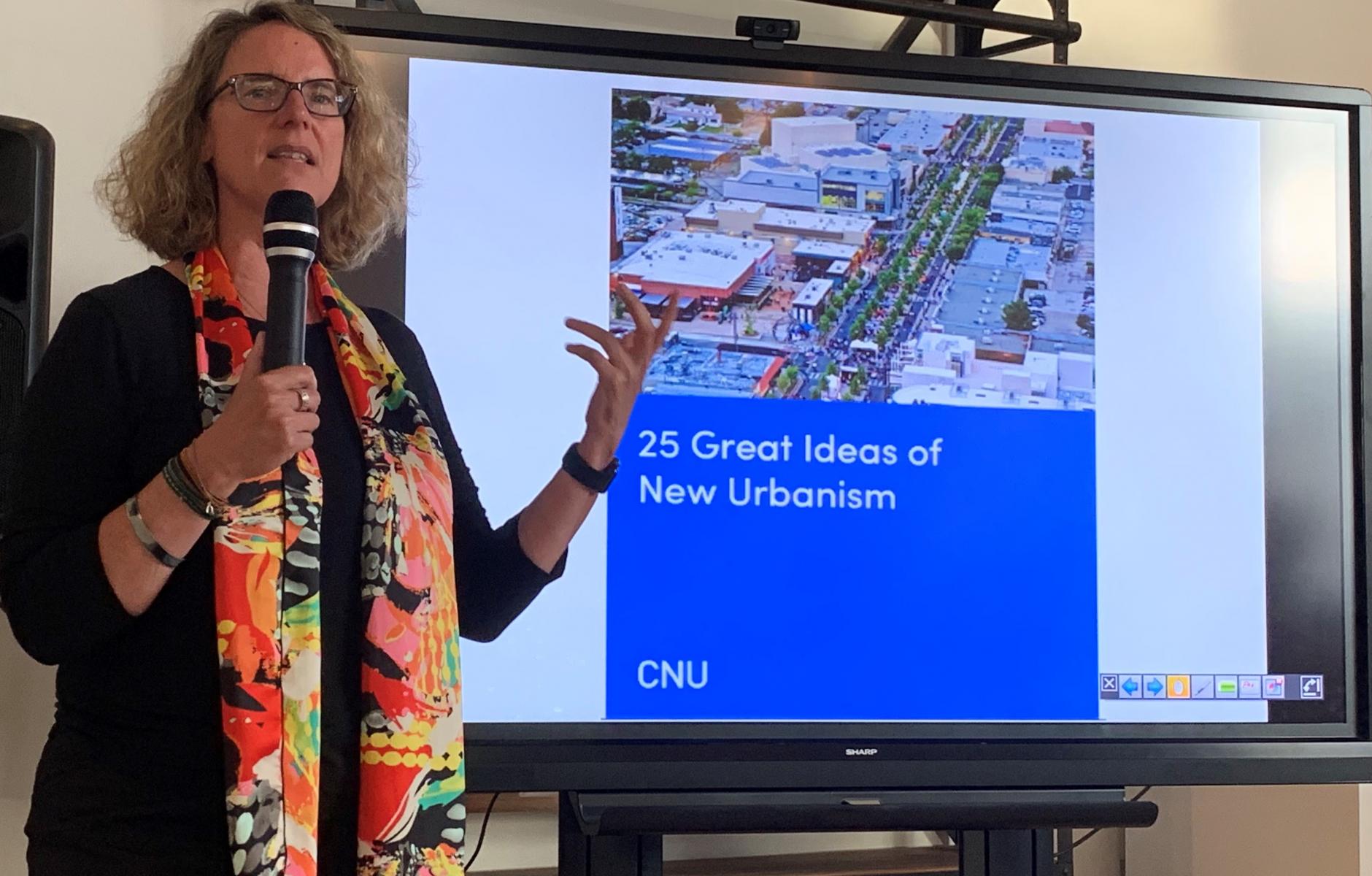 Lynn Richards addresses the annual Congress.
This year, CNU will get a new leader
Sadly, Lynn Richards will be moving on from leading the Congress for the New Urbanism this year. I was shocked and deeply sorry when Lynn announced she was leaving CNU.
In the seven short years she has been CEO, Lynn has accomplished so much on behalf of the organization. Lynn's outstanding leadership was instrumental in the development of our new Strategic Plan, as well as the detailed operations plan that will ensure that the Strategic Plan will be implemented. Her fundraising and grant-writing prowess has been unparalleled. Her vision for CNU has inspired all of us on the Board, and we will sorely miss working with her to make the organization a stronger and more powerful national presence. 
Her list of accomplishments is extensive, but I did want to highlight a few: 
One of her top priorities has been to promote the Charter's implicit emphasis on equity and inclusion as foundational to all of CNU's work. She infused equity and inclusion into all aspects of CNU's internal and external work, including guiding the National Board through the adoption of their inclusion statement, spearheading the creation of Building Local Strength, a blueprint of strategies for community-led revitalization, and broadening the voices and topics at the Congress.
She expanded the reach of the annual Congress by more than doubling attendance in seven years and attracted new members from a wide array of fields. Over 800 Congress attendees at CNU 27 Louisville were first-time attendees.
As part of the Congresses, she started the CNU Legacy Projects, which provide pro bono technical assistance in under-served communities from leading urban design firms. These projects currently have a 95 percent success rate!
Not wanting CNU to be just a convening organization, she launched Project for Code Reform (PCR) to assist statewide coalitions and local communities in identifying and overcoming common code barriers. Led by a member faculty, CNU has provided code recommendations to enable better places in Michigan, Vermont, Wisconsin and New Hampshire and is now working with AARP to increase the scale of this approach.
Lynn created and launched Public Square and On the Park Bench, two online platforms where members, allies, and partners can engage, debate, and convene around pressing urban, societal and economic issues.
Finally, she worked with Congressional leaders on their newly-introduced legislation that includes the Restoring Neighborhoods and Strengthening Communities Program, a $10 billion Highways to Boulevards pilot effort supporting freeway removal plans with grants for community engagement, feasibility studies, and capital construction.
Of course, she didn't do this alone. Lynn is skilled at empowering and enabling staff, inspiring and guiding the board, and leading the membership in the pursuit of our mission, championing walkable urbanism.
The Board is now focused on finding a new leader for CNU. We plan to publish a job announcement by the end of January and hope to announce the successful candidate during CNU 29.Design for Change. Lynn is committed to a smooth transition for CNU and will stay at the helm until her replacement is found. Susan Henderson, incoming CNU National Board Chair, is leading the search so please send her any candidate suggestions.
Although we are very sad to see Lynn go, we look forward to seeing what she does next and know that she will be just as successful in her next endeavor as she was at the helm of CNU. And we also know she will take us with her. As Lizz Plater-Zyberk said, "Lynn has long coattails." I know I speak for many members as well as for myself when I say it's been an honor and a pleasure to know and work with Lynn.