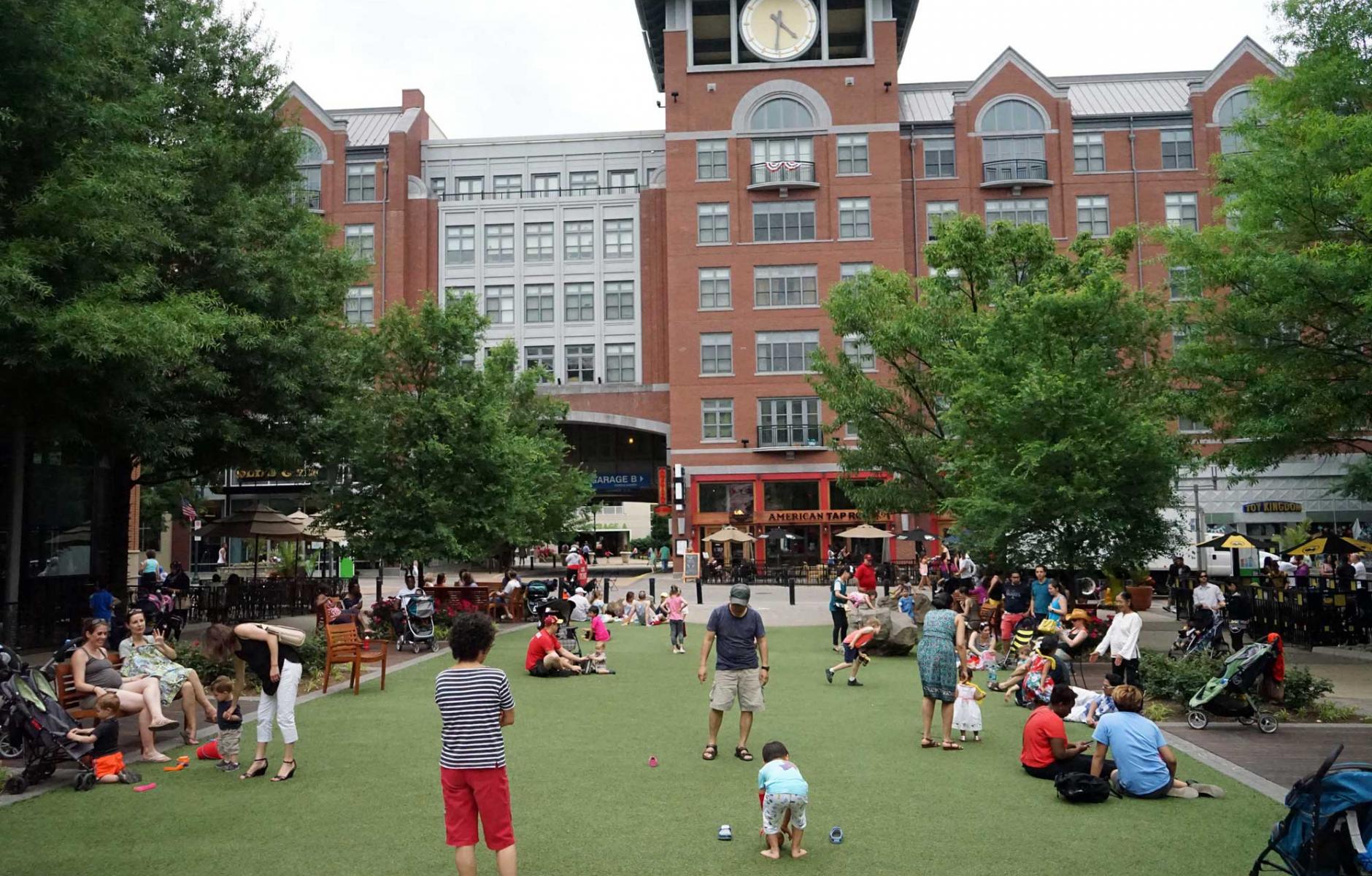 Rockville Town Square is living room for the community, surrounded by shops and restaurants.
Designing and building mixed-use centers in the suburbs
Retail success is tricky in new urban places—so pay attention to fundamental principles because buying and selling are essential activities in a walkable urban center.
This is one of a series of ongoing Public Square articles on the market, technological, and cultural transformation of the $5 trillion retail industry—and how it relates to a continued shift toward walkable, urban living.
Mixed-use centers—often in suburban locations—continue to be built from the ground up in many communities across the US. This commercial component is important because many new urban developments are planned or under construction, and most include retail. Retail is an essential part of a walkable urban center—and has been the case for as long as people have been selling goods in the marketplace.
Living spaces, offices, and restaurants in new urban centers in the suburbs tend to be very successful, but the retail has been less profitable in many instances. Pros and cons of mixed-use centers are on display at the Shops at West End in St. Louis Park, Minnesota—just west of Minneapolis. The Shops at West End is "pretty much" the only walkable urban place outside of downtown that is available for major commercial development, according Sam Newberg, a commercial real estate analyst in the Twin Cities area. 
The Shops at West End was hit economically by the Great Recession. Since then, it has struggled along with the shopping center/mall industry, according to the Minneapolis/St. Paul Business Journal. "The first phase, a 349,000-square-foot retail center, has lived a rocky life and still has a vacancy rate north of 25 percent. But focusing on the struggles of the retail portion of the project ignores the fact that the area is red-hot with the development of apartments, hotels, and the largest suburban speculative office project since the recession." Developers have completed 779 apartments around the West End since 2013 and are constructing 262 more. A final multifamily project will break ground this winter, adding another 207 apartments. All told, developers will surpass $350 million worth of investment and construct 1,248 apartments in the West End and neighboring parcels between 2012 and 2020. This development would not have happened if not for the urban retail, according to the Business Journal.
Mixed-use urban centers can be seen as a glass half full or half empty, but overall, one could say the glass is more than half full. The need for walkable urban places continues to grow, and this demand will drive planning and development for decades to come. Conventional retail in suburban malls is struggling, and that makes for a carrot-and-stick incentive that is driving more retailers into urban formats. 
The retail in some mixed-use centers has struggled for a variety of reasons. Some of these centers are losing anchors—just like enclosed malls—due to the current crisis of department stores. Also, some were designed with too much retail to begin with—like an outdoor mall with mixed-use added in ways that suggests it was just an after-thought.
Bayshore Town Center in Glendale, Wisconsin, a first-ring suburb of Milwaukee, was designed with too much retail (about 1.2 million square feet). Like a lot of malls, Bayshore has been hit with department store woes. Sears closed, and then Boston Store (formerly owned by Bon-Ton), leaving two anchors empty. Nordstrom's Rack plans to open in 2020, and complex announced a conversion of much of its vacant space to offices, a hotel, and apartments. The plan is to reduce retail space by 37 percent.
Mixed-use centers need a broad mix of tenants to succeed, explains Lee Sobel, a long-time urbanist with experience in commercial real estate. "The failures don't offer a true mix of uses," he says. "These are the shopping and dining destinations surrounded by parking lots. The good ones will survive due to location, demographics, and tenants."
The need for visibility
Other urban centers hide the stores from passing traffic, ignoring a basic rule of retail success, says Robert Gibbs, author of Urban Retail. "There's been an overconfidence in the importance of aesthetic qualities—the architecture and placemaking over the fundamentals of retail. When they work, the retail, residential, office and hotels produce above market rents," he says. 
The retail in Rockville Town Square in Rockville, Maryland, struggled at first, partly because it was not visible from the main road. But the office, residential, and civic space (a public library), were all successful. A grocery store went out of business—and it has been replaced by local grocer. The storefront commercial space is now mostly leased, largely with local and regional shops and restaurants—and there are a few national chains, such as a CVS pharmacy, Verizon store, and Gold's Gym­­. 
Unique local stores in a new urban center are refreshing—even if they don't achieve the sales/square foot of national chains. "When you start seeing mixed-use town centers with the exact same retailers as others, something has gone wrong," says Kennedy Smith, a main street economics consultant. More high-density residential is being built all around Rockville Town Square, which should strengthen the retail, which already appears to have turned a corner.
Some mixed-use centers were designed without anchors, which is a mistake in all but the smallest scale projects: Anchors draw shoppers and support the smaller stores. "Every mixed-use project should have at least one anchor store," notes Sharon Woods of LandUseUSA | Urban Strategies. "This may be a department store, grocery, hardware, pharmacy, or furniture store. In some markets, a cluster of destination-type restaurants can also serve as an anchor. These anchors are essential for attracting patrons that can then be converted into impulse and repeat shoppers."
Town centers sometimes feel artificial or contrived because the main street isn't a through street, Gibbs adds—they start and stop in the middle of nowhere. A real town is located on a main highway that connects part of the region together. If you build a town center on an arterial thoroughfare, you get more authenticity. Woods explains: "main street tenants have the best chance of succeeding when they are aligned along and facing the main traffic arterial. Tenants located along perpendicular or side streets tend to have less than half of the exposure to passing traffic, and therefore will be significantly disadvantaged."
Overall, office and residential uses are more of a sure bet, Gibbs says: "Shopping is an elective activity compared to living in a house and working in a job. You can have the worst office park and you have to go to work." A successful retail project "has to make it easy for people to shop," he says. Mixed-use centers depend on a combination of destination and impulse buying, Woods explains. "In successful retail projects, the smaller tenants will depend on cross-shopping generated by destinations and anchor stores, plus impulse shopping from drive-by traffic."
Variety of activities
Mixed-use centers in the suburbs need a real variety of activities, including social and civic spaces. Pike & Rose in Montgomery County, Maryland, is a case in point. It's got anchors like an LL Bean store and clothing retailer H&M. Pike & Rose also includes a 17,000 square foot rooftop farm, a hotel, a bowling alley/restaurant, a live music venue (increasingly common in urban centers), and movie theaters. It's got substantial office space and housing.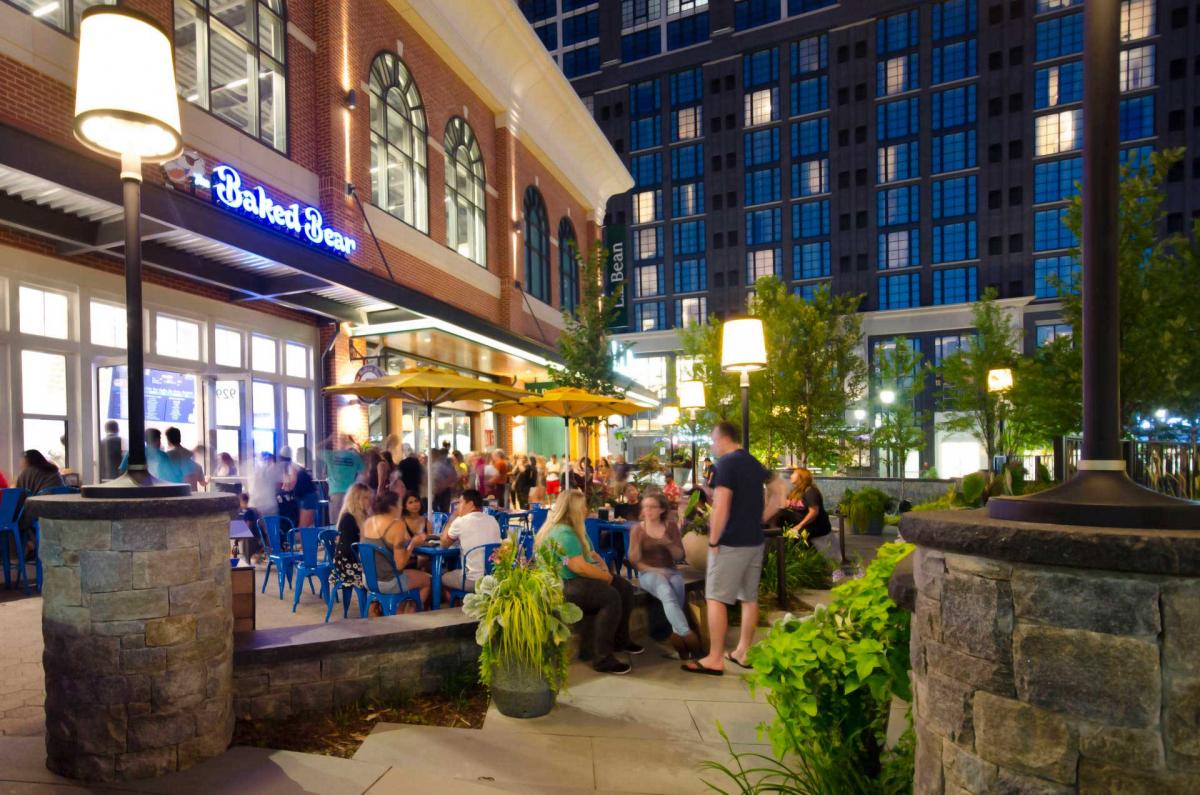 The Mosaic District in Fairfax, Virginia, consists of city blocks built from the ground up—it used to be a drive-in movie theater, then a movie theater. It is located near a Metro station. Anchors include a multistory Target and Great Gatherings, a large store that offers game furnishings. There's a Mom's Organic Market and a variety of retailers from Lululemon Athletica to Williams-Sonoma. Food options of all kinds are available, and an eight-screen cinema (a takeoff on location's historic use). The site hosts a farmer's market and a variety of festivals. A range of housing types and price points has been built, including condominiums, apartments, townhouses. The Mosaic is also the home to a custom shirt manufacturer. The center has been a catalyst for redevelopment around it, and new construction is ongoing.
Mixed-use centers are sometimes confused with, and distinct from, so-called "lifestyle centers," which have no residential units and little mixed-use. They were commonly built in the 2000s by conventional retailer developers who wanted to create urban experience without changing the fundamental business model of the mall. A lifestyle center is essentially a mall with no roof, and is often surrounded by parking. A lifestyle center can feel overly contrived and even phony as an urban place because it does not include the various uses of an urban center—and should be avoided by developers and cities alike. 
Mixed-use urban centers come in many types to suit whatever kind of walkable place is being created. Sometimes they are built on a very small scale for the purpose of providing destinations and urbanity—rather than meeting significant shopping needs. About 70 businesses are located in Norton Commons, Louisville, Kentucky, even though the development has little or no access to drive-by traffic.
The businesses in Norton Commons comprise a mix of restaurants, which are fairly successful, and personal businesses located out of the owners' properties—some of which may be part-time operations. There are no chain stores—and Norton Commons is not unlike many small main streets in that regard. The businesses offer a sense of place and liveliness to this new town that attracts residents and outsiders alike. Nearby drivable retail meets day-to-day shopping needs. Developer David Tomes attributes the better-than-expected mixed-use to a daytime office population in Norton Commons—plus a YMCA that serves as an anchor, attracting many outsiders from several miles around.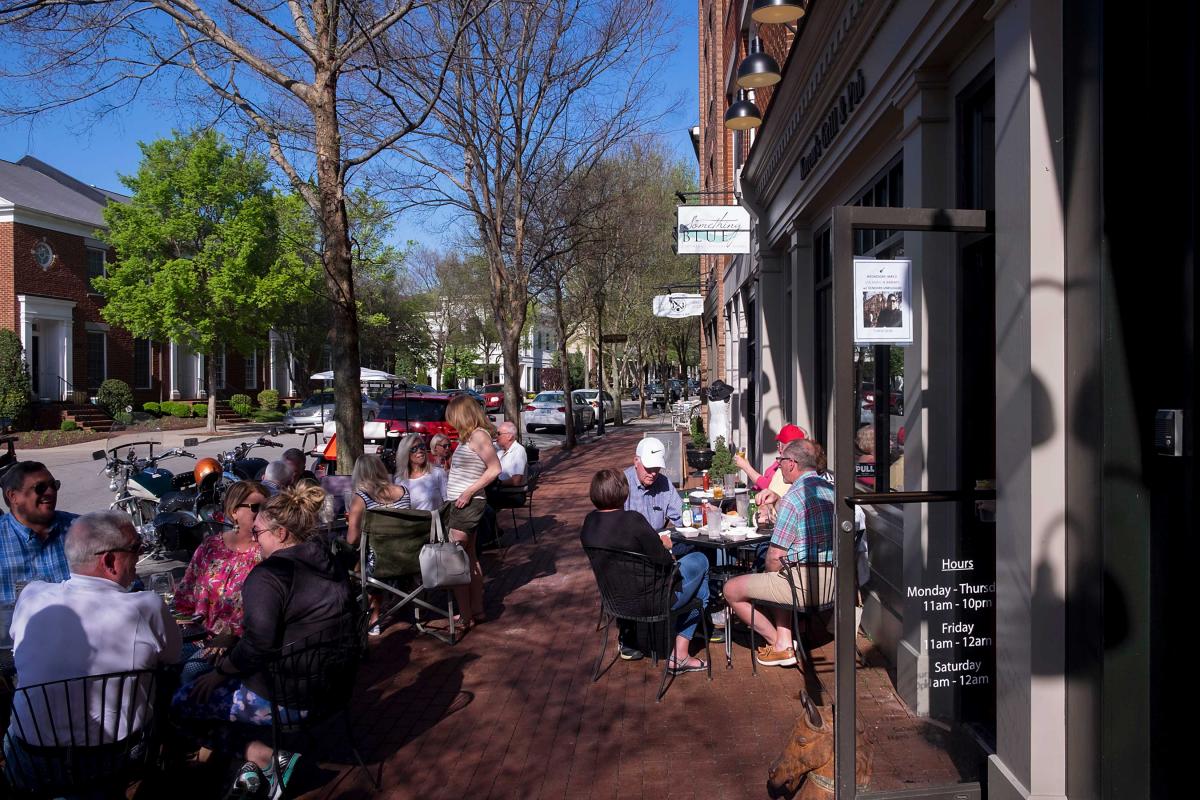 Drive-by traffic
Mixed use centers of all sizes rely on drive-by traffic, Wood notes. "The smaller the project, the more essential it is to have excellent visibility to impulse shoppers," she says. "Larger centers are more likely to have anchors and a mix of destination-type stores to help compensate. Small town centers without anchors are the riskiest—and if they don't have visibility to traffic then they shouldn't even be considered."
One solution is to build a pair of one-way couplets, a concept created by CNU co-founder Peter Calthorpe San Elijo Hills project in San Diego, California. The thoroughfare carries 40,000 cars per day, plenty to support retail. Each side of the couplet has two one-way lanes and is designed like a street, with parallel parking on each side. "Some people are opposed to one-way couplets because there is a lot of bad history couplets. Some were badly designed and too far apart," Gibbs says, explaining that with good design "the Calthorpe model does work."
Another solution is what Gibbs calls the "retail crescent," which was built in a project called The Glen, outside of Chicago. The design brings through-traffic to the main street via a slight crescent-shaped diversion. Still another is what called "Lake Forest model," where shops are grouped around a new public space on one side of an adjacent highway. The model is named after Lake Forest, Illinois, one of the first planned shopping centers in the US, which opened in 1916. The shops are all visible from the highway. In the 1980s, Seaside, the first neighborhood-scale new urban project, used the Lake Forest model.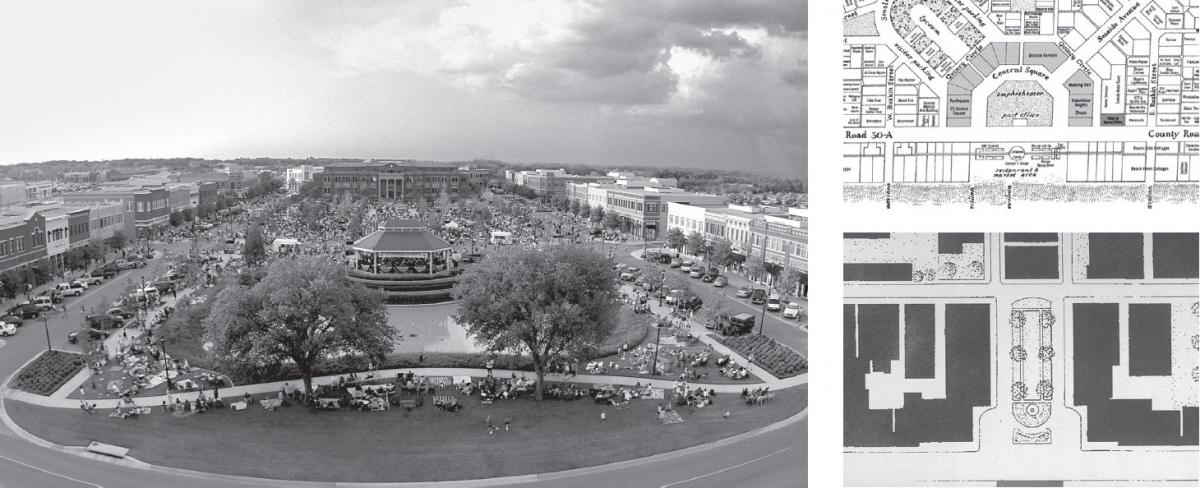 Mixed-use urban centers in the suburbs continue to be built, driven by demand for urban living. Employers are locating in such centers because that's where their young employees want to be. Municipalities, also, are looking to revitalize first-ring suburbs. As shopping malls die, this will open more opportunities for building these places. Finally, the residential market in walkable communities is strong. Mixed-use centers have long relied on retail to provide the draw, and that is still partly true. But the retail industry is in flux today and so developers and designers need to think about other strategies to generate activity—especially entertainment and food-related uses.
Although urban centers often end up getting similar retail tenants to single-use malls, they are more flexible—which is an advantage in this uncertain retail climate. Urban centers may be more driven by the development of living and working spaces. And, developers need to be aware of basic rules of retail. "The retail in mixed-use urban centers needs to adhere to fundamental shopping center principles," says Gibbs. "Mostly, they need a green grocery, a street with parking, anchors, living spaces, office, a hotel, and off-street parking."

mixed-use
&nbsp&nbsp&nbsp
urban retail