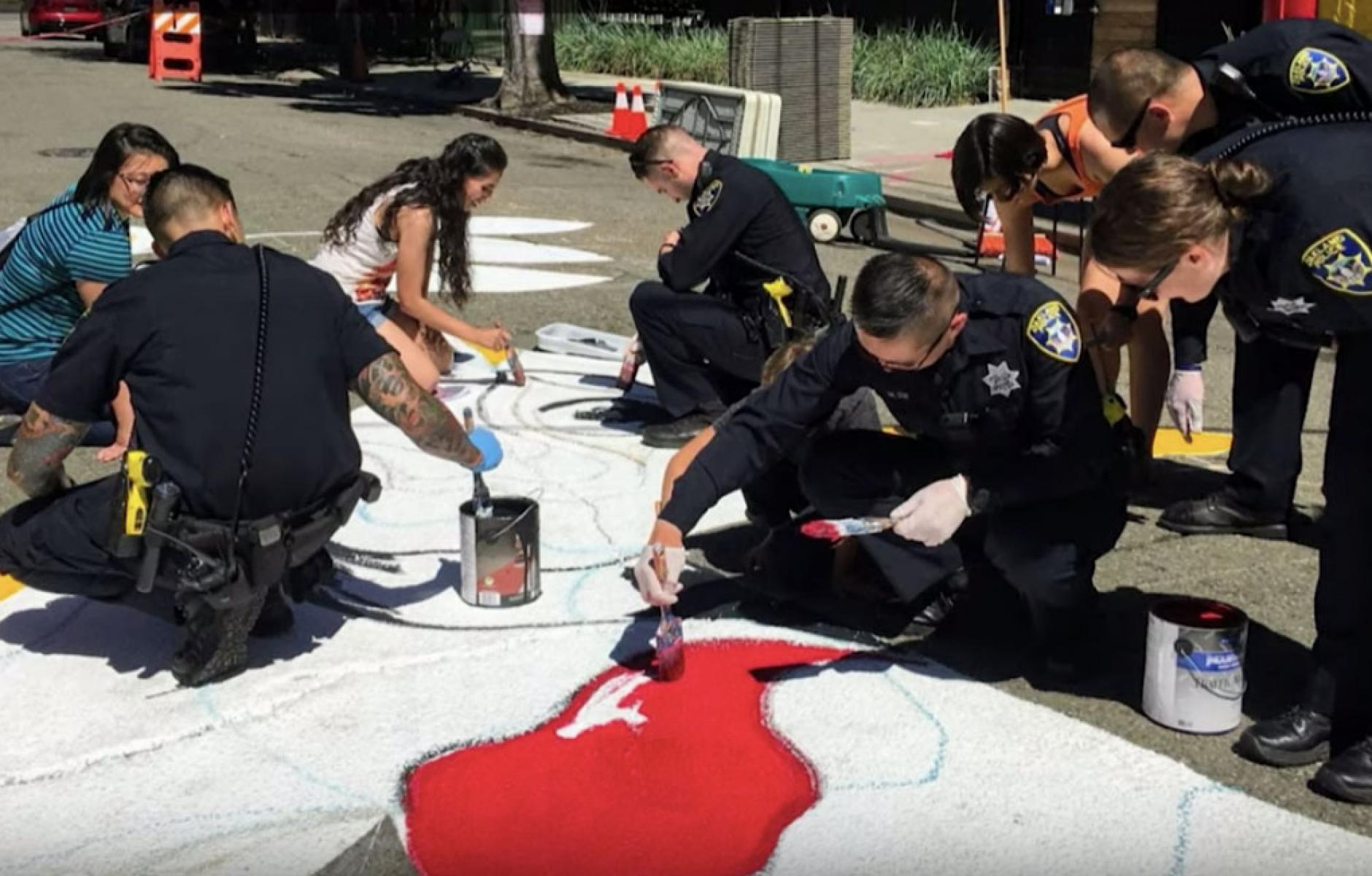 Oakland residents and police participate in Paint the Town. Source: Oakland Mayor Libby Schaaf.
Toward Placekeeping: How design + dialogue can make cities better for everyone
At CityLab DC, speakers focus on keeping the culture of place in the face of a changing city.
"Placekeeping is very different from placemaking," said Oakland, California Mayor Libby Schaaf recently at CityLab DC--a two-day conference of ideas and solutions for cities large and small. "Placekeeping is about engaging the residents who already live in a space and allowing them to preserve the stories and culture of where they live."
Schaaf was one of 44 mayors from around the world in attendance at the annual event, staged this year at the newly redeveloped District Wharf. The gathering covered many forces shaping cities, not only governance but also music and art, film, foodways, and technology. 
Schaaf was there as part of the Asphalt Art Initiative, a project to encourage the use of paint to transform streets and transportation infrastructure, sponsored by Bloomberg Philanthropies in collaboration with Street Plans Collaborative, whose principals Tony Garcia and Mike Lydon are longtime CNU members. Oakland's Paint the Town project is one of 26 case studies in an idea book for cities and towns, developed by Bloomberg and Street Plans. (Bloomberg has also opened up a competitive grant program for small and medium-sized cities. Through December 12, cities can apply for the funds here.)
Like many American cities, Oakland's real estate market is heating up. Development pressure threatens longtime residents with rapid change and potential displacement. "In Oakland, our residents are watching this transformation and wondering if the city is still for them," said Schaaf. In response, Paint the Town is putting 35 murals conceived and created by local neighborhoods into play across the city. "We use Paint the Town to not just address safety and aesthetics, but to do placekeeping," said Schaaf. "It's a way to make sure that longtime residents know that the city still belongs to them, and they belong to the city."
Belonging was a frequently mentioned aspiration during CityLab DC. In the face of increasing real estate prices and rapid demographic shifts in markets such as San Francisco, New York, and Washington, DC, participants again and again asked how cities can be planned, designed, and directed to support all of their residents, regardless of their race or level of income.
A call and cry: 'We are still here'
The conversations at CityLab DC often confronted displacement, a particular concern for African Americans who have seen cities through very hard times in previous decades, forging their own new traditions, music, art, and businesses even in the face of deep disinvestment. Now, with investment returning, the question of who will benefit is an urgent one. 
Jimmie Fails, star of the exquisite Last Black Man in San Francisco, spoke of the film (which he described as "a love story between a man and a house") as inspired by his own family's story of home ownership and home loss. Fails called San Francisco, where the population of African Americans is only 4 percent right now (compared with a high of 13 percent in 1970, and 10 percent as recently as 1990), "ground zero" for displacement and the shifting racial and economic demographics seen in other cities. To combat hyper-gentrification, he considers it paramount to protect affordability for artists, for people of color, and especially for Black residents. Dialogue and making space for marginalized people to speak up is crucial:
"Gentrifiers have to hear us out," Fails said. "That's what this movie is. It starts the conversation."
What if conversation is impossible because shared values aren't clear? The Atlantic's Gillian White talked with musician and bandleader Frank Sirius and with Natalie Hopkinson, a professor at Howard University and author of Go-Go Live: The Musical Life and Death of a Chocolate City," about how the DC-created art form of go-go music has become inextricably intertwined with the gentrification of DC. The connection catalyzed last spring, after residents of a luxury apartment building in DC's historic Shaw neighborhood called in a noise complaint against longtime business owner Don Campbell. Campbell, who has played the city's homegrown go-go music on the store's outdoor speakers for 24 years, had essentially created an impromptu celebration space and local cultural touchstone at that intersection—to those who know the context.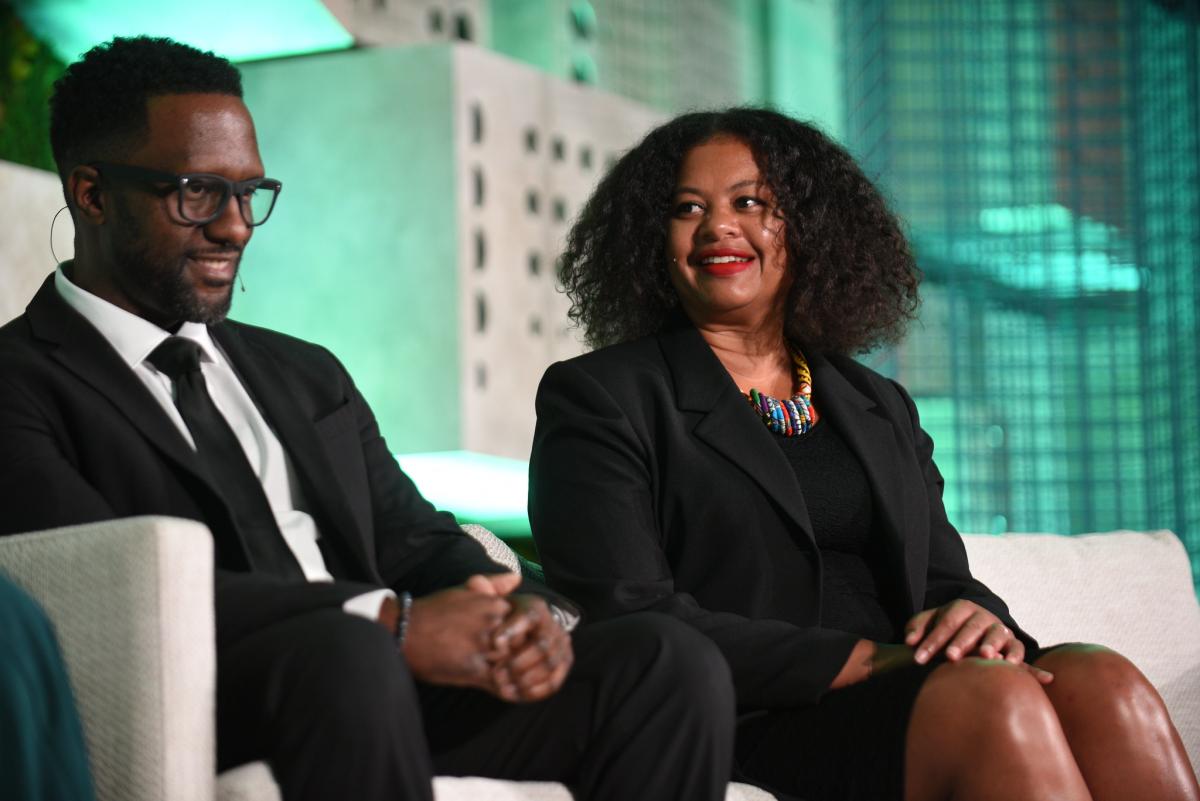 The residents of the building nearby, who did not seem to know go-go's significance, nor appreciate that the store's location at the corner of 7th and U Street was the epicenter of DC's Black cultural renaissance in the 20th Century, saw—or heard—things differently. The incident at 7th and U is a microcosm of the cultural change coming to a city once known as "Chocolate City" for its majority Black population, which approached 70 percent during the 1970s (the figure today stands at about 47 percent).
In the days following the complaint, the #DontMuteDC hashtag took off on social media, the mayor came out in support of Campbell, and MetroPCS, for which Campbell's store is a franchise, reversed its instructions to turn the music off. A silver lining was that the exuberant beat of go-go came rushing back into public consciousness. 
"For us, it was a part of DC life, it was a part of DC culture," said Sirius, who leads The Chuck Brown Band. "It was the forgotten part up until they started the DontMuteDC campaign. It was a forgotten music, and a forgotten people, who've been here so many generations. With so many Black folk being pushed out of the city, it's become our Call and Cry, our stamp of 'We're still here.' "
The artists who've kept the beat alive since the 1970s, in clubs and at house parties, at Metro stops and street corners, are enjoying long-postponed recognition of this uniquely DC art form: the city is considering legislation to make go-go the official music of Washington, DC, a move that DontMuteDC activists also hope will lead to the resurrection of critical music programs in DC Public Schools, artist funding, and a recognition that go-go has long fueled jobs and businesses in the city.
"I talk about go-go in my book as a collection of Black-owned businesses," said Hopkinson. From musicians and teachers to music producers, recording studio managers, venue owners and promoters, fashion and graphic designers, go-go spawned a local scene that was also a source of economic vitality for Black Washingtonians. Hopkinson and Sirius are among those who hope that renewed recognition of go-go will also lead to an economic and artistic renaissance of the art form—and of the people who created and nurture a unique sense of place for the city.
"Washington has been gentrified faster than any other city in the United States," said Hopkinson. "More than 20,000 black Washingtonians were displaced between 2000 and 2013." Yet, at the same time, a lot of neighborhoods are much more integrated. But traditions in this essentially Southern city—porch and sidewalk conversations—have been eroded. Newcomers may not know these customs, "so they miss out," she said. "They just miss out."
Many communities may look diverse on the surface but are actually micro-segregated. "We're just sharing air," said Hopkinson. Design decisions influence this separation, where automated garages give people the opportunity to arrive home by car without ever having to interact with neighbors, or high-rises with insulated amenities give residents "a whole world where they don't interact with the street," said Hopkinson. 
Intentional interaction
Monty Hoffman, founder of Hoffman Associates, spoke with Nicole Flatow, editor of CityLab, about the 10-year process of developing Phase I of the Wharf, collaboration with numerous mayors and local residents and businesses. The result is 9 linear blocks of pedestrianized space—the first truly shared streets in the District—accommodating 2 million square feet of mixed retail and residential space, including many of the original fish market businesses and 30% affordable housing. Phase II, due to be completed in 2022, will add more than 1.5 million square feet of mixed-use development and public areas.
"The biggest challenge was getting people to believe," Hoffman now recalls. "The definition of Southwest (Washington, and the waterfront) was that way for many years. We needed a big bang. If we had just put one apartment building here, we could not have changed the paradigm. If we had put just one hotel, I'm certain it would have failed. We had to go big, which was about $1.7 billion right out of the gate. That was the biggest challenge, getting capital together, getting entitlements, getting land in out control, and doing all that through the recession."
Asked about his goal for the waterfront development, Hoffman responded, "I was looking for something that would make people happy." His design decisions all tend toward that goal, including a unique approach to each outdoor space. The linearity of the space also threatened monotony ("it looks like a saw, on a map," Hoffman said). Hoffman worked with urban designer Stan Eckstut to avoid being overly linear or tedious. Among their many solutions: bring in interior designers to work alongside landscape designers creating spaces that are emphatically focused on the experiences of people (one of them is a firepit where a food truck nearby sells kits for roasting marshmallows).
Declaring that he is "not a fan of object architecture," Hoffman stipulated that "The buildings are there to serve people. The public realm is there to serve people. This is not an elitist resort. This is for everybody."
Designing places for protest 
"Protest is normal, it's already happening in our cities, and we should find new and better ways to make space for it in our cities," said Austin Choi-Fitzpatrick in "How Can Cities Support Democracy?" A professor at the Kroc School of Peace Studies, University of California San Diego, Choi-Fitzpatrick emphasized that cities are dynamic places where the status quo of leadership does not always keep up with the realities residents experience. "When enough people take to the streets, after having not been listened to in the space they've been given, when they take to the streets in significant numbers, they win," said Choi-Fitzpatrick.
From a design perspective, the numbers that a space must accommodate for a successful demonstration are surprisingly small. Choi-Fitzpatrick said that findings indicate 3.5 percent of a city's population as the tipping point for an effective protest. Also needed: a place or places where people know to show up. This is true not only in major cities, but in the 600 cities where Women's Marches were organized, and the 1,000 cities where Climate Marches took place. Although Choi-Fitzpatrick did not share specific traits for gathering spaces of this kind, he cited town squares, bridges, and major highways as popular points of protest.
"How do we create new space for this sort of activity to emerge?" Choi-Fitzpatrick asked. "We've been doing a better and better job of cordoning off and permitting, but this separates the critique from its targets by containing protests." In stark contrast, a protest like Occupy Wall Street went directly into the corridors of power, as well as into public parks in business districts elsewhere in the country. Choi-Fitzpatrick concluded that "we need better loose space, unassigned space in cities, where people fill in with creativity." In this respect, he asked, "Is there something we can learn from Burning Man?
Paul Romer has put forth the theory that Burning Man, effectively an annual flash city of 70,000 people, can teach us much about urban planning. (Public Square covered Romer's idea in this September article). Choi-Fitzpatrick agrees. "The urban planner's job is to lay out the framework, and do it in a way that's intelligent, and people fill it in," he said. "The question is do our cities have free places, open space places, where people can play at the edges of what freedom looks like, what democracy looks like, what new forms of identity look like, what it means to live together across great differences on purpose and constructively? We should be making a place for this kind of thinking in our cities."
Keeping pace while keeping place
Leaving the meeting, I experienced how abruptly the Wharf's pedestrian-centered design shifts back to the amped-up environment of car culture in Southwest Washington, DC, with honking vehicles that nearly sideswiped one another at times on busy Maine Avenue. Only a ribbon of sidewalk and bright storefronts on one side, a bike lane on the other, separated me from the traffic pouring down the roadway.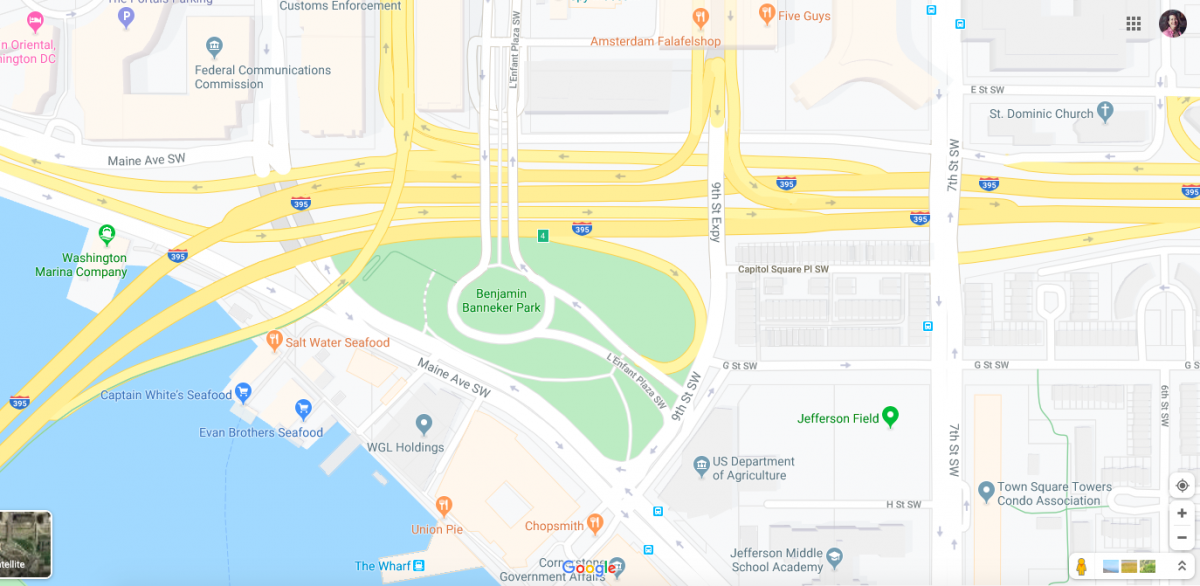 A half block on, the pedestrian plaza and promenade around Benjamin Banneker Park are the last havens before I-395's tentacles redefine the space emphatically for speeding cars. A pleasant but circuitous pedestrian promenade guided me to something like walkable safety on the other side. As elaborate as the tangle of highways it is meant to overcome, that walkway and these highways, which continue to cut the waterfront off from the rest of the city, remain a stark reminder of how much needs to be repaired, before cities are truly made —and kept—for people.