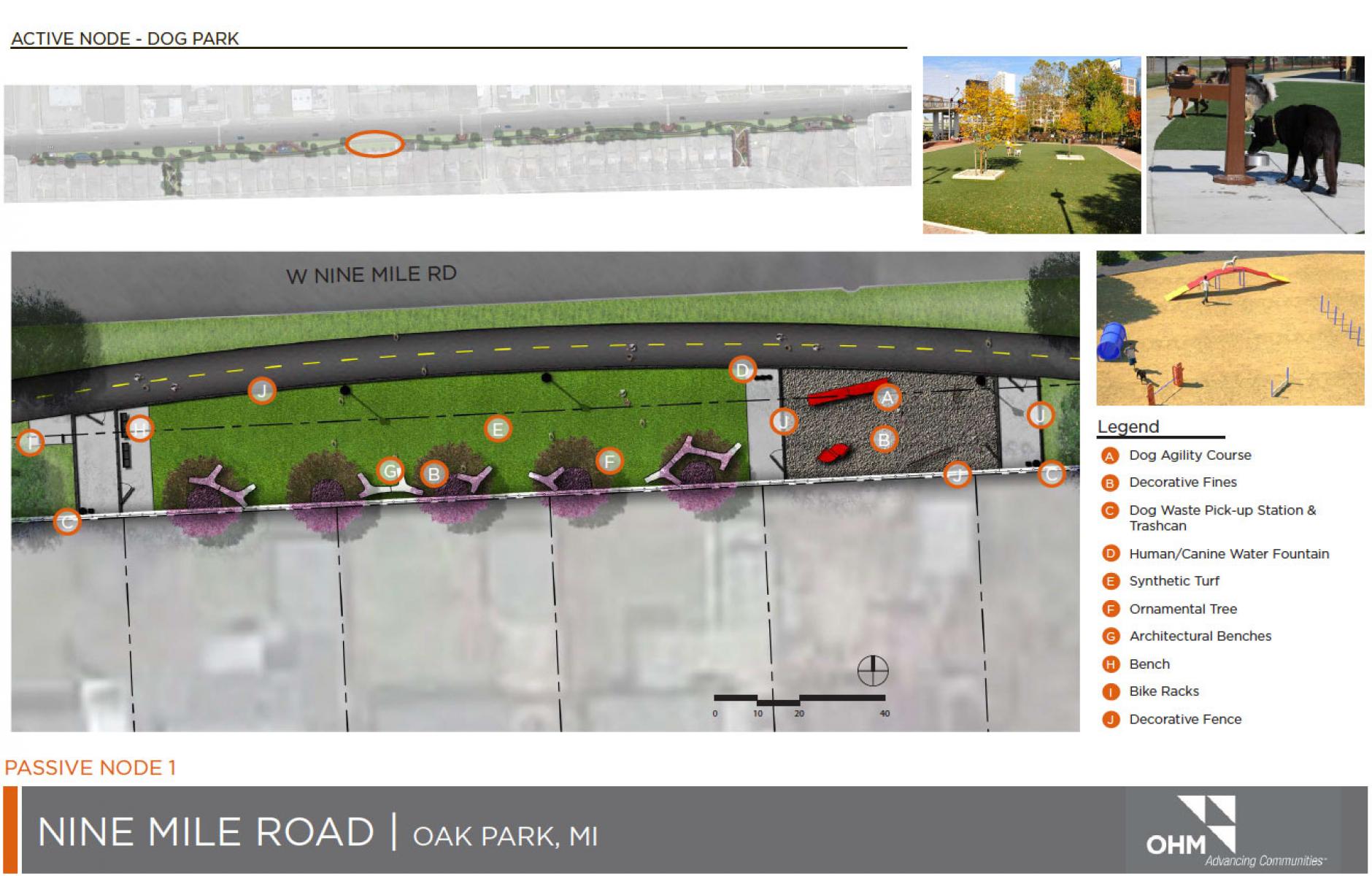 Dog park on the linear greenway. Plan by OHM.
Road diet creates people-oriented corridor for suburb
The city of Oak Park has the density—it needs placemaking, and that is why an automobile-oriented corridor is being transformed with a linear greenway and complete street.
A quintessential first-ring suburb, Oak Park, Michigan, was the nation's fastest-growing city in the 1950s. The city bordering on Detroit has nearly 30,000 residents—at 5,700 people per square mile it is substantially denser than Portland, Oregon. 
Yet Oak Park has no walkable downtown or even a typical main street. The city is implementing a vision for Nine Mile Road, which goes through Oak Park's heart from east to west, designed to create a walkable, human-scale corridor. "This project is expected to transform and revitalize the Nine Mile Road corridor, and spark a new beginning for Oak Park," reports the city.
The project had its origins five years ago, when CNU provided technical assistance, as a subcontractor for the Project for Public Spaces, through an EPA Building Blocks program grant. Oak Park conducted a traffic study and learned that the volume of traffic does not justify a five-lane road. The city implemented the concept with design by OHM, a multidisciplinary firm with expertise in transportation and landscape architecture. The original CNU team was led by Urban designers Marcy McInelly and transportation engineer Ken Voigt.
Across America, first-ring suburbs are at the forefront of a trend bringing walkable urban characteristics to the suburbs. As the downtowns of central cities become more expensive and less practical for growing families, first-ring suburbs like Oak Park may be a street transformation away from becoming more attractive to young adults who are looking for urban, walkable living.
Nine Mile Road is not a typical main street, but it has a lot of destinations strung out over two miles near the geographic center of the community. Most of the businesses, geared toward motor vehicle access, are on the north side of the thoroughfare—up until recently designed for relatively fast traffic. 
A road diet is planned for the entire thoroughfare, and the first phase covering the eastern half is scheduled for completion this month. Nine Mile Road will be narrowed to three lanes, with bicycle lanes on both sides and on-street parking on one side to support businesses. A wide right-of-way on the south side is being converted into a linear greenway with a multiuse trail, landscaping, bus stops, public art, tables with seating, bike racks, signage kiosks, architectural benches, hammocks, swinging benches, trellises, plazas, play areas, a dog park, and something called an "undulating bikeway challenge." There will be two pocket parks, one passive and one active, each measuring 50 by 100 feet. The cost for the road diet and greenway totaled $1.8 million, with an additional $400,000 for the pocket parks.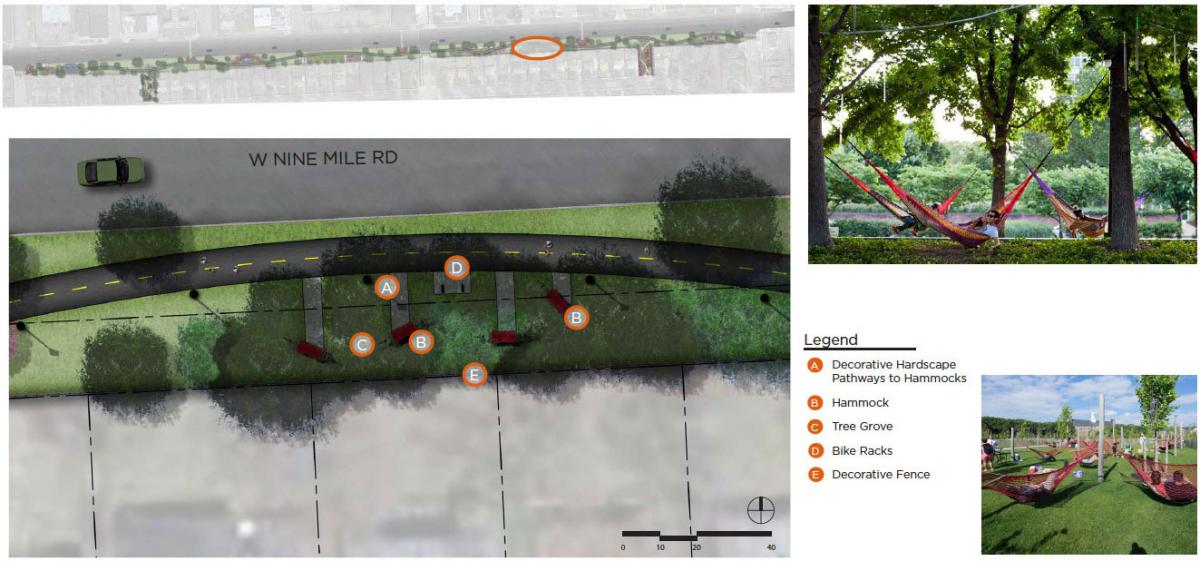 This corridor sounds like fun, offering something for nearly everyone, and located along a now-crossable street with businesses providing services and activities that people need. According to the city: "Placemaking is based on a simple principle: if you plan cities for cars and traffic, you will get cars and traffic. If you plan for people and places, you will get people and places." 
For inspiration, Oak Park didn't have to look very far. About a mile east of the city, Nine Mile Road becomes the main street of the City of Ferndale, primarily consisting of one-story buildings constructed up to the sidewalk. That part of Nine Mile Road was bustling in the middle of the 20th Century, but went into decline in the 1970s through 1990s.
In the late 1990s, Ferndale reduced the five-lane road to one lane in each direction—with intermittent turn lanes—and on-street parking was added. Trees were planted, and curb extensions, cross walks, and historic-looking light fixtures were added. Concrete was replaced with brick in some locations. Since then, Ferndale's downtown has substantially revitalized with new businesses and a few multi-story mixed-use buildings.
Even as Oak Park's project nears completion, a new restaurant is about to open on the corridor, according to Kimberly Marrone, director of economic development and communications for the city. One can imagine more businesses responding to the new context with investments that further activate the street—and that is what the city is counting on. After the transformed corridor opens up this month, the city plans to pursue subsequent phases that would extend the road diet west to the city's border with Southfield.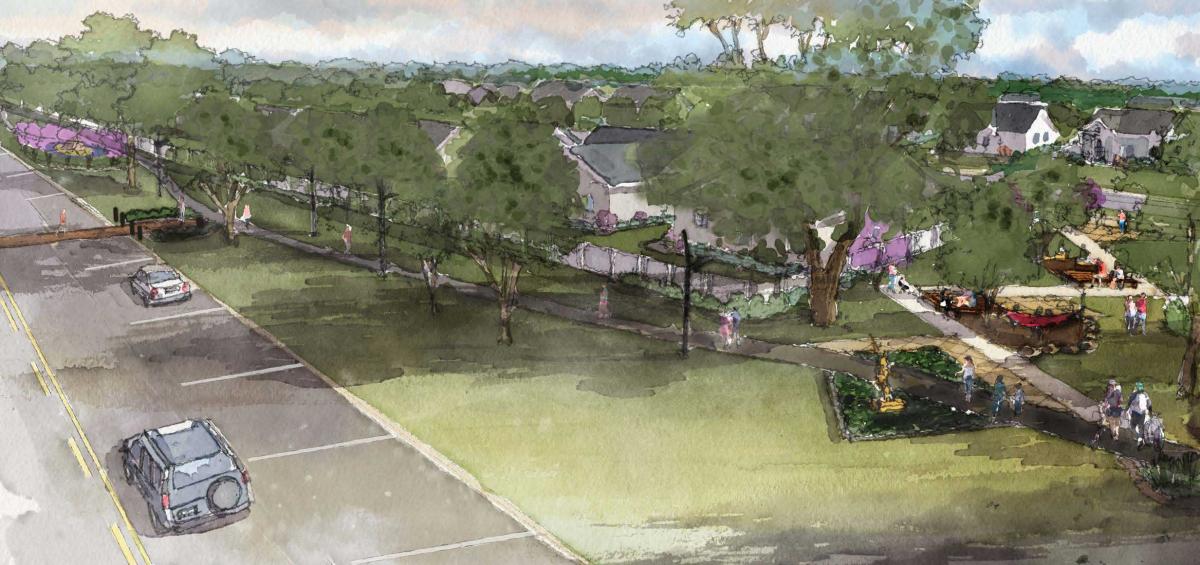 road diet
&nbsp&nbsp&nbsp
suburban retrofit