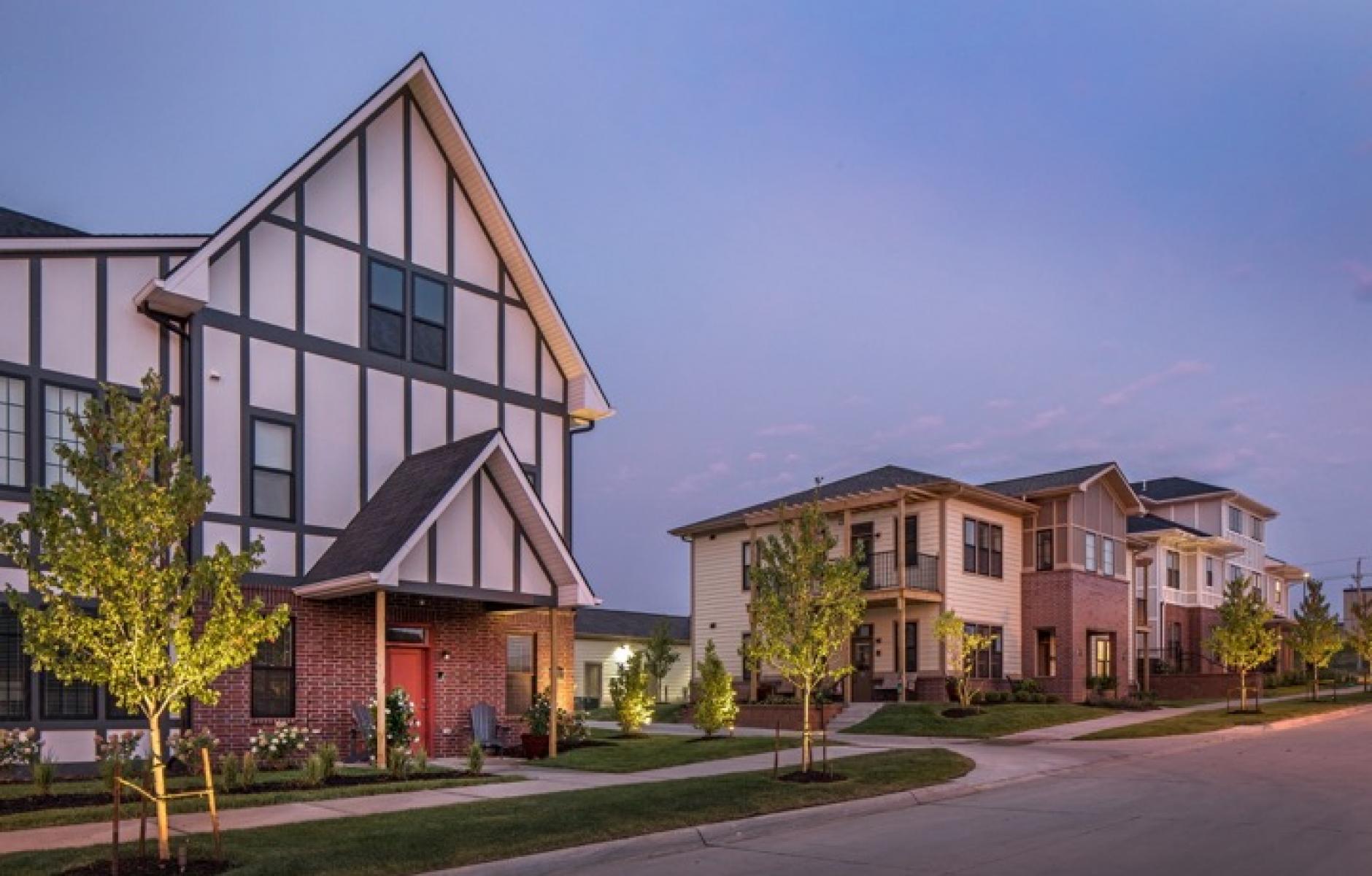 Missing middle living spaces in Prairie Queen. Source: Urban Village Development
'Missing middle' neighborhood opens
Prairie Queen is a re-imagining of a suburban apartment complex in the form of a walkable neighborhood.
Perhaps the nation's first exclusively "missing middle" housing neighborhood, the 50-acre Prairie Queen in Papillion, Nebraska—near Omaha—completed its first phase in June. Prairie Queen is a re-imagining of a suburban apartment complex in the form of a walkable neighborhood.
The concept, designed by Opticos Design of Berkeley, California, combines the efficiencies of garden apartments and the flexibility of missing middle, says Jerry Reimer, cofounder of Urban Village Development. "I'm trying to build a new apartment complex doesn't look like apartment complex," he says. "People come in and ask, 'Where's your parking lot?' The streets are our parking lots. Delivery truck drivers say, 'We can't find the apartments.' They think these are single-family houses."
The first phase of the neighborhood has 39 living spaces including townhouses, carriage houses, fourplexes, a duplex, a five-plex, a six-plex, and live-work units, ranging from 680 to 2,400 square feet. "My goal is to bring 100 units on line a year, and complete the project in six to seven years," he says. The live-work units are designed to eventually serve as a mixed-use main street. 
Reimer is trying to keep the costs comparable to a suburban apartment complex while building a neighborhood incrementally and offering the market advantages of urbanism.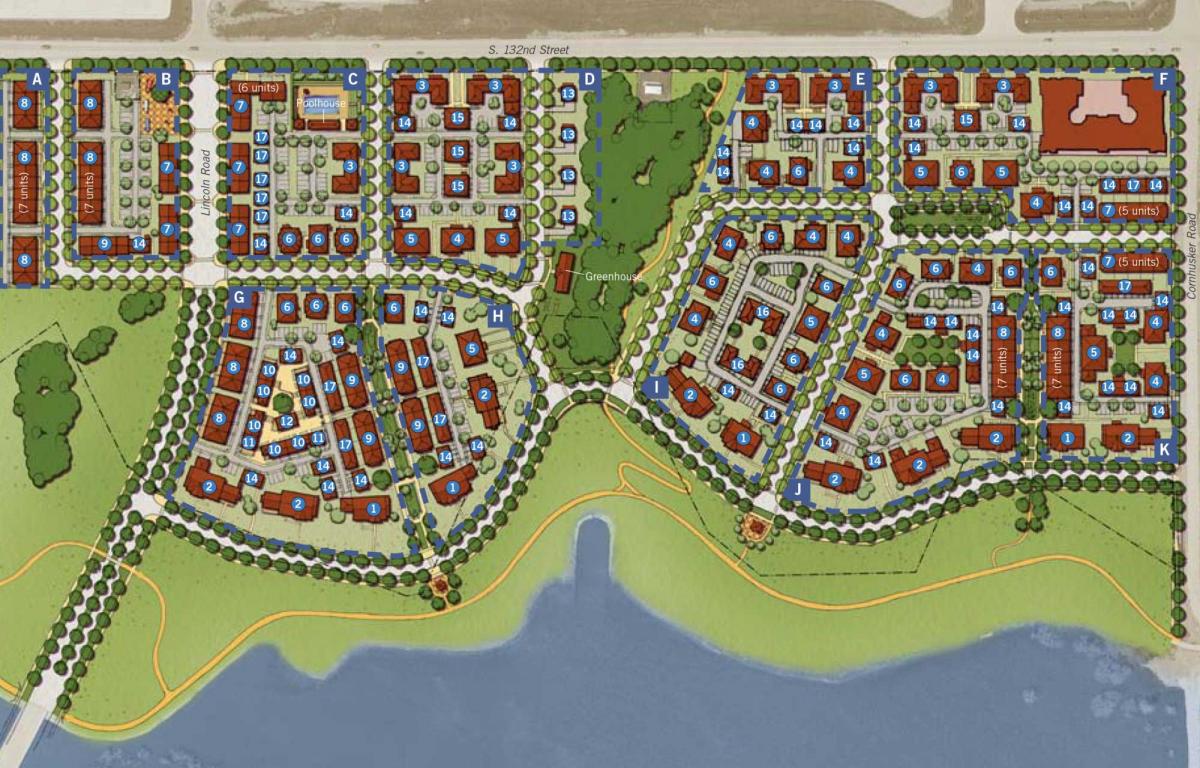 There are extra costs associated with this model—the architecture is far better and a greater variety of unit types is provided. "We have one-bedroom units in Prairie Queen with 13 windows," says Reimer, which add to the construction costs. On the plus side, garden apartments require 15 percent of the building to be non-rentable hallway. "We are 100 percent efficient, with no non-rentable square footage." Space under the rafters is being used for master bedrooms. Other savings come in parking and paving. The narrower, traffic-calmed streets cost less than a parking lot and they serve triple purpose as parking, access, and conduits for stormwater runoff. The streets will be publicly owned thoroughfares, although built by the developer.
Meanwhile, Reimer uses standard construction, HVAC, and utility materials and construction throughout, taking advantage of economies of scale in property management—similar to a suburban housing complex.
Urban Village Development story
The son of a drywaller whose parents renovated an Omaha four-plex back in the 1970s, Reimer has built and owns both urban infill and conventional suburban multifamily housing. With partner Scott Semrad, Reimer has been fixing up historic multifamily buildings in Midtown Omaha, just west of downtown, over the last decade and a half. "We rehabbed everything in neighborhood that we could. That became known as Urban Village, and it set off a big urban revitalization. It was good for Omaha, good for us. We ended up 380 units of missing middle all in six-block radius."
Both Reimer and Semrad have MBAs and have worked for Fortune 500 companies, so they sought to achieve economies of scale in the infill work. Some of the buildings were derelict and had to be completely gutted.
Meanwhile, Reimer also built a 200-unit suburban complex—so he knows the conventional mass production system and costs. That led to a desire to figure out "how to combine best aspects owning and living in missing middle, and owning managing and living in suburbs, and combine the best of both worlds."

Opticos, which developed the missing middle concept and diagram (see above), notes that "Prairie Queen is the first walkable, new urbanist neighborhood of its kind, developed only with Missing Middle Housing types." The community will serve as a model for the Omaha and Lincoln regions, and the project will also define a new type and quality of multifamily housing in any part of the US, the firm says.
Quality of life impacts
The design changes how people live in a suburban apartment development, Reimer explains. "You don't have to walk far from the car to door." Garden-style apartments share a common hallway and stack bedrooms. "We've designed the units so no master bedrooms are on top of each other. There's less awareness of the people above. The units have more windows and light at different times during the day, because many of them have three exterior walls."
Many smaller buildings translate to more variety, he says. "In a suburban complex, you can't make a building 'no pet.' There are people don't want to hear the dogs barking." In this model, some buildings can have pet restrictions, others not. "We can put super luxurious finishes in one, and not luxurious in another. You create different price points even though the outside looks the same. If 100 units all the same, I'm bidding against myself and diluting the value. In our project, the unit is unique." He calls this "mass customization."
Building in smaller increments
Buildings in a typical suburban complex have 60, 80, 100 units, he explains. It's easier to test the market with a four-plex, adjusting future units based on demand. "I don't know what market wants, so we are building one of everything. The master planning footprint for buildings are the same. A lot of the units are large, so we can interchange with two smaller units if large units don't work."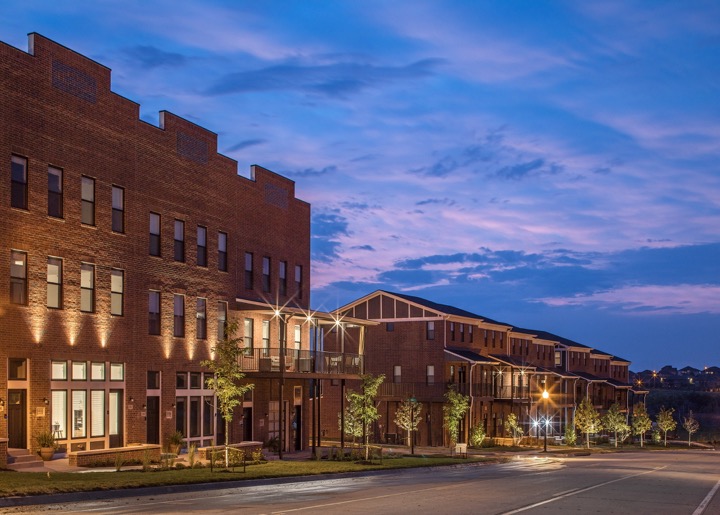 Building a few of small buildings at a time means reduced interest carrying costs and flexibility in a downturn. "If the economy slows down, I can slow down to bringing 50 units a year on line. Big buildings are not as easy to throttle. From a property management point of view, one bad tenant doesn't spoil the experience for all 100 occupants of a larger building."
The project includes a mixed-use agreement that serves as a form-based code. "It was not at all difficult to get approved by city. The design is so rich compared to what they are used to seeing." The traffic-calmed streets and engineering went against the conventional public works practices—yet the project has the support of the mayor, David Black, who backed up the design innovations, says Reimer. 
He hopes that conventional developers will take note. "We've been copying and pasting blueprints for suburban multifamily for 50 years. The question we asked is: 'Could somebody come up the next design that is copied for a half century?' "

missing middle housing