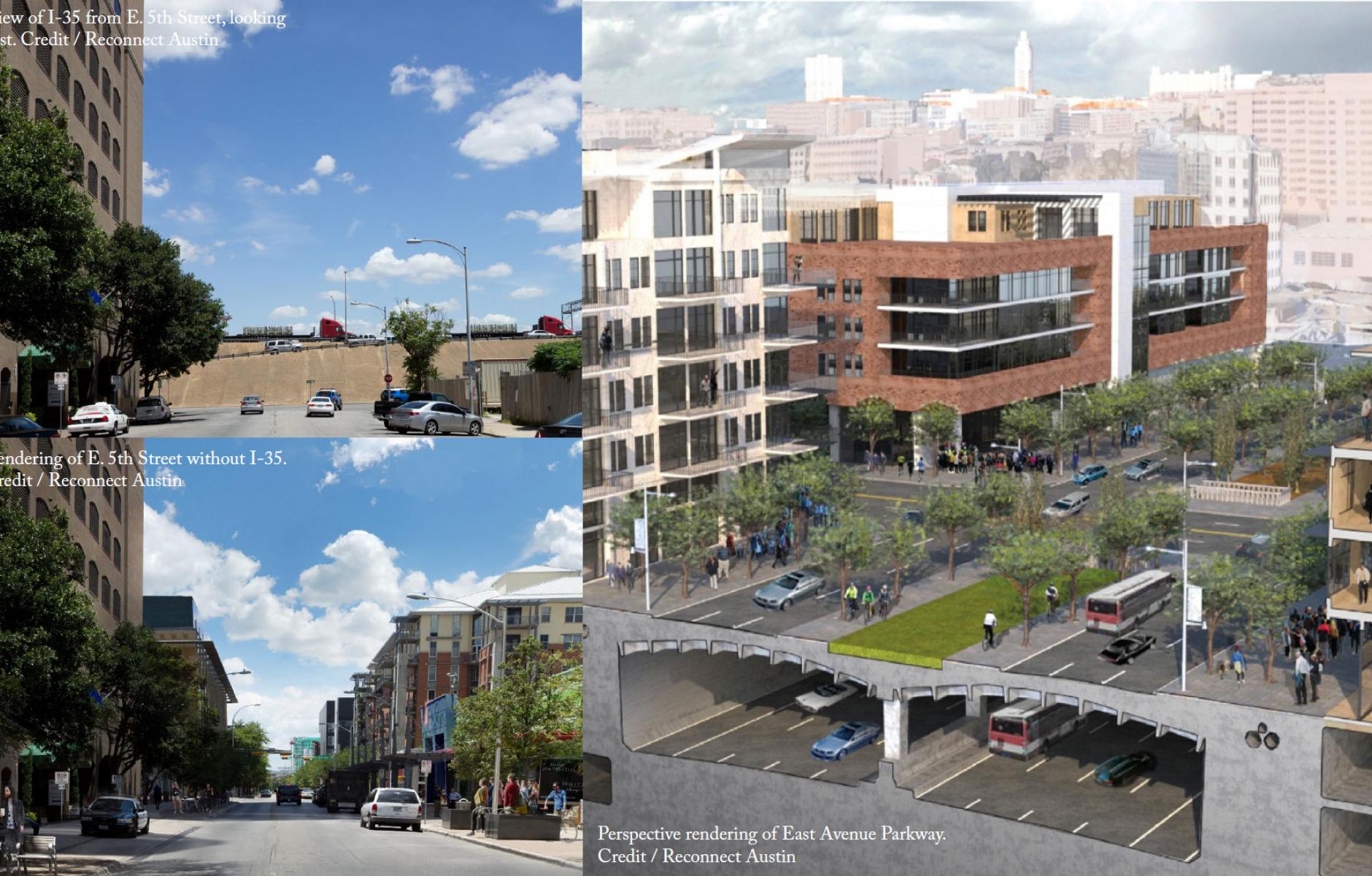 At left, view of I-35 from E. 5th Street, looking east, and rendering of E. 5th Street without I-35. At right, Perspective rendering of East Avenue Parkway. All images credit / Reconnect Austin
Freeway cap would restore grid
Since 2012, grassroots coalition Reconnect Austin has advanced an alternative, human-scaled vision for the I-35 corridor for the Texas capital city. The north-south section of I-35 that cuts through downtown Austin carries a high amount of traffic—more than 200,000 vehicles a day—but inhibits travel between East and West Austin. Given the level of inter-regional traffic, the complete removal of the highway is infeasible, but Reconnect Austin has proposed a solution that can repair Austin's urban fabric while maintaining a similar level of service for automobiles.
The I-35 corridor redesign proposed by Reconnect Austin seeks to take TxDOT's implementation of depressed freeway lanes in Austin one step further. Reconnect Austin endorses a four-step plan to restore the city's urban grid and reunify East and West Austin: (1) Remove the elevated highway between Cesar Chavez Street and Martin Luther King Jr. Boulevard; (2) Remove existing highway frontage roads to reclaim 30 acres of downtown land; (3) Bury this section of I-35 below ground; and (4) Cover these depressed lanes with a new, narrower, pedestrian- and bicycle-friendly boulevard.

Reconnect Austin envisions a new boulevard that recaptures the dynamic urban space of the former East Avenue the highway replaced. Its design for a new East Avenue Parkway would be consistent with Austin's Great Streets Master Plan and include more-than-adequate space for pedestrians, cyclists, and dedicated transit lanes. The reconnected grid would create as many as 11 cross streets, "providing better traffic dispersion and more connections for cycling and walking." The narrower right-of-way with new buildings to define it and the large median in the middle of the street would make pedestrian travel between East and West Austin far easier and more pleasant.
By capping I-35, the 30 acres of land currently under its frontage roads could be opened up for mixed-use development as part of a tax increment financing (TIF) district. The potential valuation from this land is an estimated $10 billion, which would increase the tax base for local jurisdictions by millions of dollars. If handled with care, this could lead to the creation of up to 4,500 market-rate and affordable housing units in a walkable location, ideal for people seeking or currently holding low- and moderate-income jobs downtown.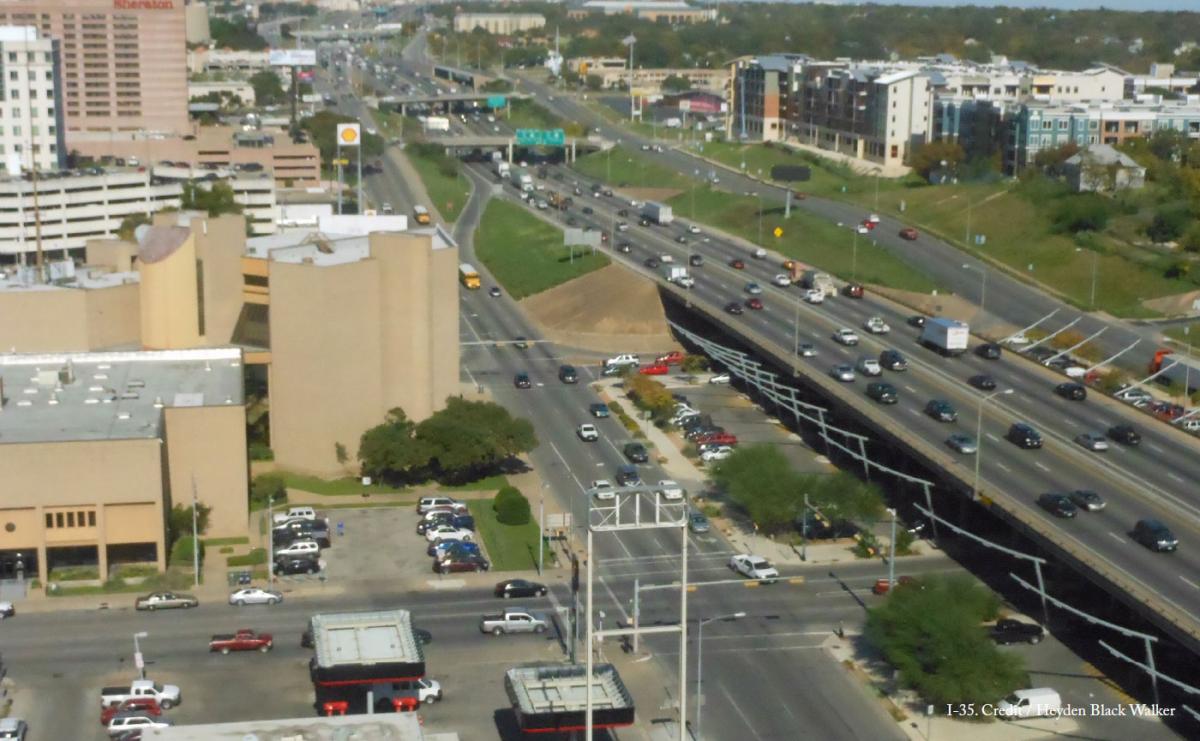 Reconnect Austin acknowledges that the removal of I-35 also has the potential to accelerate gentrification and displacement, as the area becomes more economically robust and aesthetically attractive, potentially leading to soaring land values. Having a plan in place to protect against displacement is a high priority. New public spaces along the boulevard, designed with sensitivity to the dynamic cultures of East Austin, past and present, could become monuments to—and gathering places for—minority communities that are in some ways being negatively affected by the economic realities of a booming city with an increasingly popular core. At the same time, the reclaiming of access roads as developable land — which would increase residential supply closer to downtown — could, in the long run, help to meet the demand for affordable housing.
TxDOT is about to undertake an $8.1-billion renovation of a 66-mile stretch of I-35 in and around Austin, the cost of which would likely not vary significantly if the downtown portion were depressed instead of simply rebuilt. TxDOT's estimates for the cost of capping these depressed lanes comes to $300 million. Local support—from neighborhood groups, civic organizations, boards and commissions, city council, the Chamber of Commerce, and the Downtown Austin Alliance—in conjunction with TxDOT's planned renovation, makes for an ideal, once-in-a-generation opportunity to reshape downtown Austin by capping I-35.
Note: CNU's sixth biennial Freeways Without Futures report was released April 3, and I-35 in Austin was one of ten projects on the list. Freeways will be a topic at CNU 27 in Louisville June 12 through 15. Discounted registration is available until May 10th.

Freeways Without Futures