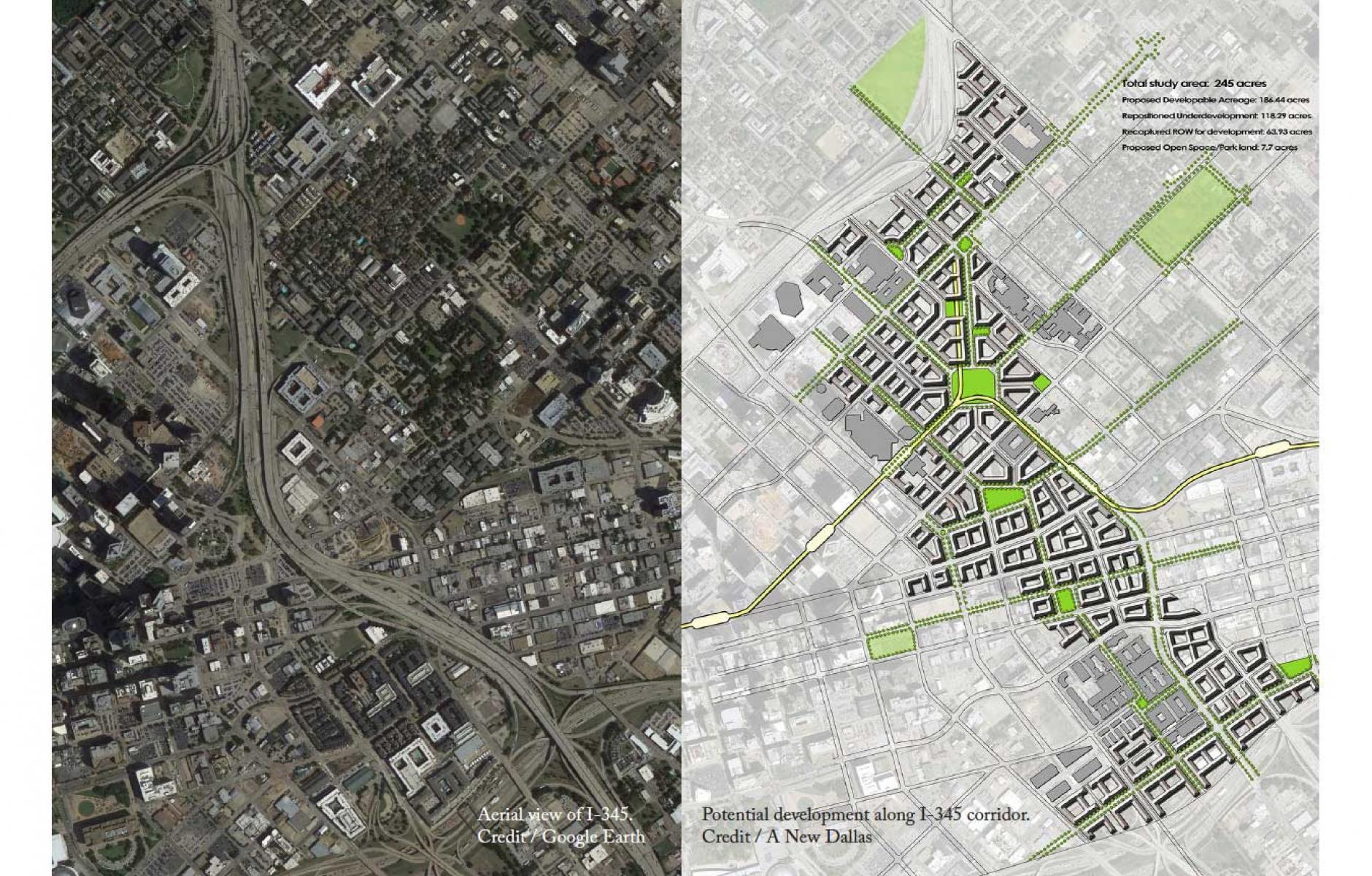 Aerial view of I-345. Credit / Google Earth. At right, potential development along I-345 corridor. Credit / A New Dallas
A corridor of opportunities
Out of all of the CNU Freeways Without Futures picks, I-345 in Dallas probably has the most potential to create new mixed-use development as it reconnects downtown to a historic neighborhood.
Since 2013, local advocacy group A New Dallas has captured public attention and made a strong case to remove I-345, an imposing concrete barrier that divides the city's historic Deep Ellum neighborhood from downtown and has spawned vacant lots and disinvestment along its 1.4-mile path. As a result of A New Dallas's research showing that uniting Deep Ellum and downtown would generate significant economic development, TxDOT is considering removing the elevated interstate.
I-345 in Dallas is nearing the end of its lifespan. When it was built more than 40 years ago, I-345 separated the predominantly African-American Deep Ellum neighborhood from downtown. In its mid-20th Century heyday, Deep Ellum was a mecca of jazz and blues in the Southwest, and was one of first commercial districts in the city for African-Americans and European immigrants. The construction of I-345 obliterated the 2400 block of Elm Street, which had been the heart of the neighborhood. By the end of the 1970s, few of the community's original businesses survived. While Deep Ellum now enjoys new life as a music and arts district, the presence of I-345 still inhibits its full integration into the city.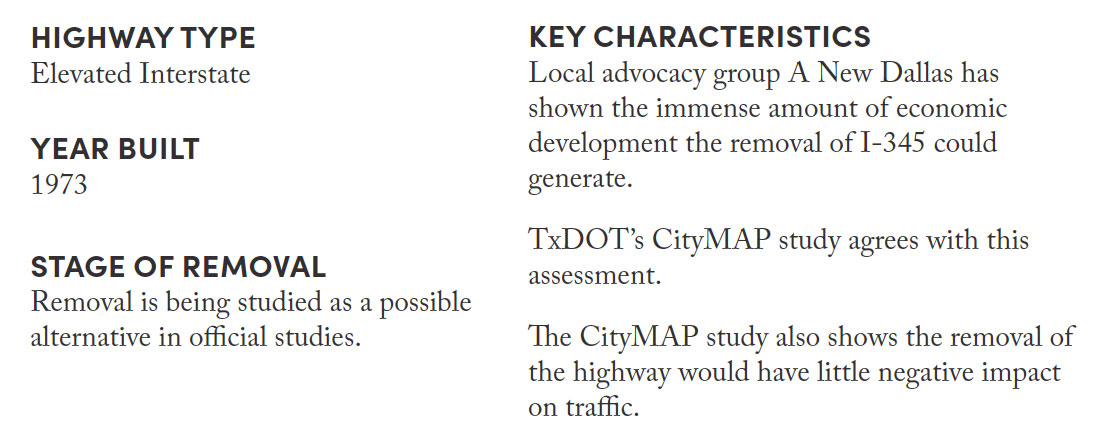 Residents Patrick Kennedy and Brandon Hancock view the deteriorated state of I-345 as an opportunity to consider alternatives to the highway. Together, they founded A New Dallas to advocate for creating a better city through the removal of I-345. The organization has commissioned studies that demonstrate the social, economic, and environmental benefits for a Dallas without the highway. When TxDOT released its CityMAP assessment of Dallas' urban highways, it included two options for I-345's transformation: One replaces the elevated highway with a tunnel and surface boulevard, the other with only a surface boulevard.
A New Dallas deems the tunnel an unnecessary expense, as the existing street network adjacent to the highway has a capacity of 178,000 cars a day, far exceeding the current traffic of 105,000 cars a day. The group estimates that burying the highway would cost between $900 million and $1.2 billion, while replacing it with a boulevard will cost only approximately $65 million.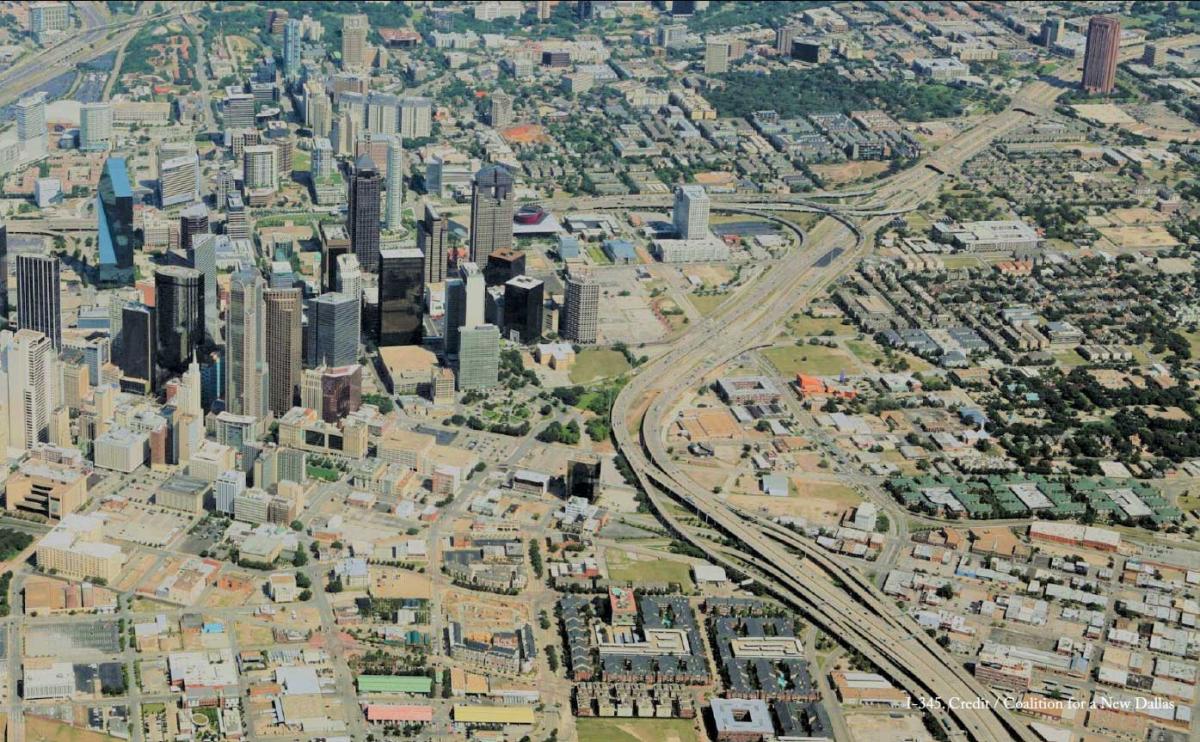 The economic benefits of removal also surpass those of burial. The removal of the elevated highway will open up 245 acres of urban land for potential development—envisioned as walkable urban blocks, with squares and neighborhood public spaces within a short distance of each building. According to TxDOT's CityMAP study, the complete removal would generate $2.5 billion in new property value, while the burial would generate $1 billion less, as it still requires more than 30 acres of the public right-of-way. Similarly, the city would receive $80 million each year in tax revenue with complete removal, but only $50 million with the below-grade modification. This extra revenue could be leveraged to boost housing affordability and quality of life along the I-345 corridor. Moreover, the land reclaimed from the highway's right-of-way will return to the city, putting the public in the driver's seat of planning and implementation for redevelopment.
These powerful economic arguments have made it possible for A New Dallas to build a coalition of community members, urban planners, developers, and civic leaders from across the political spectrum in support of full removal of I-345. The common threads among all these supporters are that they value metrics and consider a broad range of criteria in determining the success of public infrastructure. As Dallas continues to experience rapid urban growth and increased demand for housing, the removal of I-345 offers one way forward to keep the city livable.
Note: CNU's sixth biennial Freeways Without Futures report was released April 3, and I-345 was one of ten projects on the list. Freeways will be a topic at CNU 27 in Louisville June 12 through 15. Discounted registration is available until May 10th.

Freeways Without Futures
&nbsp&nbsp&nbsp
Dallas