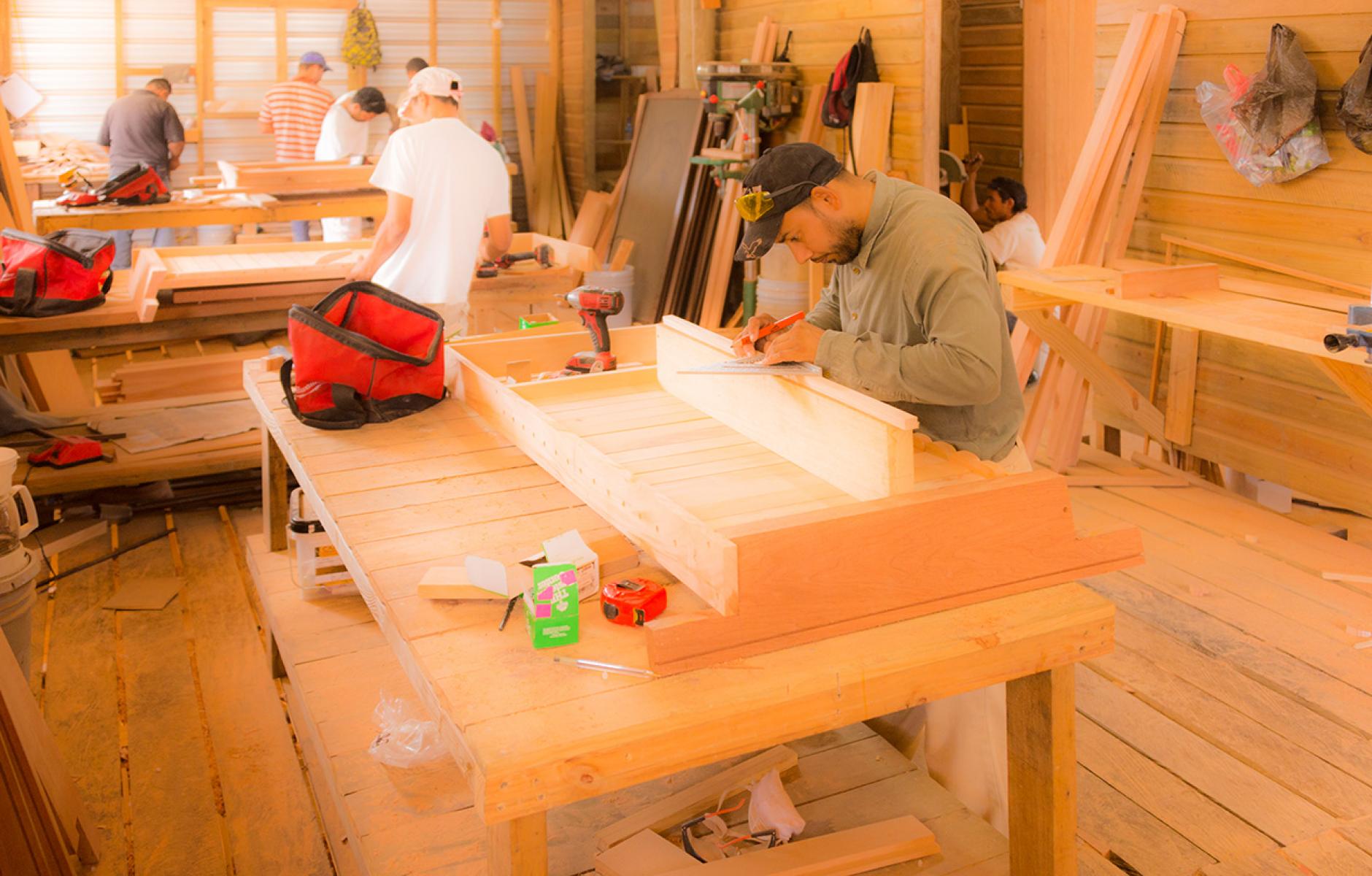 Mahogany Bay fabrication plan. Photo by Steve Mouzon.
Creating local craft
The workers at Caribbean Homes and Exports are not only doing meaningful work, but they also command far more value than if they were at the bottom links of the industrial product chain.
We have become so accustomed to buying things manufactured halfway around the world at everyday low prices that most of us have forgotten the delight of things created by local craftsmen steeped in traditions they have developed over time. These are things you can't find just anywhere, and the search for them is part of the delight of enjoying them.
Eric, Julia, and I began work on Mahogany Bay Village in Belize about five years ago, and while the local craftsmen were still really skilled working with the local Belizean mahogany, they had no market for fine handcrafted items in recent decades. This story has sadly taken place over the last century in countless places around the world as the global industrial supply chain became the norm and mind-numbingly commoditized everything it touched into bland products for suburban subdivisions. But to us, there was hope in Belize because at least the local people were still working the local wood; we could create a market for handcraft, or so we hoped.
It was a fascinating collaboration from the beginning, orchestrated by Ken Grissom. Ken heads up Caribbean Homes and Exports International LTD, the manufacturing and construction arm of Mahogany Bay. We wanted windows that breathed, for example, but didn't have the design details worked out in part because we didn't know what Ken's guys could do. He said "tell us what you want, and let us figure that out." And so they did.
There are louvered windows throughout the Caribbean Rim, but almost all of them are the nasty aluminum models manufactured in recent decades, so there weren't good wood prototypes to look at that we were aware of in Belize. Ken's crew, however, went to work and figured it out… and they did so beautifully, as you can see.
They also began building furniture for the cottages, beginning with a bed I designed. Shortly thereafter, Julia began designing an entire line of furniture both for Mahogany Bay and for her Sublime Original gallery. People loved her work so much that Ken opened Road to Cayo at Mahogany Bay. It is one of over a dozen (and growing) businesses now open at Mahogany Bay, highlighting another reason to create local craft: doing so also creates local businesses to sell the crafted items.
There are other benefits as well. The workers at Caribbean Homes and Exports (who now number over 160) are not only doing meaningful work as they have become excellent craftsmen of Belizean products, but they also command far more value than if they were at the bottom links of the industrial product chain. Walmart is able to sell at "everyday low prices" precisely because the humans at the other end of the chain get paid almost nothing by US standards, and often endure working conditions that would be illegal here. And it's not just Walmart, of course, but every corporation which participates in the global industrial economy. The creation of local craft (and places to sell it) can be the first step to bringing dignity and higher-value work to places where these conditions are in short supply.
The article was published on Steve's Studio Sky blog.