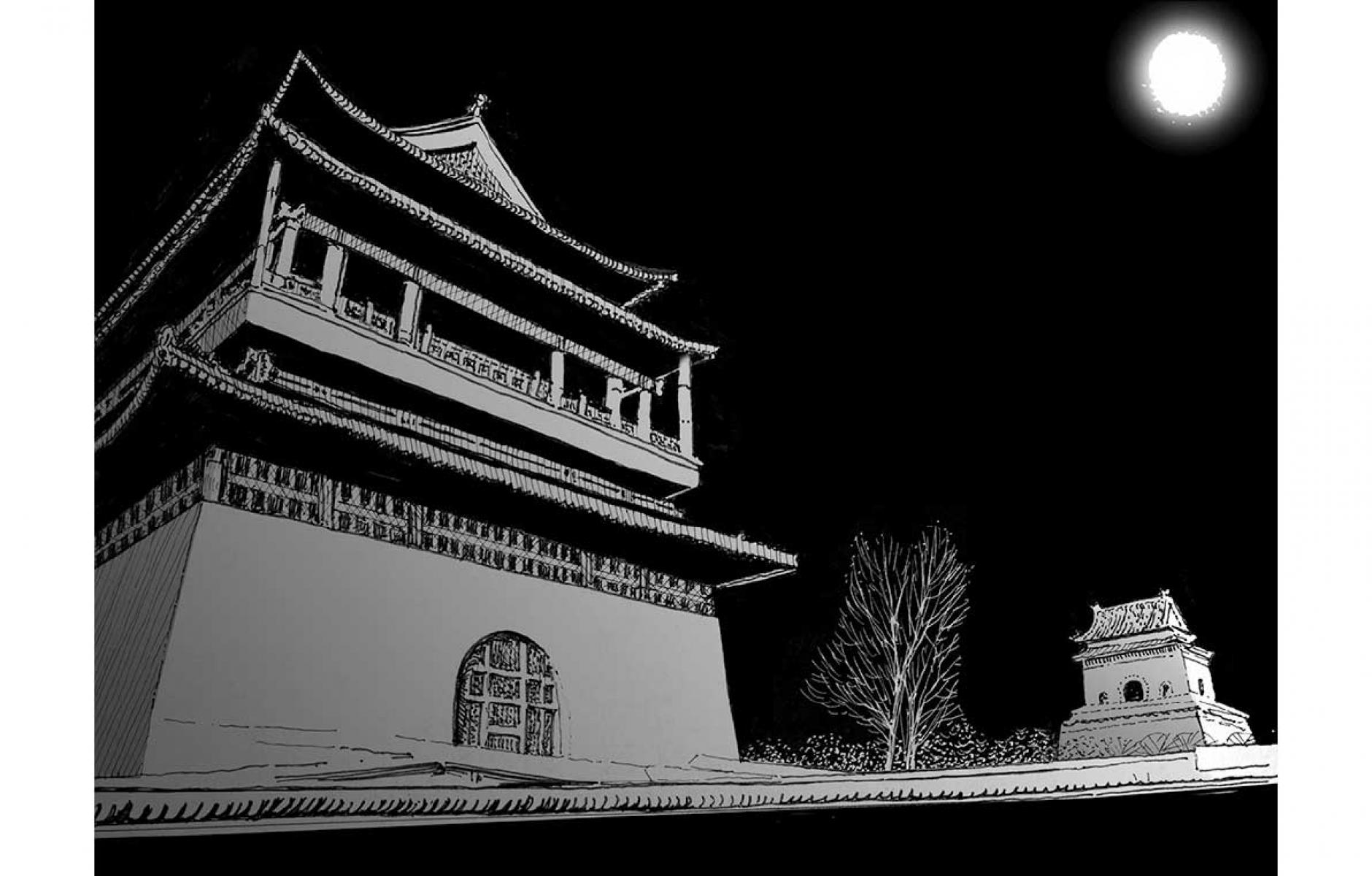 Beijing Drum and Bell towers in the moonlight. Drawing by Dhiru Thadani
Urban adventure in China
Chance encounters with strangers, random humane acts of kindness, and the experience of discovering new places make travel and urban life memorable. And they may possibly influence future behavior.
On my first trip to China in 2013, I arrived in Beijing and settled in at the Red Wall Jingshan Garden Hotel.  Located conveniently in the Sanyanjing Hutong, northwest of the Forbidden City and due west of Jingshan Park.  The hotel exuded an authentic timeless ambiance with its orthogonal arrangement of one- and two-story buildings around a central courtyard, a coy pond, and the soothing sound of moving water. The buildings had glazed tile roofs, painted wood trim in glossy Chinese red, and beautifully crafted wood timber framing. All rooms were entered from the courtyard, into which each room's windows faced. High window sills and ornately embroidered curtains achieved some privacy.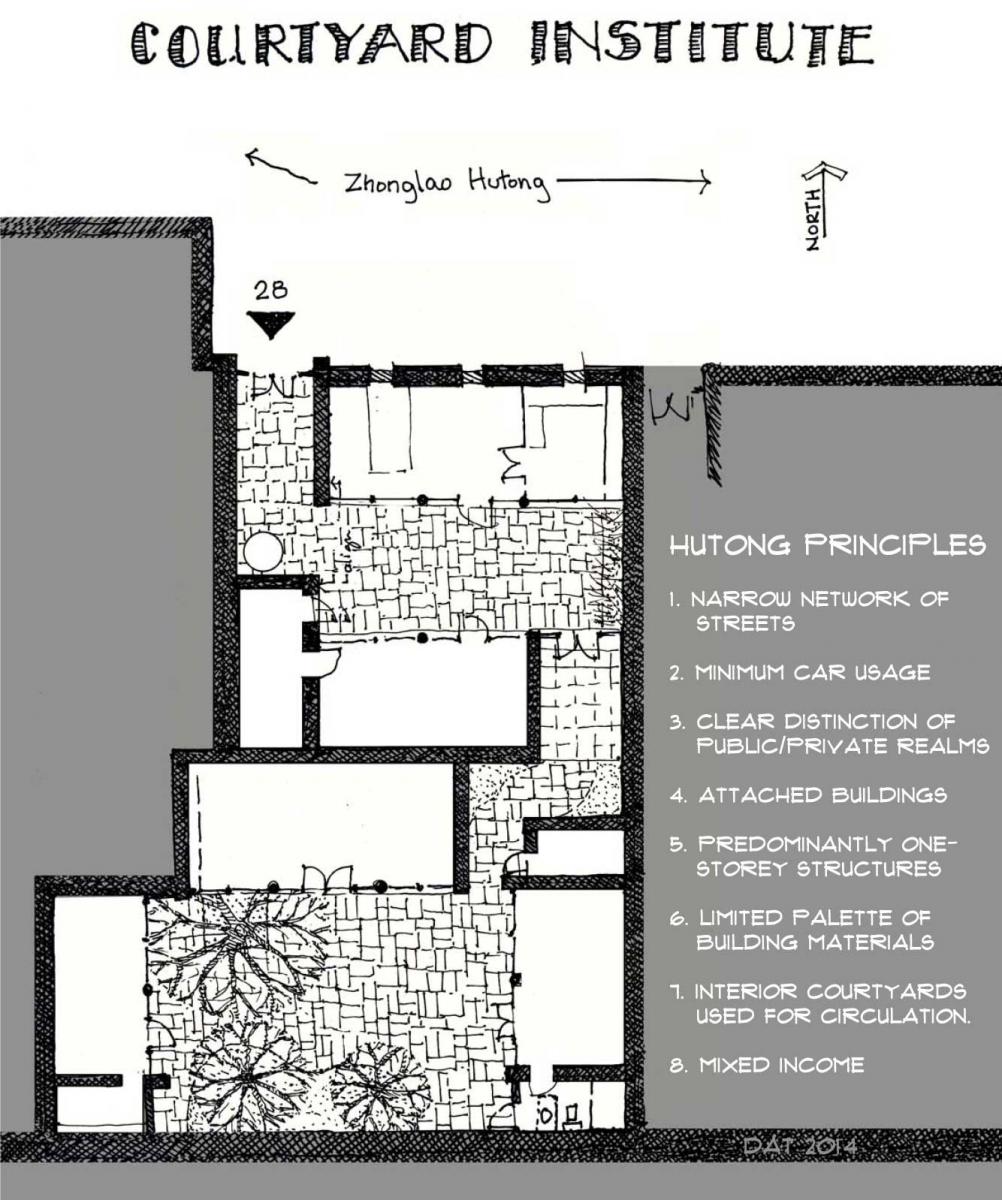 The hotel entrance terminated a narrow north-south pedestrian street, not more than 200 feet in length. To access the hotel one had to walk down this pathway, passing modest one-story residences whose front doors and windows were often open. The predominantly elderly residents used the nine foot wide pathway as an extension of their modest living space. The men hung out in vest and boxer shorts and the women in two-piece pajamas. They sat on wooden crates or large tree logs, while they cut and cleaned vegetables, combed their grandchildren's hair, read the newspaper, fixed appliances, repaired their bicycles.
On my arrival, walking down the path, proximity forced eye contact and exchanging nods as a gesture of greeting. They inspected me with curiosity, as I maneuvered my large roller bag past them, trying not to disrupt their activities. These residents monitored who was checking in, who was leaving, who may be returning late, who was checking out.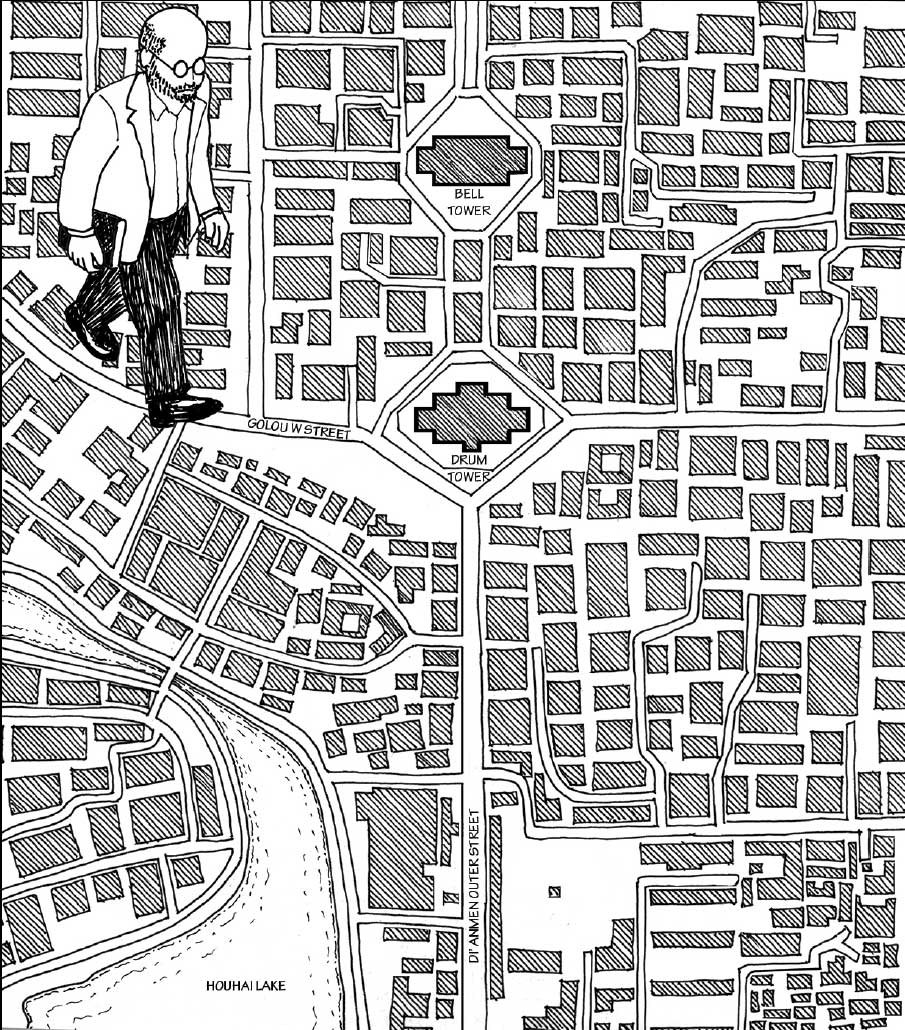 On my first morning I asked the Tiger, the affable hotel owner, where there was an ATM machine. Tiger and the receptionist took me to the hotel entrance, pointed down the path, and proceeded to give me directions in a form of sign language as neither spoke English. They seemed to be arguing about which way was shorter, leaving me thoroughly confused. 
Picking up on my puzzled facial expression a frail elderly gentleman named Ding, who was sitting on a log eating his breakfast, got up and volunteered to take me to the ATM. He put down his unfinished breakfast bowl, put on a short-sleeved shirt, and walked up to a once-clear plastic tarp, and unveiled a bicycle rickshaw. He folded the tattered tarp, neatly tucking it under the seat cushion, turned the bicycle around in the tight pathway, and gestured at me to sit in the passenger seat. 
Ding stood on the pedal so that all his weight would get us moving. Off we went. He occasionally turned back to look at me with a big smile. After what seemed like an endless number of right and left turns through a maze of narrow streets and open front doors, he stopped and pointed at an ATM machine. I was moved by this act of kindness, and thanked him. He nodded modestly, turned the rickshaw around, and headed in the direction of his home, presumably to finish breakfast. I got some cash and turned to visit the Forbidden City.
A few days later I was returning from visiting Huahai Lake on a full moon night. On my way to the hotel I stopped to study Zhonglou, the 108 foot high Bell Tower. Two blocks south stood Gulou, the Drum Tower, a two-story structure 154 feet high, which was built in the 13th century during the reign of Kublai Khan. Together the two structures announced the official time as they once dominated Beijing's skyline. The distance the sound of the drum could be heard determined the city limits.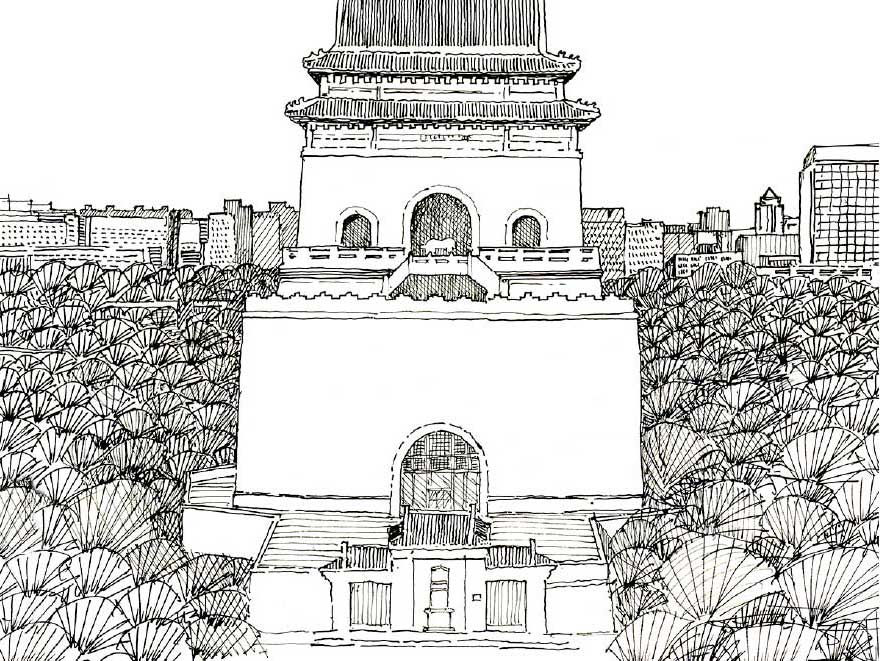 Given the brightness of the moonlight, I stopped to admire the towers and make a drawing. I was unaware of the bicycle rickshaw that had parked behind me. Sensing the stare of eyes, I turned and recognized it was Ding. I finished my drawing and received an approving thumbs up—before he gestured me to take a seat in his rickshaw.
Without asking he took me back to the hotel. On arrival, I offered Ding some money, which he refused and just gave me a big smile while pointing to my sketchbook. He parked his worldly possession tight against the wall of the pathway, pulled the tattered tarp from under the seat cushion, and carefully covered his rickshaw before turning in for the night.