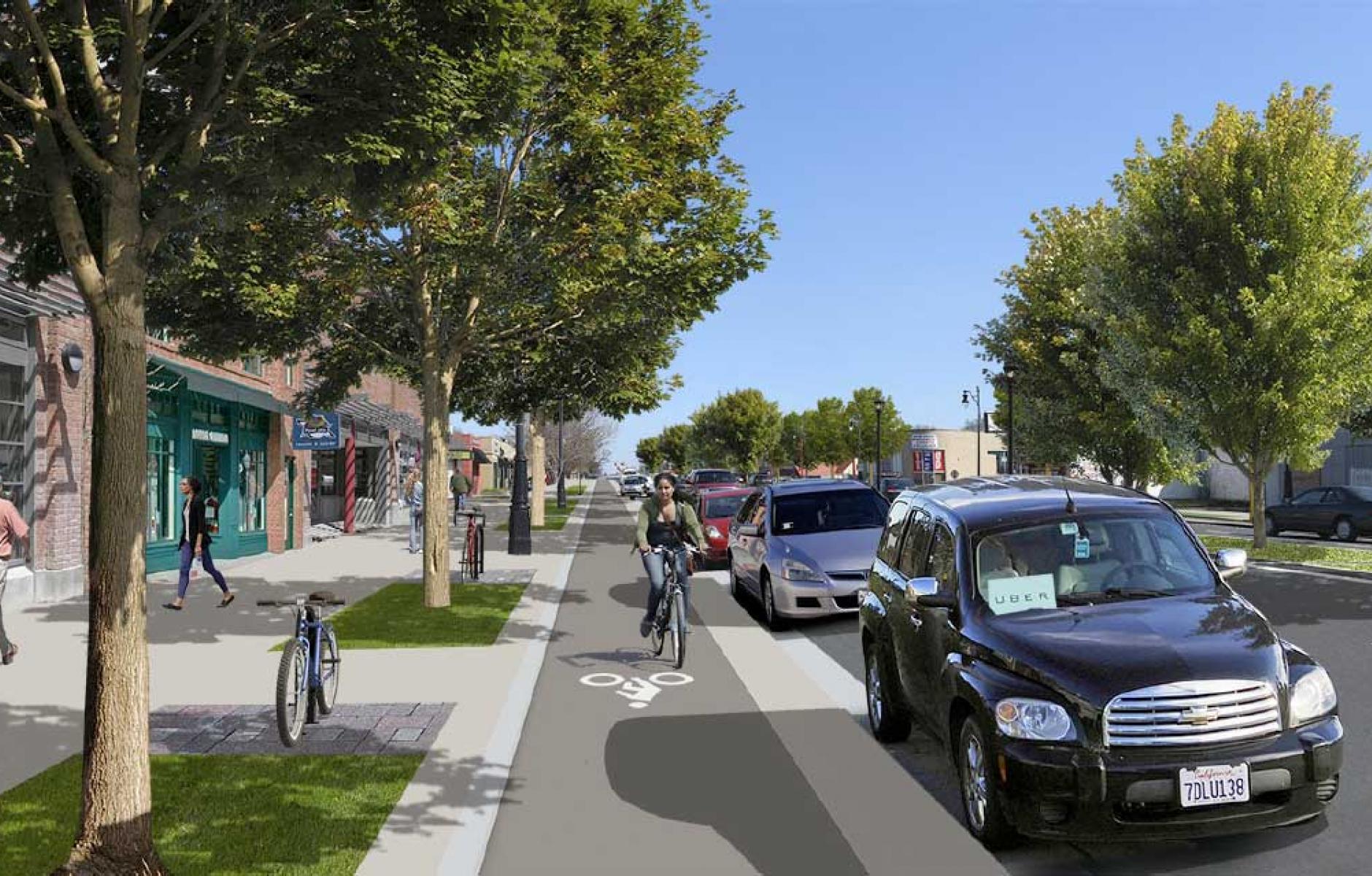 A vision for Grand River Avenue. Steve Price, Urban Advantage
For Detroit artery, the future is urban
CNU Legacy Charrette team boosts confidence in a neighborhood with a languishing commercial corridor.
The difference between Detroit's Grand River Avenue and the surrounding pleasant, attractive residential neighborhoods is like night and day. The high-vacancy thoroughfare is a highway for cars and trucks, while the low-vacancy neighborhoods are designed as civic art for people.
"The overwhelming desire on part of people in town is to make Grand River Avenue as nice as the neighborhoods behind it," says Victor Dover of Dover, Kohl & Partners, the firm that led a CNU Legacy Charrette. "Part of that is planting real street trees rather than little 'petting trees.' The travel lanes need to be right-sized to correct the excessive vehicle speeds, and that makes room for protected bike lanes and on-street parking."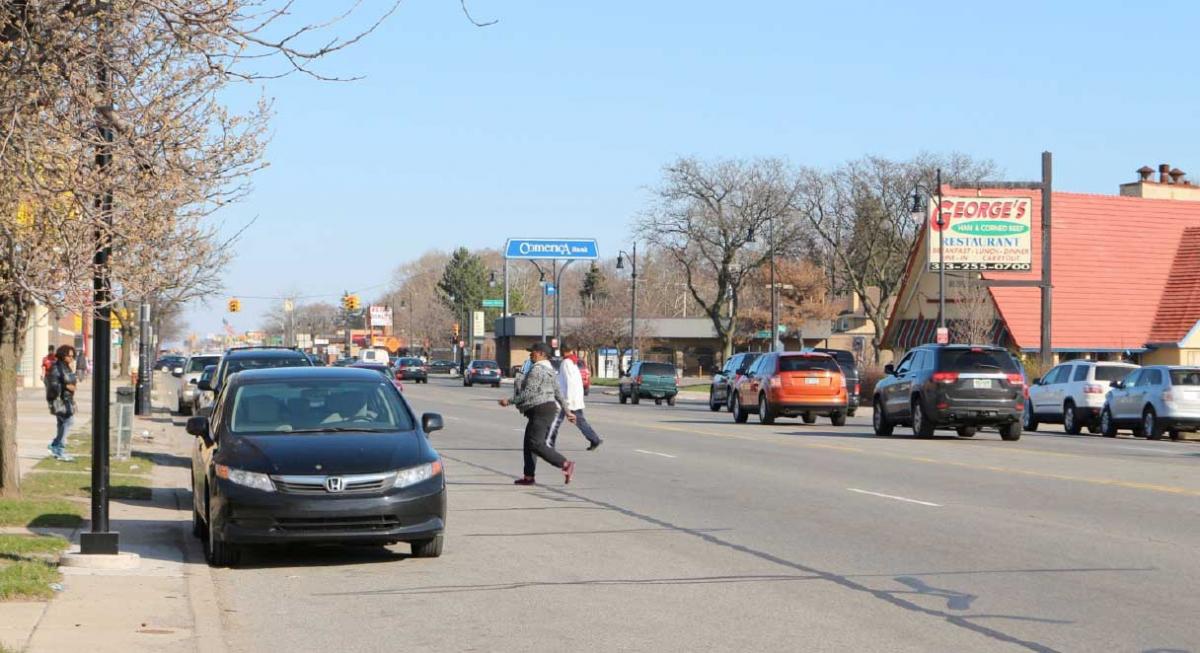 The three-day event, sponsored by the Grandmont Rosedale Development Corporation, CNU, and the Michigan State Housing Development Authority, highlighted opportunities to transform a half-mile segment of the thoroughfare between Evergreen and Warwick avenues in the Grandmont-Rosedale area. "We managed to boost their confidence, and our confidence, over the prospects for the immediate and distant future along Grand River Avenue," says Dover.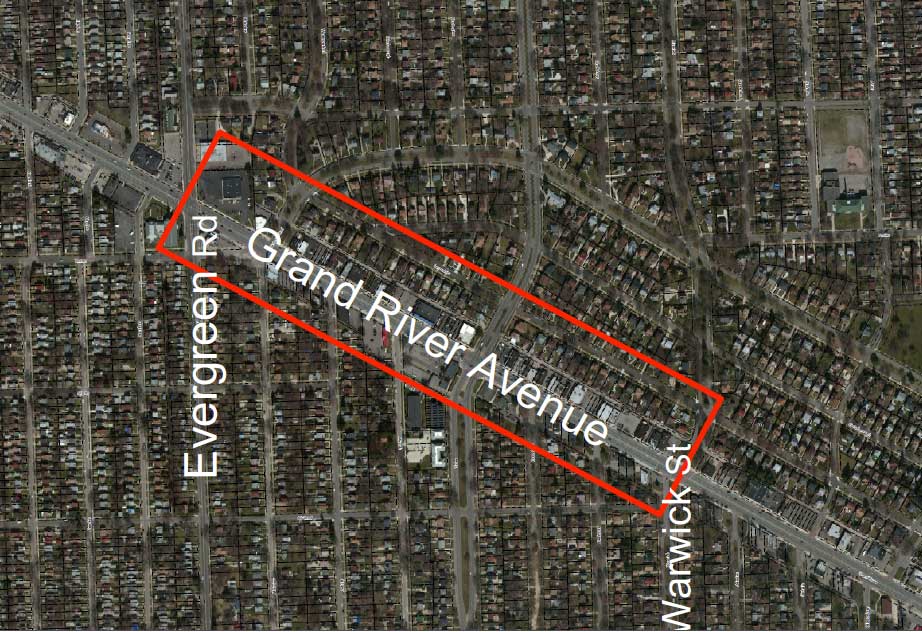 More than 60 residents and business owners attended the event called "Making Grand River Avenue more walkable, bikeable and accessible," which also involved planning and design firms Design Team+, Hall Planning & Engineering, and Urban Advantage.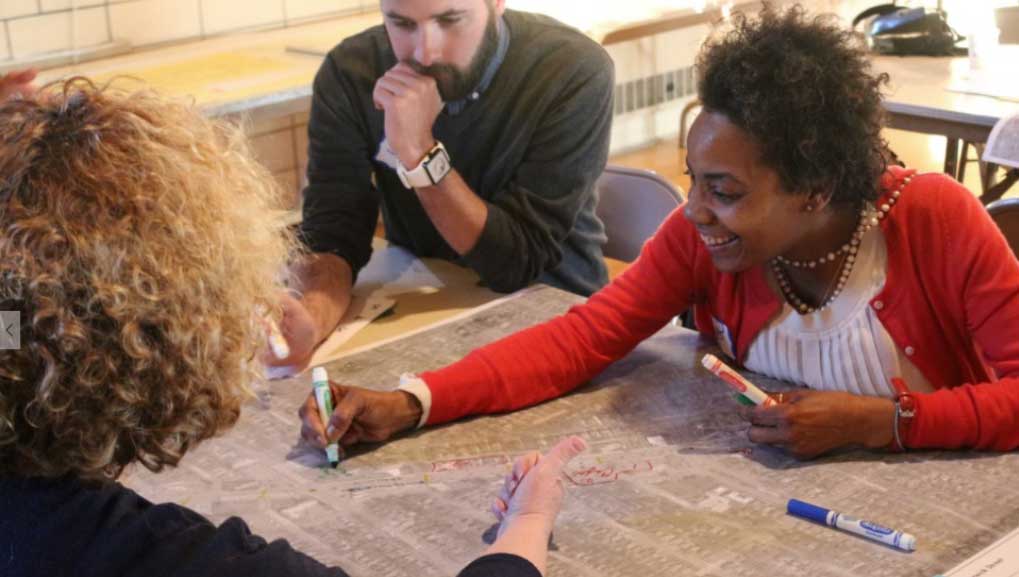 Grand River Avenue is important to the entire region—It's one of a half dozen diagonal thoroughfares that radiate from downtown Detroit far into the suburbs.
Grandmont-Rosedale was built as a streetcar suburb within the City of Detroit. The area's leafy, suburban residential streets—with enough density to be walkable—defy the stereotype of vacant Detroit neighborhoods with boarded up houses.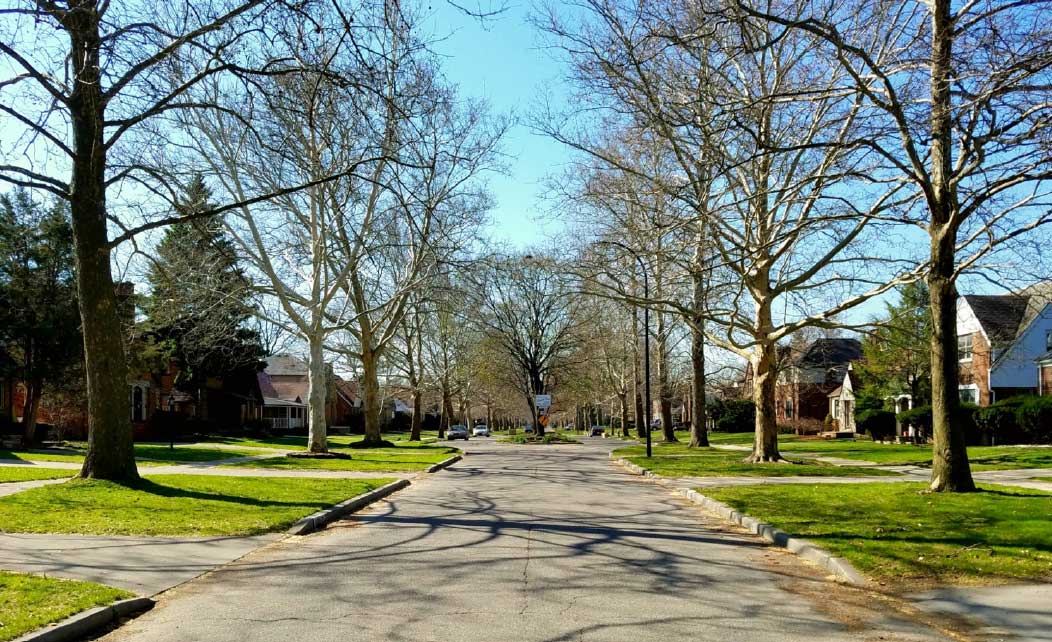 Grand River Avenue has already shown potential to revive: A recently opened independent bookstore called Pages and a coffee shop called Always Brewing are bright spots.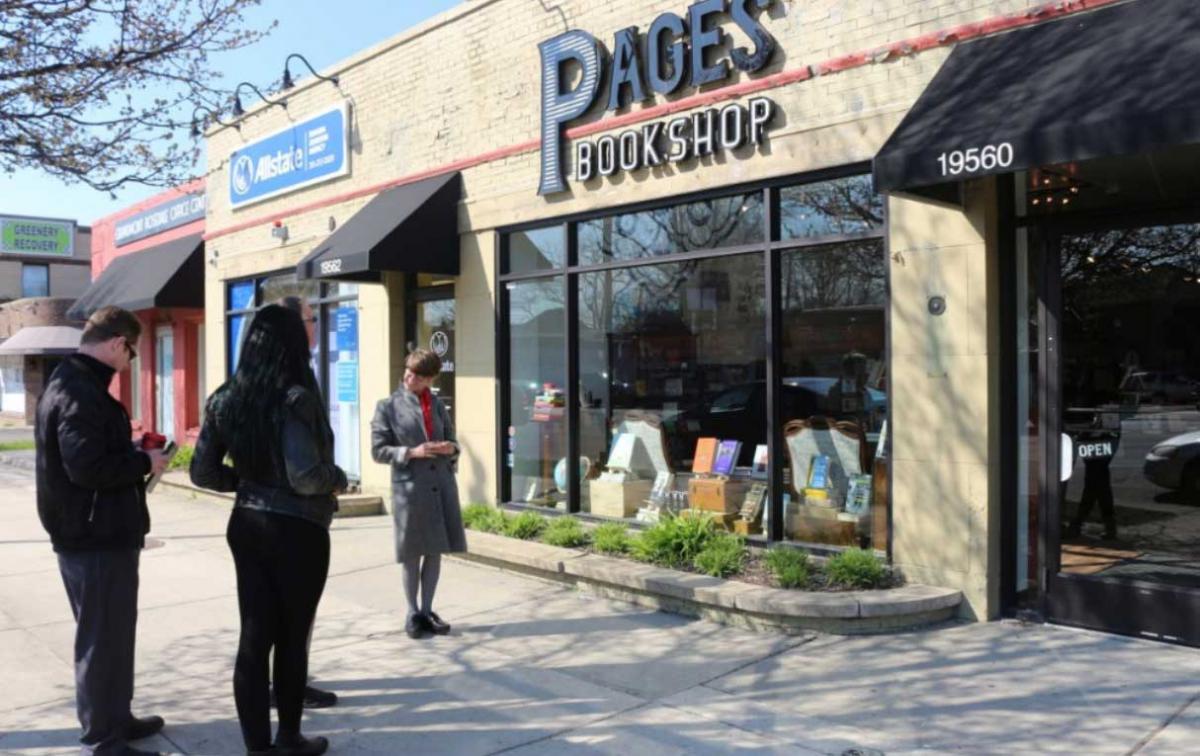 Yet high-profile commercial vacancies are a constant reminder of decline. Grand River is the key to genuine revival for Grandmont-Rosedale, planners said. Polls taken during the event demonstrated that participants strongly favor a more urban thoroughfare.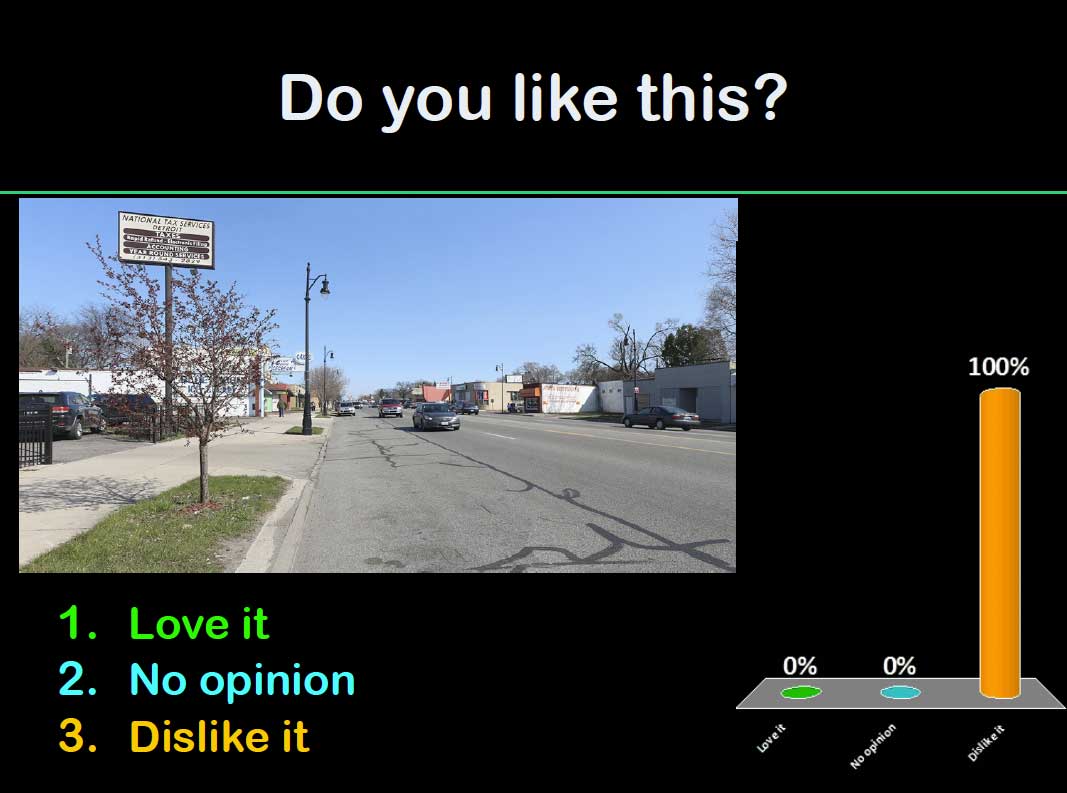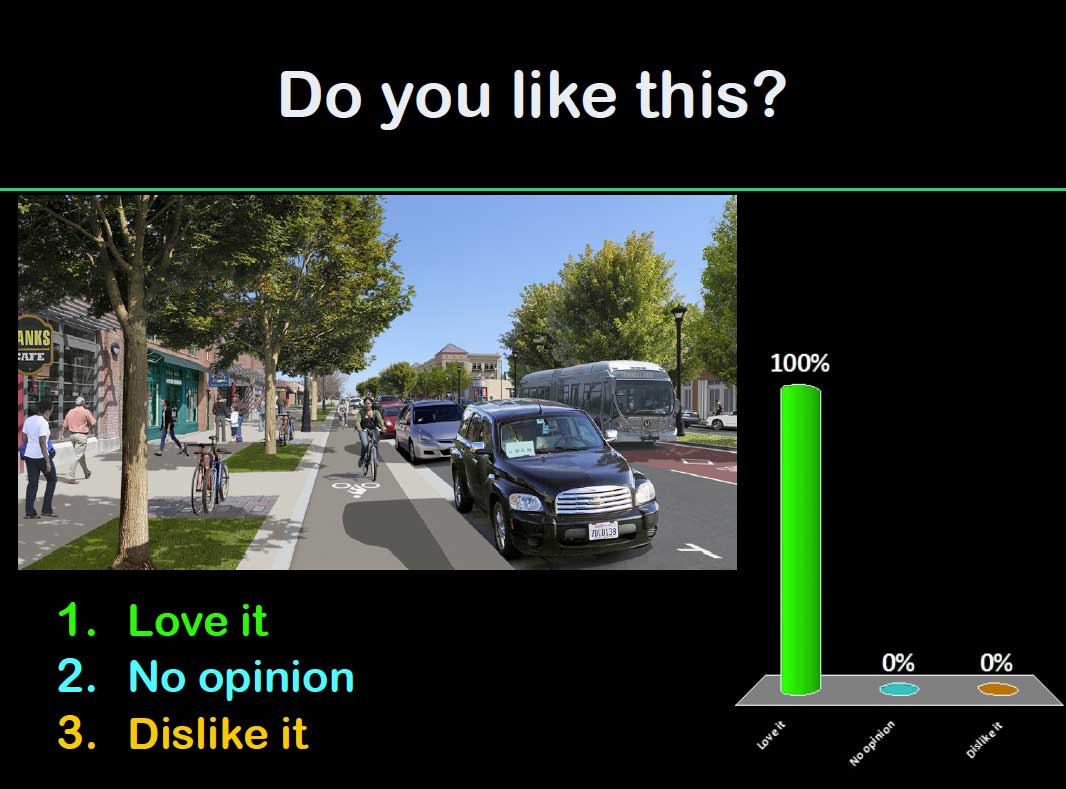 "If Grand River Avenue could be a sign of something positive, then any of Detroit's corridors could also come back to life," Dover says.
The charrette focused on five "big ideas" that community members agreed upon:
• Focus efforts, create a center. Fill in the gaps. Grand River Avenue needs regional destinations. Create a testing area for good ideas.
• Restore a "great street." Make Grand River Avenue safe, comfortable, and interesting. Implement a "road diet," make safe crossings, plant trees, install protected bike lanes, provide street furniture (benches, trash receptacles), add bulb-outs and planters.
• Add destinations. Grand River Avenue needs sit-down restaurants, sidewalk cafés, a brew pub, hardware store, grocery stores, galleries, public art, and community gathering places to retain young people.
• Prepare for more transit. Create a a "complete place" that will compete better for bus rapid transit, streetcars, bus stations, shaded sidewalks, and bike lanes.
• A main street as proud as the neighborhoods. There's a mismatch between the neighborhoods and shopping area. Grand River needs new branding, fixtures, a Business Improvement district or association, and more attractive facades.
Legacy Charrettes are designed to apply CNU's placemaking expertise to make a lasting difference in the Congress's host region—which is Detroit in 2016. Like the other three Detroit Legacy Charrettes (see reports here, here, and here), the team fleshed out both long-term and short-term visions. The ideas that can be implemented right away, without a lot of bureaucratic entanglement, were the most energizing. Protected bike lanes can be added without altering the curb or pavement, Dover says. This would calm traffic and make crossing the street easier.
"It's an idea that could be tested with striping tape in a segment in short order," says Dover. "The folks in the Grandmont-Rosedale Development Corporation are very eager for some ideas that aren't qualified by the words 'Someday the conditions will all be in place, someday there will be an economic revival.' They want things they can do now."
With better utilization of on-street parking, Dover says, some of the businesses could convert a few off-street spaces for outdoor dining very easily, and the design team provided drawings.
In the long term, the street can be rebuilt with medians, more street trees, and roundabouts. At some point, dedicated lanes for bus rapid transit or rail transit could be provided. "Right now transit in Detroit has a mixed reputation, but they are in the process of doing light rail on Woodward Avenue and Bus Rapid Transit on a couple of corridors," notes Dover. "Many more citizens are interested in walking, biking, and transit. There is political muscle for change."
As residents walk, bike, and use transit more, massive parking lots along Grand River Avenue could fill in with development. The charrette helped to visualize that long-term potential, which is substantial.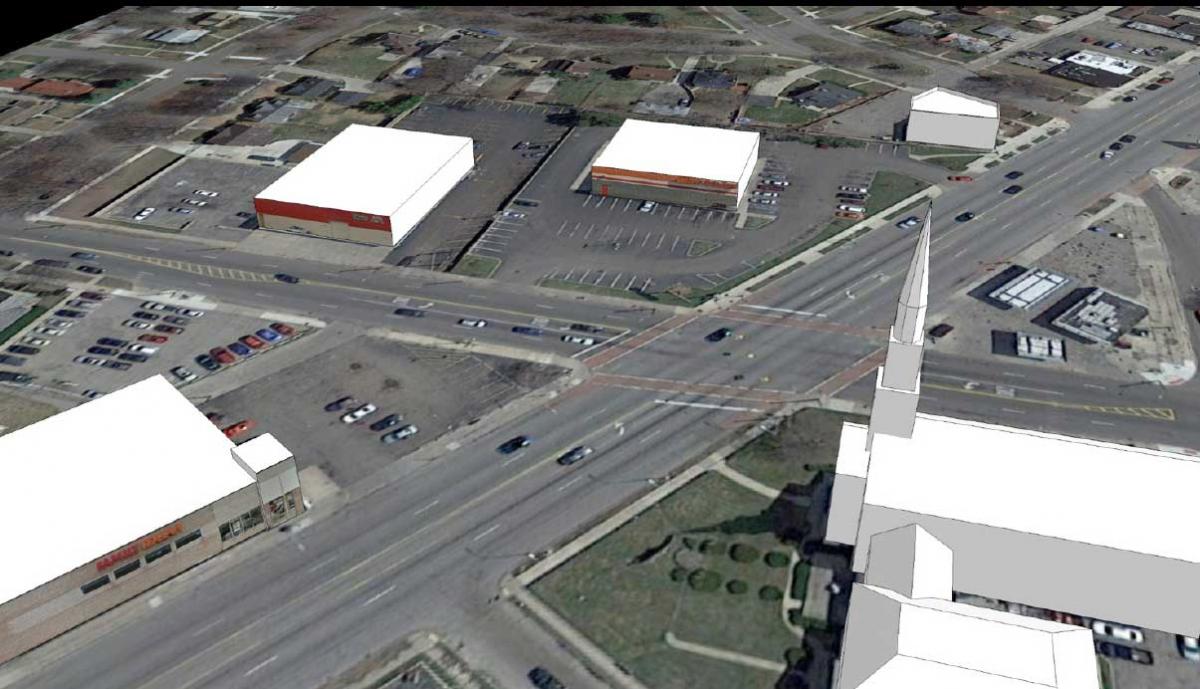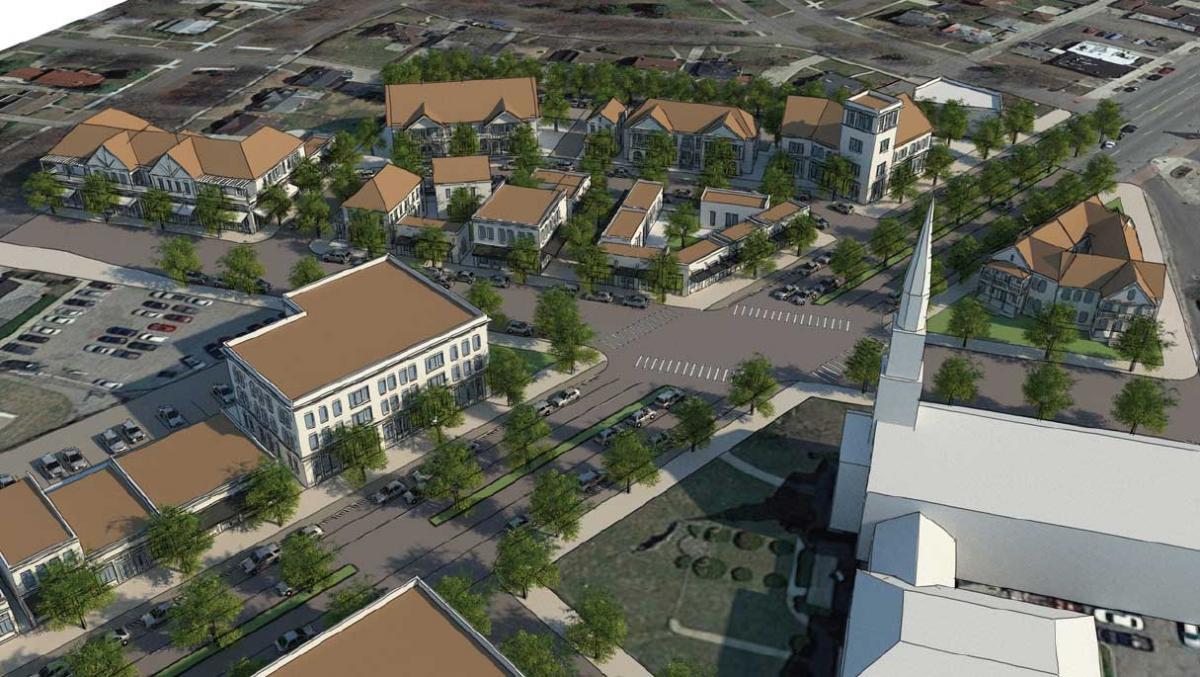 The main hurdle is a willingness to change, Dover says. "Are the motorists of greater Detroit prepared to think about this most important couple thousand feet of the most important road in town differently than when it was a wide open highway? Are they willing to go more slowly? There's a big upside—a huge improvement in safety—if they do that."
Note: Legacy Charrette project teams are preparing final written reports which will be presented on June 9, 2016, to community leaders at CNU 24 in Detroit. Following handover of the final plans, CNU will post the reports and presentations on the Legacy Charrettes page.