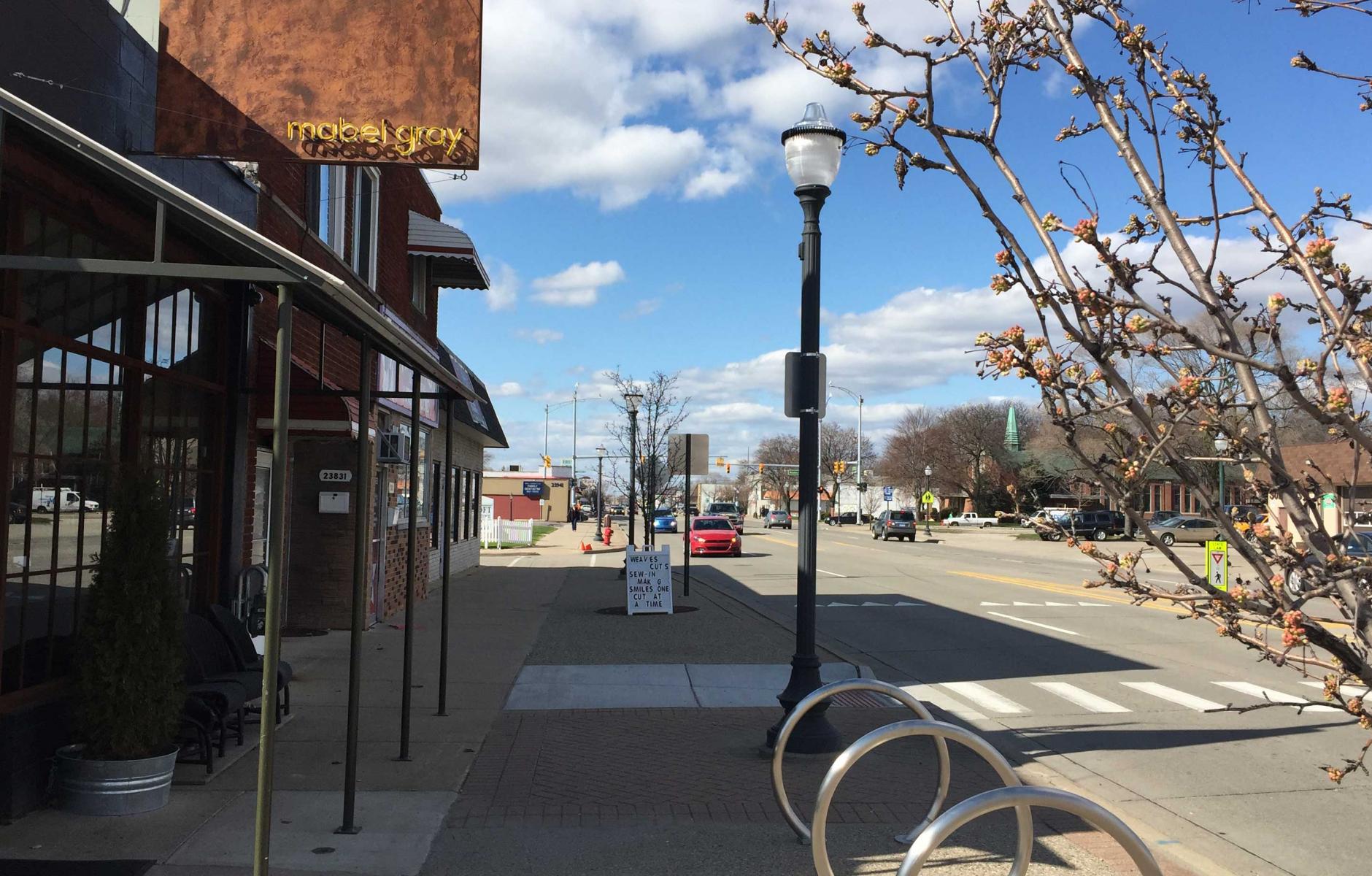 A sign for the future of John R Road: the Mable Gray restaurant.
A main street makeover for a first-ring suburb
A CNU charrette led by Moule & Polyzoides, Architects and Urbanists, focused on how to transform a two-mile stretch of the John R Road that traverses Hazel Park, Michigan. The goal is to promote development of a walkable downtown where none exists today. Doing so requires the taming of an overly wide road to make it safe and appealing for people on foot and bicycles.
"John R Road is Hazel Park's Main Street," notes assistant city manager Jeff Campbell. "The corridor has the potential to unite our neighborhoods, but without walkable neighborhood amenities it actually serves to divide."
Hazel Park, a first-ring suburb of 16,422 people adjacent to Detroit, hosted the team that also included retail expert and planner Robert Gibbs, to engage citizens in a three-day design session. "Hazel Park has incredibly strong neighborhoods. Our challenge is how to knit everything together by creating a beautiful and walkable environment," says Vinayak Bharne, Director of Design for Moule & Polyzoides.
"In many ways Hazel Park is a classic Michigan city, but we've maintained our strong demographics and urban fabric. I think what makes us unique is our vocal supportive citizenry and visionary leadership," Campbell says. "The issue is how to evolve Hazel Park's thinking on its future. Are we content with being a city others pass through on the way to someplace else, or do we want to become the city you never want to leave because it is just so damn compelling?"
The event was a "Legacy Charrette," a program designed to apply CNU's renowned placemaking expertise to make a difference in the Congress's host region—which is Detroit in 2016, the location of CNU 24. The program began last year in Dallas and allows municipalities, nonprofits, and others to apply for "low-bono" advising from some of the best minds in the field.
If the city decides to make changes, Hazel Park fortunately owns the right of way. John R Road is not a state highway, so the city has design control. Designers suggested building upon four existing and potential assets:
1. Culinary Center. Mable Gray, Michigan's second highest-rated restaurant, is an anchor of culinary excellence that raises the potential of attracting more quality eateries to the corridor. This strategy requires a reconfiguration of the street right of way with additional on-street parking and code reform to support enlarged parcels that accommodate 3- to 4-story residential buildings with ground-floor retail. Landscape elements could include edible vegetation (herbs, etc.) and hazelnut trees that reference the city's roots. 
"Mabel Gray's decision to locate in Hazel Park is no accident," says Gibbs. "Their transformation of an existing cinder-block building into a foodie destination is an early indicator of the corridor's future."
2. Civic Center. The most economically vibrant area in Hazel Park—with a Kroger grocery store, a drive-thru CVS, Tim Horton's, O'Reilly Auto Parts, and City Hall—is located in the geographic center of the community. Plans call for building upon the area's successful retail. Unfortunately, large surface parking lots make this sector particularly unfriendly to pedestrians. Street-oriented liner buildings could be added to the perimeter of parking lots to provide active street frontages that are essential to walkable centers. A new civic gathering space would make use of the adjacent City Hall and library, creating a welcoming heart to the city.
3. Gateway Bridge. Interstate 75 cuts through Hazel Park creating two distinct neighborhoods. Landscaping the bridge and adding gateway elements would help to connect these severed areas.
4. Arts District. A planned History of Cannabis Museum, Art Park, and a historic Dairy Barn (ice cream shop) make the southern end of Hazel Park unique. Plans call for amplifying the distinct character with interpretive signage, banners, an enlarged Art Park, and significant traffic calming.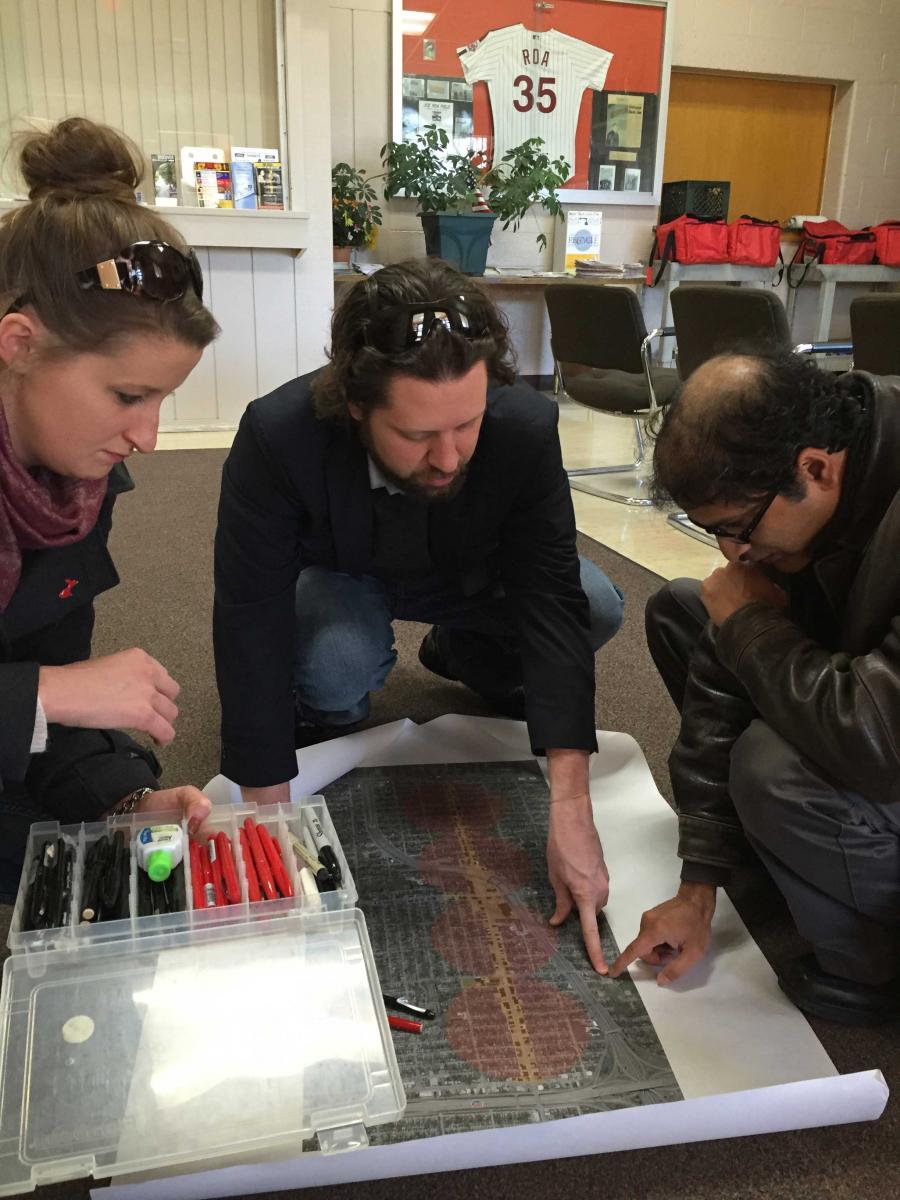 Gibbs, who is based in nearby Birmingham, Michigan, notes that a transformed John R Road could unleash significant economic activity. "Currently these residents must rely on adjacent towns and cities for their shopping. If we can bring retail and restaurants to the corridor we have the potential to double or triple existing sales," he says.
The team offered Lancaster Boulevard, designed by Moule & Polyzoides in Lancaster, California, as a case study. This eight-tenths-of-a-mile long corridor, similar in many ways to John R Road, was rebuilt in late 2009 and has attracted 49 new businesses, 800 housing units, 116,000 square feet of commercial space, and $273 million in economic development, according to one study.
"Hazel Park is one of Detroit's first suburbs built in the 1920s and 30s," says Gibbs. "With a Walk Score of 80, the city has many of the fundamentals coveted by millennials. This group is hungry for walkable places. We just need to give them a beautiful, pleasant, and safe environment."
If John R Road is transformed into something better, Campbell hopes the project could set an example for other municipalities. "There are hundreds of corridors throughout the Detroit-area nearly identical to John R." he says.
"I believe it can serve as inspiration for reinventing middle-income and working-class communities nationwide," says Bharne.
Note: Legacy Charrette project teams are preparing final written reports which will be presented on June 9, 2016, to community leaders at CNU 24 in Detroit. Following handover of the final plans, CNU will post the reports and presentations on the Legacy Charrettes page.