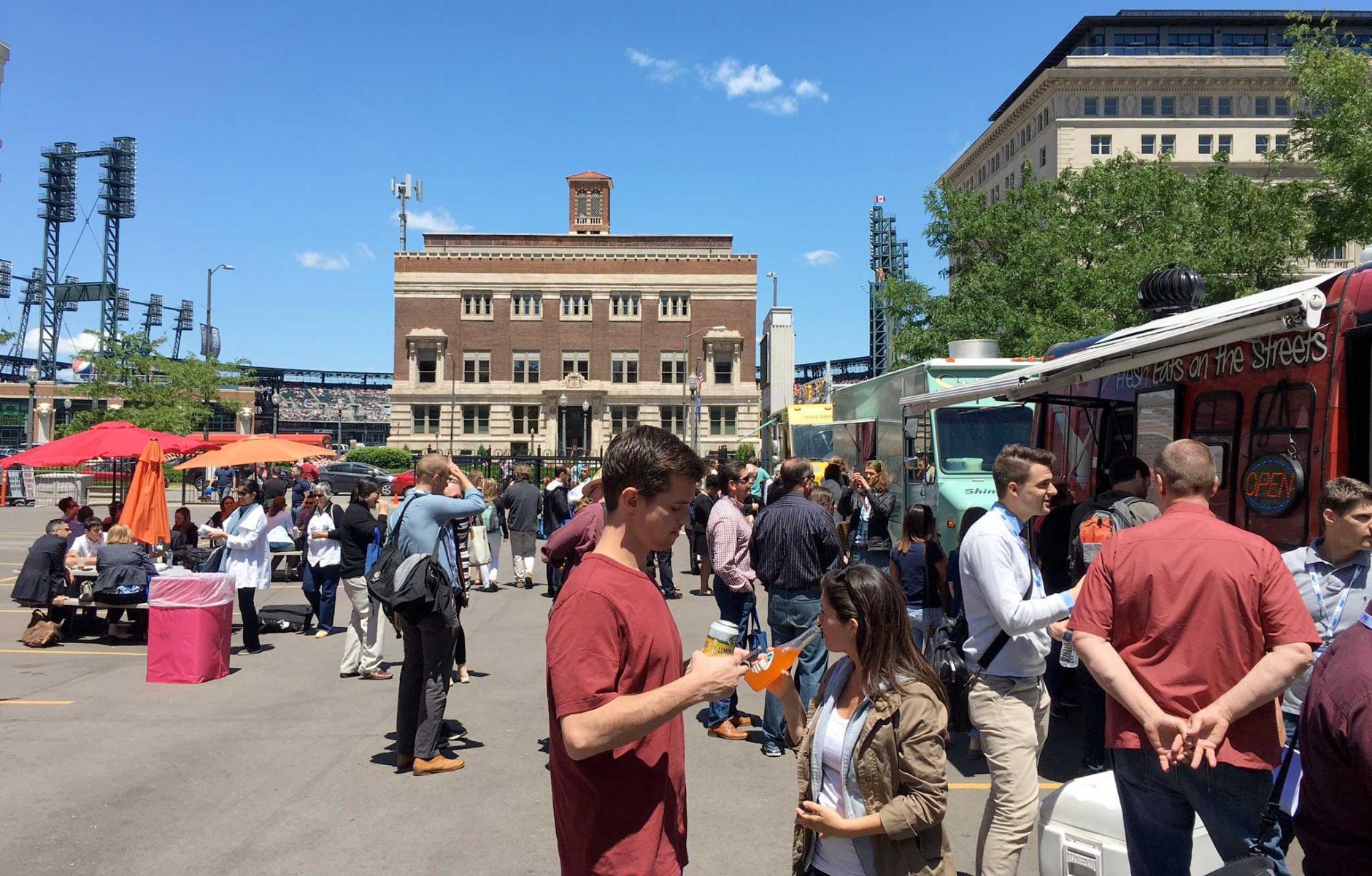 Taking over the parking lots! Image credit: Adam Cook.
An overview of CNU 24 in Detroit
You know how the sweet spot for blogs is 500 words? Well, this isn't one of those. It's the geek's guide to the 24th Congress for the New Urbanism in Detroit. Feeling grateful for the food for thought, and wanting to keep the ideas fresh. This blog compiles city planning tweets from June 8 through 11 on the subject, grouping the ideas into categories of Community, Equity, Lean Urbanism, Transportation, Infrastructure, Suburban Retrofit, and Architecture, along with inspiration from Detroit, New York and Charleston.
Here's a shout out to all the Twitter-using urbanists in Detroit who used the hashtag #CNU24 to share this wealth of ideas, and I highly recommend following the credits list at the end, along with many others using that hashtag, whose rich content would require an encyclopedia to truly do it justice. Check out the Twitter feed for the ideas I wasn't able to cover.
Detroit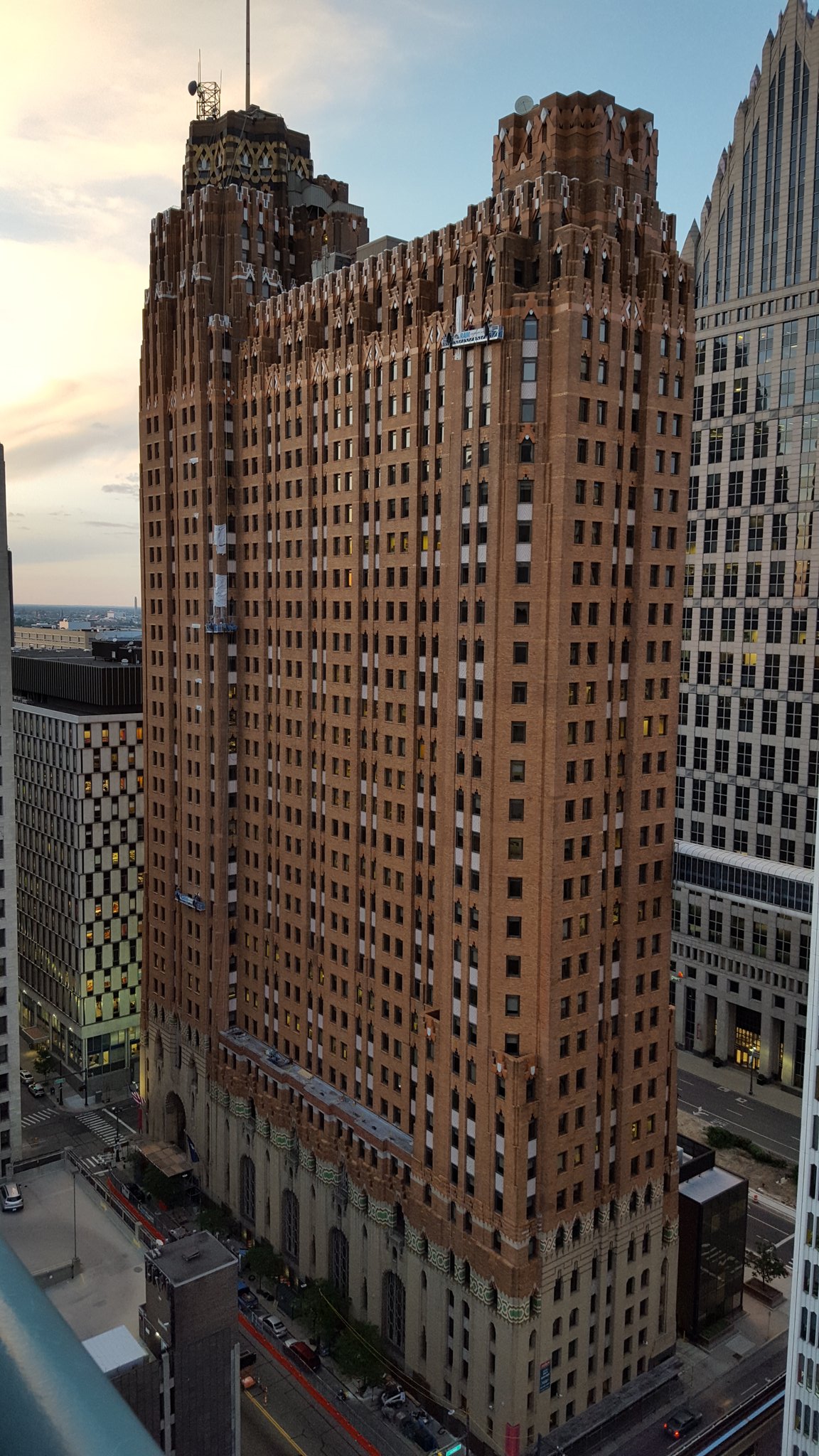 How can you not love Detroit? We are blown away by the beauty of downtown Detroit: the Guardian Building, the great streets and inclusive public spaces. This city was built on a radial grid that would make Jane Jacobs proud.
2016 was the first year in 70 years that Detroit did not decrease in population. Detroit has turned a corner. During those 7 decades, one million residents left Detroit and did not take their homes with them. Detroit had 296,000 manufacturing jobs in 1950, and now 27,000 today.
Many factors contributed to Detroit's trajectory, including institutional racism and the subsequent racial strife, foreign automakers, suburban development patterns, and an exceptionally expensive network of wide, fast roads.
Racism: FHA made them build a wall at 8 miles and not allow African Americans to live on the other side. Still today, there is another Detroit that's harder to see, that's threatened by the pace of development and wonders when their loyalty will be rewarded.
Poverty: High poverty census tracts in urban cities tripled in 40 years and the population living in poverty doubled. Only 10% of poor census tracts 40 years ago rebounded. Clearly, mixed-income neighborhoods won't happen if we don't work at it. We have an historic opportunity to create mixed-income neighborhoods because people are moving back to cities.
Gentrification: If gentrification meant new housing and new shops without displacement, existing residents would support it. Poor neighborhoods that don't gentrify don't stay the same – they decline and bleed residents. What if we flipped the scrip and could lure people with home choice to disinvested neighborhoods? The powerful question remains: can we achieve gentrification – that is, investment –without displacement? When we do, we enable opportunity and broadly shared benefits.
Suburbanization: Car plants found it easier to suburbanize because plants could be on one floor in suburbs. Mayor Mike Dugan, formerly a successful hospital administrator, truly understands the value of urbanism. He reinforced, "If I build an imitation of the suburbs in the city, we will not succeed. Instead, how can we rebuild the density of Detroit?"
Transportation: Detroit is full of Level of Service A streets, which doesn't help their economy. Early planners thought building many Detroit freeways would bring people in, but it also made it easy for them to leave. Today, only 40% of Detroiters own cars. Bike culture has been huge for rewiring the city.
Detroit is now bouncing back through inclusiveness and authenticity. The City owns one-third of the acreage of Detroit, and is carefully urbanizing those City-owned lands and public realm. It took local government planners 60 years to embrace infill development in downtown Detroit.
Now that they have, a People City is emerging within the Motor City, with places like Campus Martius Park celebrating downtown life with public spaces that call out to its community and gather us in. Trees, shade, and seating contribute to a wonderful park experience on a summer day in downtown Detroit. The community has responded with $2 Billion in investment has occurred since the Campus Martius Park redevelopment.
Detroit has one of the few urban agriculture codes, and an inspiring set of gardens to speak for its effectiveness. Social networks are the most critical aspect of urban food production. Networked food includes 20,000 people. And all those networked individuals have some health impacts themselves: Gardeners eat two and a half times more fresh food than non-gardeners. Detroit has over 1500 networked community gardens and food programs and 13 food markets in the City. The city's community gardens provide 200 tons of food every year. Too many cities create urban farms and gardens as an afterthought. We need to change that mentally and include it in our design.
Lean Urbanism
Lean Urbanism was born of the Congress for the New Urbanism and Detroit. When Detroit went bankrupt, it couldn't afford regulators, and Lean Urbanism was sparked, to systematically remove regulations. The movement keeps the message as complex as urbanism requires, but as simple as possible.
4,000 houses per hour are built on earth. Any idea you have that isn't fast and efficient isn't important. Massive small :: what makes revitalization possible are many small operators. Dinosaurs are magnificent creatures, but revitalization is 1000 chipmunks where the dinosaur has starved.
The present is a distortion field for city planners, which keeps us from clearly seeing the present or past.
If your green system costs more, you've sold out to the techies. Greenest places are the ones that didn't have money. The Original Green by Steve Mouzon is the Anti-LEED. Don't gold-plate infrastructure.
The locus of Lean Urbanism are the small towns of America. 70 linear feet of a 4-story building costs approximately $10 million. That's too expensive for young entrepreneurs.
Subsidiary :: the ability to decide and convene. Decisions are best made at lowest possible level :: parking (block face), school (neighbourhood), college (state), port (nation).
WWII was won by people in their 20's, and now we don't even let them bake a cookie and sell it without excessive permits.
Stop digging up parking lots. Use them as footings for containers and modular housing. To make places people love, act like you don't have modern earthmoving equipment and respect contours of land.
We've blogged on Lean Urbanism a number of times: Lean Code Tool, The Lean Charrette: From Ideas to Action: Cheaply, quickly, fairly, and Lean Urbanism: A century practice.
Lean Code Tool resources from CNU Detroit:
- Downloadable, printable PDF of the Lean Code Tool.
- The blurb.com file where you can order hard copies of the Lean Code Tool.
- Lean Code Tool Tarot Cards images
- Online playing card printer if you'd like to use the cards for your local engagement efforts. The cards are formatted for the Tarot size.
Community
Create the things you wish existed.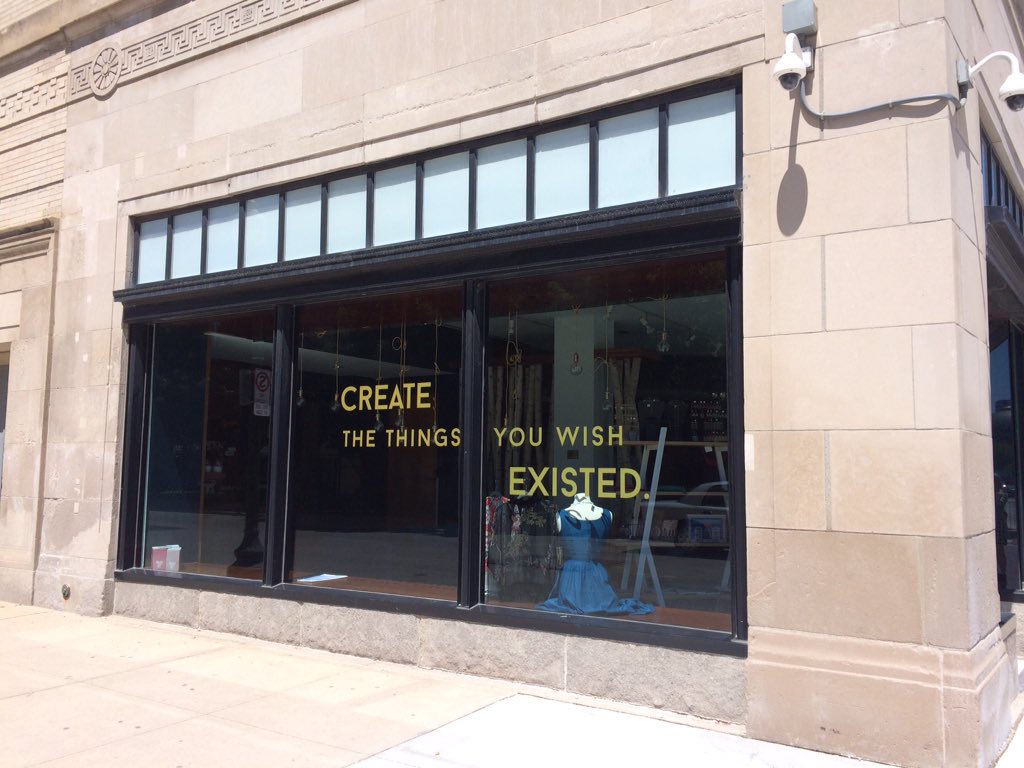 Great cities are about the experience, not the events. Events end, experience doesn't. When designing the stage, you always have to look at the context. The same espresso at home never tastes as good as it did in Italy because the context is missing. Story Swell: share, tell, engage the narrative of success of experiences.
Design public spaces as an amenity, not an afterthought. Colleges, universities and public parks are not neighborhood anchors. It's the places you interact with everyday.
Equity
Equitable urbanism may be defined as just, healthy, sustainable communities where anyone, regardless of status, can thrive.
We absolutely must put people first in our design of places. The CNU put equity as a goal in their 2018 Strategic Plan, but how are we each enabling equity in our policy plans, master plans, and coding initiatives?
Hunger is treated is a charity issue. But in fact it is a justice issue.
Crime comes from lack of opportunity, lack of ability to earn a livelihood, lack of education.
Sometimes people make community space their own, and the best thing we can do is provide a platform.
50% of Americans don't drive cars. If you want to talk about social justice, talk about how we exclude 50% of the population in our planning.
Infill housing is the best market-rate solution to housing affordability and social equity.
Poor neighborhoods that don't gentrify don't stay the same, they decline. We have an historic opportunity to create mixed-income neighborhoods because people are moving back to cities.
Transportation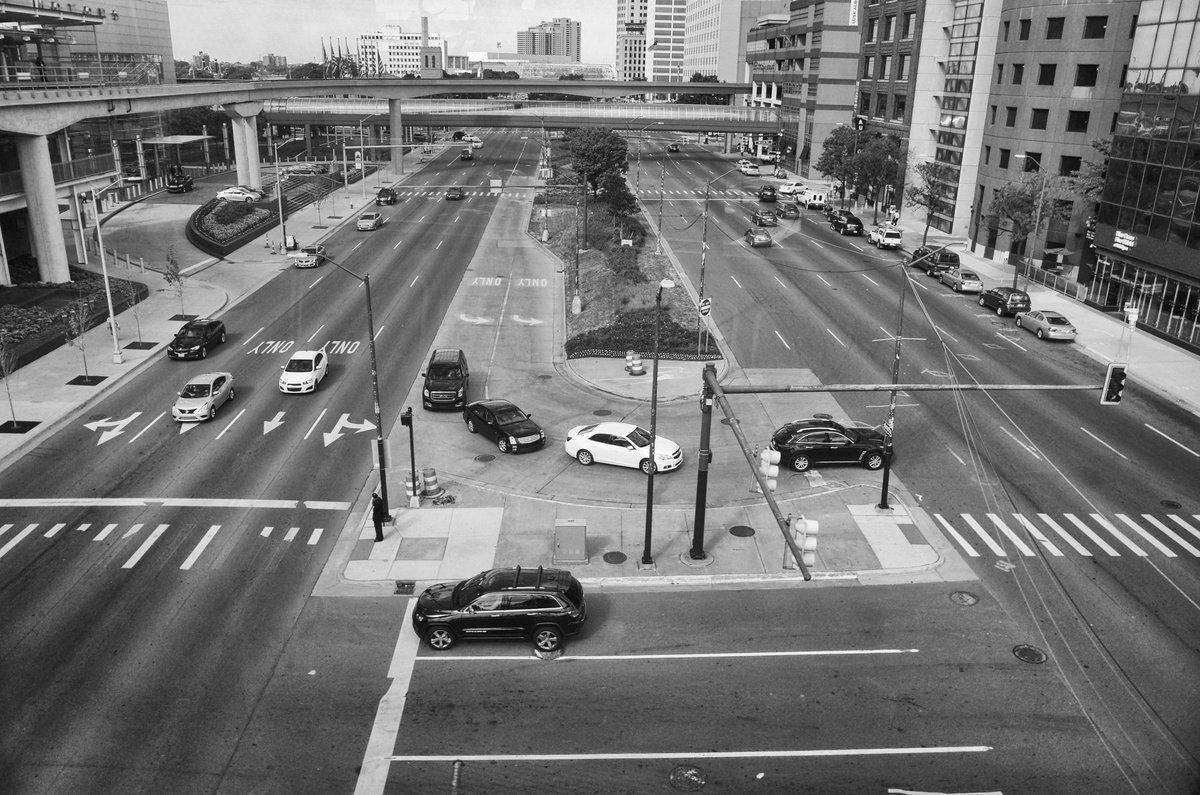 People moved to the suburbs to keep kids safe but far more children die from car crashes than homicides.
Building bigger roads generally make traffic worse. Most traffic engineers don't understand induced demand. But the federal level is getting it, because after 15 years of work, CNU is DOT's official partner to tear down highways!
Shared-use mobility is first and foremost public transit. Bikeshare is not about making your city cuter or more attractive to millennials. Bikeshare is transit. One car share can take 15-20 cars off the road.
Car crashes and crime both go down when you turn 1-way streets into 2-way streets; plus, merchant revenues usually double. Multi-lane one way roads kill neighborhoods.
Open Streets can change the mindset of communities about walkable, bikeable, livable urbanism.
"How does a mother feel holding her child's hand walking down the street?" Maybe the most important question for street design.

Infrastructure: Streets, Alleys, Utilities, Parks, Libraries, Art
Count parks, libraries, and art as infrastructure!
Climate change alters the infrastructure equation in ways that we are not currently valuing accurately. Mitigation actions are global; adaptation actions are regional.
For sea level rise, we should analyze three states: 1.) high and dry, 2.) frequently inundated, and 3) flooded, over different time frames beginning with 10 years. Building values plummet in neighborhoods frequently flooded, and buildings deteriorate. Some parts of South Florida will eventually become uninhabited because there's not enough value to adapt.
How we develop urbanism has a big impact on greenhouse gas emissions. Barcelona and Atlanta have similar populations, but Barcelona is far more compact and has one-tenth the carbon footprint.
There are 3 trillion trees on the planet; once it was 6 trillion. Trees have many climate change benefits. The more trees there are on a block, the less likely people living there are to be obese. A tree in front of a house raises value up to $7,000 but tree-lined street raises value of each house $22,000.
It's not just parks, it's the linkages between the parks and what they connect that matters. Why do we need all these fences around public parks? Are we afraid the trees will run away? There should be places to grow food in every neighborhood: increases property value and quality of life.
In many of our cities, streets occupy close to 40% of land area. This 40% of the city is being designed by people that do not understand public realm. Streets need to be designed for civic identity. Driving behavior is defined by how the street is designed.
Parking lots kill walkability scores, so stop designing parking lots first.
Build a Better Burb
We are still building sprawl faster than retrofitting it. Sprawl Retrofit has morphed into Build a Better Burb, moving from criticism to critical tools to improve quality of life in suburbs.
Three strategies for retrofitting suburbia: re-inhabitation, re-development, and re-greening. 1,400 suburban retrofits are currently mapped. Half of sprawl needs to be turned to green, for climate resilience, but only 2% are greening now.
Sprawl has slowed, but still surpasses retrofit and walkable urbanism. Global sprawl is major issue. We need to learn from other places.
People moved to the suburbs to keep kids safe but far more children die from car crashes than homicides.
Architecture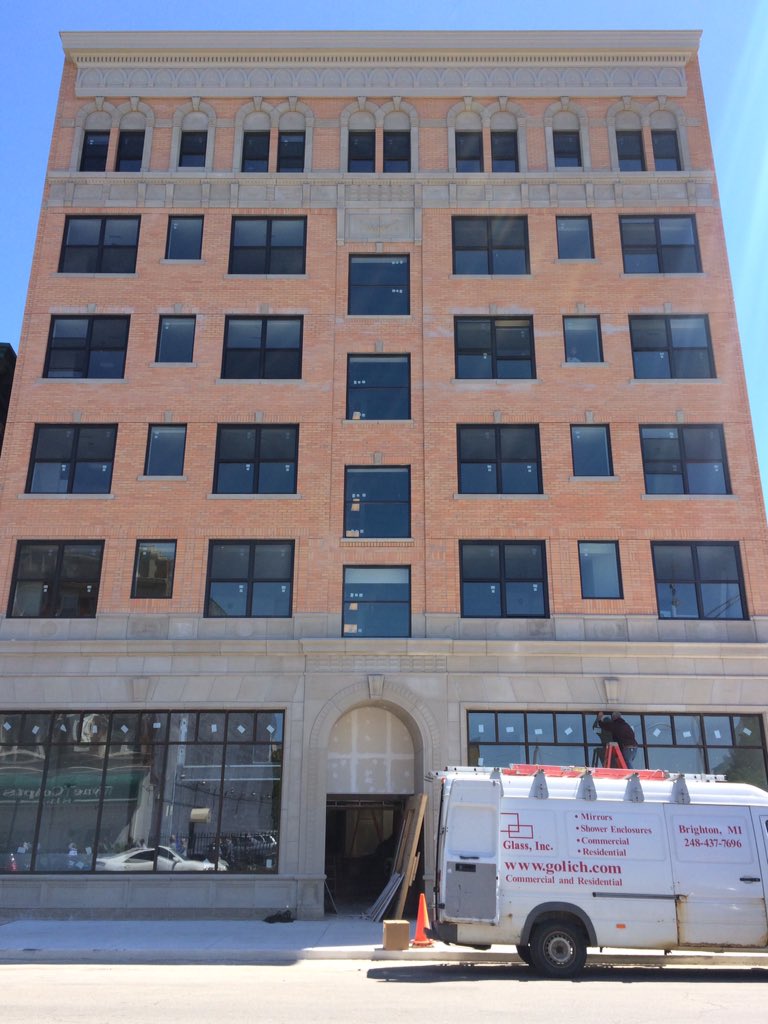 Last year's "CNU is burning" sessions boiled down at the end to "my style is better than yours." Let's do better. We need a basic manual of understanding of architecture broad enough to bring all of us under it.
Architects are unaware of how much architectural thinking has been written by historians. The history of architecture has been written as a narrative. Historicism is a philosophy of history, not a use of historical form.
Historicism began as a scholarly attempt to peer into the character of a nation or a movement. It presents a style as an historical necessity and buildings as evidence of that necessity.
Type, character, and style are intended to be an architectural design method. There are a few types, multiple characters, and infinite styles. In mapping the history of architecture, historians favored style.
Windows both connect and separate, engage and divide. Windows give residents a place in the private realm to safely observe the public realm, in the subtle public/private dance. It is important that windows facing the street open into rooms where there is activity.
Windows should harmonize the building's structural logic. They order our experience walking down the street in a harmonic way and give clues as to the building type.
Modern windows tend not to mediate between interior & exterior, but just reflect present-day interior use. Window design is one of the ways we can bring huge buildings down to a more human scale.
There is no urbanism without architecture, and not all architecture creates good urbanism.
Strong Towns Podcasts
Check in with Charles Marohn talking with Janette Sadik-Khan, Hazel Borys, Andy Blake, Joe Cosentini, John Anderson on the Strong Towns Podcasts. http://www.strongtowns.org/podcast/
Charleston
Mayor Joe Riley was mayor of Charleston, South Carolina, for 10 terms, from 1975 to 2016. He is an icon for urbanists, and his keynote address to begin the Congress set the tone, and is a great way to end this blog. This collection of tweets is in Mayor Riley's voice, although it fails to capture the humor, irony, and deep vision of the man.
"A great city needs to be a just city. African-Americans had never had a seat at the table. So we brought in more chairs."
"The day after Thanksgiving 1978, I walked out on King Street and looked both ways. Nobody was there. It was almost gone."
"In a city, the things we value most are the things we own together. Main Street belongs to everybody. It is the common public realm."
"In the 1970′s, the national policy was sparse. People were afraid of people. The public realm enhances your sense of citizenship."
"As we know, people won't walk past a vacant lot. They just won't do it. Market Street was once the only place in America you could get tattoo, bowl of chili, or communicable disease for $0.25."
"When we're building streets, so often we first ask what will happen to the beer trucks. Instead ask how does a mother feel when she walks her child down the sidewalk?"
"Don't make arguments like, 'We can't widen sidewalk because when beer trucks park illegally, a Greyhound bus's mirror (which doesn't drive here anymore) will hit beer truck.'"
"Over time, Charleston's renewal was by design: density, walkability, and beauty. Beauty attracts! Today, King Street works because every 40 feet you have a storefront."
"When designing a park, we need to know its purpose. Each one is different. Some should be places of peace and repose."
"You really must preserve access to the water's edge for all the people. If you're a citizen who doesn't have access to the water, you feel like you're second-rate. If you build something for the public, the city should give its finest land, not its cheapest land."
"We did the first tourist management plan in the country, to decide how we wanted visitors to use the city. We have saved thousands of marriages in America by making a lovable place where people fall in love again. We underestimate the passion of the citizens for building a lovable city."
"The answer to gentrification is to keep producing more affordable housing. Our nation has quit producing affordable housing and we just have to get back at it! We decided in Charleston to quit building big public housing projects, scattering small affordable housing throughout. Build it beautifully."
"First goal of city building: don't make stupid mistakes. Keep high standards. Subsidized housing should look like rest of neighborhood. When we hired architects that designed things ugly as sin, we hired new architects. There is never any excuse to build anything, affordable or not, that does not share the beauty of the city."
"When you bulldoze, you let memories go. You'll never get them back. Preserve. Save one corner, one building, one tree at a time. Care for the common!"
"The city must be a place where every citizen's heart can sing. Cities are our civilization. We have to attend to the tiniest details."
"Our public spaces should be a place where our citizens can go every morning to bathe themselves in peace and beauty. A city is like a family. If there has been a slight or injury, you must work to heal that. The city belongs to everyone."
"Never quit. Never give up. Never accept mediocrity. Keep pushing. Be nice to people. That's what you do if you're mayor."
"Cities must be places where every citizen's heart can sing."
Urbanists Credits
Andrés Duany ‏@andresduany
Andy Boenau ‏@Boenau
Ben Brown @benbronews
Bob Gibbs ‏@urbanretail
Carol Coletta @ccoletta
Catherine Hartley ‏@mschartley
Christine Franck @cghfranck
CNU Central Texas ‏@CNU_CTX
CNU Midwest @CNUMidwest
CNU New England @CNUNE
Devita Davison @DevitaDavison
Doug Kelbaugh
Dover-Kohl ‏@DoverKohl
Edward Erfurt @Edward_Erfurt
Eliza Harris Juliano @myurbangen
Ellen Dunham-Jones @DunhamJones
Eric Kronberg @EricKronberg
Frank Starkey ‏@frankstarkey
Gracen Johnson @gracenjohnson
Hannah Colborn ‏@hannahecolborn
Hazel Borys @hborys
Hoch Associates ‏@HochAssoc
Howard Blackson ‏@hblackson
Ian Lockwood @IanLockwoodPE
Janette Sadik-Khan ‏@JSadikKhan
Jeff Jamawat ‏@jeffjamawat
Jeff Speck @JeffSpeckAICP
Jeffrey Tumlin @jeffreytumlin
Jennifer Hurley ‏@JenHurPlanner
Joe Nickol @J_Nickol
John Anderson @johnthebad
John Yung @johnyungphat
Jon Larsen @stretchtraffic
Jonathan Coppage @JonCoppage
Julie Yost @julie_yost
June Manning Thomas
June Williamson
Kaid Benfield @Kaid_in_DC
Katie Bannon @kjbannon
Laurel Wamsley @laurelwamsley
Marcy McInelly @marcymcinelly
Mayor Joe Riley
Mayor Mike Duggan @MayorMikeDuggan
Meg White ‏@ladyinabox
Michael Lewyn ‏@mlewyn
Michigan Municipal League @MMLeague
Michael Mehaffy
Mike Lydon @MikeLydon @CNU_CTX
Milton Friesen ‏@IngenuityArts @CNU_CTX
Mitchell Silver ‏@mitchell_silver @CNU_CTX
Nate Hood ‏@Nathaniel1983 @CNU_CTX
NewUrbanism ‏@NewUrbanism @CNU_CTX
New Urbs ‏@NewUrbs @CNU_CTX
PlaceMakers, LLC @PlaceMakersLLC @CNU_CTX
Rik Adamski ‏@RikAdamski @CNU_CTX
Sarah Serpas ‏@sarahserp @CNU_CTX
Sprawl Repair Manual @SprawlRepairMnl @CNU_CTX
Steve Mouzon @stevemouzon @CNU_CTX
Strong Towns @StrongTowns @CNU_CTX
Susan Henderson @suhender @CNU_CTX
The League ‏@MMLeague @CNU_CTX
Transit Ricers @DetroitTransit @CNU_CTX
Tyson McShane @TysonMcShane @CNU_CTX
Urban Retail Instute ‏@Urbandizing @CNU_CTX