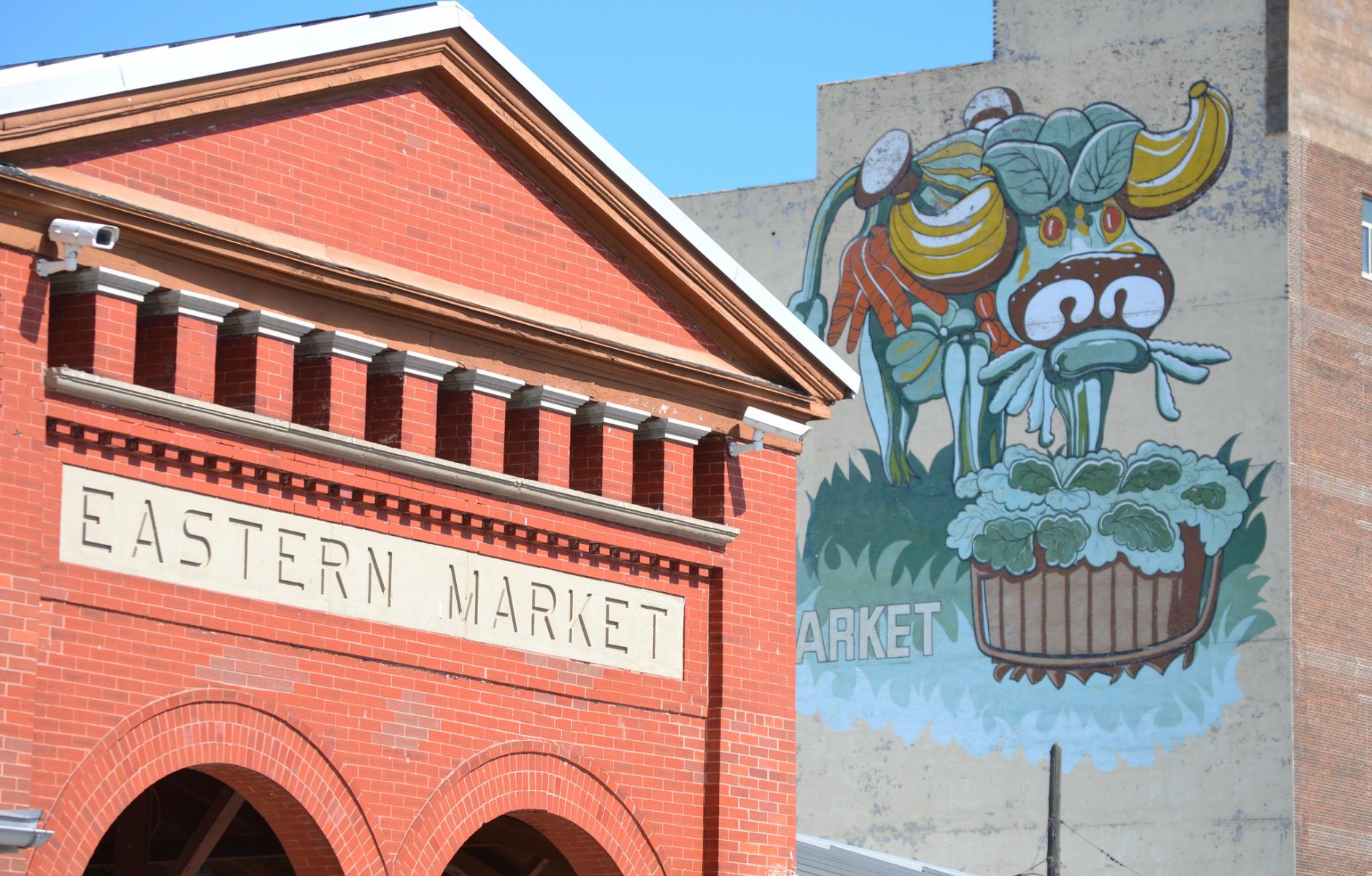 Detroit, MI. Photo by Michigan Municipal League.
CNU 24 Daily Wrap-Up: Thursday, June 9
#CNU24 continues with more insights, ideas, and exploring in Detroit.
CNU 24 continues today in Detroit, Michigan, as over 1400 New Urbanist leaders, longtimers, and newcomers continue to explore the city and engage with its amazing residents. Yesterday's program presented Detroit Day, focusing on inspiring local speakers, along with the internationally-focused Windsor Day in nearby Ontario and the annual presenting of the CNU Charter Awards.
Every day this week here at Public Square: A CNU Journal, we're collecting the highlights of our annual Congress, as seen through the eyes of our members and followers. Here's the #CNU24 Daily Wrap-up for Thursday, June 9.
Even for native Detroiters, always something old, new and interesting to learn about the city #CNU24 @NewUrbanism pic.twitter.com/OaV4StV38s

— The League (@MMLeague) June 9, 2016
Fantastic morning in #Detroit for #CNU24 architecture tour! @NewUrbanism @DPGilmartin @SmithGroupJJR pic.twitter.com/43rXNOKVBC

— The League (@MMLeague) June 9, 2016
Two dozen urbanists got a tour today of #FordCity and #Walkerville #CNU24 pic.twitter.com/lYkcgRGRb7

— WE Bike Friendly (@webikefriendly) June 9, 2016
Every planner needs this picture plastered on their office wall #CNU24 pic.twitter.com/xz0jC8lNZe

— Edward Erfurt (@Edward_Erfurt) June 9, 2016
Hard at work #CNU24 pic.twitter.com/SVnRo7f908

— NewUrbanism (@NewUrbanism) June 9, 2016
A tree in front of a house raises value up to $7,000 but tree-lined street raises value of each house $22,000.
Doug Kelbaugh #CNU24

— Steve Mouzon (@stevemouzon) June 9, 2016
This is what a coffee break looks like at #CNU24 #beautymatters #goodbyeconferencecenter pic.twitter.com/aqDW8DQHik

— Eliza Harris Juliano (@myurbangen) June 9, 2016
#PashonMurray #DetroitDirt: 25% of food ends in landfills, better to regenerate waste, educate community, create jobs #CNU24 @NewUrbanism

— The League (@MMLeague) June 9, 2016
One building at a time. Downtown Detroit. #CNU24 pic.twitter.com/tGMN9IGvXj

— Tim Corcoran (@TJC0RC0RAN) June 9, 2016
1000+ Downtown #Detroit residential units in the pipeline this year, from 0 between 1990 and 2000. Sue Mosey, Rod Miller, Eric Larson #cnu24

— CNU New England (@CNUNE) June 9, 2016
Detroit Opera House and parking lot. :) #CNU24 @NewUrbanism @cnunextgen pic.twitter.com/P4pQcjRpJV

— Mike Christensen (@MRC_SLC) June 9, 2016
Here's a short film of the #CNU24 Fun Run from this morning. Hope to see y'all tomorrow am. @cnunextgen @VictorDover https://t.co/BPtSUCMQPB

— Active Towns (@ActiveTowns) June 9, 2016
Cool city map @ashesupplyco & #CNU24 pic.twitter.com/Kdb1AJiJGU

— Mark Simpson (@mark_h_simpson) June 9, 2016
Blown away by the beauty of downtown #Detroit. The Guardian Building, great streets and public spaces. #CNU24 pic.twitter.com/gu9H56vDFt

— Mitchell Silver (@mitchell_silver) June 9, 2016
Sneak peek of tonight's films: https://t.co/v9CbLImTm1 #CNU24 we will still be going after charter awards

— NewUrbanismFilmFest (@NwUrbanFilmFest) June 9, 2016
Having fun thinking cultural expression w/@rebranddetroit #ibranddetroit #CNU24 pic.twitter.com/1C0SRrWIf0

— Howard Blackson (@hblackson) June 9, 2016
Detroit, (Re)troit. A People City emerges within the Motor City. Campus Martius Park #tbt streets #CNU24 pic.twitter.com/ZEqxODMsjB

— Janette Sadik-Khan (@JSadikKhan) June 9, 2016
Thought Bryant Park was cool? Check out Campus Martius Park. Beach, concert and b-ball in the ❤ of #Detroit #CNU24 pic.twitter.com/PaIPe6FcWU

— Mitchell Silver (@mitchell_silver) June 9, 2016
Backgrounder: Saving a special site and potential "place" from demolition - #CNU24 - https://t.co/KT45Akde0e

— Holonomy Incubator (@holonomyinc) June 9, 2016
BTS at the #CNU24 Charter Awards Ceremony, covering the legacy charrettes. #OneDetroit pic.twitter.com/vOKY5YZMix

— Detroit Public TV (@detroitpublictv) June 9, 2016
How can you not love #Detroit? #CNU24 pic.twitter.com/YpvK9058j6

— Nate Hood (@Nathaniel1983) June 9, 2016
Great cities celebrate walking. #Detroit #CNU24 pic.twitter.com/iEAOw5lkHu

— Mike Lydon (@MikeLydon) June 10, 2016
#playeverywhere #Detroit on Woodward #CNU24 pic.twitter.com/ElyKW7GEsB

— Erin Argyle Barnes (@erinargyle) June 9, 2016
"A young man attending [#CNU24] was so geeked at being here to learn from Detroit," a reader posts.

More salutes: https://t.co/ygvFJidbF7

— Deadline Detroit (@DeadlineDetroit) June 10, 2016
I think Cards Against Urbanity is rigged #CNU24 pic.twitter.com/9MVILKjbig

— Sam Newberg (@JoeUrbanist) June 10, 2016
Actively revitalizing, .@MidtownDetroit is becoming a playground for urbanists! @NewUrbanism @cnunextgen #CNU24 pic.twitter.com/9d8E9kJgav

— Jeff Jamawat (@jeffjamawat) June 9, 2016
#CNU24 talent show underway pic.twitter.com/V0qTB2CUrM

— Andy Boenau (@Boenau) June 10, 2016
It's such a cliche to say, but if DC had half as many people of the quality I've met here, things would be completely different. #CNU24

— Jonathan Coppage (@JonCoppage) June 10, 2016
Just completed day 2 of #CNU24. What a great day of information sharing and learning.

— Marg Wall Brown (@margwallbrown) June 10, 2016