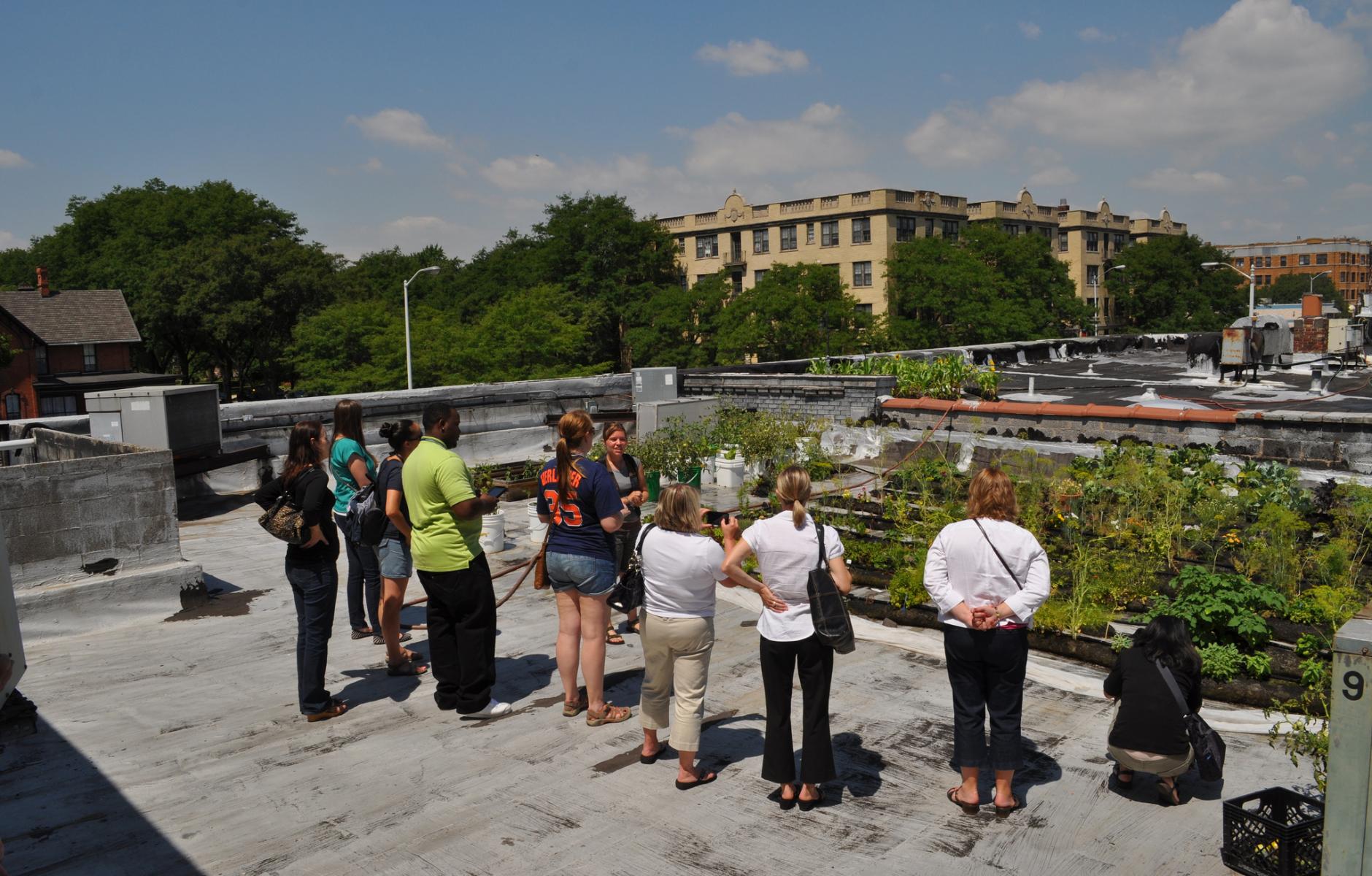 Detroit, MI. Photo by Michigan Municipal League.
CNU 24 Daily Wrap-Up: Saturday, June 11
#CNU24 wraps up with City as Platform sessions across twelve Detroit neighborhoods.
Every day this week here at Public Square: A CNU Journal, we've been collecting the highlights of our annual Congress, as seen through the eyes of our members and followers. Here's the final #CNU24 Daily Wrap-up for Saturday, June 11. Thanks for following along.
This achievement. A small group of planners turnd national think tank influencing, writing policy for places #CNU24 https://t.co/6mckvvZ9lA

— neourbix (@BrasilUrbanismo) June 11, 2016
Less #Detroit and more #Oakland @hborys @NewUrbanism @andresduany

— Fingal O'Flaherty (@CA_Spartacus) June 11, 2016
Andres Duany officially introduces lean urbanism, "a concept born of Detroit." #CNU24 pic.twitter.com/ARO390N8dm

— Jonathan Coppage (@JonCoppage) June 11, 2016
#CNU24 @erinmegan @crwolfelaw and Seattle local host committee introduce the CNU 25 in Seattle in 2017 pic.twitter.com/8UWutoDH7g

— Marcy McInelly (@marcymcinelly) June 11, 2016
.@BetterBurb Council results presented today - practical tools for municipalities/developers/investors/citizens. 2pm, Aloft Detroit #CNU24

— NewUrbanism (@NewUrbanism) June 11, 2016
Thanks to @NewUrbanism and @cnunextgen for another great Congress! Can't wait for #CNU25! pic.twitter.com/R7AE4u8Ttt

— Kerry Hayes (@Kerry901) June 11, 2016
thank you #cnu24 - we loved Detroit! Continue the debate in #Seattle at #CNU25 https://t.co/jTSb7bVmpJ @cnunextgen @CNUCascadia @CNUCal

— Erin C Ishizaki (@erinmegan) June 11, 2016
thank you #cnu24 - we loved Detroit! Continue the debate in #Seattle at #CNU25 https://t.co/jTSb7bVmpJ @cnunextgen @CNUCascadia @CNUCal

— Erin C Ishizaki (@erinmegan) June 11, 2016
On the bus to the 8 Mile tour. Learning about @RTAmichigan plans. :) #CNU24 @NewUrbanism @cnunextgen pic.twitter.com/EzRwUCwxFw

— Mike Christensen (@MRC_SLC) June 11, 2016
Exploring #OneMile in Detroit's North End for #CNU24 #CityasPlatform pic.twitter.com/srFle6tcCO

— NewUrbanism (@NewUrbanism) June 11, 2016
Exploring "the home of black techno" in Detroit's North End #CNU24 #CityasPlatform pic.twitter.com/j3a5NqOZQO

— NewUrbanism (@NewUrbanism) June 11, 2016
Learning about #urbanag in Detroit with #CNU24 #CityasPlatform pic.twitter.com/K3y85VAfMT

— NewUrbanism (@NewUrbanism) June 11, 2016
First takeaway from 8 Mile/Gratiot: reduce 2 min waits between walk signals. #CNU24 #betterburb pic.twitter.com/IJWNYdXpdo

— NewUrbanism (@NewUrbanism) June 11, 2016
Learning about historic preservation and community improvement in Detroit with @brickandbeamdet and @mihpn #CNU24 pic.twitter.com/rMsYKOHQ10

— NewUrbanism (@NewUrbanism) June 11, 2016
Good morning, Detroit. Live from CNU. #CNU24 pic.twitter.com/ZOwGiIS9UB

— David Rau (@DWRau) June 11, 2016
Plans for rehabilitation an "urban farmhouse"—just another day at #CNU24 #CityasPlatform pic.twitter.com/5c5Ik9lFAC

— NewUrbanism (@NewUrbanism) June 11, 2016
City planners and urbanists gush over Detroit this week via @DeadlineDetroit https://t.co/wrw0uw7gUL @NewUrbanism #CNU24

— Mitchell Silver (@mitchell_silver) June 11, 2016
8 Mile and Gratiot. #CNU24 @NewUrbanism @cnunextgen pic.twitter.com/Gy0sbPiTdE

— Mike Christensen (@MRC_SLC) June 11, 2016
Detroit photographer Andrew Ross-Evans shares his debut outdoor installation with #CityasPlatform at #CNU24 pic.twitter.com/WgckKz7IZa

— NewUrbanism (@NewUrbanism) June 11, 2016
Geeking out over the fact that #CNU25 will be held in Seattle in 2017! @NewUrbanism @iheartID

— Jessa Lynn (@jessatimmer) June 11, 2016
On the Denby tour. :) #CNU24 @NewUrbanism @cnunextgen pic.twitter.com/rPoLw7bZYt

— Mike Christensen (@MRC_SLC) June 11, 2016
Wow! Saturday afternoon and a packed house exploring Sprawl Retrofit. #BetterBurb #CNU pic.twitter.com/XJoSQlhpab

— NewUrbanism (@NewUrbanism) June 11, 2016
#Placemaking starting around #CampusMartius has had a ripple effect around #Detroit: https://t.co/yf4HgJTlO6 #CNU24 https://t.co/fvmcmNAXgy

— Proj 4 Public Spaces (@PPS_Placemaking) June 11, 2016
Let's keep talking Sprawl Retrofit. Follow @BetterBurb #CNU24 pic.twitter.com/rhnuKzjGe6

— NewUrbanism (@NewUrbanism) June 11, 2016
Next big takeaway. @NewUrbanism put #equity as a goal in their 2018 Strategic Plan. Also met great people. #CNU24 pic.twitter.com/CVhzKuknDS

— Mitchell Silver (@mitchell_silver) June 11, 2016
Learning the opportunities + challenges along the #8Mile corridor.
.@NewUrbanism @cnunextgen @lrichardsCNU #CNU24 pic.twitter.com/Lu97D19q46

— Jeff Jamawat (@jeffjamawat) June 11, 2016
#Detroit #CNU24 pic.twitter.com/8FhJICn3O8

— Kevin J. Vonck (@kevinjvonck) June 11, 2016
Biggest takeaway this week. #Detroit had the courage to but #equity in the heart of the city. Equity=Fainess #CNU24 pic.twitter.com/fB76IOUizH

— Mitchell Silver (@mitchell_silver) June 11, 2016
"If you don't provide centers, you lose pedestrian propulsion." #CNU24

— Hoch Associates (@HochAssoc) June 11, 2016
Next big takeaway. @NewUrbanism put #equity as a goal in their 2018 Strategic Plan. Also met great people. #CNU24 pic.twitter.com/CVhzKuknDS

— Mitchell Silver (@mitchell_silver) June 11, 2016
Learning the opportunities + challenges along the #8Mile corridor.
.@NewUrbanism @cnunextgen @lrichardsCNU #CNU24 pic.twitter.com/Lu97D19q46

— Jeff Jamawat (@jeffjamawat) June 11, 2016
Road diet underway on Riverside Dr. in downtown Windsor, hosted by The Congress for the New Urbanism. #CNU24 pic.twitter.com/eAAo3J2Q0n

— Dax Melmer (@DaxMelmer) June 11, 2016
#cnu24 great walk and talk about #Banglatown today! globaldet https://t.co/n95mLax8WH

— RaquelGarciaAndersen (@RaquelGarciaAnd) June 11, 2016
Working on housing, park development, and fighting blight in Osborn, Detroit for #CNU24 #CityasPlatform pic.twitter.com/tS1tCzysXy

— NewUrbanism (@NewUrbanism) June 11, 2016
Joining the true front lines of revitalization in Osborn, Detroit at #CNU24 #CityasPlatform pic.twitter.com/nLmuj9Fgdq

— NewUrbanism (@NewUrbanism) June 11, 2016
@Edward_Erfurt This can't be shared too often, so it's in our roundup of #CNU24 wisdom & wit https://t.co/mcvRia01Qy pic.twitter.com/psqnUs9yr0

— Deadline Detroit (@DeadlineDetroit) June 11, 2016
Thank you, Detroit. #CNU24 pic.twitter.com/PQkVyEwfmP

— NewUrbanism (@NewUrbanism) June 12, 2016