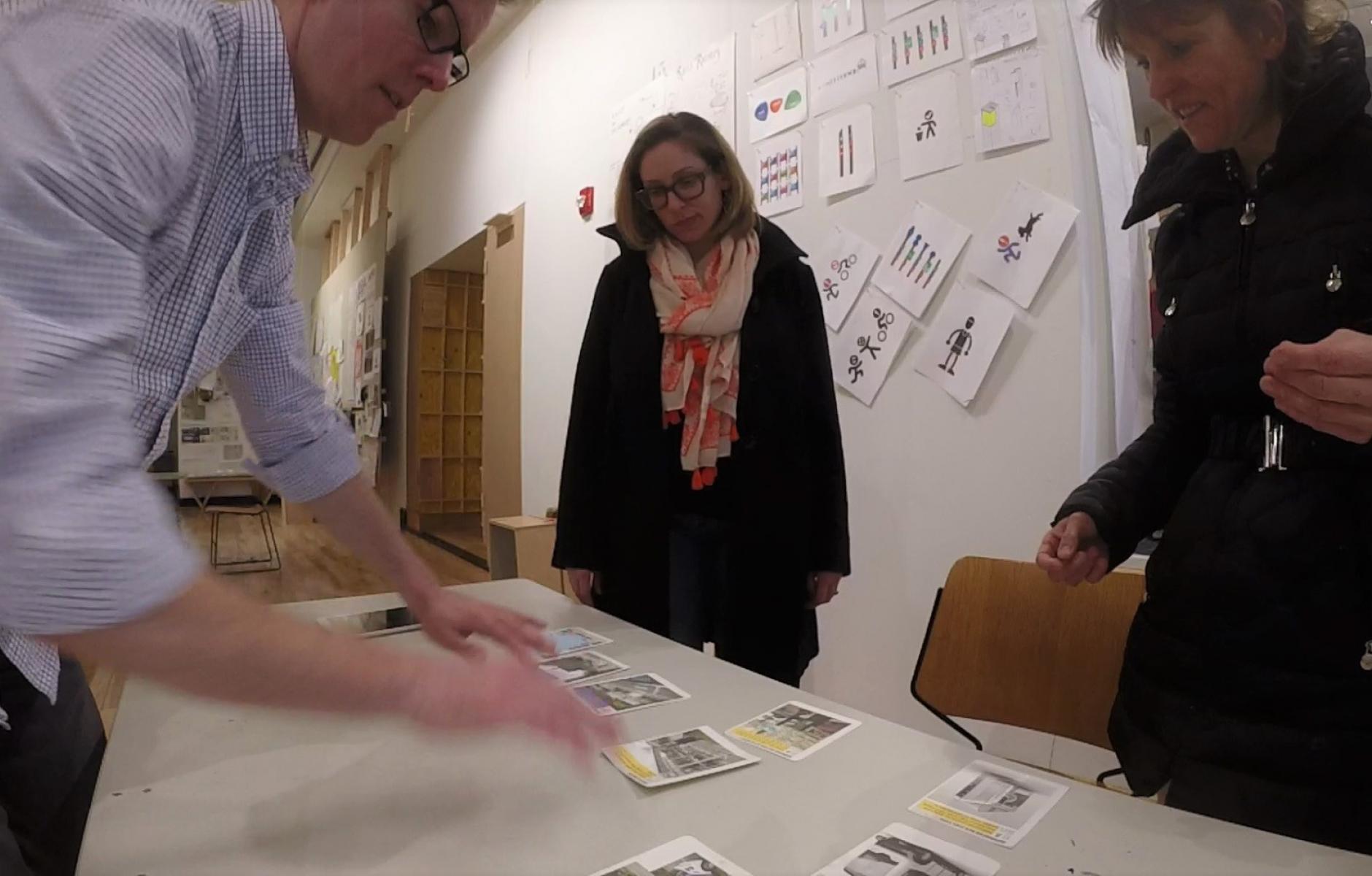 Using City Design cards. Courtesy of Greater Places.
Cards for urbanity
It all started as a snarky card game, but now we are discovering that playing cards can be an important tool for urban planning.
It all started as a snarky card game. It was a hobby project among friends searching for a creative outlet. So, with permission from the original game developers at Cards Against Humanity, we created Cards Against Urbanity, hit our KickStarter funding goals, shipped product to 800 backers, and thought that was that. 
Then something funny happened.
We learned that people around the world are using Cards Against Urbanity to teach city planning. People asked us to hold game nights, and we found ourselves not only explaining why a card was funny, but the underlying lesson of city-building behind the joke.
If someone can put together a hand of cards to describe a city's dysfunction, is the opposite also true? Can we tell a better story about functional places with deliberate combinations of placemaking cards? That question launched our current Kickstarter project, which is called City Design Method Cards.
What's so special about cards?
By watching people play our games, we began to diagnose what is wrong with our go-to tools like books, pdfs and presentations. Writers and editors of a book set the order of fixed chapters in a removed academic environment. Great images and nuggets are bound deep inside pages that require time and patience to access. Presentations are lectures. 
Cards on the other hand are usable bursts of information that can be stacked, organized, and grouped in many ways to tell a story by anyone involved in the community building and placemaking process. When ideas are laid out on a table, rather than bound, users can scan through a lot of information quickly and grab the ideas they want to explore, like a flexible, visual Table of Contents.
A method card is a quick little idea to get people acquainted with unfamiliar terms. Web designers use method cards to describe technical aspects of coding and layout to clients. Card UX (user experience) dominates digital menus as it lets users quickly navigate large amounts of information and choices.
Some people will be satisfied with a synopsis, but others will want to take a deeper dive into the topic. This is where digital cards are so powerful. Pinterest and Houzz are great examples; users scan images and click to see more information. From this expanded "card," a user can further access links for even more information. Cards, in print and digital formats, allow people to learn at their own pace, wherever they may be on the learning curve.
And humans love having something tactile to literally hold onto, especially when it represents a solution. Just as "a picture is worth a thousand words," a card in hand can provide an easy conversation starter on complicated or difficult urban topics. Great places are complex combinations of uses, mobility, infrastructure, public arts, economics, and a lot of supporting policy. Some combinations work better than others depending on location, city size, fiscal health, and innovation readiness. Cards let neighbors, staff, and experts manipulate multiple different decks (topic areas) to write their own book of ideas and solutions.
Portable and mobile
Even with all the currently available tools, there is still the challenge of civic engagement— getting a larger segment of the affected population to actually participate in the decision making process. With all the innovation occurring with smart cities, transportation and sustainability, there is one thing that is decidedly stuck in time: the public meeting. 
There is also a growing call to "take planning to the people." Digital cards in an app maximize the mobility of information and make it readily accessible via a phone or tablet. Instead of a lecture or slideshow, cards and other interactive fun tools invite one-on-one interactions whether digitally or in person. Cards meet people where they are, reaching out, instead of them coming in to a meeting.
Expandable and adaptable
But the tech is not the tech just for tech's sake; it enables presenting, linking, and organizing material beyond a set of cards at a meeting. Cards and apps are flexible and readily expandable through expansion packs and new versions or features. Different decks, additional topics, incorporation of emerging civic technologies, and special collections can be printed separately and uploaded easily. Plus, cards are locally customizable, yet in a manageable format. Books take a lot of time and money to update and republish. 
As cities and town create decks – they are telling new stories similar to case studies. Cards allow participants to understand that the cards are not simply ideas, but "stacks" of real life solutions across placemaking topics and across transect zones.
Cards may be an old-fashioned tool—recall grade school flashcards—but are experiencing a resurgence in ways that are both simple and technology-enabled.  Hands-on, homemade, and personal are becoming popular again. Yet the amount of technology in our lives and professions will continue to grow as we get closer to the Internet of Things and virtual reality. By harnessing the advantages of technology now, such as data collection, we will be able to understand the best (or most used) methods, have the ability to widely share the latest ideas, and allow a greater range of people to participate in civic decisions.
Ultimately the goal is simple—connecting people seeking ideas and inspiration for their cities with designers and civic innovators worldwide as they create greater places. The time is now. As trends in open and participatory governance accelerate, citizens are not only welcome participants, but are expected to voice preferences. Simultaneously, massive changes in economic structure, the climate, and technology continue to stress architecture and planning's typical routines.
Meeting these challenges and opportunities requires bringing the interlinking aspects of city design under one digital roof: placemaking, transportation, economic development, civic engagement, governance, and more. The power of organized visual examples, networked communities of peers, and great ideas will always be critical for good urban design and extends to neighborhoods and cities alike. Interior design has figured this out. Have we?
For more information on City Design Method Cards, go here.