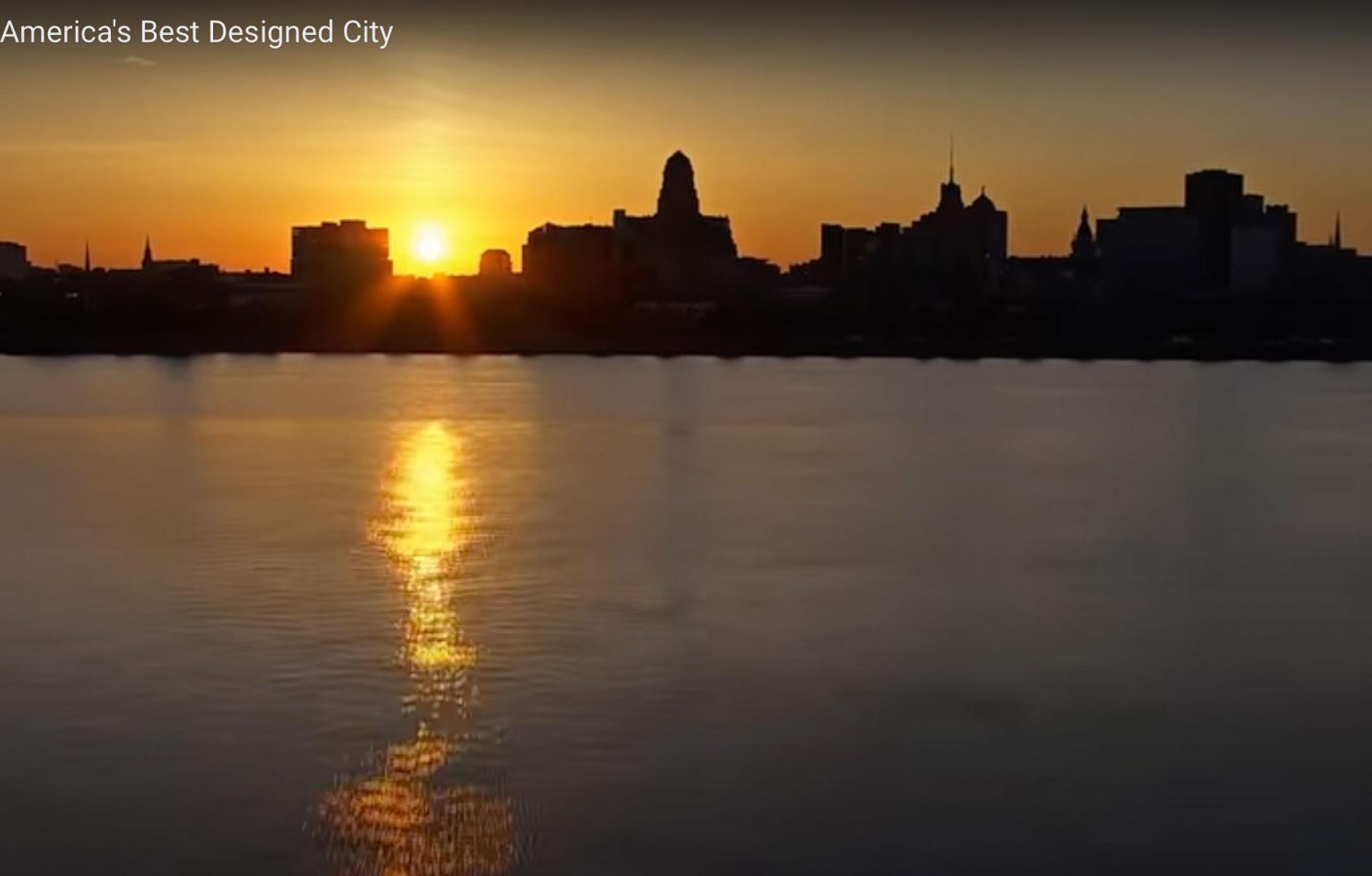 The opening shot for Buffalo: America's Best Designed City, by First+Main Films
Successful cities know their stories
First+Main Films and the Better Cities Film Festival are telling civic stories across America in film, with the goal of changing cities. It shows the power of storytelling in urbanism.
Cities and towns in the US have gone through a process of "de-narration," according to the filmmakers at First+Main Films. Communities have lost historic fabric, the storytelling capacity of local newspapers, generational continuity, and geographically cohesive families over the last five or six decades. 
As a result, places have forgotten the stories of how they overcame challenges historically—and how they can do so again. "Why is that a vital part of urbanism? We don't have the stories to inspire us to rebuild walkable communities," says First+Main's Chris Elisara. 
As authors James and Deborah Fallows report in their book Our Towns: A 100,000-Mile Journey Into the Heart of America, one of the hallmarks of a revitalizing community is that residents "know their civic story," Elisara reports. As the couple discovered, each place has a story, an awareness of which is vital to achieving collective confidence, leading to belief in the future. There can be no revitalization without that belief. The flip side of that coin is summed up by a quote from best-selling author Margaret Wheatley, "There is no power for change greater than a community discovering what it cares about."
Telling civic stories is the mission of First+Main, the leading filmmakers of the New Urbanism, who report on their method in an On the Park Bench webinar this week called A Story Can Change a City. First+Main cofounders Elisara and John Paget tell their story, report on the recent Better Cities Film Festival, and argue for cinema's power to restore community health.
Paget reports on the five elements of a successful story about place:
Introduce the character. That's the community, a unique place, and there are also human protagonists.
Make us care. The character must be real, which means that you show the flaws. Avoid making a sugar-coated Chamber of Commerce video.
Introduce the problem or problems. It could be housing, depopulation, disinvestment, jobs, social connections, or other issues. 
Raise the stakes. What happens if the community does nothing?
Show the action. The community embraces a solution, even if the change is only beginning. (In a tragic film, the community fails to change.) 
The story should be told in three acts: the set-up, conflict, and solution (or resolution). The story should include a variety of voices, not just the experts, speaking for themselves. Premier the film in public, in the community, sparking a community conversation. 
The video that First+Main made for CNU 22 in Buffalo, called Buffalo: America's Best Designed City, has racked up 1.2 million views, and played a part in Buffalo's renaissance over the last decade. The film helped to make Buffalonians aware of their history of great urban design, setting the stage for urban-design-related solutions. 
Paget and Elisara had followed New Urbanism for many years, but were unsure how to contribute to a movement led by architects and planners. In 2009, CNU announced their first and only video contest, with a grand prize of two complimentary passes to CNU17. This provided their opening. Paget and Elisara created the short film, Built to Last, won the contest and attended their first CNU in Denver. 
The Better Cities Film Festival began in 2013 with Paget's brother Josh, a manager at a comedy club in LA at the time. He started a book club, Noodles and New Urbanism, where he and friends would read an urbanism book and discuss it over lunch. The frustration with getting other friends to read these books led to the idea of launching a film festival—at first called the New Urbanism Film Festival. A major life change for Josh Paget forced the festival into hiatus in 2019, and it faced an uncertain future. Fortunately, it was acquired and rebranded as the Better Cities Film Festival by First+Main Films. The 10th annual event was held in early October.
This year's Grand Prize winner was a short documentary by an Oscar-winning filmmaker, Rayka Zehtabchi, called They Came From All Over. It is billed as "a love letter to family-run small businesses everywhere, capturing the important role they play within local communities." The festival was held in Detroit, its permanent location for the last few years, but First+Main also takes it on the road during the year. 
Dave Alden joined the webinar, from Petaluma, California, which hosted a Better Cities film festival in September. Alden gathered sponsors that more than paid for the festival, on top of ticket sales. With leftover money, Petaluma is creating a small-grant program for urban projects. "I don't go a week without somebody coming up to me, people I don't even know, saying it was great," Alden says. The city is talking about another festival next year, and discussing ways to broaden the audience. Films are curated by First+Main to suit the host city, creating a reel that addresses local issues.
The film festival is one way for cities to tell urban stories and rediscover their own stories—a step toward a better future.
See the entire video: