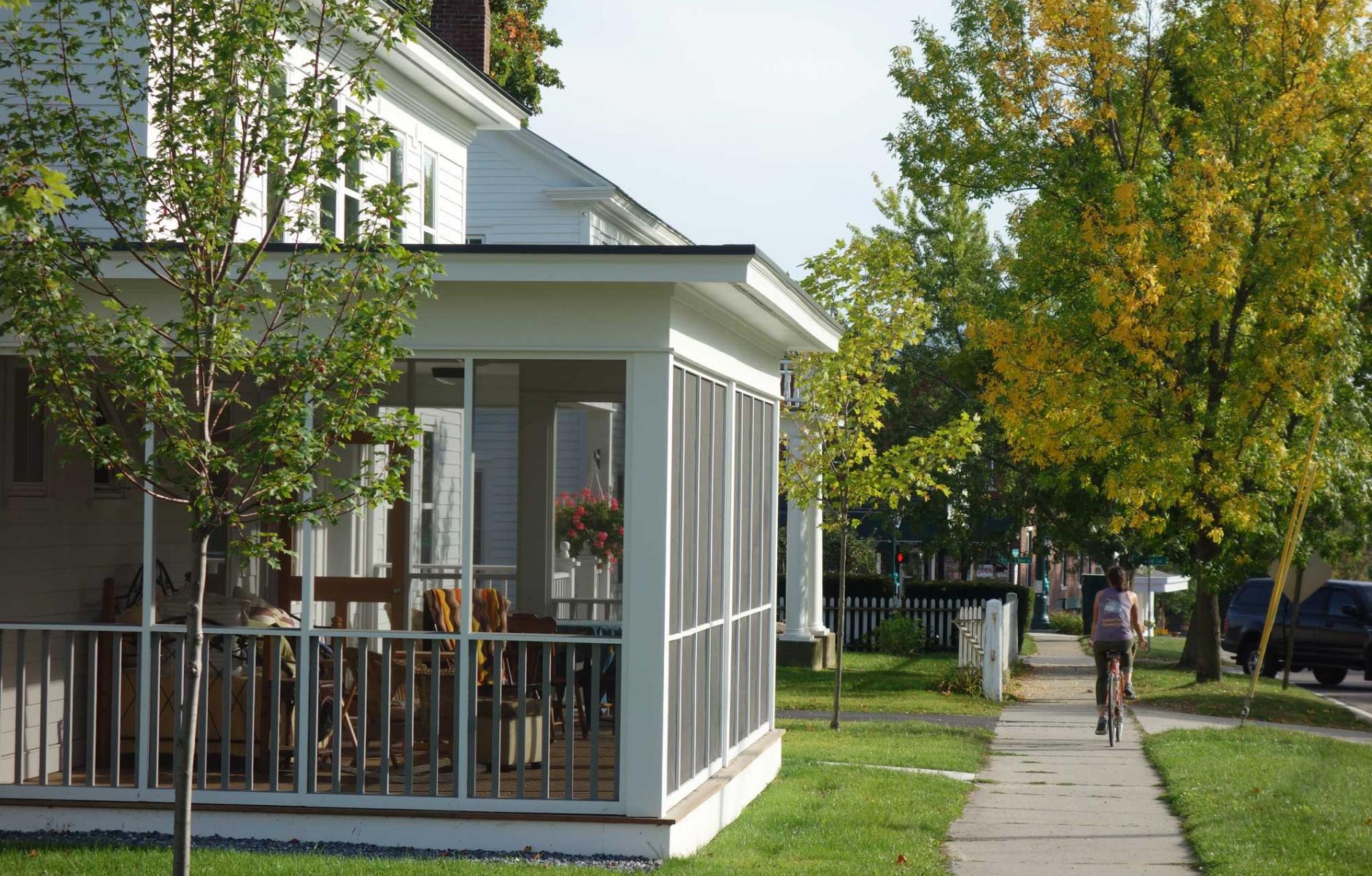 A typical street in Bristol, Vermont. From Enabling Better Places: A Zoning Guide for Vermont Neighborhoods. Credit: Richard Amore.
Vermont adopts historic housing reform
The HOME act allows missing middle housing statewide, reduces parking requirements, targets entitlement delays, and received widespread support.
Editor's note: Vermont recently became the latest state to eliminate exclusive single family zoning statewide. Municipalities must allow duplexes anywhere single family homes are allowed. In areas served by sewer and water, municipalities must allow multiunit dwellings with four or fewer units to be a permitted use. The housing reform law was kick-started by Project for Code Reform work with CNU. ​
In early June, Vermont adopted legislation that will have a big impact on community livability. The bill, S.100 or the HOME Act, creates more housing opportunities and affordability by allowing higher density development in areas with sewer and water service. The law recognizes that current zoning regulations, land use policies, and permitting processes are no longer meeting the needs of Vermonters, including older residents who want to age in place, first-time homebuyers, and young families who want to settle in Vermont. 
The HOME Act opens doors to more housing production by focusing growth on areas where development already exists and makes sense. Here are some ways the bill addresses the housing crisis and increases livability in Vermont municipalities: 
Dwelling unit density: The HOME Act requires 5 or more units per acre in areas served by water and sewer. Smaller units serve many seniors' downsizing needs. 
Parking minimums: The HOME Act reduces parking minimums to no more than 1 space per dwelling unit. This also promotes more walkable, healthier, safer neighborhoods.
Duplexes, multiunit buildings, and ADUs as allowed uses: The HOME Act allows duplexes everywhere single-family homes are allowed and multiunit dwelling up to 4 units in areas served by sewer and water. Traditionally, Vermont communities offered many different types of housing on varying lot sizes, which led to more compact, walkable, and connected communities.
Limits on local appeals: The HOME Act prohibits conditional use review "character of the area" appeals in all designated areas for residential development (other elements may be appealed). Character of the area appeals are often used as a NIMBY tactic to block affordable housing development. 
By right development review:  If the project meets the basic requirements of bylaws (lot size, parking, building size, and height) and municipal standards, (along with any other permitting requirements) it must be allowed. 
Act 250 changes: Act 250 is Vermont's landmark land use and development law. The HOMES Act temporarily raises the jurisdictional threshold for housing units from 10 to 25 and allows any size Priority Housing Projects within Designated Areas. The bill includes other Act 250 modifications, which will speed up the permitting and review time and cost for new housing. 
This tripartisan legislation showcases what makes Vermont unique: as a pro-property and municipal rights state, Vermont is still a place where folks across the aisle build bridges for the common good, and are able to shift long-standing policy to be more equitable. 
In Montpelier, Governor Scott signed the HOME Act into law on June 5, heralding a big win for housing and livability advocates across Vermont, as well as the community members they serve.