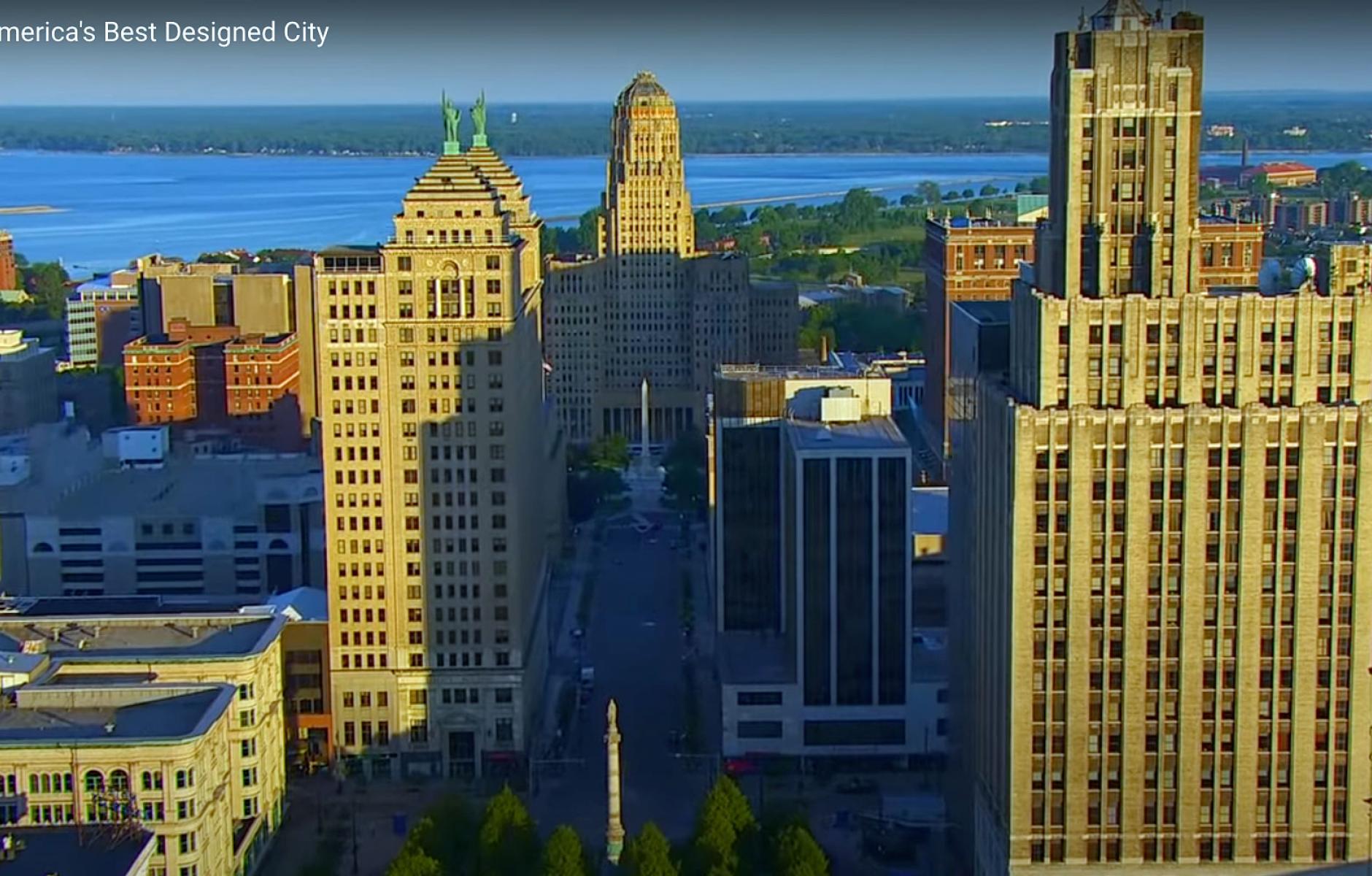 Buffalo urban vista. From John Paget's film.
Storytelling, urban design, and saving a city
How places from Seligman, Arizona, to Buffalo, New York, have become aware of their history and charms—including planning and design—to turn urban failure into success.
John Paget, a filmmaker from Seattle who lived and worked in Buffalo for many years, makes the case for how the simple act of storytelling can bring a city back to life. In a TED talk called "How to keep your hometown from becoming a ghost town," Paget reports that cities are destroyed by many forces, including natural disasters, economic catastrophes, and changes in transportation. Only the will to survive provides the determination to rebuild, often from ruins.
The key to that resilience? Like many good TED talks, Paget's argument is based partly on scientific evidence, in this case human psychology. According to one study, people are far more resilient when they learn, as children, their family history—which helps build confidence to successfully face life's challenges as adults. Communities are like people, Paget argues—they thrive when they know their own collective stories.
He celebrates Angel Delgadillo, a barber in Seligman, Arizona, who remembers the day I-40 opened, bypassing Route 66—on which his shop fronted. Those who watched the 2006 Disney film Cars have some idea of what happened next. "The minute they opened lanes of I-40, the cars stopped—like somebody turned off a faucet," Paget says. Hundreds of towns from Chicago to LA withered, becoming virtual ghost towns. Delgadillo became bitter as he watched the town dry up from an often-empty barber's chair. "Then he realized something. Although the town was off the beaten path, it wasn't obsolete. Route 66 was part of American History, and Seligman was part of that story, and he had a hunch that if the entire town embraced that story, if would lead to a promising future."
Long story short, Delgadillo led an effort to get the old Route 66 designated as a historic corridor, the town capitalized on its history, and Seligman eventually inspired other communities along the historic highway to recapture their glory. 
Even more so, Paget salutes the civic pride of Buffalo, a "rust-belt" city that faced many setbacks. The Erie Canal, the city's original economic engine, was bypassed by trains, and then highways. The industrial base eroded in the second half of the 20th Century. Many residents moved to the suburbs. The Weather Channel profited by making Buffalo a national symbol of winter storms. The city lost more than half its population from 1950 to 2010. 
And yet Buffalo turned things around in the 2010s, gaining 17,000 people during that decade. Buffalo's history has a tremendous narrative arc, including highs and lows, setbacks and comebacks. "To be in Buffalo is to live in a city that has embarked on the hero's journey," Paget says. Buffalo's story has much to do with regained awareness of its own splendid planning and architecture. Paget produced a film called Buffalo: America's Best Designed City, which was released just prior to CNU 22, hosted by Buffalo in 2014. Not long after, the city proved it can still plan skillfully by adopting the Green Code, a 2017 zoning ordinance that has arguably led to Buffalo's renaissance. 
In other words, never count your community out. Get in touch with your city's history, tell the story of how it thrived over time, and promote the confidence to rise again.