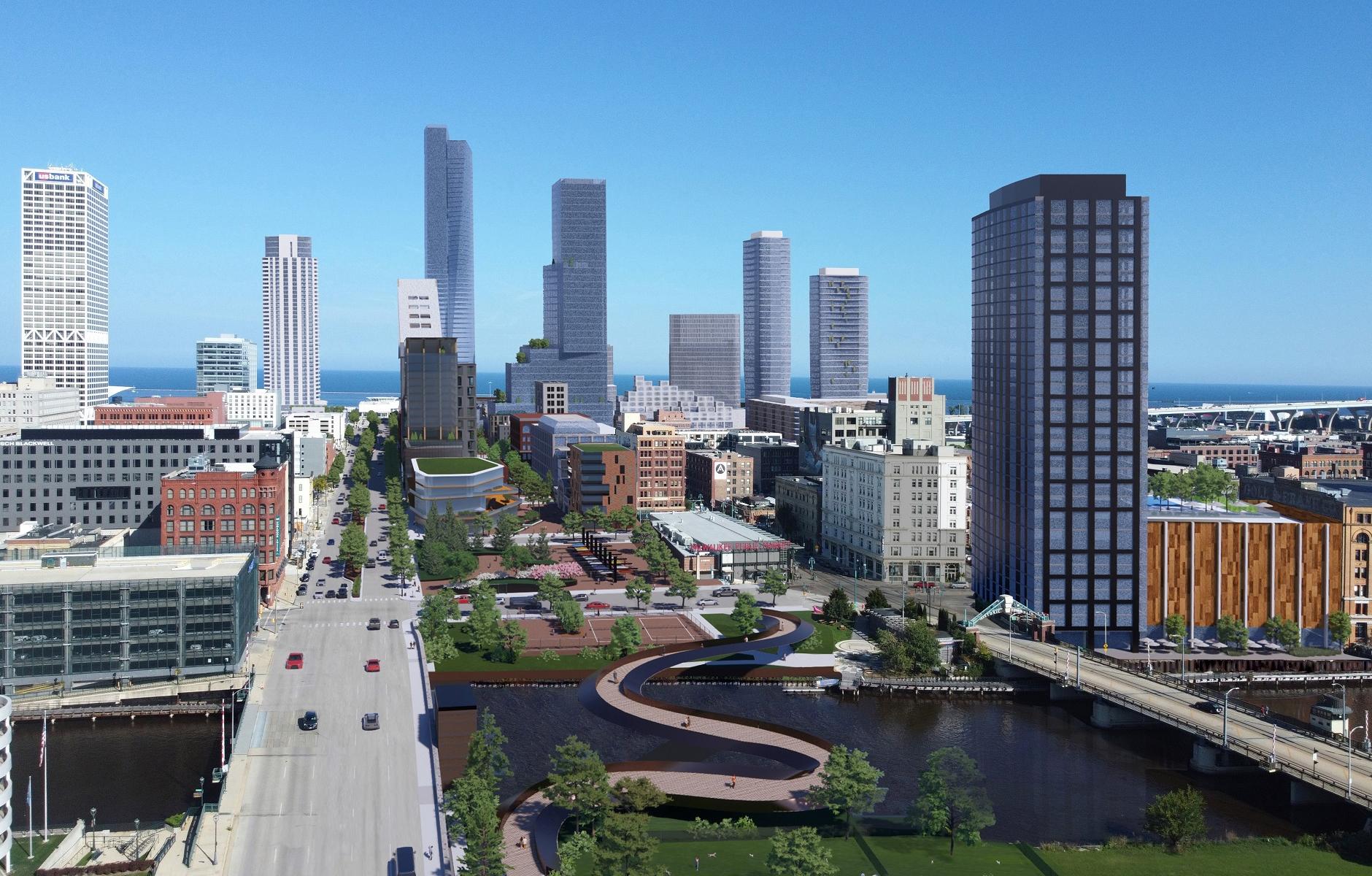 Rendering of I-794 from Clybourn street after removal. Photo credit: Taylor Korslin, aerial photo by Jason Carter
The role of community advocacy
CNU's biennial Freeways Without Futures report is out now! In a series of articles, Public Square is exploring common threads from the report. Article three focuses on how community campaigns can influence public policy related to in-city highways.
With many of these hulking, burdensome highways reaching the end of their useful lifespans, communities are looking for alternatives to costly highway repair and expansion. The campaigns in this report offer a pathway to better health, equity, opportunity, and connectivity in every neighborhood, while reversing decades of decline and disinvestment.
These three highways in the 2023 Freeways Without Futures report feature local campaigns that center community needs to galvanize support and inspire action from government entities. 
Interstate 794—Milwaukee, Wisconsin
I-794 was constructed as part of the downtown highway loop that was never completed and separates Downtown Milwaukee from one of its premier neighborhoods and Lake Michigan. While this spur has never seen the traffic counts it was intended to carry, the Wisconsin Department of Transportation (WisDOT) is planning a project to repair a portion of the highway for $300 million.
The Rethink 794 campaign was formed following an urbanist meet-up in March 2022 about the highway and the idea to rethink I-794 as a boulevard was warmly received. Between that meeting and the campaign's popularity on social media, Rethink 794 has started discussions with the community and city officials.
The campaign has galvanized support through the ongoing Downtown Plan Update, where grassroots supporters have asked the city to study I-794 as a boulevard and to make it the locally preferred alternative. Milwaukee's mayor has previously spoken in favor of rethinking the highway and behind the scenes, Rethink 794 have been engaging with WisDOT. The campaign was asked to join the main project stakeholder committee and WisDOT has committed to studying a boulevard alternative, but doubts remain about whether it will receive a fair shot.
Interstate 94—Minneapolis-Saint Paul, Minnesota
I-94 tore through the fabric of Minneapolis and Saint Paul neighborhoods where thousands of homes and small businesses were bulldozed to make way for a massive, football-field-wide freeway trench that created scars across the city landscape. This devastation disproportionately impacted communities of color. Now, the pavement, bridges and retaining walls are nearing the end of their useful life and upcoming work by the Minnesota Department of Transportation (MnDOT) will determine the future of the corridor.
MnDOT's "Rethinking I-94 project" is a once-in-a-lifetime opportunity to repair the highway's historic and ongoing harms and reimagine the corridor to prioritize the health and well-being of the tens of thousands of people who live, work, and go to school near it.
Since launching in February 2022, the local campaign, Our Streets Minneapolis, has successfully petitioned MnDOT to issue a statement acknowledging the harms of I-94 and committing to including a highway to boulevard option in the upcoming project alternatives. 
This local campaign is advocating for state funding to go towards a feasibility study of a highway to boulevard conversion along the entire 7.5 mile stretch of Interstate 94. Reconnect Rondo, an organization focused on a smaller portion (.5 miles) of the impacted community in St. Paul has received $2 million from the Reconnecting Communities Pilot Program to study the planning and development of an African American Cultural Enterprise District and associated Land Bridge to restore and reconnect the Rondo neighborhood.
The longtime work by Reconnect Rondo and the centering of community input in Our Streets Minneapolis's vision illustrate how local campaigns can come in many shapes and sizes and there is strength in numbers.
Interstate 244—Tulsa, Oklahoma 
Interstate 244 runs directly through Tulsa's Greenwood district, the historic center of the city's Black  community once famously known as 'Black Wall Street.' Local campaigns advocating for the removal of 1-244 submitted an application for a Reconnecting Communities grant through a community-led effort independent of any government entity. Advocates are seeking removal of I-244 with the reconstruction of the historic street grid that existed prior to the highway in order to maximize the amount of land that would be available for redevelopment and community good.
The group, led by the North Peoria Church of Christ was awarded $1.6 million from the Reconnecting Communities Pilot Program for the I-244 Partial Removal Study. This planning grant will support an independent feasibility study for removing a section of I-244 in the Greenwood District.
These outreach efforts have included some government entities including the Tulsa City Council who voted unanimously on a resolution to seek community input on removal and State Representative Goodwin completed an interim study about removing I-244 in 2021 which included Oklahoma Department of Transportation (ODOT) and the Tulsa MPO INCOG who attended the study hearing.
Centering impacted communities and ensuring the final product is shaped by community vision is vital for a successful highways to boulevards conversion. All three of these campaigns have been working with their state Departments of Transportation to help ensure that their neighbors are the ones centered in any decisions moving forward. 
To learn more about these and other highways in Freeways Without Futures 2023, download the report here.